First of all, thank you to everyone who participated in our 2015 Reader Survey!! It was really great to get to know a little bit more about you and how I can make this site as absolutely helpful and encouraging as possible. I definitely got some great insights, and you can rest assured that I WILL be using them as I plan out content and other exciting ideas I have in mind for the future! (You guys came up with some great ideas!)
And now, because I know you're curious–here are the results of the survey:
1. What is Your Age?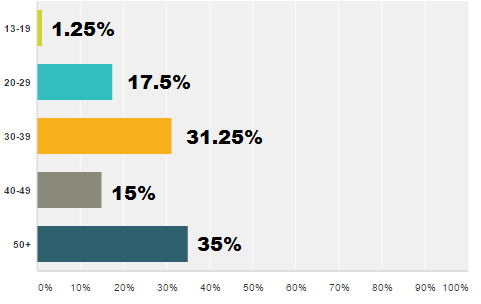 I was really surprised to see that many of you were older than I thought. I originally started this site primarily for moms of little ones. Guess it's time to expand my focus!
2. What is Your Marital Status?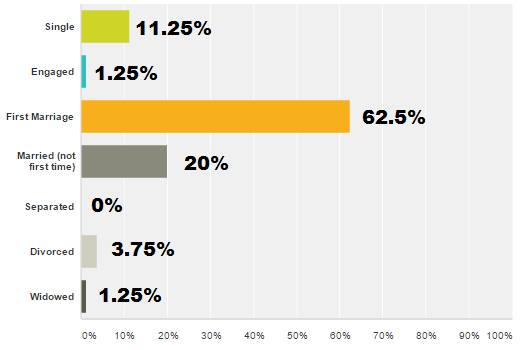 No big surprises here… about what I expected.
3. What Ages Are Your Children?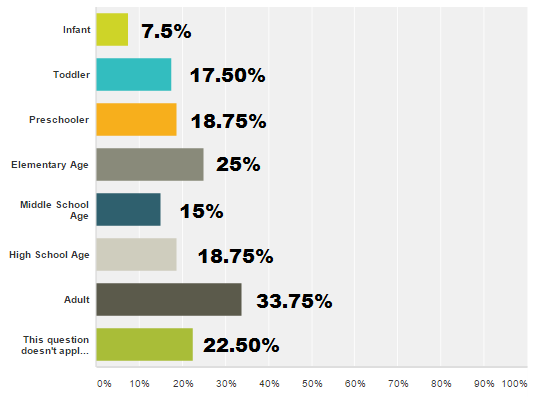 What a range! Up until now, I've pretty much written about parenting kids in the infant to elementary school stages, since that's what I have. And while that does cover 68% of you, just as many of you (67.5%) have kids older than the ones I write about! (Yes, that's more than 100, because many of you have more than one child 🙂 )  So I will definitely be looking for ways to incorporate articles for parents of older children as well. Guest post anyone??
4. What is Your Highest Level of Education Completed?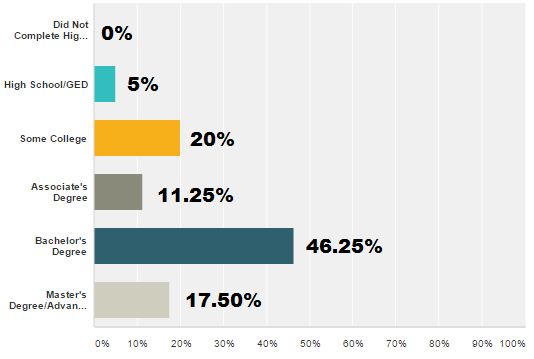 Smart bunch! (I'm not surprised 🙂 )
5. Are You a Christian, and If So, For How Long?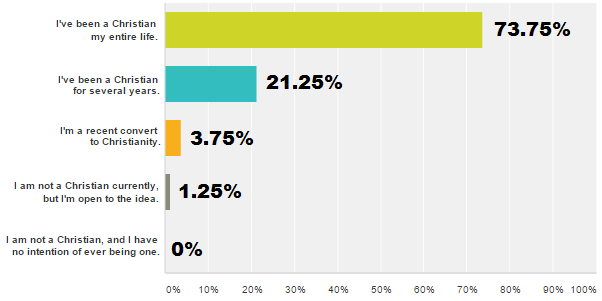 Looks like almost all of you have been around a while. Good. That means I can really dive in deep to the big issues 🙂
6. Which Categories on Equipping Godly Women Do You Most Enjoy Reading?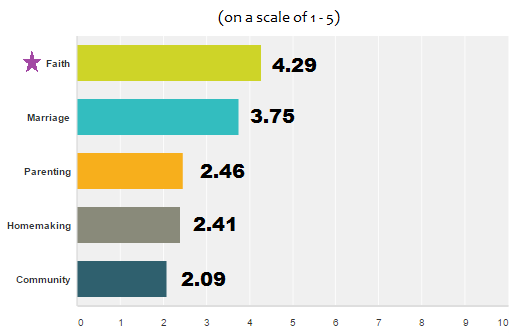 Not surprised to see that faith was the definite winner! Glad to see that you don't absolutely hate anything, lol.
7. What is the Biggest Obstacle or Challenge Preventing You From Being the Godly Woman God Wants You to Be?
Okay, this one cracked me up, because one of the first people to fill out the survey wrote "I'm a man…LOL." Yes, that would make it difficult, wouldn't it! (p.s. shout out to our male readers!)
Otherwise, the most common answers people gave time and time again were:
Self (laziness, selfishness)
Time Management (too busy, or just don't make it a priority)
Focus/Distractions
Fear/Doubt
Health
Lack of Support (from husband, church family)
8. What is One Thing That Has Really Helped You Grow in Your Faith in the Past?
Nearly every answer included one or more of the following:
Living in Community (Bible studies, church attendance, relationships with other believers)
Growing in Knowledge (Reading the Bible, blogs, books, podcasts)
Religious Practice (Prayer, spending quiet time with God)
Life Experiences (Depending on God in tough times, seeing prayers answered)
9. What is One Way I Could Improve Equipping Godly Women?
Almost all of your suggestions were ideas for posts you'd like me to write, and you had a lot of great ones! Let's just say, I now have the next three or four months worth of posts already penciled in! There were two requests/suggestions, however, that came up time and time again:
1. More info on my Protestant/Catholic Journey
Did I leave you all hanging. lol? I'd be happy to write a follow-up post, but I just feel like there's no new news to report right now, other than what I wrote in the series conclusion. I'm still not Catholic or Protestant, just Christian. We still attend my husband's Catholic church pretty much every week.
(Although, I have to admit, there have been a couple of weeks when I said "enough with this!" and went to an old church I love for the awesome music and preaching–two things I just have not seen in the Catholic church.)
We're still raising our boys to be Catholic. And everyone on both sides of our family has pretty much accepted my "limbo" status as "it is what it is." No one seems too particularly worried or concerned about it anymore. So… not too much is new.
**Also worth noting–a few of you have inquired about getting the series posts in a book format. I've thought a lot about this, and whether I would put together a conversion story type book, an informational guide to Catholicism type book, even a homeschooling curriculum type book… but either way, I feel like the story isn't yet "complete." So while I'm open to the idea (or additional ideas, if you have them), I don't have one in the works at this point. I would love to hear your thoughts on it though!
*Here's a link to the Letting God Lead: My Journey Through Protestant and Catholic Beliefs Series if you missed some of the posts or didn't catch how it ended. 
2. Regular Devotions for Moms/Women's Bible Study Group/Mentoring Group
SEVERAL of you mentioned that you'd love daily/monthly devotionals or study prompts that you could use for self-reflection and to connect with others in a mentoring/community style group(s). I LOVE this idea and would like to explore it further. But seeing as how I am now six months pregnant and already busy trying to get super ahead on this site in preparation for baby… that's just not really practical for me right now! But I will definitely be keeping it in mind!
**For those of you who have yet to take our reader survey who would like to, I'd love to hear your feedback and suggestions as well. You can find the 2015 Equipping Godly Women Reader Survey Here.
**For those of you who already filled out the survey and left your email address, you should have gotten an email from me this morning. Let me know if you didn't. 
Thanks so much everyone!!!!!