Thanks so much to everyone who took the 2016 Equipping Godly Women Reader Survey!
It's always so fascinating to learn more about you, what you like, how I can help you, and what sorts of awesome suggestions you have to share.
I'm in the process now of combing through all the comments and brainstorming possible blog posts and products that can help you with the issues that matter most to YOU (and you guys mentioned some good ones!), but in the meantime, are you curious to see what everyone else had to say too?
Check out the results for yourself below!
1. How old are you?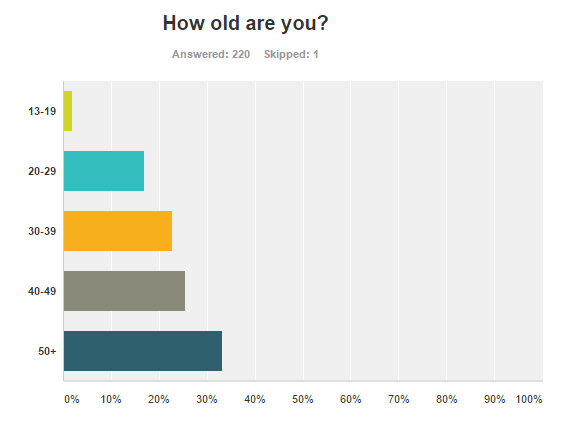 It's so funny to me to see the age breakdown of our most regular readers. When I originally started this blog, I thought I would be writing to young moms. Turns out, I'm completely humbled to be writing to moms of all ages–many of whom are older than me!
2. Are you married?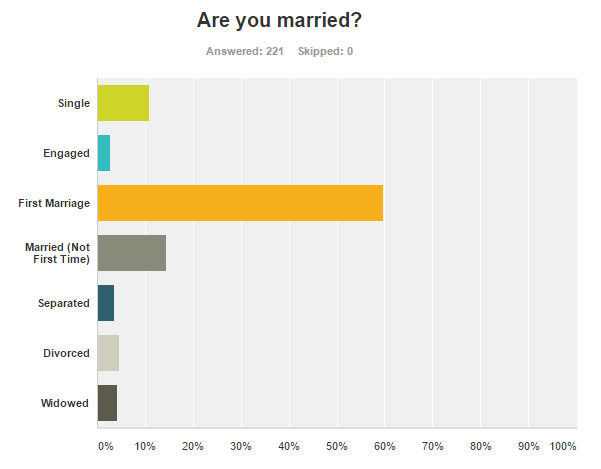 No big surprise here. This is pretty much what last year's results looked like too.
3. What ages are your children?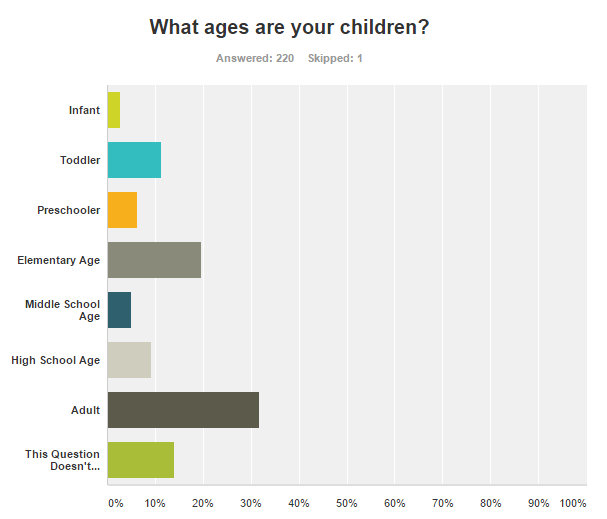 To everyone who took the survey–sorry that it only gave you the option of picking one! I didn't notice that the setting was wrong until after the survey went live, and then it wouldn't let me change it.
But, it does still answer the main question I wanted to know–and that's that you all have kids of all ages! Lovin' the diversity 🙂
4.What denomination are you?
Answers varied, but the top four by far were:
Non-Denominational
Baptist
Catholic
Pentecostal
The good news is, I have quite a bit of experience with 3 out of the 4! (Guess it's time for me to learn more about the Pentecostal and Methodist churches, though, since both made up a significant portion of the answers). 
5. Which categories on Equipping Godly Women do you most enjoy reading?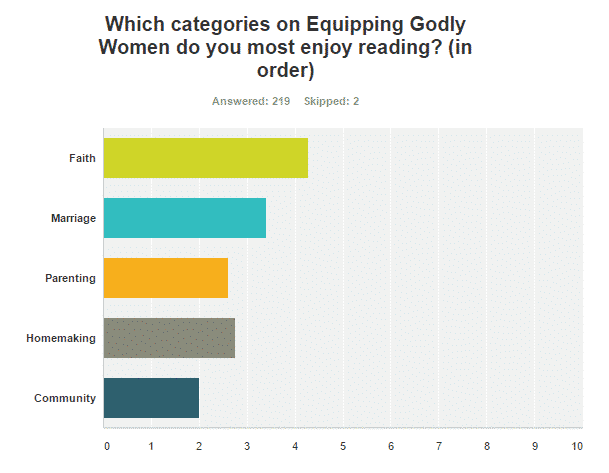 About the same as last year…
6. What types of posts do you most enjoy reading on Equipping Godly Women?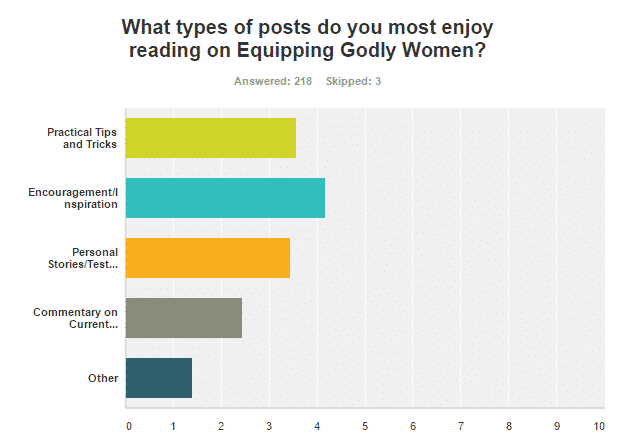 7. Why do you read posts on Equipping Godly Women?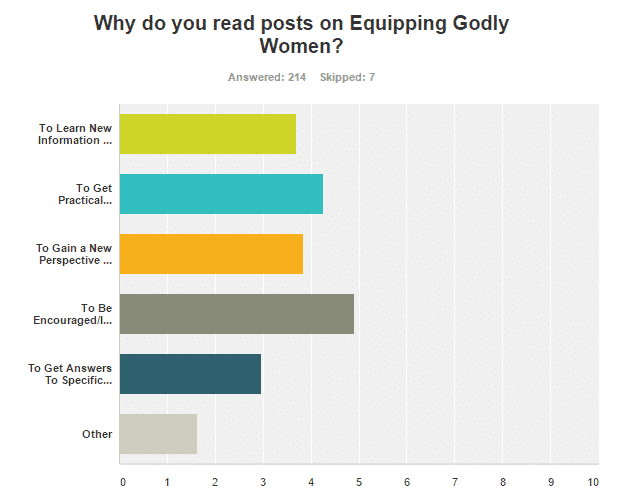 8. What are 2-3 things that are really stressing you out right now?
Your top answers were:
Parenting
Money
Marriage
Work
* For those of you who mentioned "parenting" as your top stressors: Don't forget to check out my book, TEACH Your Children to Behave. It's your step-by-step guide for getting your children to listen and it's full of loads of encouragement from someone who is totally right there with it and really understands what you're going through.
I'll definitely be writing posts that address all of these issues, though, so stay tuned!
9. What is your biggest struggle in your Faith right now?
Your top answers were:
Trusting in Him
Keeping daily Bible time
Keeping faith
Prayer life
I'd say these look pretty standard to me. I've actually written about all of these topics before, too. If you struggle in some of these areas and you've never scrolled back through some of my faith posts, that might be worth a glance when you have some spare time.
You can find a list of my faith posts here: Faith Posts on Equipping Godly Women
And definitely make sure you check out my book, Putting God First, as well.
10. What is your biggest struggle in your Marriage right now?
Your top answers were:
Communication
Nothing-Marriage is great!
Finances/Work
Sex/Intimacy
Love that so many of you put "nothing!" And for everyone else–stay tuned. I'll definitely be writing articles to help!
11. What is your biggest struggle in your Parenting right now?
Overwhelmingly (but not really surprising), behavior/discipline problems came in first. Another good thing? "nothing" comes in as the second most popular answer again!
Your top answers were:
Behavior/Discipline
Nothing
Issues dealing with adult children
Having the right attitude as a parent
If one of these describes you right now, here are a few resources that might help:
12. Are the posts on Equipping Godly Women…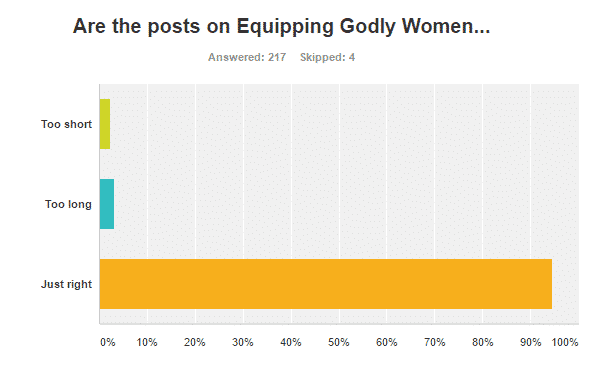 Good! I'm glad. I feel like they get pretty long sometimes (okay, all the time lol), but I really like to pack them FULL of good information. I promise I go through every time and cut out as much fluff as I can! lol.
13. What about the posting frequency?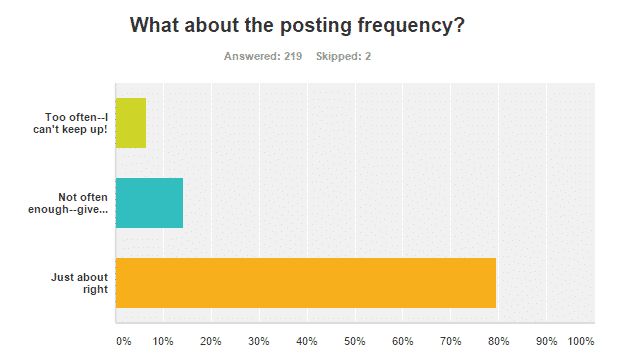 I was only posting 1x a week over the summer since the kids were home. Planning on posting 2x a week now that school is back in session.
14. What are 1-2 things you love about Equipping Godly Women?
Awww, reading this really warmed my heart you guys! Your most common answers were that this site is: down to earth, relatable, practical, encouraging and that there's always more to learn.
I definitely want this to be a safe space where real women are free to wrestle with real issues and grow in faith together in community.
I can absolutely promise you that I'm not perfect (far from it!), and I don't expect you to be either. Wherever you are in the journey, we're all in this together, and we can all benefit from banding together for learning and encouragement.
15. What are 1-2 things I could improve about Equipping Godly Women?
A few suggestions here and there, but the most common answer by far was "nothing" or "I love your site the way it is!" You guys are too sweet 🙂
Changes Moving Forward…
Every year I work hard to make this blog better than it was the year before. Here's what you can expect from Equipping Godly Women this year…
1. More "Behind the Scenes" Peaks into My Life
When I first started this blog, I didn't really talk about myself much. I figured almost everyone who visited was new, so I just focused more on providing great tips and tricks to help all the new people who were starting to visit without really letting you get to know me, the person behind the blog.
Now that we've been building this online relationship–some of you for a couple of years now!–I think it's high time that you got to know me better, and that I got to know you better as well!
After all, I don't want this to just be a random assortment of article, but a awesome community you can't wait to take part in.
I think I'll do a "day in the life" post here soon, update the "about" page, and who knows what else. I'll have to think about it. (Any requests/suggestions?)
2. More Helpful Resources
Up until now, I've mostly just been writing articles that I want to write or that I think will be helpful to people.
Now that I've gotten some really great feedback from the survey and from some emails I've sent out, though, I can really focus on truly helping you with the struggles you're going through RIGHT NOW.
This will still include writing in-depth, practical and encouraging articles, but it will also include creating more products of my own and letting you know about others' products that I think will really benefit you.
3. Increased Focus on Email 
I've loved spending time on Facebook, sharing articles, talking through issues, having friendly debates. I honestly love it and we have a fantastic community going on over there!
In the interest of not spending all day on Facebook, however, I'm going to gradually be shifting my focus more to email over social media, however. I'll still check in on Facebook, but if you really want to connect with me and get the best information, you'll absolutely want to sign up by email.
You can do that here: Join the Equipping Godly Women email community!
While the survey is pretty much ended now, I'd still love to hear your thoughts and opinions as we move into our third year. Is there anything you'd like to add or suggest?