How can I best help you grow in faith and family this year? 
That's the question I've been asking myself — and you — over the last couple of weeks as Equipping Godly Women gets ready to celebrate our THIRD birthday here in the next few weeks. (Hooray!)
You see, I LOVE creating encouraging, practical content that helps you grow in faith and family – but I don't want to just create any old content and call it a day. I want to create content that is truly helpful to where you're at and what you need right now!
And that's where the 2017 Equipping Godly Women reader survey comes in.
So… a HUGE thank you to all of you who took the time to fill out the survey. It really does help me more than you know. When I sit down to plan out what content I'm going to write over the next year, I absolutely draw my inspiration from the things that you tell me you want and need.
So — what do you want and need?
Are you curious to hear what your fellow readers said?
Scroll down to check out the results of this year's Equipping Godly Women Reader Survey now!
p.s. Remember how I said Equipping Godly Women turns 3 soon? Just a heads up that I have some fun things planned – so make sure to stay tuned!!
On to the results!
2017 Equipping Godly Women Reader Survey Results
1. Your Age: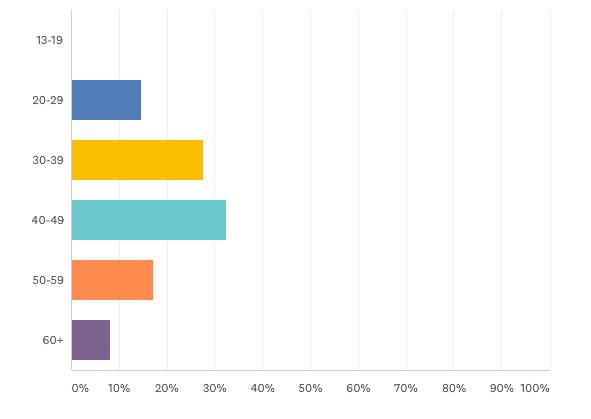 Between 30-49? You're in good company! Most of our readers are. The 50-59 and 20-29 age groups aren't that far behind, though!
2. Your Marital Status: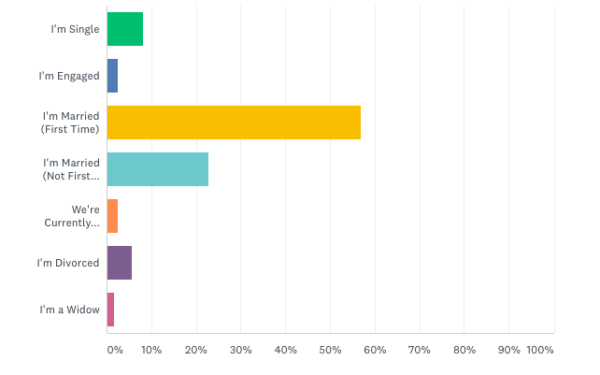 Need a good community to come alongside you and support you in your marriage? You can find plenty of it here. The majority of Equipping Godly Women are married.
3. Ages of Your Children: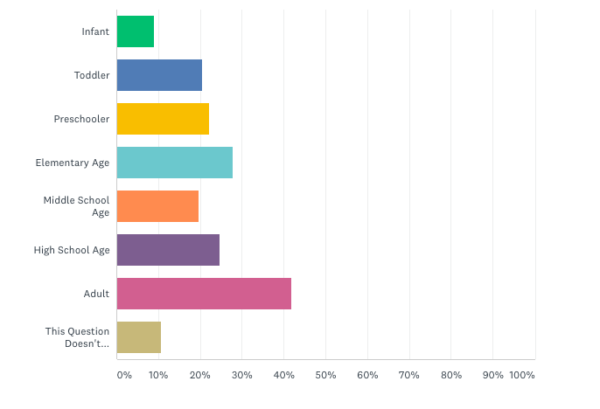 From infants to adults – you have kids of ALL ages! It really is quite a spread!
4. So… How would you describe your FAITH right now?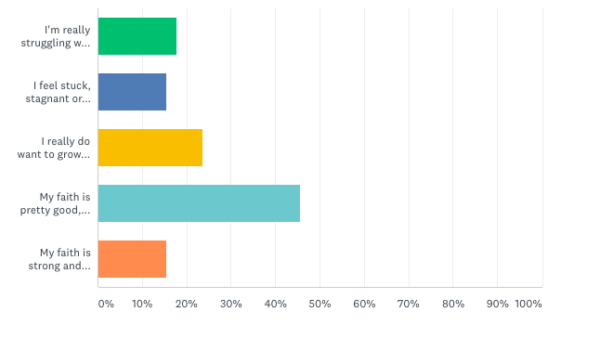 While 15% of you are doing fantastic (that's awesome!), don't feel bad if you still have quite a ways to go. Most Equipping Godly Women readers feel that their faith really isn't where it should be. The good news is — we can work together to help change that!
5. What's holding you back from growing in faith the way you want to?
Here are some of the most common answers people put/answers that really stuck out to me. Do any of them apply to you?
You don't have enough time / You don't always prioritize it the way you should
You lack the godly friendships or church community you need to grow / Your spouse isn't a believer
You're struggling with feelings of doubt, unworthiness, fear, etc.
Your prayers haven't been answered and you don't know why.
6. How would you describe your MARRIAGE right now? (if applicable)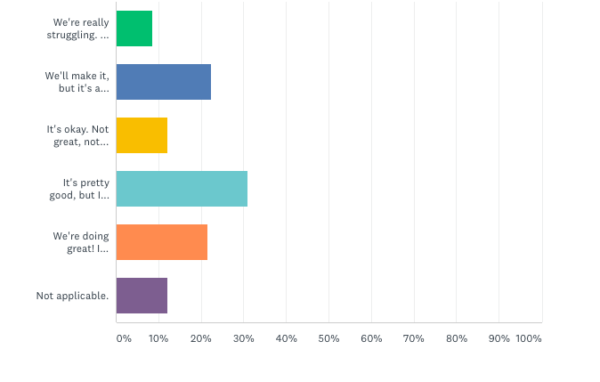 The good news? 21% of you say your marriages are going great! (Hooray!) But if your marriage isn't great – that's okay! You are definitely not alone, and we have tons of resources and encouragement for you!
7. What is one challenge/obstacle that is preventing you from having an AMAZING marriage?
Each of you shared such different stories (and my heart really goes out to so many of you struggling through tough times right now!) but here are a few things that came up again and again: 
How to accept and move on from past hurts, especially when the love you show isn't always returned
How to create a God-centered marriage
How to have better communication / intimacy
How to find more time together when life is busy
8. How is your relationship with your kids? (If applicable)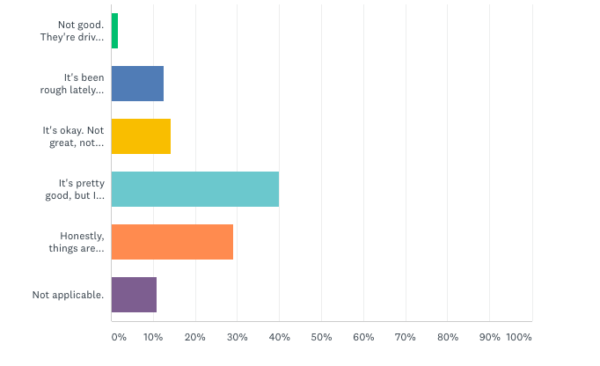 The good news is — most of you have good or even great relationships with your kids! (Hooray!) You just want to be the best mom you can be and help prepare your kids to make good choices and lead great, God-honoring lives.
9. What is one challenge/obstacle that is holding you back as a parent?
Some common answers I saw again and again:
Managing blended families
How to work with your spouse as a team
How to give your kids a faith that sticks
10. What are 1-2 things you love about Equipping Godly Women?
Oh, I can't even tell you how much your answers to this question mean to me!
Reading through all the struggles you all are facing every day, I think "That is so sad! What can I possibly do to help or make a difference for these sweet ladies??" And then I get to this question and think "Okay, there's hope. Maybe I am helping them!"
Your top answers: 
It's encouraging
It's relevant to what you're going through right now
It's honest / real
It provides good perspective / insight
11.  What are 1-2 things I could improve about Equipping Godly Women?
MOST of you said "Nothing! Keep doing what you're doing!"
But a few of you also asked for more content surrounding general women's issues or more for older mothers – not just young mothers – and I definitely hear you!
Part of the reason I have more content geared towards younger mothers is that I'm not that old myself! I wasn't even 30 yet when I started this blog and my oldest was just starting elementary school, so I didn't really have that life experience and wisdom to share! (And I still don't feel like I do)
BUT I'm definitely happy to write about more general topics to help women of all ages, to bring in people to guest post on topics I can't cover myself, and to share resources with you that I think will really help you — no matter what season you're in!
So I'll work on that 🙂
Any other thoughts or suggestions? Leave them in the comments section below!
The following two tabs change content below.
A devoted Christian, wife and mother, Brittany loves helping other women grow in these roles as well. When she isn't busy taking care of her growing family, you can find her at
Equipping Godly Women
, where she regularly shares tips, tricks and encouragement to help you be the amazing woman God created you to be. Brittany also has a thriving online community on
Facebook
as well.