Guest Post by Sara of The Holy Mess
It is a hot, bright Sunday morning last summer. I get up early to get myself and our 5 kids ready for worship, as is my habit since my husband is a pastor and leaves long before we wake up.
I love worshiping God with other Christians, but Sunday mornings are not fun for me.
We run late. I burn the toast — twice. A shoe is missing. The shirt for this boy that fit two weeks ago is now too small, and all the other church clothes are in the dirty laundy. No, bringing the entire Minecraft Lego collection is not an option.
As we drive to church, the kids fight in the car. One child asks the same question 15 times. This is a typical day for us, since I parent children with special needs.
But I am done. Fried. At the end of my rope.
Insurance has turned down our repeated requests for day treatment for one of our boys with intense behavior needs, and I am managing his care at home. I can not do one more minute, let alone one more day.
I drop the children off at Sunday School and get back in the car. I mean to sit in the car for a few minutes to compose myself before heading back inside, but I find myself driving out of the parking lot instead, tears pouring down my face.
"I'll just drive around for a few minutes to calm down," I tell myself. "I can't go into the church building until I have myself pulled together. I don't want anyone to see me like this."
I drive about a mile down the road towards our local hospital. I know if I go into the emergency room and tell them I am suicidal, they will admit me.
I consider this option. If I can't get my son the treatment he needs, maybe I can get treatment for me instead.
I am not really suicidal, and I don't know if I can pull off the lie convincingly enough.
I am not suicidal, but I am coming pretty close.
I drive by the hospital once. Then I circle back and drive by again.
Oh God, where do I turn for help?
Church, of all places, should be where I feel safe to receive love, acceptance, and emotional support for depression. Why do I feel like I need to put on a good show of having my life together?
I Am Depressed and I Go to Church
I didn't go to the hospital that morning. I drove my car back to the church parking lot and sat in the car praying. Then I went into the building and picked up my children.
No one had any idea how close I was to walking into the emergency room that morning.
I'm in a unique situation to write about depression and the church, because I've experienced depression off and on throughout the last 20 years of my life. I've worked hard to manage it with therapy, exercise, and medication. (Check out what I've written about depression here.)
I also have several family members with mental health issues.
And, I'm the pastor's wife, so our family lives in the proverbial fish bowl of our congregation watching how our family functions.
If you deal with depression and attend church, you might feel alone, but you are not alone.
Thankfully, as a society we are becoming more aware of mental health issues, and slowly churches are responding to the need.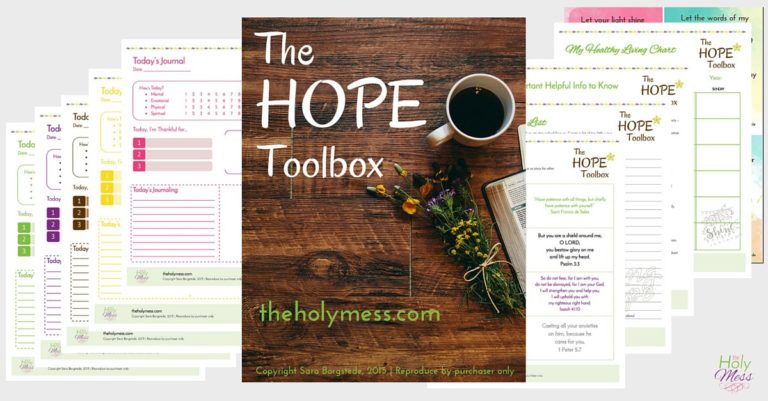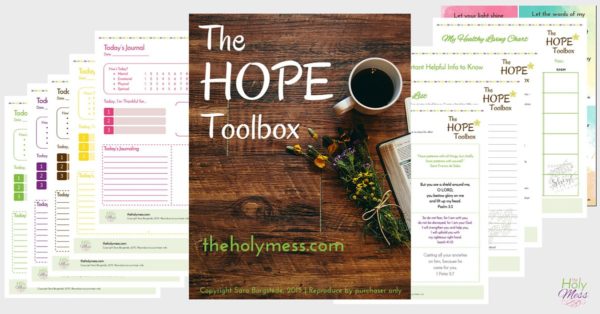 **By the way, if you're also a Christian struggling with depression, grief or sadness, I'd definitely encourage you to check out the My Hope Toolkit.
It's a collection of very pretty and very helpful printable worksheets to help you overcome grief and sadness and find joy and hope in Jesus instead.
Definitely a great resource for anyone who is struggling this holiday season!
Learn More About the My Hope Toolkit here.
*This email contains affiliate links, which means if you make a purchase, I may make a small commission at no additional cost to you. This helps cover the many costs of running this site and allows me to help provide for my growing family. Thank you!
5 Things the Church Needs to Know About Depression
Here are 5 important truths to be shared, both for churches to understand about depression and for people with depression to understand about the church.
1. The Church has a Reputation for not Treating People with Mental Illness Kindly
You don't have to go back far in history to find families who were shunned from the church when a loved one committed suicide. Priests or pastors refused to offer a Christian burial for a person who committed suicide, and they were often not permitted to be buried in the church cemetery, with the belief being a person who committed suicide did not have time to repent from this act. (There are still a few pastors today who hold to this belief, but not many.)
A Christian lives in a state of grace. While the act of suicide is wrong and a very grave sin, it does not stop a person from entering heaven if he or she trusts in Jesus as Savior. (See John 3:16, Romans 6:4, John 14:1-4 and this article about Is Suicide an Unforgiveable Sin?)
Besides the serious issue of suicide, many Christians have the idea that in order to show a good witness to other people, you need to look happy. There is some truth to this, but it isn't all true. Right or wrong, many people cling to the idea that in a church setting it's important to make a good impression.
Slowly, churches are understanding the depth of all human emotions, and coming to grips with what it means to be a Christian witness. Witnessing for Jesus means showing true joy, not putting on a flat show of fake happiness.
2. Depressed People are Sitting in Church Pews
According to a study done by the National Institute of Mental Health, in any given year up to 26% of adults in the United States suffer from depression, anxiety, or other serious mental health disorders.
People in your church are depressed. If 1/4 of the people in the United States are depressed or have mental illness, you can bet those people are sitting in your church pews. It might be you. It might be your spouse or your child or people you love. Every family — get that? EVERY family — deals with someone who has a mental illness in one way or another.
If you have depression or you have a loved one with mental health issues, and you go to church and you feel totally alone, I have important news for you. You are not alone.
If you are one of the rare souls who does not deal with mental health issues in any way, wake up to what's going on around you. Churches must be prepared to love and serve people who are depressed and support families who care for those with mental health issues. Like it or not, these issues are here and they are not going away.
3. It's not a Sin to Be Sick
Kay Warren, wife of Rick Warren who is pastor of the mega-church Saddleback Church and author of many books, including The Purpose-Driven Life, drew massive media attention when shortly after the suicide of their young adult son, she shared their story of his struggle with mental illness and said, "It's not a sin to be sick."
We see from Biblical accounts that people of the Bible experienced a wide array of emotions, including David who poured out deep anguish in many Psalms, and David is called a man after God's own heart. (Psalm 6, Psalm 32, Psalm 69 and many others) Jesus himself wept at the death of Lazarus. (John 11:35)
Mental illness is a biochemical condition resulting from genetics, environment, and lifestyle and needs the same respect given to physical conditions.
The sooner the church embraces this truth, the better.
4. Depression is not a sin, but it can lead to sinful behaviors.
Those of us with depression or other mental health issues need to do some serious heart-work with God. If you are battling depression, it's inevitable you deal with ongoing sins surrounding your mental health problems.
I say this as someone who has been there and still continues to work on these issues through therapy and in my own spiritual walk with Jesus. The devil knows our weakest spots, and he plays them for all they are worth.
You play the victim. You feel sorry for yourself. You withdraw. You think everyone has it better than you.
You think people at church are judging you, when they really have no idea what is going on because you haven't told them. You have unrealistic expectations for how the church should fix your problems or be more understanding.
One person makes an insensitive comment and you swear off the whole church forever as insensitive jerks.
Sound familiar?
Depression is not a sin, but it can very quickly lead you down a slope into sinful behavior. If this is you, spend time in prayer asking for forgiveness.
You may also want to check out the My Hope Toolkit for help working through your depression and sadness.
5. God is the True Source of Comfort
It is a tragedy when people feel shunned by the church during times of depression. God is the only source of true comfort and healing.
Look at Psalm 40:1-2:
I waited patiently for the Lord;
he inclined to me and heard my cry.
He drew me up from the pit of destruction,
out of the miry bog,
and set my feet upon a rock,
making my steps secure.
This does not mean everyone who comes to God will be cured of depression in this lifetime. Just as with physical illness, we live in a sinful world, and God in his wisdom has plans beyond human understanding. What this does mean is that all lasting comfort and hope come from God alone.
When you have depression, sometimes coming to church is the last thing you feel like doing, but it's one of the most important things to do if you possibly can. God says to worship with other Christians for a reason. Participating in the sacraments offers you forgiveness and renewed strength. Depression is physical, but it is a spiritual battle, too.
These 5 things the church needs to know about depression can bring greater understanding and unity between people with depression and the church. While not always easy, these are honest conversations worth pursuing.
Have you or someone you loved experienced depression? Was your church a source of comfort? What can churches to do provide help to people who are dealing with depression?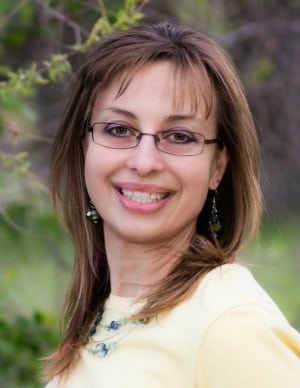 Sara Borgstede is a triathlete, speaker, and writer. She is also the creator of the My Hope Toolkit, a fantastic resource to help Christians deal with grief and sadness by puttin their focus on God. She is mom to 5 kids through birth and special needs adoption, and she and her husband Mike were foster parents to 35 children. Sara takes a lot of power naps.