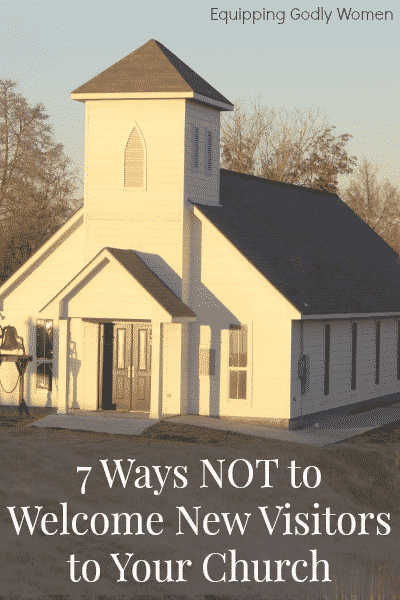 Pin
When it comes to welcoming new visitors to your church, there is definitely a right way and a wrong way. You wouldn't think it would be that hard, really. But having regularly attended 9+ churches and visited countless others, let me tell you–some churches definitely do a better job welcoming new visitors than others!
It's kind of like dating. You can't just go asking for their mother's maiden name, social security number and hand in marriage all on the first date. You have to play it cool. Worried you might be doing it wrong? Here are 7 ways NOT to welcome new visitors to your church.
And oh yes, every single one of these has happened to me. You can't make this stuff up, folks!
1. Get All of Their Contact Info As Soon as Possible
I've literally made it five feet into the door, and an elderly lady who can't hear so well anymore is already cornering me with her address book. I'm sure you're very sweet and all, but can I at least attend a service before I join your mailing list?
2. Swarm Them with the Church Directory
I have a copy of the bulletin, you're listed in the phone book, and you have a website. I'm pretty sure I can get a hold of you if needed. Having five different people swarm me with copies of the church directory, everyone circling their names and numbers as I try to make my way towards the nearest exit, is sweet, but really not necessary. Really.
3. Expect Them to Help Out Immediately
Don't get me wrong. I am all for helping out with church. I love helping out. But when I've attended your church three times now, and two of those times were spent in the nursery so I could have child care… I think I'll find a church that I can actually attend on occasion…
4. Follow Them Out to the Parking Lot
I don't know why anyone would follow someone stalker-style out to the parking lot, but this happened to me not one, not two, but THREE times! At three different churches. If we didn't make a connection in the hour that I was there, chasing me out to the parking lot for an extra five minutes probably isn't going to help too much either.
5. Show Up at Their House Unannounced
Okay, somehow you managed to get my contact information. I guess we made a connection. But that doesn't mean you should randomly show up at my house. Unannounced. What is this? A hands check for grown-ups? I'd love to have you, but next time–please call first!
6. Parade Them in Front of the Church
Having someone go up in front of the church to become a member or get baptized–by all means! But requiring someone to memorize lines and go in front of the entire congregation before they can even learn more about your church–seems a little excessive, don't you think?
7. Ask Them to Leave
I thought that the church was supposed to be a place where all are welcomed. If you're going to ask me not to come back because my kids are noisy, because my husband smells like cigarette smoke or because I bawl every time I hear Hillsong United's "Oceans," I'd rather not be there anyways.
Have you ever attended a church that was guilty of any of these? (Or been guilty of any of them yourself?) Share your stories below!