Today, March 8th, 2017, is International Women's Day. First started in the early 1900s, it's a day dedicated to celebrating the achievements of women and to pushing forward for gender equality1.
And while it seems like there is a lot of disagreement lately over which rights women should and should not have, there are a few rights that we can all agree on: the right to food, clean water, basic hygiene, and a way for women to help take care their families.
Unfortunately, while these are basic rights most of us take for granted here in the United States, these are the exact issues that women all across the world face on a daily basis. And it's costing countless lives.
Thankfully, Food for the Hungry is one Christian non-profit committed to improving the lives and living conditions of women living in extreme poverty all across the world.
And today, I'm partnering with Food for the Hungry, the sponsors of today's post, to invite you to help make a difference too.
You see, all too often we think that world poverty is too big of a problem to tackle or that there's nothing we can do to make a real difference. But the truth is, bringing hope to women in need is actually a lot easier than you might think.
In fact, here are four easy ways you can help women living in extreme poverty – right from the comfort of your own home.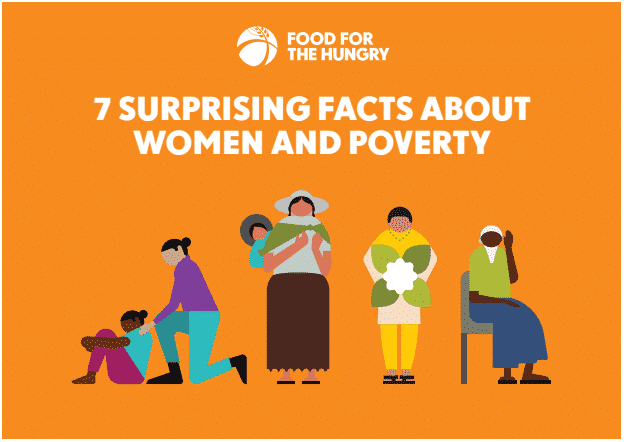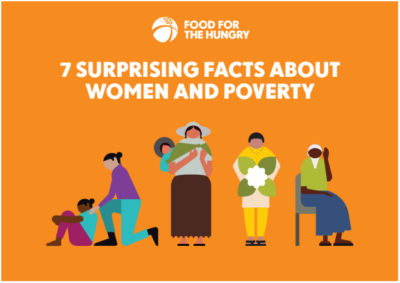 1. Learn the Facts
Oftentimes one of the biggest obstacles to helping women in extreme poverty is simply that we simply don't know how bad the poverty is or what we could possibly do about it from half a world away. After all, extreme poverty certainly isn't an issue most of us see and wrestle with on a day-to-day basis.
It's all too easy to forget the real needs and struggles of women just like us who lack even the basics of food, clean water and a way to take care of their families. That's why one of the very first steps to ending extreme poverty for women all across the world is simply to educate ourselves on what's really going on.
Thankfully, my friends over at Food for the Hungry have made this step crazy easy. They've created a new short ebook, "7 Surprising Facts about Women and Poverty" that they're giving away for 100% free to anyone who would like a copy. 
I've read through my copy already, and I really did learn quite a few interesting facts I had NO idea about before.
Want to learn more? Click the button below to grab your copy of the free "7 Surprising Facts about Women and Poverty" ebook today.
2. Pray
Unfortunately, while solving world hunger IS possible, it's definitely not a task that's going to be easy. That's why another super important step in solving world hunger is praying that God will help make it happen.
Pray that people will be motivated to help out in some way
Pray that Food for the Hungry will be effective in their ministry efforts
Pray that God will call more people to join the cause
Pray that those living in extreme poverty will be receptive to help
Pray that Satan would not thwart the efforts of those wanting to help
Prayer is powerful! And it really can make a huge difference.
3. Give
Of course, simply praying alone will never be enough. We also have to ACT. And one of the easiest ways for most people to act is to give financially. After all, few of us can afford to quit our jobs, travel overseas and get involved in the hands-on work on the mission field. It's expensive, time-consuming and disruptive to day-to-day life.
But pretty much ALL of us can afford to give in some way, even if it's just a little bit. Maybe you are fortunate enough to have a little (or a lot) left over at the end of the month. Or maybe you could get creative in finding a way to save or earn a little extra. For example, you could:
Go without one meal a week
Eat at home instead of going out to a restaurant, or pack a lunch instead of buying
Mend the clothes you have instead of buying new ones
Skip the Target trip and find ways to make do with what you have
Sell some old junk that's just taking up room in your attic or garage
Babysit on the side
Downgrade your cell phone plan or cable package
Take the money you save or earn and use it to make a positive difference in the lives of people who need it way more than you do.
4. Help Get the Word Out
Yes, it's true that one person's efforts likely won't make a huge difference. But when we all band together and encourage each other to start making small but measurable progress, that's when real change can occur.
Chances are you share interesting and thought-provoking articles on Facebook already – why not share this one too? Why not take a break from all the politics, all the negativity, and all the drama and share something that can really have a huge difference in the lives of women in need instead?
It's super simple to do, and you never know which one of your friends will be moved to give generously, all from seeing one simple post you shared. Why not try it out and see?
This International Women's Day, let's not just champion the causes that make the biggest difference in our own lives. Let's take a stand for the basic needs of women who oftentimes can't take a stand for themselves. After all, if we don't – who will?
And it starts when you grab your free ebook: "7 Surprising Facts about Women and Poverty" from Food for the Hungry today. 
1Source: https://www.internationalwomensday.com
The following two tabs change content below.
A devoted Christian, wife and mother, Brittany loves helping other women grow in these roles as well. When she isn't busy taking care of her growing family, you can find her at
Equipping Godly Women
, where she regularly shares tips, tricks and encouragement to help you be the amazing woman God created you to be.