creative ways to help others in need
I'm not sure how it's even possible, but it seems like my three little ones are ALWAYS hungry. It's not uncommon for them to ask what they can have for an after-dinner snack before dinner is even on the table! Sometimes it feels like all I do is constantly get snack after snack after snack (when I'm not picking up their dirty dishes and wiping their bottoms, that is).
They sure know how to keep a mama busy!
Between taking care of my children, being a good wife to my husband, cleaning the house, working and everything else moms do on a daily basis, it's enough to make any momma's head spin!
And unfortunately, all too often, this means that other things get left off the list. Important things too, like finding creative ways to help others in need.
As busy moms, it's so easy to come up with excuses, isn't it?
We're busy, we're tired, we're broke. We're just one person; we couldn't possibly make a difference…
And yet, are we really? Or is the problem really that we just aren't making it enough of a priority? (Let that sink in a minute…)
You see, it's incredibly easy to ignore the real hurts and needs that exist in the world. To just turn off our TVs, turn off our computers, and get so distracted by all the day-to-day things we have going on in our little world that we completely ignore everyone else's.
And yet, that's a huge mistake.
As Christians, we are called to care. We are expected to care. We are expected to act.
Here are three reasons why Christians should care about overseas poverty.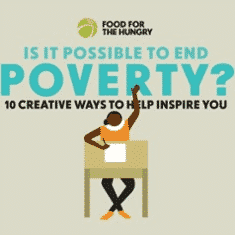 p.s. Ready to take action, but not sure how? Be sure to grab Food for the Hungry's free ebook, Is it Possible to End Poverty?
With ten stories of real people, just like you, who are using their time and talents to make a real difference, this quick and easy read will inspire you, change you, and leave you ready to take action too!
Grab your copy here–it's free!
1. The Bible Commands Us to
The Bible makes it pretty clear. As Christians, we are to generously help the poor and needy.
Those who give to the poor will lack nothing,
but those who close their eyes to them receive many curses.

–Proverbs 28:27
Speak up for those who cannot speak for themselves,
for the rights of all who are destitute.
Speak up and judge fairly;
defend the rights of the poor and needy.

–Proverbs 31:8-9
2. Our Own Salvation Depends on It
And we aren't just to help the poor because it's a nice thing to do, either. In fact, our entire salvation depends in part on how we choose to treat the poor and the needy.
Yes, we are saved by faith, but "faith alone" doesn't explain Bible verses like:
If anyone has material possessions and sees a brother or sister in need but has no pity on them, how can the love of God be in that person?

–1 John 3:17
Then he will say to those on his left, 'Depart from me, you who are cursed, into the eternal fire prepared for the devil and his angels. For I was hungry and you gave me nothing to eat, I was thirsty and you gave me nothing to drink, I was a stranger and you did not invite me in, I needed clothes and you did not clothe me, I was sick and in prison and you did not look after me.'

"They also will answer, 'Lord, when did we see you hungry or thirsty or a stranger or needing clothes or sick or in prison, and did not help you?'

"He will reply, 'Truly I tell you, whatever you did not do for one of the least of these, you did not do for me.'

"Then they will go away to eternal punishment, but the righteous to eternal life."

–Matthew 25:41-46
Those are some scary verses right there…
3. If We Don't, Who Will?
When my children are hungry, I can simply walk to the kitchen cabinets and find something for them to eat. And when the cabinets are empty, I can simply drive to the store. And if we're ever out of money, my husband and I can simply earn more.
We may not be "rich," but compared to the rest of the world, we're doing just fine.
But what about the people who can't just walk to the cabinet? Who can't just get a job? Who can't just find a way to make it work? What about them?
The truth is, God did not give you the time, talent and treasures you have to make YOU more comfortable. He gave them to you to use to help others.
So, what can you do?
So, what time, talent or treasure has God blessed you with, and how can you use it to make a difference in the lives of the poor and needy? You may be surprised.
Author Karen Randau has committed to donate a portion of every book sale to Food for the Hungry in an effort to eliminate world poverty.
Custom cake-maker Julie Vanderburg not only donates to Food for the Hungry with every cake she sells, but she also provides her customers with the information they need to become donors too.
Six-year-old Seth Wilson asked local grocery stores and an ice cream shop to donate items for an ice cream social and then used the proceeds to help purchase items for those in need.
The truth is, you don't need large amounts of money, tons of time or even any special talents to help make a difference to those in need. God has already equipped you right where you are.
Can you write stories, bake cakes, or sing? Can you clean houses, watch children, organize a team or plant a garden?
If so, you can help.
How to Get Started
Thankfully, helping the poor and needy is actually a lot easier than you might think! In fact, here are your first two steps: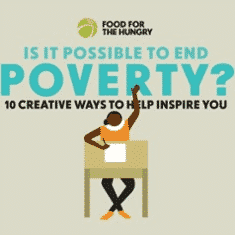 1. Grab Food for the Hungry's book, Is it Possible to End Poverty? It's free, it's a quick read, and simply by downloading it, you'll be helping them out. (How's that for easy??)
2. Start brainstorming ways YOU can help. 
What special talents or abilities has God given you? How can you use them to make a difference in the life of others? Once you grab the book, help each other brainstorm below!