Twenty eighteen is finally here! Have you decided what New Year's Resolutions you're making this year (if any)?
I recently shared these 20 Christian New Year's Resolutions if you're still looking for ideas.
Or you can check out last week's post, 8 Powerful (But Easy!) Ways to Grow in Faith This Year, for more ideas as well!
There's just one thing these posts are missing though…
When I originally wrote them, I hadn't yet decided what goals and resolutions I was going to set for this year yet. (I was working ahead and still had plenty of time)
But now that I HAVE decided, I thought I'd share them with you — both to hold myself accountable and to inspire you to set some Christian New Year's Resolutions of your own!
Read on to find out what I'm doing — and then be sure to leave me a comment in the comments section below with what you're doing this year too! I'd love to encourage you if I can!
*This post contains affiliate links, which means if you make a purchase, I may make a small commission at no additional cost to you. This helps cover the many costs of running this site and allows me to help provide for my growing family. Thank you!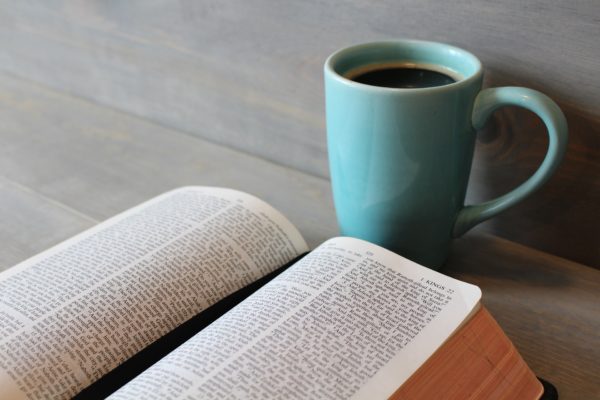 Christian Goals
1. Finish Reading the Apocrypha / Deuterocanonical books and Start Reading the Writings of the Early Church Fathers
For those of you who aren't familiar with the terms, the Apocrypha / Deuterocanonical books are the 7 books that are in the Catholic Bible that aren't in Protestant Bibles. I had never read them prior to this last year, and after my journey to learn more about Catholic vs Protestant beliefs, I figured I should, as well as the writings of the early church fathers.
This was actually a goal I had for 2017, and I made it through 6.5 of the 7 books. (Almost there!) But I didn't get to the writings of the early church fathers at all.
So this year, I plan to finish the 7 books in the next week or two (I'm really close) and then find some time to study the writings of the early church fathers as well.
2. Start Meeting with a Catholic Priest Again
Back when I was writing my series on Catholic vs Protestant beliefs, I met with a very kind and helpful Catholic priest to ask a bunch of really tough questions about what Catholics believe and why and how it all fits in with the Bible. It was very interesting and I learned a lot!
Unfortunately, he has since relocated to a new city. BUT we have a new priest now who also seems super nice and helpful, so I think I'll email him and see if he'd be interested in meeting with me instead.
And if I'm feeling REALLY ambitious — I also have the phone number of the head of a large Protestant denomination who happens to live in my area. I'd love to talk more with him as well. We'll see.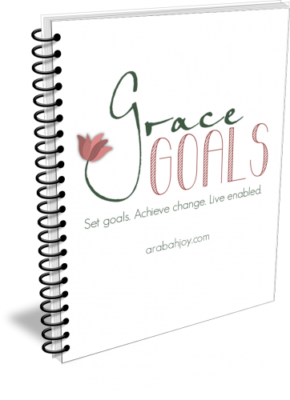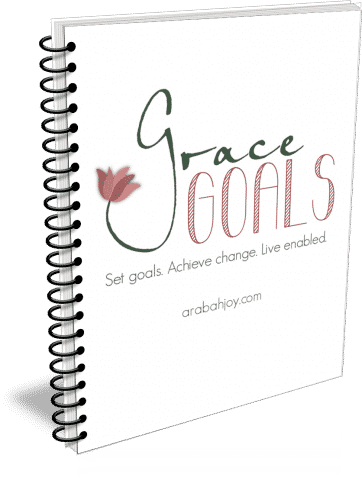 **Side note: Are you setting any Christan goals this year? If so — have you checked out Grace Goals yet?
Grace Goals is a Christian goal-setting guide that combines proven goal setting strategies with the power of the Holy Spirit so you don't just say you're going to do better this year — you actually do!
I own this myself, and I can tell you, it really is a fantastic resource. Whether you have sins or bad habits you're struggling to overcome or you have places you'd like to grow — I'd definitely recommend.

Marriage Goals
3. Go on 8 Date Nights This Year
My husband and I see each other ALL THE TIME (we both work from home), but it's almost always with three noisy, full-of-interruptions little children underfoot or late at night when we're both too tired to think straight.
We have babysitters. We have plenty of easy date night ideas. We have time in our schedule. We just need to prioritize it and make it happen! So I'm going to say 8 because that seems doable.
4. Talk about Things that Matter
And… when we DO get time to talk, it's often about unimportant, surface level things like "I'm going to the store; do you need anything?" or "Are you going to bed? Okay, goodnight."
To be fair, we are getting a LOT better at this lately, but we still have a ways to go and I'd really like to challenge myself to open up even more in this area.
**By the way, if this is something you'd like to work on too, you'll definitely want to check out these Closer Marriage Conversation Cards. I made them just for this purpose!
Parenting Goals
5. Spend More One-on-One Quality Time with my Boys
I spend PLENTY of time with my 2-year-old — she's practically glued to my hip, still needs things all day long, and I almost never go anywhere without her.
But the boys are old enough now (8 and 4) that they're in school sometimes, and they're old enough to do a lot of things independently without mom's help. It's really easy to tell them to "go play" so I can clean the house, pay bills or do whatever I need to do. (Which is NICE!)
But even though they're getting a bit older, they're still my babies and I want to keep a close, intentional relationship with them as they grow. And that starts now.
So more building things, board games and sports in the backyard with my 8-year-old, and painting, baking and snuggling up for silly stories with my 4-year-old. (That's what they're into right now, and I enjoy too)
6. Go on a Family Vacation This Year
We usually go on a couple 2-3 day "mini-vacations" each year, which is always really nice. But this year I'd like to actually take a full, legit family vacation where we have an absolute blast with the kids doing fun things we'll never forget.
(Well… the 2-year-old will forget, but the rest of us will remember)
We've already started researching, but we still have a lot more researching, planning and saving to do. Not sure if we'll get to do the vacation I reallllllllly want to do — we'll see!
Health Goals
9. Complete a Whole30 in January
I did a Whole 30 several years ago. Now, my sister-in-law and mother-in-law convinced me to do another one with them. I'm not really trying to lose weight or uncover any food sensitivities. Just really need to kick this cookie/sugar addiction!
Several days in now and still going strong. Just hope it lasts after the 30 days are over!
10. Sleep / Rest More
After putting in four years of constant "work, work, work" to get this website (and the one before it) off the ground, I hit major burn-out this past fall.
I have been working to incorporate more rest in my life already (for example, by taking a Sabbath, by taking school holidays off and by better prioritizing self-care), but I know I need to do even more. So I hope to make that more of a focus this year!
So, there you have it — 10 goals I'm setting this year to help me be a better Christian, wife and mom.
What goals or resolutions did you set this year? Are you still going strong? Share in the comments below!
The following two tabs change content below.
A devoted Christian, wife and mother, Brittany loves helping other women grow in these roles as well. When she isn't busy taking care of her growing family, you can find her at
Equipping Godly Women
, where she regularly shares tips, tricks and encouragement to help you be the amazing woman God created you to be.