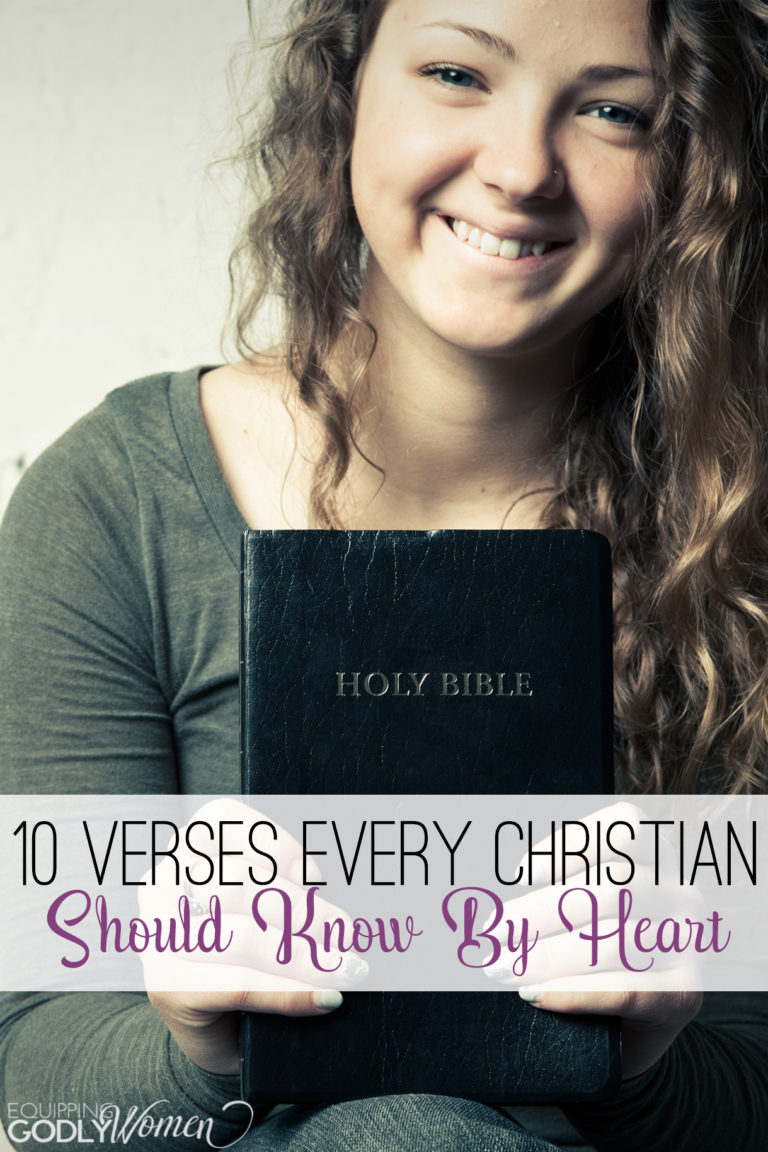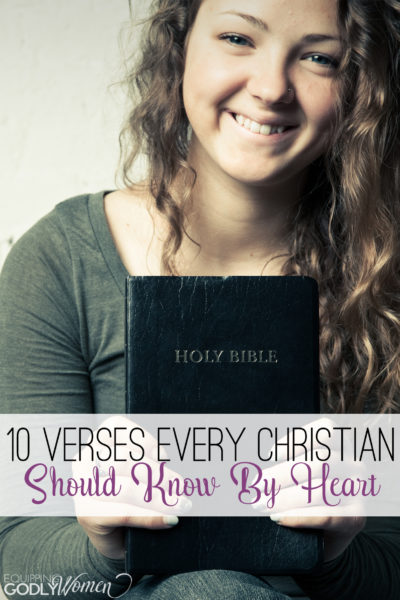 PinWhile the Bible doesn't specifically command Christians to memorize Scripture, there are several verses that tell us to meditate on the law day and night or to store God's Word in our hearts.
Take Deuteronomy 11:18-20 for example,
"Fix these words of mine in your hearts and minds; tie them as symbols on your hands and bind them on your foreheads. Teach them to your children, talking about them when you sit at home and when you walk along the road, when you lie down and when you get up. Write them on the doorframes of your houses and on your gates."
Well, that's all well and good, but where do we start?
Today I've compiled 10 Bible verses every Christian should know by heart. These encouraging Bible verses are some of the most popular Bible verses to memorize – and for good reason!
They'll help you focus your mind, guard your heart and strengthen your faith as you memorize each and every one. (Plus, they're just plain encouraging!)
10 Verses Every Christian Should Know By Heart
1. John 3:16
For God so loved the world that he gave his one and only Son, that whoever believes in him shall not perish but have eternal life.
2. Philippians 4:13
"I can do all this through him who gives me strength."
2. Proverbs 3:5-6
"Trust in the Lord with all your heart
and lean not on your own understanding;
in all your ways submit to him,
and he will make your paths straight."
4. John 10:10
"The thief comes only to steal and kill and destroy; I have come that they may have life, and have it to the full."
5. Matthew 22:37-39
"Jesus replied: "'Love the Lord your God with all your heart and with all your soul and with all your mind.' This is the first and greatest commandment. And the second is like it: 'Love your neighbor as yourself.'"
6. 2 Timothy 3:16-17
"All Scripture is God-breathed and is useful for teaching, rebuking, correcting and training in righteousness, so that the servant of God may be thoroughly equipped for every good work."
7. Philippians 4:6
"Do not be anxious about anything, but in every situation, by prayer and petition, with thanksgiving, present your requests to God."
8. Romans 8:28
"And we know that in all things God works for the good of those who love him, who have been called according to his purpose."
9. Micah 6:8
"He has shown you, O mortal, what is good.
And what does the Lord require of you?
To act justly and to love mercy
and to walk humbly with your God."
10. 2 Corinthians 5:17
"Therefore, if anyone is in Christ, the new creation has come: The old has gone, the new is here!"
Alright, that's my top ten!
What is your favorite Bible verse? Have you taken the time to memorize it yet?