Last year, right before Christmas, I set a goal for myself. I wanted to lose 13 pounds before summer.
Now, I know, that doesn't sound super spiritual, but stick with me 🙂
You see, over the years, I had developed a very bad habit. A habit that was negatively affecting my walk with God, causing me embarrassment and shame, and causing me to gradually gain more and more weight. And that is that every time I was stressed, bored or tired, I would turn to food.
Sure, it started off innocently enough. There's nothing wrong with grabbing a second cookie or snacking on some animal crackers to perk you up in the middle of a long afternoon. And no one wants homemade cookies to go to waste.
But it wasn't long before my "bad habit" slowly but surely turned into this whole big "thing" I just couldn't shake — almost without me realizing it.
Sure, I tried to show moderation. I would eat healthy for a few days, not bring junk food into the house… but then something would stress me out, I'd give in, and I'd find myself right back where I started.
It wasn't unusual for me to finish a bag of Chips-ahoy in two days (or even one). My husband would look in the cabinet with a confused look on his face, "Didn't you just buy cookies? What happened to them?"
"Cookies? What cookies?" I would reply with a feigned innocence. Although we both knew exactly what happened to those cookies.
So, this year, I decided it was time to do something about it. I would enjoy treats in moderation. I would lose 13 pounds. All would be well.
Well, the year started off strong. I dropped weight surprisingly quickly, without even really trying!
But then life happened. Between fighting with the insurance company over ridiculously incorrect medical bills, figuring out our taxes, a super fancy wedding (not mine), working, keeping up with the housework, and three little ones, I was never without a good excuse to grab another cookie or two.
And it wasn't long until I was right back where I started – binge eating cookies at every hint of boredom, tiredness or stress.
Something had to change. But what?
*This post contains affiliate links. Please see my full disclosure policy for additional information. Thanks!
Maybe you can relate.
Have you ever felt like this before? Is there anything in your life that you've been struggling with for a long time that you simply don't know how to shake?
For me, it was cookies. Maybe it's something different for you. Maybe you struggle with yelling at your children, trusting God with your finances, respecting your husband or not letting worry and fear overwhelm you. Maybe you struggle with smoking, drinking, pornography or same sex attraction. Could be any number of things.
Is there anything in your life that is holding you back from God, that you just can't seem to shake? 
If so, I have a great resource I'd love for you to check out: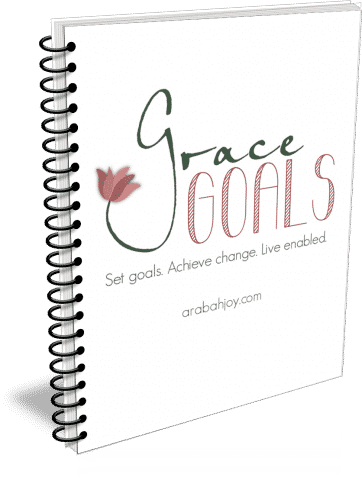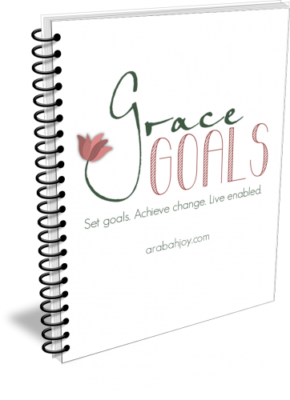 Practical and encouraging, Grace Goals is a fantastic resource designed to walk you step-by-step through the process of setting goals from a biblical perspective.
Whether you need to stop eating so many cookies, stop yelling at your children, stop worrying so much or start giving your husband the respect and support he deserves, Grace Goals will help you do just that.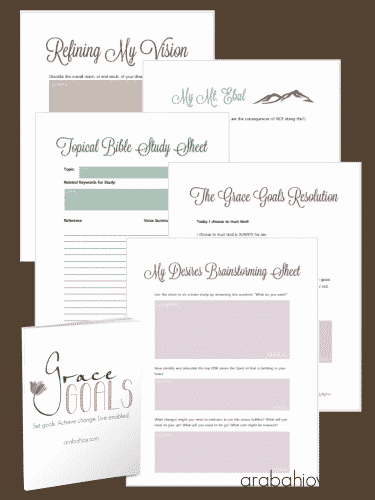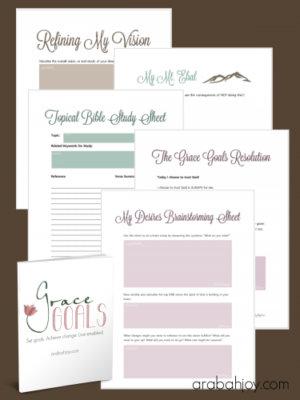 In it, you will learn:
How to choose the right goals
How to get God's approval on your goal-setting process
How to set realistic goals that you can actually achieve
How to develop a step-by-step strategy that will actually work
How to protect yourself from failure by putting practical safeguards in place
How to take the grace God offers and put it to work in your life, practically speaking.
How to overcome your bad habits, defeat your strongholds and achieve your grandest faith goals – starting today!
With 48 pages of solid, Biblical direction and advice, Grace Goals contains tons of practical information, Scripture verses, printable worksheets and study guides to help you set and achieve your faith goals.
You'll even have access to a private Facebook group for Grace Goals readers where you can connect with other Godly women to help and encourage each other as you pursue your biggest God-given dreams.
And the best part? It's SUPER affordable. I mean $15 to FINALLY kick those long-standing struggles that have been weighing you down for what seems like forever? Totally worth it.
So what do you think? Are you ready to make 2017 your best year yet? I am. I'm going through Grace Goals right now, and I'd love to have you join me.  Click the button below to learn more and join in today!

— OR —

The following two tabs change content below.
A devoted Christian, wife and mother, Brittany loves helping other women grow in these roles as well. When she isn't busy taking care of her growing family, you can find her at
Equipping Godly Women
, where she regularly shares tips, tricks and encouragement to help you be the amazing woman God created you to be.