Guest Post by Eliza at Window Into My World
The cold water lapped at my feet as I stood gazing into the deep and murky water of our local swimming pool.
The blazing hot July sun beat down fiercely on my five-year-old body as I shook with fear. However, as my eyes glanced away from the deepness of the swimming pool and into the steady blue eyes of my father, my timidness was calmed. His calloused hands were raised upward as he called, "Jump, Eliza. I promise that I will catch you."
Assured by his encouragement, I took five steps backwards, and with a running start, cannonballed into the cool water. A squeal of laughter escaped my mouth as I was lifted high into the air by the strong arms of my father. "Again Daddy, again," I chanted as I climbed up the ladder, which hung on the ledge of the pool.
As a child, trust was an effortless part of my life.
A child easily trusts and believes whatever they are told. Perhaps this is why Jesus calls Christians to become like the little children. (Matt. 18:3) Yet there comes a point where we must face the "whys?" and "hows?" of our lives.
Trust is something that is extremely hard to embrace. Yet as believers, it is essential for us to trust. We are called to trust in a God who promises to save us. A God who promises to be faithful and good. He promises to be with us even in the dark times.
How can a Christian practically build their trust in God? Here are three easy ways to trust God more:
But first — Do YOU struggle to trust God's will in your life? 
If so – be sure to check out this "How to Trust in the Lord With All Your Heart" ultimate resource list!
From free printables, a free video series, books and articles — it has tons of resources specially designed to help you trust God more.
Why not check it out and see what you can find?

*Note: This post contains affiliate links, which means if you make a purchase, I may make a small commission at no additional cost to you. This helps cover the many costs of running this site and allows me to help provide for my growing family. Thank you!
Now – on to the tips!
1. Stand in Awe of Who He is
One way that my trust in God has been grown and strengthened is when I observe the creation of God. There is something that is ignited when I stare up at a starry night. Awe and wonder of God fill my soul, while the cool night breezes surround me.
When we correctly view how small we are in comparison to God, trusting God more comes more easily. Even David wrote this in his psalms, "When I consider your heavens, the work of your fingers, the moon and the stars, which you have set in place, what is mankind that you are mindful of them, human beings that you care for them?" (Ps. 8: 3-4)
It is this wonder mixed with the knowledge of His goodness that allows us to trust in an easier way.
2. Read the Stories of Old
I find it extremely helpful to read the stories of the past. It can benefit to see the varying perspectives of different Christians and how God continually proved faithful in their lives.
Start by reading stories of King David, Apostle Paul, George Muller, Katie Davis and Amy Carmichael. These individuals had human struggles, just like all of us. However, God was their peace during the struggles and gave them the needed strength to endure.
If you want to trust God more, it can be beneficial to spend time soaking your soul in remembrance of God's faithfulness.
Related: How to Trust God's Plan – When You Don't Know What it is
3. Keep Personal Stones of Remembrance
During the Old Testament, God would often remind His people to create monuments of remembrance. When they crossed the Jordan, the Lord commanded each tribe to gather a stone from the river. Once on the other side of the Jordan, they were to build and create a monument.
This altar that was built was not for God's pleasure or praise, but it was fashioned to be a place of remembrance. It was to be a location where fathers told the next generation of the faithfulness of God. (Joshua 4)
I encourage you to write on a regular basis about how God has proven faithful. It may be a small note of how He showed up during your day or it may be a full account of miraculous provision that you describe in a long journal entry or letter to a family member.
If you write down the faithfulness of God, then when doubt and confusion hit, you will have multiple accounts of God's faithfulness and trustworthiness.
Now Go Forth and Trust!
Trust is leaping when every instinct tells us otherwise. It is crying out for help when you really want to hide. It's being able to fall asleep at night because you know who is watching over you. Trust is knowing that your Heavenly Father has the best in mind for you, even when you don't see it. Trust is believing that all things work for the good of those who love God.
There are moments in everyone's life where we must ask if we truly trust him. When your friend loses a child, will you trust Him? When your mother dies of breast cancer, will you continue to trust Him? When you receive that dreaded call, it is in that moment of greatest weakness when you must cry, "Lord, I still trust you."
Friends, let me encourage you to take the broken and shattered fragments of your life and present them to the Lord. Tell Him that you trust Him, even though you don't understand it. He is worthy of your trust and has the best in mind for you, sister!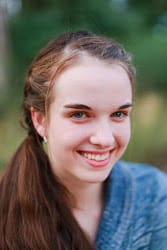 Eliza Downer, a teacher by day and writer by night, can often be found enjoying creation or sipping a cup of coffee. She currently resides in Colorado with her parents and 10 siblings. To read more of her writing, visit her website here: Window Into My World.