Last year around this time, I shared an article entitled 4 Free Resources to Help You Grow in Faith This Year. Now that a new year is upon us, I figured it was a great time to share four more!
Whether you want to kick bad habits, study your Bible more or make God more of a priority in your day, these four fantastic resources will help you do just that.
Take a look – you need know what you'll find that just might make all the difference!
*This post contains affiliate links, which means if you make a purchase, I may make a small commission at no additional cost to you. This helps cover the costs of running for this site and helps me provide for my growing family. You can learn more here. Thanks!
1. Bible Study Methods: 7 Ways in 7 Days
Wanting to dive in deeper to your Bible this year but not sure where to start? While "Read the Bible in a year" reading plans are a great way to hold yourself accountable, it's also extremely likely that you'll miss a TON while reading.
If you want to dive into your Bible more this year, I'd absolutely recommend the ecourse Bible Study Methods: 7 Ways in 7 Days by Arabah Joy. In it, you'll learn seven different ways you can dive in to your Bible and unlock tons of hidden meaning in the text you're likely to miss otherwise.
I took this course myself a few weeks ago, and it is SO good. Very interesting, very education, and definitely worth every penny for all the richness you'll gain.
>> Bible Study Methods is Best for: Anyone who wants to get more out of their Bible reading. Whether you're just starting out reading the Bible for yourself or you have for years, you're sure to get a LOT out of this course. 
Click here to learn more and sign up today.
2. FaithBox
FaithBox is a subscription box service that delivers a new box full of interesting faith-building Christian products every month. My kids and I tried out their kids' version, FaithBox – Family, earlier this year and the kids LOVED it. And the grown-up box for Christian women looks even better, in my opinion.
You can order just a single box if you want to try it out before committing to a full subscription (you can even order past boxes so you know exactly what you're going to get), or dive right on in with a 3 or 12 month subscription if you already know you're going to love it.
The company is really great to work with — I've emailed them a few times about different things now — and they're always quick to respond and very helpful.
Oh, AND they provide three meals to hungry kids for each FaithBox they ship. So that's pretty awesome too. You can grow in faith and take care of others at the same time.
>> FaithBox is Best for: Anyone who is pretty strong in faith already, but who loves trying out the latest fun and encouraging Christian Living books, goodies and more. Makes a great gift too!
You can learn more about FaithBox and sign up for your box here.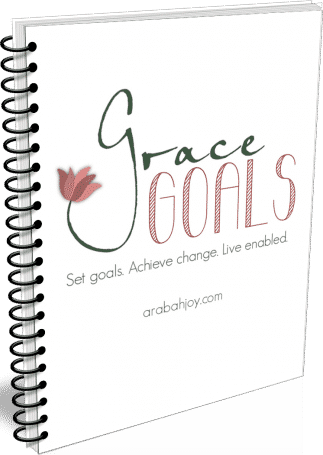 3. Grace Goals
Are you struggling to keep the New Year's Resolutions you made this year? Tired of always promising yourself that you'll "do better," but then never actually following through?
(Yeah, I've been there. So frustrating.)
The problem isn't that you need to "try harder" — it's that you need a solid, Bible-based plan. A plan like Grace Goals.
Grace Goals is unique in that it doesn't just encourage you with Scripture and nice words – it actually helps you lay out an exact path you can use to make REAL changes in your life no matter what sins, habits or hang-ups you're struggling with.
>> Grace Goals is Best for: Anyone struggling to overcome habitual sins/bad habits, and anyone who needs real change but who doesn't know how to achieve it or where to start. 
Learn more and download your copy here.
4. Inspirational/Devotional Books
Of course, when it comes to growing in faith, inspirational and devotional books are always a classic. They're affordable, accessible, convenient and even life-changing if you find the right one.
Looking for a great book to help you grow in faith and reach your faith-based goals this year? Here are three Christian Living books I've read, love, and highly recommend: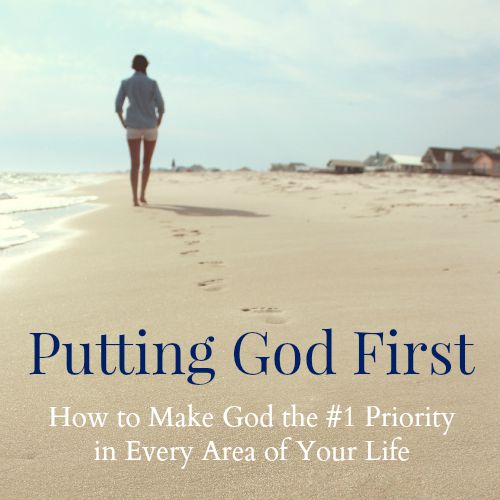 Putting God First
You say God is the most important thing in your life, but is He really? It's one thing to go to church on Sundays; it's another to actually live out your faith on a day-to-day basis.
Putting God First is an encouraging and practical book that will arm you with TONS of ideas for making sure God really is the center of your life every day of the week.
Read it, live it out, and it really will make a difference in your life. (And I'm not just saying that because I wrote it 🙂 )
Learn more about Putting God First here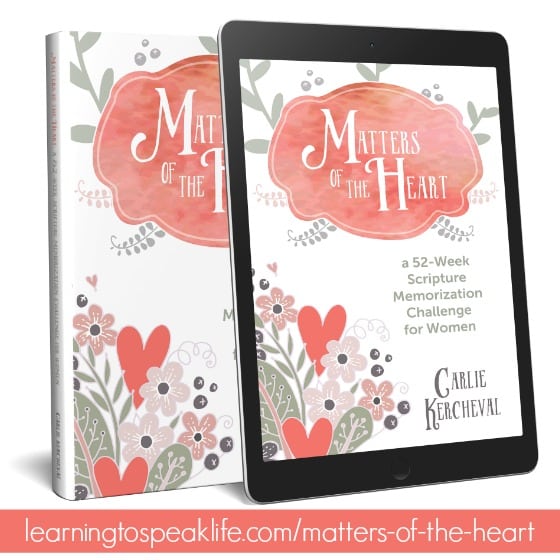 Matters of the Heart
Looking to memorize more Scripture this year? Matters of the Heart is a great way to do it. With 52-weeks of encouraging devotionals and weekly Scripture memory verses, this is one book you'll keep near and dear all year long. Just imagine how much you would grow in faith this year if you committed reading this book throughout the year!
Learn more about Matters of the Heart here 
Trust Without Borders
Struggling to trust God with your life? This inspiring book will encourage you to step out in faith and experience the amazing full life God has in store for you. It's supposed to be a 40-day devotional, but I loved reading Arabah's real life stories of faith so much that I couldn't put it down – I read the whole thing in just a couple days!
Learn more about Trust Without Borders here
How serious are you about growing in faith this year? Do you have any great resources to help you?
The following two tabs change content below.
A devoted Christian, wife and mother, Brittany loves helping other women grow in these roles as well. When she isn't busy taking care of her growing family, you can find her at
Equipping Godly Women
, where she regularly shares tips, tricks and encouragement to help you be the amazing woman God created you to be. Brittany also has a thriving online community on
Facebook
as well.