Is there something you've been praying for, but it seems like God just isn't listening? There may be a reason… In fact, today I'm sharing 6 Reasons Why God Isn't Answering Your Prayers. Maybe one applies to you?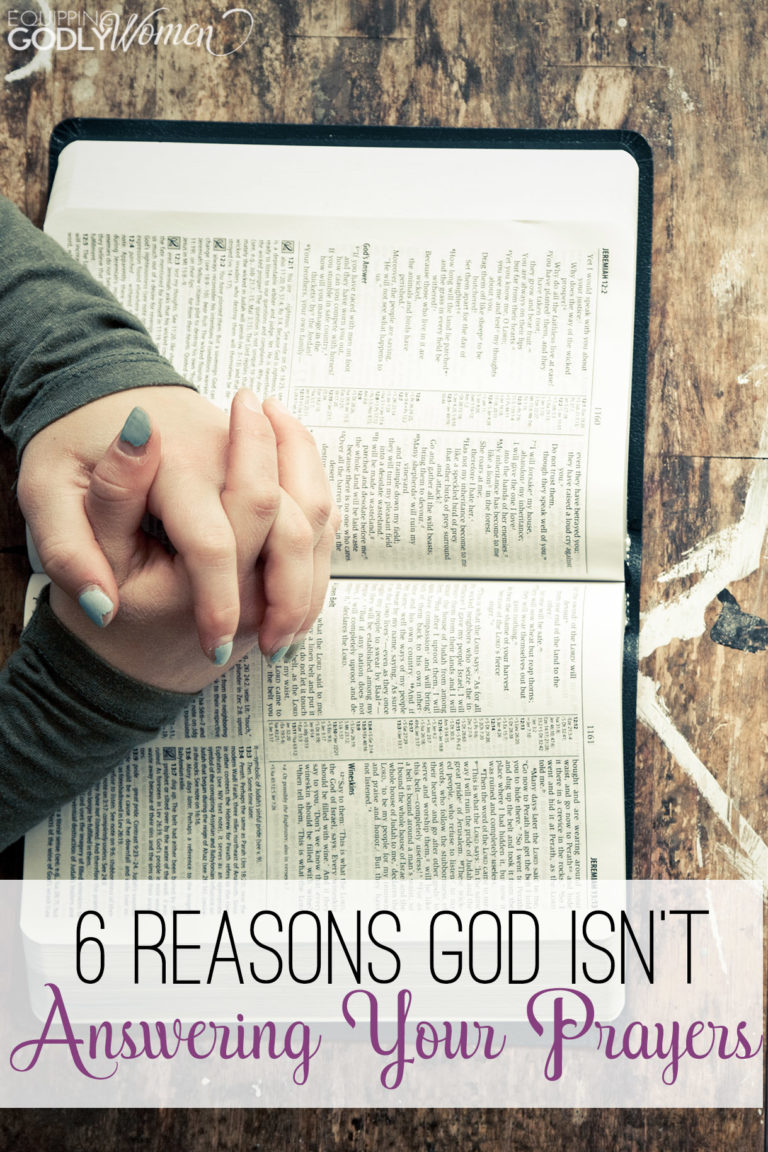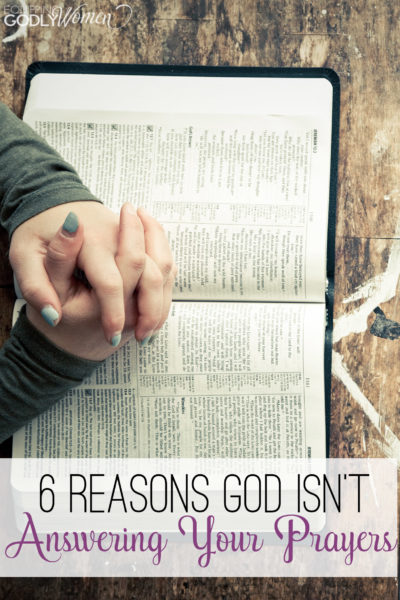 We all know prayer is powerful, but have you ever stopped to consider just how powerful prayer can be?
And I don't mean just that some people in the Bible did some cool stuff a long time ago. I mean your prayers. Right here. Right now.
Have you ever stopped to consider just how powerful your prayers can be?
Just the other day I was doing a Google search for "Verses about prayer" and I noticed something really interesting. Something I truly wasn't expecting to see.
Let's see if you notice it too:
"Therefore I tell you, whatever you ask in prayer, believe that you have received it, and it will be yours." –Mark 11:24
"And whatever we ask we receive from him, because we keep his commandments and do what pleases him." –1 John 3:22
"And this is the confidence that we have toward him, that if we ask anything according to his will he hears us. And if we know that he hears us in whatever we ask, we know that we have the requests that we have asked of him." –1 John 5:14-15
"If you abide in me, and my words abide in you, ask whatever you wish, and it will be done for you." –John 15:7
"Whatever you ask in my name, this I will do, that the Father may be glorified in the Son. If you ask me anything in my name, I will do it." –John 14:13-14
Not one, but FIVE verses that say that whatever we ask for–we will receive. (And there are plenty more too!)
Well, I don't know about you and I'm certainly not calling the Bible a liar, but that hasn't been my experience at all! I've had plenty of prayers go unanswered, both big and small, and I bet you have too.
So how can that be?
How can the Bible promise God will answer us and give us whatever we ask, and yet, real life experience tells us this simply isn't the case?
God doesn't always answer our prayers, especially not the way we want Him to.
The truth is, there are several completely Biblical reasons why God may choose not to answer your prayers. In fact, here are six very solid ones. Understand the reasons and perhaps your unanswered prayers won't seem so bad after all.
*This post contains affiliate links. Please see my full disclosure policy for additional information.
1. You're Asking for the Wrong Things
"And this is the confidence that we have toward him, that if we ask anything according to his will he hears us. And if we know that he hears us in whatever we ask, we know that we have the requests that we have asked of him." –1 John 5:14-15
1 John 5:14-15 tells us that if we ask anything "according to His will … we have the requests." That's pretty powerful! The important part to focus on here, though, is that our requests have to be in accordance to His will. 
Praying "in accordance to His will" doesn't mean that we pray for whatever want and just tack "in Jesus's name. Amen" on the end, as if those were some magic words that make our prayers "work," however.
It means we pray for the things that God would have us pray for. 
It means instead of simply praying for our selves, our wants and our desires every time, we start our prayers with "God what do YOU want me to pray for today? What plans do YOU want to accomplish, and how can I help bring YOUR plans to fruition?" or at least a good "if it's your will God, let it be so."
You see, whether we realize it or not, God has an amazing, huge master plan that He is slowly unfolding. And things look a LOT different from His perspective than from ours. Sometimes, the things that we ask for, that we think are best for us, really aren't the best for us at all.
And so God says "wait," "no," or "not right now" – not to be mean, but because it's truly what's best for us.
But when we ask for the very things that He wants to give or accomplish – Well, then, He's likely to say yes every time.
2. You're Asking for the Wrong Reasons
"When you ask, you do not receive, because you ask with wrong motives, that you may spend what you get on your pleasures." –James 4:3
Just the other morning, I saw an article online where someone was trying to prove that God doesn't exist because they couldn't pray for everyone in the world to not have cancer and have it magically happen immediately.
How ridiculous.
God is not a genie, prayer is not a magic spell, and God does not answer to us as though we were His boss, giving Him orders!
If you are using your prayers as a way to test whether or not God is real, is good or can be trusted, those are not God-honoring prayers.
If you are using your prayers only as a way to get ahead personally or to make your life more comfortable or pleasant – all the things you want – without taking the time to consider the causes God would have you pray for, those are not God-honoring prayers.
And we can't be surprised when God doesn't answer prayers like these.
Sure, He might. But I can't imagine they are top on His priority list.
3. You Have Sin in Your Life
 "We know that God does not listen to sinners. He listens to the godly person who does his will." –John 9:31
This one makes a lot of sense to me. If we refuse to listen to God, why should He listen to us?
Sure, He might answer our prayers. OR He might use the situation as a wake-up call we're desperately needing.
Would you really blame Him?
And this counts for sins you're consciously aware of, as well as sins you have committed in the past and forgotten all about. Plus, even generational curses you may have on you and your family due to the sins or addictions of your parents/grandparents.
That's a whole different topic that's too much to get into today, but it is a factor.
See also: Deuteronomy 1:45, 2 Chronicles 7:14, Job 35:13, Psalm 34:15, Psalm 66:18, Psalm 145:19, Proverbs 15:29, Proverbs. 28:9, Isaiah 1:15, 1 John 3:22.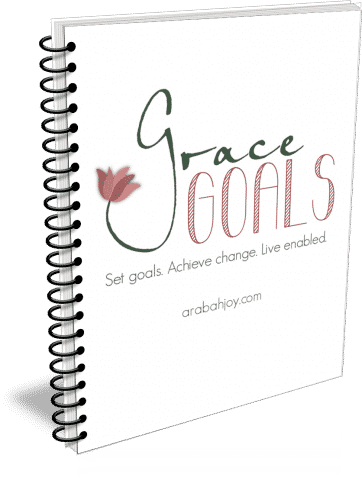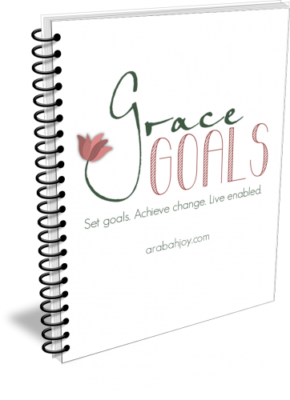 By the way, if you have certain sins you KNOW you are struggling to get rid of and just can't seem to shake, you may want to check out Grace Goals by Arabah Joy.
With 48 pages of solid, Biblical direction and advice, Grace Goals contains tons of practical information, Scripture verses, printable worksheets and study guides to help you set and achieve your biggest goals – all from a Biblical perspective.
I really enjoyed it, and I bet you would too.
Interested? Click here to learn more.
4. You Don't Have Enough Faith
"And Jesus answered them, "Truly, I say to you, if you have faith and do not doubt, you will not only do what has been done to the fig tree, but even if you say to this mountain, 'Be taken up and thrown into the sea,' it will happen." –Matthew 21:21
How amazing would it be if we could seriously tell a mountain to move and it would do it?
(Or a chocolate fudge brownie to appear and it would — that's probably what I'd do! lol)
You know, I've been wondering lately why the early apostles had so much power to make miracles happen, and yet we don't see miracles happen nearly so often today, and I think I have a guess as to why: We don't have the faith the apostles had.
When I pray for things, I *hope* they will happen, knowing full well that they might not. I certainly don't go around loudly proclaiming things and speaking things into existence. And yet, this is exactly what the apostles did. And it worked.
Oh to have that type of faith! (Although a faith like that typically takes the type of Christian trials people prefer to pray away!)
5. You Aren't Listening for the Answer
Man, we Americans are busy people. Always running from place to place, doing a hundred things at once. Kind of makes it difficult to take time to stop and truly listen for God's still, small voice, doesn't it?
So, what if God has given you the answer to your prayers but you've been rushing around so much you didn't even notice?
(Or perhaps, you DID hear His answer, but you didn't like it very much, so you just keep asking and asking, hoping to hear something else instead)
Have you taken time in the still and quiet to really listen to His voice? Or are you too busy rushing around trying to solve all of your problems yourself, without so much as stopping for a minute to hear from Him?
Related: Struggling to Read the Bible Consistently? Here are 7 Reasons Why
6. You Haven't Asked
What if, when the Bible tells us to "pray without ceasing," God expects us to do exactly that?
The truth is, most of us spend FAR more time talking about and complaining about our problems than we actually do taking them to the Lord in prayer.
Have you prayed about your problems as much as you've talked about them?
And even more than that, once you asked, did you wait and allow God the time and space to actually do something about them? Or did you just barge ahead full steam, trying to find a solution to your problems yourself, without Him?
Yes, prayer is powerful, but only when used appropriately. Pray on God's terms and you might just be amazed at what happens as a result!
When was the last time you were disappointed by an unanswered prayer? Did you ever stop to consider why your prayers went unanswered?
The following two tabs change content below.
A devoted Christian, wife and mother, Brittany loves helping other women grow in these roles as well. When she isn't busy taking care of her growing family, you can find her at
Equipping Godly Women
, where she regularly shares tips, tricks and encouragement to help you be the amazing woman God created you to be.