Guest Post by Sara of The Holy Mess
I huddled in a stranger's tiny bathroom as tears dripped down my face and onto my new outfit. Outside, I heard music and laughter. My face burned with shame as I recalled my conversation with the hostess of the party just a few minutes earlier.
"You and your husband must be so excited," she commented.

"What do you mean?" I asked, wrinkling my nose with confusion.

Gesturing to my stomach, she said, "You know, about the coming arrival."
My heart dropped and I realized she thought I was pregnant, when I wasn't. I willed myself to laugh this off and pretend it was no big deal.
"Oh, I'm not pregnant," I said quickly, with a dismissing gesture of my hand. "So, tell me more about your grandkids."
Somehow I finished the conversation, then rushed to the bathroom to cry in private. I took deep breaths to calm down, promising myself I would find my husband in the crowd and beg him if could we please just make an exit as quickly as possible.
I wanted to blame this awful situation on the hostesses' rude behavior. (Hint: unless you know for SURE, never, ever ask a woman about a pregnancy!) But the truth was, I was 100 lbs overweight at that time in my life, and I had been mistaken for being pregnant a number of times.
Every single time was a horrible reminder of my failed attempts to control my eating and weight.
Whether you are overweight, as I was, or your weight is within the normal range, almost every woman in our society today struggles sometimes with food and body issues.
If you are overweight, you may carry with you the shame and guilt of every pound. If you are thinner, maybe you worry about gaining weight or have nagging feelings of knowing you should eat a healthier diet and exercise more. Perhaps you are obsessive about exercise in order to maintain your weight at a certain number.
1 Corinthians 6:19 says, "Or do you not know that your body is a temple of the Holy Spirit within you, whom you have from God? You are not your own, for you were bought with a price. So glorify God in your body."
Although this verse is speaking directly about sexual immorality, earlier in the same chapter, in verses 12-13, Paul writes, "All things are lawful for me, but not all things are helpful. I will not be dominated by anything. Food is meant for the stomach and the stomach for food." Paul gets it. Our desires for food run deep. Food and sex, this is serious stuff!
Do these verses in 1 Corinthians 6 fill you with guilt at times? As a Christian woman, do you know you should treat your body as a temple of the Lord, but you are too tired and overwhelmed to take care of yourself properly? I was in that place for many years. I had a handle on so many areas of my life, but not eating and exercise.
Ten years ago I lost 100 lbs, and I've been maintaining that weight loss since, so I can relate to any woman who struggles with food and body issues. At different times along my journey, I've been a compulsive overeater, a binge eater, a compulsive exerciser and an obsessive dieter.
After a lifetime of food obsessions, God has given me a new freedom and joy in the areas of food and body image. How is this possible?
The key to allowing God to use your body as His temple is to follow the guidance of Deuteronomy 8:7-10:
For the Lord your God is bringing you into a good land, a land of brooks of water, of fountains and springs, flowing out in the valleys and hills, a land of wheat and barley, of vines and fig trees and pomegranates, a land of olive trees and honey, a land in which you will eat bread without scarcity, in which you will lack nothing, a land whose stones are iron, and out of whose hills you can dig copper. And you shall eat and be full, and you shall bless the Lord your God for the good land he has given you.
God helped me, and He can help you too. Here's what you need to do. 
*This post contains affiliate links. Please see my full disclosure policy for additional information. 
1. Trust God
God promises good land for His people, rich and prosperous. We might have to walk through a desert to get there first, though. Trust that God is leading you in the right direction. Pray for His help and guidance every step of the way.
2. Make a Plan
Create a specific plan for how you will work toward a healthier life. Being vague doesn't work here, my friend. How will you exercise? When will you exercise? What healthy meals and snacks will you eat? Write it down on your calendar or use an app or a fitness tracker.
Don't just leave it up to chance and hope you follow through – write it down!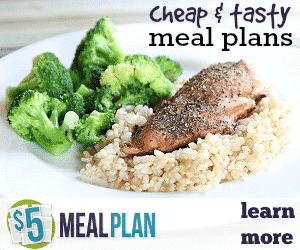 By the way – Need help making meal plans that are healthy AND affordable? You may want to check out a service like 5 Dollar Meal Plans.
They write out your meal plans FOR you and send them to you every week, saving you the time and effort, and helping ensure that you actually HAVE a meal plan!
Plus, you can get two weeks free when you visit 5 Dollar Meal Plans through this link.
3. Find Your Why
At some point along the path toward your new fitness goals, it's going to get tough and you will be tempted to quit. This might be one day, one week, or one hour into it. You must be prepared for these moments. The way to conquer them is to have discovered, in advance, your deeper reason why you are making these changes. Is it to be a good example for your children? Is it to live a longer, healthier life with your husband? Is it to wake up energetic every day, or to have better self-esteem? Keep that focus when the going gets tough.
One REALLY great book I read on this is Made to Crave by Lysa Terkeurst. Not only does reading this book feel like talking to a best friend or big sister who totally understand what you're going through, but the way she relates weight struggles to spirituality is deep. It's definitely stuck with me ever since I read this book – in a good way!
4. Be Accountable
You are human, and humans need tangible accountability. Who in your life will keep you accountable to your healthy goals? Some possibilities might be a good friend, a workout partner, a formal weight loss program, or an online group. You might print out a daily tracker and hang it on your fridge or even start an Instagram account to help hold you accountable.
Just make sure you choose someone who isn't afraid to actually hold you accountable!
5. Give Yourself Grace
God gives us grace and forgiveness when we mess up, and we must allow ourselves grace, too. Did you know that research even proves this to be true? You will be more successful with your weight loss and fitness endeavors if you quickly forgive yourself and move on, rather than beat yourself up for mistakes.
In Deuteronomy 8:10 God promises, "And you shall eat and be full, and you shall bless the Lord your God for the good land he has given you." This is an amazing promise because when you overeat junk food, the truth is you are never truly satisfied. It doesn't bring fulfillment.
God promises you real satisfaction when you come to Him, and you will bless God for the amazing work He does your life.
Do you struggle with controlling your weight or what you eat? How do you manage it? Or do you?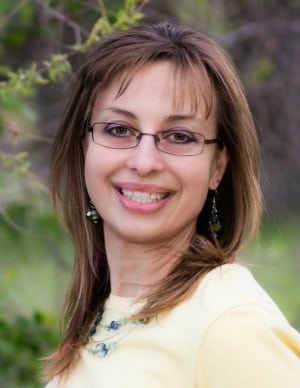 Sara Borgstede is a triathlete, speaker, and writer. She has been maintaining a 100 lb weight loss for 10 years, and runs an online faith and fitness program for women, www.faithfulfinishlines.com. She is mom to 5 kids through birth and special needs adoption, and she and her husband Mike were foster parents to 35 children. Sara takes a lot of power naps.