I worry a lot. And one of the biggest things I worry about is money. It's not that we don't make enough, because we're fine. I just worry.
I don't just pay our bills; I have this huge multi-page, color-coded Excel spreadsheet set up with formulas and labels and bolded numbers. And I don't just write, I constantly crunch numbers in my head. "Let's see, if I can get x articles done today at x dollars each, that equals this much a week, but if I only get this many done, that equals this many dollars…" 
I think I'd probably make a good accountant or tax professional. Do they have professional worriers? They should. I'd be great at it.
So, way back in November 2012, our church did a sermon series on tithing that really hit me hard.
I knew that our finances were one area where I was trying to be in control. Being mindful of your budget is one thing—I had a death grip on it. It's not even that my intentions were wrong—I was only trying to make sure that we weren't being wasteful and that we were working to pay down our debt.
But I was relying on myself instead of relying on God.
I was looking at "What can I do to fix this?" instead of stepping back and saying "It's all Yours anyways. Do what You will."
Well, I knew that we were being called to give 10% (or more!), but honestly the thought gave me severe anxiety. Not to mention the fact that I was pregnant and super hormonal anyways… I cried through church on countless occasions. I don't like giving up control. At all. Not one bit.
So I finally told God… I can give you baby steps. I seriously cannot handle 10% right now, but I can do $20 a week. And once I see that I can do $20 this month, I'll make it $25 next month, and we'll work our way up from there.
Pretty much immediately, little things began to happen.
My husband and I had been wanting a bike trailer. We found one for free.
I thought, "Hmm. I kind of want a purse." I found one I love for free.
I was thinking about cloth diapering but hadn't told anyone yet. My mother-in-law randomly said: "We got a bunch of cloth diapers in at work. Do you want them?"
Coincidence? I guess you could have said so at that point, but it didn't stop there. We continued to increase our giving each month, and as our giving increased, bigger things kept happening.
My car was seriously dying. I thought we would have to spend 5-8K on a newer one. We got a car that is better than what I thought we would have been able to get for only $2,500.
I thought *maybe* we'd get $1,000 back on our taxes? We got back a few thousand! (Don't come asking for money, though. We've had a baby since then. The money's gone. Lol)
(I know you aren't supposed to talk about money–that it's not polite. But saying "God took care of us" doesn't drive the point home as much as saying "We got THOUSANDS of dollars we weren't expecting when we said yes to God" —which is exactly what happened.)
I kept praying: "I know you are being more than faithful God, but I'm still freaking out over here. I don't know how we are going to come up with the last $30 a week we are supposed to be giving you…"
Seriously two days later, My husband mentioned, "Oh, I forgot to tell you. I got a $30 raise." And I knew God was saying "See. I already have this figured out. Before you even asked."
Then, I prayed: "God, it'd be really awesome if this baby doesn't have clubfoot like our oldest did. If he does, we would still trust you, but if he doesn't, that'd be great." He doesn't. He's super healthy.
Then, I was worried about what we were going to do once baby came along. We would have huge doctor's bills and I wouldn't be working any more. But a month and a half after baby was born, I came across an article on how to make money from home and I got an online job writing articles that I LOVE. Sure, my husband and I are both working hard, but I know the money we bring in doesn't really come from our efforts–but from God.
Honestly, it's been terrifying. But every time I exercise even the smallest bit of faith, God has come through in huge ways. Our money situation isn't even that different than before, but we always have enough and I have a lot more peace–not that I don't still freak out a little 🙂
I've heard stories like these before and thought "Well, that's nice for them, but it doesn't happen to everyone…" and honestly, it was because I wasn't giving God a chance.
Saying yes to God hasn't been easy, but my faith has grown leaps and bounds this year as I've been obedient and seen firsthand that God IS who He says He is and He DOES provide.
He always has for us, and He can for you too–you just have to give Him a chance.
Psalm 34:8 O taste and see that the LORD is good; How blessed is the man who takes refuge in Him!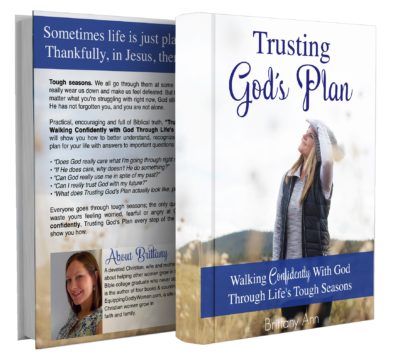 Ready to step out in faith too? Then don't miss my brand new book, Trusting God's Plan: Walking Confidently with God Through Life's Tough Seasons — on sale now!
The following two tabs change content below.
A devoted Christian, wife and mother, Brittany loves helping other women grow in these roles as well. When she isn't busy taking care of her growing family, you can find her at
Equipping Godly Women
, where she regularly shares tips, tricks and encouragement to help you be the amazing woman God created you to be. Brittany also has a thriving online community on
Facebook
as well.