Guest post by Gina of GinaMPoirier.com
The holidays are upon us, and for many it's a time of joy, laughter and family.
But for some, it's a time of unspoken sadness, grief and remembering loss. There are loved ones you can't be with, unfulfilled dreams, and painful memories.
Or perhaps it's a mixed bag; you enjoy the season, but there are still instances nagging pain.
Whatever your story, it is an emotional time of year, for good or for bad. In the hubbub of the festivities, it can be easy to shove the swell of emotions aside and just power through—and feel completed depleted afterward.
On the other hand, it can be tempting to want to pull away from it all and hibernate until January.
Here are some suggestions for how to approach the holidays in a godly way with these complexities of emotion.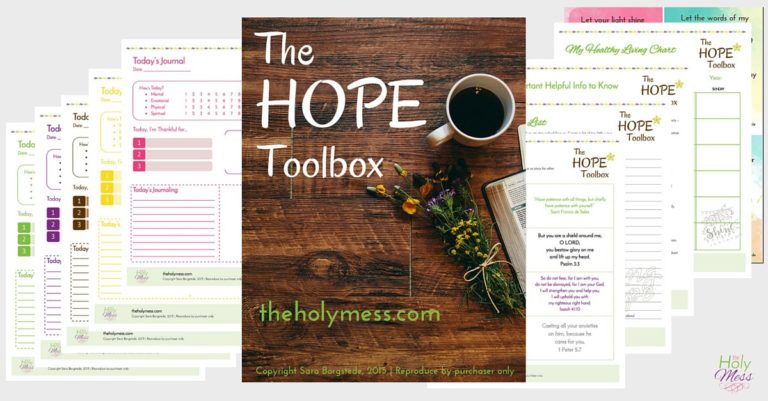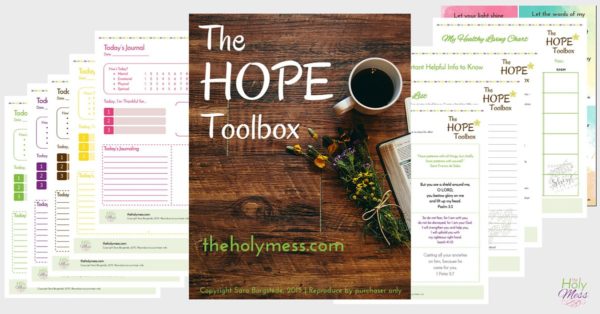 **By the way, if you're struggling with depression, grief or sadness this holiday season, I'd definitely encourage you to check out the My Hope Toolkit by Sara from TheHolyMess.com.
It's a collection of very pretty and very helpful printable worksheets to help you overcome grief and sadness and find joy and hope in Jesus instead.
Definitely a great resource for anyone who is struggling this holiday season!
Learn More About the My Hope Toolkit here.
*This post contains affiliate links. You can learn more here.
1. Don't Minimize Your Feelings
When everyone else seems so happy, you can feel like a big downer. Hence the temptation to pull away and hide for a few months.
It's also tempting to compare your loss to someone else's as a way to try and feign a good attitude. Well, at least I haven't lost as much as them, so I should be thankful.
It's not a bad idea to count your blessings and to be sensitive to others, but you can do that while still recognizing and validating your own losses.
Jesus said, "Blessed are those who mourn, for they will be comforted" (Matthew 5:4). Comfort comes from God, but in order to receive it, you actually have to mourn.
I am amazed by the pages and pages in the Bible that are about mourning and sadness. Recently I read Lamentations and was pulled in by the magnitude of the grief, and even the anger pointed towards God! God wants us to put those honest feelings before him, as ugly and repetitive as they might sound.
2. Grieve as You Need To
I have good news and bad news when it comes to grief. The bad news is that there is no exact formula to just "getting over it." The good news is that you can grieve in your way, on your own timetable.
My mom was recently talking about her mom (my grandmother), who passed away several years ago. She observed that while people say that you miss people less the longer they are gone, she has actually experienced the opposite: she misses her more!
It doesn't matter how much time has passed; loss hurts. It just hurts in different ways at different times. So it's okay to have a good cry about something that happened a long time ago or seems silly.
Arise, cry out in the night,
    as the watches of the night begin;
pour out your heart like water
    in the presence of the Lord.
—Lamentations 2:19
3. Set Realistic Expectations and Limits
Depending on how much you're hurting, you may or may not be able to participate in all of the "normal" festivities without suffering. If being around babies or couples makes you sad, either respectfully decline the invitations, or go with an action plan for when it gets hard.
For example, maybe you can skip the office party, but you know you shouldn't miss the family gathering. Perhaps at the family gathering you can plan on going for a walk in the middle of it or sitting next to someone who understands and can help you feel less lonely. Talk about it with someone close to you so they can be your "wingman" and help you get through.
Remember, you don't have to please everyone. Pray through your holiday calendar, recognize your limitations, and do what you can.
4. Make New Memories
You're in control of how you spend your holidays, so make the most of them. Perhaps you have some painful past memories. You can grieve what was lost and still enjoy the present.
If you've lost a loved one, you might be comforted in celebrating them during this time. Hang an extra stocking or Christmas ornament, or take a special moment to honor their memory. You might come to cherish these little rituals in time.
My parents were divorced when I was a child, so I have my share of memories I'd rather forget this time of year. But after eleven years of marriage and three kids, I have so many happy memories that I've established, the tough ones have mostly faded away.
*Still struggling to overcome past hurts and negative memories? Learn how you can overcome them here.
5. Choose Gratitude
While it is necessary to grieve and accept feelings of loss, at the same time you can focus your heart and your mind on what you're thankful for.
Choosing gratitude has been scientifically proven to change the structure of your brain (see From Despair To Hope: the Science of Choosing Your Thoughts).
More important, it's biblical: "Give thanks in all circumstances; for this is God's will for you in Christ Jesus" (1 Thessalonians 5:18).
A simple and effective method for gratitude is simply to write down what you're thankful for. You can keep a gratitude journal, or perhaps get a little more creative and put one happy thought a day on a piece of paper into a jar. Whatever you do, the key is to do it daily, and you can watch your attitude change.
6. Give
There's an old saying you've probably heard: "Give till it hurts." My husband's grandfather, a very godly and admirable man, takes it a step further: "Give till it stops hurting."
I've already addressed the need to grieve and to set boundaries, but on the flip side you sometimes have to push yourself—by getting your mind off of yourself. If you find that your sadness and pain are like a broken record, you can break the cycle by bringing joy to someone else.
There are so many needs during the holidays, so see what you can offer to your church or your community. It could be something as simple as putting a box together for Operation Christmas Child, getting some extra cash to give to the Salvation Army or writing Christmas cards for the homeless. If you're grieving someone who has been lost, do it in their memory. I can't think of a better way to remember them.
7. Focus Your Heart and Mind on Christ
"He's the reason for the season" is a bit cliché, but it's true. Nothing gets me through hard times like laying my burdens down at the foot of the cross and celebrating what that means.
Maybe this means you need to take some breaks from the festivities so you can be quiet and reflect. Maybe you go through a resource like the My Hope Toolbox. Or perhaps you need to retreat with a friend and pray together. Advent rituals like a Jesse Tree or candlelight worship are also methods to guide your heart into the right place.
** Need some additional ideas? How about these 25 Ways You Can Help Your Children Prepare for Christmas? They work for grown-ups too!
Whatever you're going through this holiday season, just know that you're not alone. And with God's guidance, you can laugh, cry, grieve and celebrate—and get through it with some great new memories.
Share with us: are the holidays hard for you? What do you do (or what do you want to do) to make them more joyful?
Guest post by Gina of GinaMPoirier.com.

Gina is a happily married mom of three, stress management coach and writer who helps overwhelmed, exhausted moms find peace and purpose in the everyday. Check out free resources for Christian moms at ginampoirier.com.