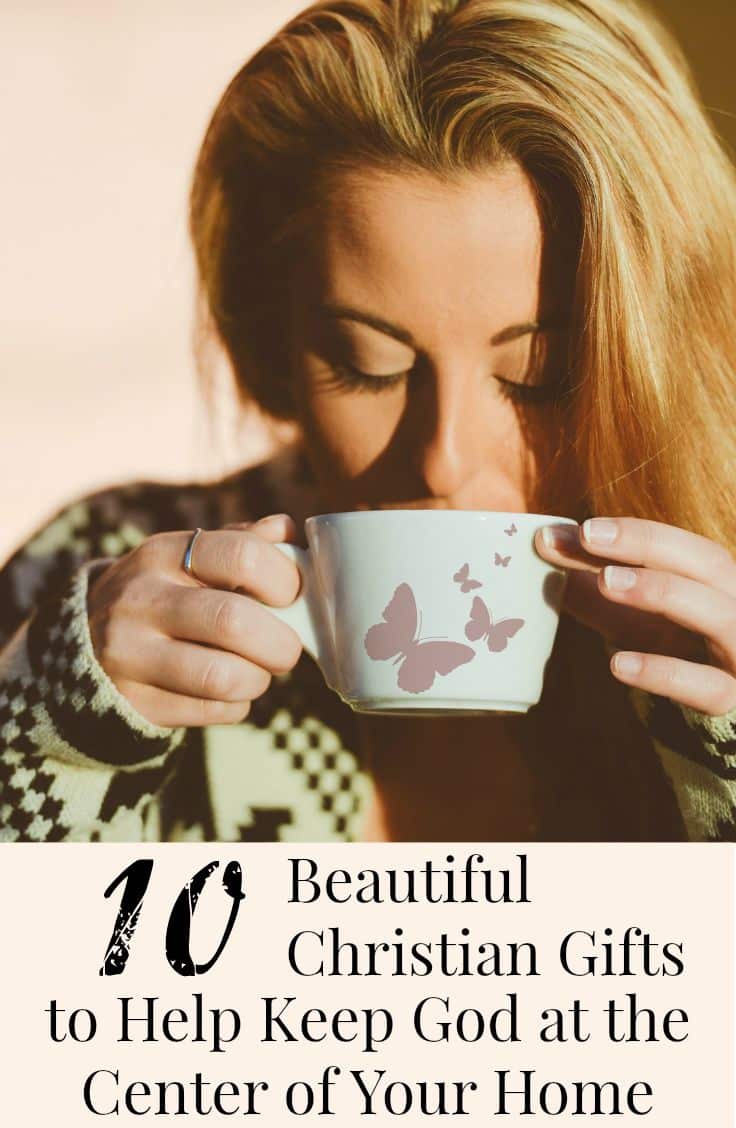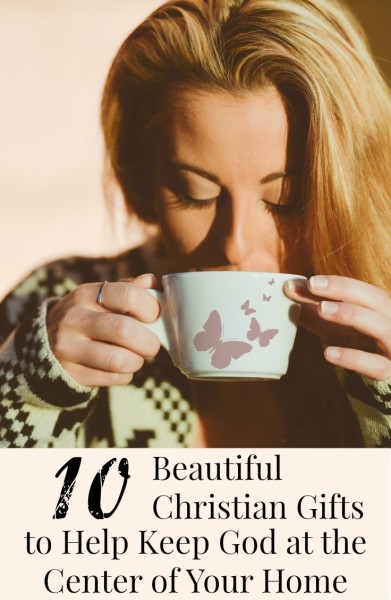 Whether you're looking for Christian home decor for your own home or you're searching for Christian gifts for holidays or other special occasions, you have a LOT of choices! Why not choose something that helps you keep God as the focus of your home all day long?
The truth is, it's all too easy to get so busy and distracted by day-to-day life that we forget to spend time with God on a regular basis. These beautiful Christian gift ideas will not only make your home look cozy and homey, but they'll help remind you to make God your focus as you go about your daily activities as well.
**This post contains Amazon affiliate links for your convenience. Simply click on any link to find the full product description or to purchase. You can also visit my disclosures page for more info on affiliate links. 
10 Beautiful Christian Gifts to Help Keep God at the Center of Your Home
1. "His Grace Is Sufficient" Inspirational Mug: Start your morning with a little bit of coffee and a whole lot of Jesus. This beautiful, grace-themed coffee mug will make the perfect addition to your morning routine.
2. For I Know The Plans I Have For You Jeremiah 29:11 Mini Fence Post Art: Have a blank space on your wall that you're not sure how to fill? This mini-fence post art is super cute and fun, AND it will inspire you and encourage you all day long.
3. Inspirational Fridge Magnets — Set of 4: Organize your most important papers and your children's artwork with this set of four inspiring fridge magnets. Whether you're in need of a quick pick-me-up or you'd simply like a little encouragement throughout the day, these magnets are sure to do the trick.
4. 2015-16 Branches and Birds Inspirational Christian Daily Planner: If you need a little help remembering to make God a priority in the midst of your everyday life (and who doesn't??), a Christian daily planner is the PERFECT way to do just that! Plan your day with the most important things in mind; this planner will help.
5. Leaf Wall Cross: According to my Catholic husband, a cross/crucifix should be a staple in any Christian home. I have to admit, I do like having one (though I'm a little picky about what it looks like! lol). I love that this one is pretty, practical and meaningful without being over-the-top.
6. Inspirational Scriptures Coasters — Set of 4: Decorating your home with Christian gifts doesn't have to be splashy, in your face or over the top. These Scripture coasters are subtle, sophisticated and practical.
7. "His Grace is Sufficient" Hardcover Wirebound Journal: Do you regularly journal? (Or would you like to start?) Journaling is a great way to record your spiritual journey; looking back through past entries can be really enlightening and encouraging! If you haven't tried journaling yet, today is a great day to start and this beautiful journal would be absolutely perfect.
8. WOW Hits 2015 – Deluxe Edition: One of my very favorite ways to spend time with God during the course of a normal day is to put on Christian music as I go about my daily chores. Let me tell you, doing the dishes has never been so spiritual.
9. Catholic Rosary with White Zipper Case: For my lovely Catholic readers, a good rosary is an absolute must. I thought this one was very, very pretty. 🙂
10. Apples to Apples — Bible Edition: Okay, so how fun is this?? We have the regular Apples to Apples game, but I didn't know there was a Bible edition! Is it dorky of me to think this is really cool? lol. I don't care. It's cool.
Do you currently have any physical objects around your house that you've placed there on purpose to remind you to spend time with God? What do you have? Will any of these items make it on your wish list?