I've been thinking a lot about homemaking lately, and I had a thought that really changed my perspective on the whole cooking/cleaning thing: 
Great homemaking isn't about keeping a home that's perfectly spotless. It's about creating an atmosphere that allows those in the home to flourish.
So, when I do the laundry, it isn't so I can be "the perfect homemaker." It's so my children can start their day calmly with clean clothes, instead of spending five minutes digging in the hamper for something that smells "okay." (Side note: yes we have been known to do this, and ewww)
When I help them clean their rooms, it isn't so their room looks "Pinterest perfect." It's to give them a clean, safe place to play, and to teach them important character traits like responsibility and working hard until the job is done.
And when I make sure my husband has foods he likes in the fridge and his shoes get put away, it isn't because he isn't capable of doing it himself. It's because, by having this done in advance, it gives my husband more time and brain space to focus on the things God has uniquely called him to do — without the stress and annoyance of never being able to find anything.
Homemaking really isn't about completing a checklist or keeping things clean. It's about creating a relaxing, comfortable home base that best allows my family to be the people God has called them to be and do the things God has called them to do.
I love this perspective! It's changed housework from something time-consuming I have to do, to something I get to do to serve my family and to support them in their God-given missions.
(And, for the record, they also do many things to help support me in my God-given missions and to make life easier for me as well.)
But — I don't think it stops there…
Because while the five people who live in this house are all very important to me, I don't want us to be the only five who live here.
I want a home where the Holy Spirit feels welcome and wanted. Where He takes up residence and is a very present and active part of our lives and our home as well.
Is this something you want for your home too? If so, here are five ways you can create a home where the Holy Spirit is welcome:
1. Pray Often
"Rejoice always, pray without ceasing, give thanks in all circumstances; for this is the will of God in Christ Jesus for you." — 1 Thessalonians 5:16-18 
If you want a friend or family member to come visit, how do you get them to come over? You invite them! And it's the same with the Holy Spirit. If you want the Holy Spirit to come into your home, start by first praying and inviting Him in. 
For example, you may pray something like:
Holy Spirit, come live in our home. We want you and we need you here. We invite you to come in and transform our home. We want to follow you and serve you. Please help us to do so. Amen.
Of course, just as you wouldn't invite someone over and then ignore them the entire time they're there, you wouldn't want to make this prayer your last one. Take time to pray all throughout the day.
Even if you don't have the time to sit down for an uninterrupted marathon prayer session, you can still say short prayers all day long. Simply talk to God like He's standing right there next to you (because He is) as you go about your daily chores and responsibilities. 
Chances are you have thoughts in your head anyway–thoughts about your day, what you're going to do, or various situations that are going on in your life. Don't just talk to yourself about them–tell God about them!
2. Weave Worship Throughout Your Day
Taking time to pray throughout the day is a great way to worship God in the midst of everyday life — but don't stop there. There are tons of ways you can weave worship all throughout your day, including:
Playing quiet worship music in the background as you go about your day
Turning upbeat praise and worship music on loud and having a dance party with your kids
Leaving the Bible open and reading throughout the day as you have a few minutes here and there
Placing Scripture cards all around your house where you can meditate on them all day long
Giving thanks before meals and during bedtime prayers
Talking with your kids about how wonderful God is and the many ways He has helped your family
Collecting your spare change to help others in need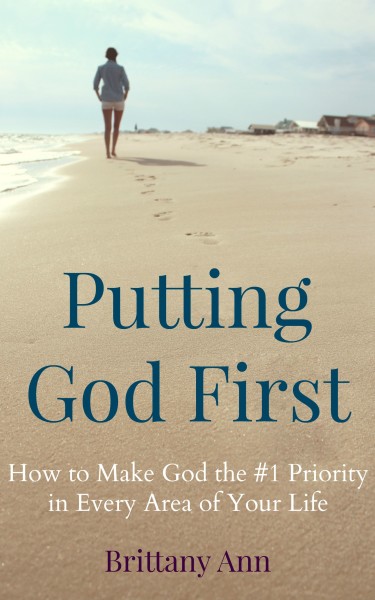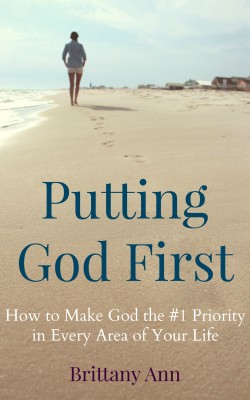 Want even more quick and easy ways to make worshiping God more of a priority in your everyday life?
If so, be sure to check out my book, Putting God First. It's full of easy, practical suggestions for ways you can put God first in every area of your life — from your home, to your marriage to your parenting and more!
3. Ruthlessly Eliminate Un-Christlike Attitudes and Behaviors
"Do not be yoked together with unbelievers. For what do righteousness and wickedness have in common? Or what fellowship can light have with darkness?" — 2 Corinthians 6:14
Typically, when we read 2 Corinthians 6:14, we think about unequally yoked marriages, but it's not just that.
When we allow sin to reign in our homes and in our hearts, we crowd out the Holy Spirit, leaving no room for Him to flourish. This is why, if you truly want a home that honors God, you have to be ruthless about eliminating sinful attitudes and behaviors from your home.
Sinful attitudes can be REALLY sneaky and hard to eliminate too. That's why it's SO vital that you learn how to read your Bible regularly so you can better spot un-Christlike attitudes that the rest of the world would regard as "normal" or "no big deal."
Depending on what attitudes and behaviors are taking root in your home, one of these articles may help:
General overcoming sin articles:
Articles about specific sins: 
Related: Are All Sins Really Equal to God?
4. Make Your Home a Place of Service
"Do nothing out of selfish ambition or vain conceit. Rather, in humility value others above yourselves" — Philippians 2:3
After I changed my homemaking attitude from "have to keep up with the constant housework demands in order to feel good about myself as a homemaker" (hear the pride in that??) to "get to serve and support my family," I noticed an unexpected benefit — serving others really helped refine my spirit and made room for the Holy Spirit to flourish in my life. 
And the good news is, taking care of the home provides AMPLE opportunities for everyone in your family to learn this as well.
We have a motto at our house: "In our family, everybody helps." It isn't on the wall or anything, but we repeat it often enough that everyone knows it.
Here's how it plays out:
When we bring in a week's worth of groceries, everyone helps bring them in, get them out of bags and put them away (even the 2 year old).
When the bedrooms are a mess, everyone helps put all the toys, clothes and books away.
When the 2 year old needs help putting shoes on or getting a snack and mommy is busy, her big brothers are expected to help.
Of course, we all have times when we feel lazy and don't want to help. But by creating an atmosphere of cheerful helpfulness and service, it helps us root out pride and selfishness and replace it with love and charity — and that's a place where the Holy Spirit can flourish!
5. Set Up Physical Reminders
"The LORD appeared to Abram and said, "To your offspring I will give this land." So he built an altar there to the LORD, who had appeared to him." — Genesis 12:7
In my experience, once of the biggest obstacles to spending time with God isn't actually doing the four things above, but remembering to do them in the first place. That's why it can be SO helpful to place physical reminders around your home to help you remember.
The Israelites in the Old Testament did this all the time when they would build stone altars to commemorate the times and ways God had moved, and it still works well today!
Here's what that could look like:
*This post contains affiliate links, which means if you make a purchase, I may make a small commission at no additional cost to you. This helps cover the many costs of running this site, and allows me to help provide for my growing family. Thank you!
Have you ever thought about making your home a place where the Holy Spirit is welcome? What is one step you could take today to move in that direction?