**This Giveaway Has Now Ended**
Hooray! I'm so excited you were able to join me for tonight's Giveaway Party!
Here's how it's going to work:
Follow along on the Equipping Godly Women Facebook Page. That's where we'll all be hanging out and chatting, and where I'll be announcing all the giveaways.
Enter any/all giveaways you like! I'll be updating this page all evening long, every time a new giveaway is announced. You'll find them all right here on this page.
All giveaways end at 9:15pm sharp. I'll start going through and announcing winners then, both on the giveaway widgets and in the Facebook posts.
Make sure you enter all giveaways with a valid email address. If you win, that's the email inbox I'll be sending your prize to, starting at 9:15.
And… Don't Forget to Check Out This Year's Ultimate Homemaking Bundle!
Wondering how I'm able to provide giveaway parties like these? (As well as all the free blog posts, podcast episodes, emails and subscriber freebies I send out alll the time?)
It's because every time you make a purchase through one of my affiliate links, I earn a commission, which I use to help keep this website up and running and free for all (You'd be shocked how much time and money it takes to run!) and to help provide for my growing family.
Definitely don't feel obligated to purchase if you aren't able to, but if you are, the Ultimate Homemaking Bundle really is a great resource at a FANTASTIC price, so I'd absolutely encourage you to at least check it out and see what you think!
For those of you who aren't familiar with the Ultimate Bundles already, basically they are a huge collection of great resources from bloggers just like me, all designed
to help you nurture your faith, love your family well, take care of your home, and create a life you LOVE.
Because sooo many of us all pool our BEST resources together into one amazing bundle, it allows us to give you an incredible deal on a whole library of products you can download and use again and again.
In fact, here's what you get:
27 eBooks
30 eCourses & videos
25 printables
16 workbooks
3 summits
2 membership sites
On topics including faith, marriage, parenting, homemaking, homeschooling, work-at-home and more.
PLUS — you can get your bundle for an incredible 98% off through this link, now through Monday only!
Giveaway #1: Free $15 Credit to Cultivate What Matters
Cultivate What Matters is a team of women passionate about living more intentional lives. They created PowerSheets, the ultimate intentional goal planner, and all their products to help women make what matters most to them happen. Whether that be faith, family, community or a heart-filled business.
*Note: Does not include shipping on physical items. Must be redeemed by Jun 06 2019
Free $15 Credit to Cultivate What Matters

Giveaway #2: Finding Hope and Joy in My Marriage: 9 Week Bible Study on Christian Marriage by Tiffany Montgomery
Looking to breathe some fresh life and healing into your marriage? Tiffany's course, "Finding Hope and Joy in my Marriage" will walk you through nine key principles that will fix the root of the problem.
All marriages go through difficult seasons. If that sounds like you right now, this 9-week Bible study course may be just what you need!
Finding Hope and Joy in My Marriage: 9 Week Bible Study eCourse

Giveaway #3: Free Bookroo Children's Book Box
Bookroo is a monthly subscription that helps kids fall in love with reading by combining the excitement of opening a gift with the discovery of a new treasured book! Each month you can excitedly anticipate the arrival of 2 early reader chapter books, 2 hardcover picture books, or 3 board books, each individually wrapped.
*Note: This is a subscription service. The first box is free, but you do need to cancel after you place your order for your free box if you don't want to continue to subscription. New customers only. Shipping not included ($5 US, $16 Canada). Must be redeemed by Jun 06 2019
Free Bookroo Children's Book Box

Giveaway #4: Kids Sorted: 100+ Printables for a Calm and Happy Home by Karen Schravemade
Kids Sorted is a mega resource pack of practical, solution-focused printables to help bring calm and order to every area of life with your kids.
With 175 pages of gorgeous, colorful prinables, the pack includes sticker charts, chore charts, routine cards, lunchbox planning, labels, habit trackers, packing lists, and so much more!
Kids Sorted: 100+ Printables for a Calm and Happy Home

Giveaway #5: Anchored Women Meal Planner: A Simplified System by Kayse Pratt
The Anchored Women Meal Planner is a unique new meal planning system that will help you simplify the meal planning process, save time by creating a thematic monthly meal plan, save money by planning based on what you already have, cultivate a family-loved collection of favorite meals and reference materials to make meal planning a breeze!
Anchored Women Simplified Meal Planner System

Giveaway #6: Lies Moms Believe: And How the Gospel Refutes Them by Rebekah Hargraves
With warmth, transparency, and an unwavering passion for truth, Rebekah refutes 32 common lies moms believe (such as "I am to find my identity and ultimate fulfillment in motherhood" and "I have to be a perfect mom") with the truths of God's Word.
This one really caught my attention, and I can't wait to dig in even more.
Lies Moms Believe: And How the Gospel Refutes Them

Giveaway #7: Free 2 Month Membership to Fit2B
Fit2B® is the world's premier TummySafe™ fitness provider, offering family-friendly workouts that are effective, safe and fun for all ages. We are passionate about providing functional, firming routines for those dealing with diastasis recti, hernia, prolapse, leaking, and mostly making fitness approachable and affordable. Our memberships and ecourses off instant access to hundreds of home workout videos. Join today!
*Note: New members only. Existing members of Fit2B's monthly membership can get a $15 store credit to use on any of their other products. Must be redeemed by Jun 06 2019
Free 2 Month Membership to Fit2B

Giveaway #8: Emotional Overload: 3 Steps To Fewer Tantrums, Greater Connections & More Cooperation by Rachel Norman
Emotional Overload was created to help you understand why your children seem to overreact and have exaggerated emotions that are hard to calm.
Learn what type of response your children need from you when they are struggling, grasp the importance of connection, and learn how to help your children feel loved and understood without feeling like you're a doormat!
Emotional Overload eCourse: Fewer Tantrums, Greater Connections, More Cooperation

Giveaway #9: Free $15 Store Credit (+ 2 art prints AND printables) from Hope Ink
Emily Hope, the artist behind Hope Ink, loves creating inspirational hand-lettered art to brighten up homes and living spaces.
*Note: Additional shipping may apply on physical products. Must be redeemed by Jun 06 2019
Free $15 Store Credit (+ 2 art prints AND printables) from Hope Ink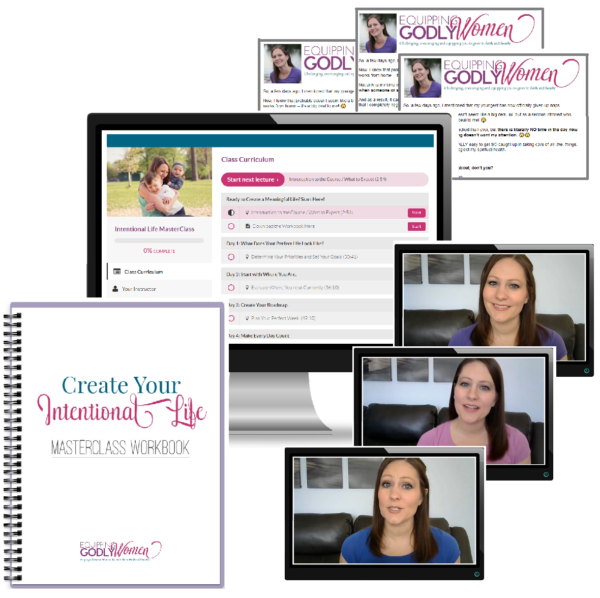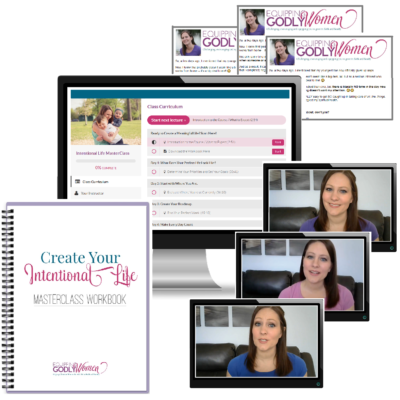 LAST Giveaway! (#10): Create Your Intentional Life Masterclass Membership (FIVE winners!)
**Make sure you are entering EVERY giveaway you are interested in! I'm drawing winners separately for each giveaway! Tech issues? Let me know here before the party ends**
Tired of never having time for the things that matter the most to you?
The "Create Your Intentional Life" Masterclass in a 5-day video course designed to walk you step-by-step through planning and creating a life you love — no matter how busy you are.
It contains 5 video lessons, helpful email encouragement to keep you on track, AND a 17-page hands-on workbook that will show you step-by-step how to overcome the biggest time management obstacles busy women like you face every day!
Create Your Intentional Life Masterclass Membership (5 winners!)

The following two tabs change content below.
A devoted Christian, wife and mother, Brittany loves helping other women grow in these roles as well. When she isn't busy taking care of her growing family, you can find her at
Equipping Godly Women
, where she regularly shares tips, tricks and encouragement to help you be the amazing woman God created you to be.