Do you have any big plans the first week of February?
If not, you do now because there's a FREE Online Christian Marriage conference happening February 4th – 12th that I think will be really helpful and encouraging for you! Read on to learn more…
*This post contains affiliate links, which means if you make a purchase, I may make a small commission at no additional cost to you. This helps cover the many costs of running this site and allows me to help provide for my growing family. Thank you!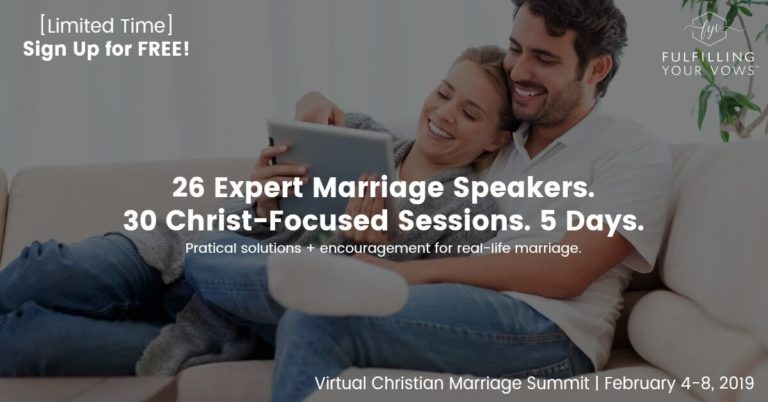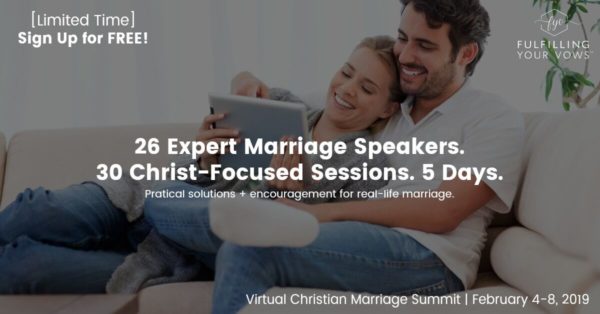 Announcing: The Fulfilling Your Vows Virtual Christian Marriage Summit
The Fulfilling Your Vows Virtual Christian Marriage Summit is a 100% free online conference designed to help Christian couples create amazing, fulfilling Godly marriages in 2019.
With 26 Marriage experts sharing their BEST insights, perspective and advice on topics including…
How to improve your communication
How to find the mental, physical and spiritual intimacy your marriage has been missing
How to create a strong prayer life as a couple
How God can restore your marriage (no matter what issues you're facing now)
How to put God first in your marriage (and what that looks like)
How to make time for your marriage when you're busy and exhausted
and more…
…this is one helpful and encouraging event you won't want to miss!
Curious to see who the speakers are? 👉 You can check out the entire topic and speaker line-up here 👈
(Many of them have been featured on well-known outlets such as Focus on the Family, The Today Show, Good Morning America, The 700 Club, The Dave Ramsey Show, Christianity Today, and more!)
Personally, I'm most excited to learn more about how to improve our communication and how to create a strong culture of family discipleship. Plus, the marriage goal setting workshop looks really intriguing too…
Not because my marriage is struggling… (though I would DEFINITELY be signing up too if that were the case…)
But because having a strong, Godly marriage is SO important to me. I DON'T want to settle for so-so or "good enough."
I want a truly AMAZING, close, fulfilling Godly marriage. One where my husband treats me like a princess, and I treat him like a king. One where we're still madly in love with each other no matter what life throws our way (because it will!)
And attending online conferences like these is a fantastic way to get some awesome insights, perspective and advice from other Christian wives who have been there, totally get it, and now have lots of wisdom to share.
That's why I LOVE conferences like these. And I just know you will too! 😁
Sounds Great! So How Does it Work?
It's super simple. Here's what you have to do:
Get a link to each day's sessions via email each morning that week
Watch as many sessions as you'd like
The conference is 100% online, so there's no travel or need to get a babysitter. And it's all pre-recorded, so you can watch each session whenever you have time each day. And you don't have to watch them all either — just make note of the ones that sound most interesting/relevant to you.
The only catch? Each session is only available for 24 hours.
After that, you either miss out OR you do have the option to upgrade to an optional All-Access Pass to get lifetime access to ALL the sessions, plus some other really neat bonuses as well.
Sound like something you might be interested in? If so, definitely click the link below to get signed up today:
Yes, I'd LOVE to Attend This FREE Online Marriage Conference!
Enjoy!!
p.s. Do you have a married or engaged girlfriend, sister, aunt or coworker who might be interested in this free marriage conference? Share this post with them and invite them to join the fun too! You never know who might need a little extra encouragement right now and it only takes a second… 💗
The following two tabs change content below.
A devoted Christian, wife and mother, Brittany loves helping other women grow in these roles as well. When she isn't busy taking care of her growing family, you can find her at
Equipping Godly Women
, where she regularly shares tips, tricks and encouragement to help you be the amazing woman God created you to be.