Considering getting on birth control? Read this first. There are several reasons not to take birth control pills – reasons your doctor won't tell you about.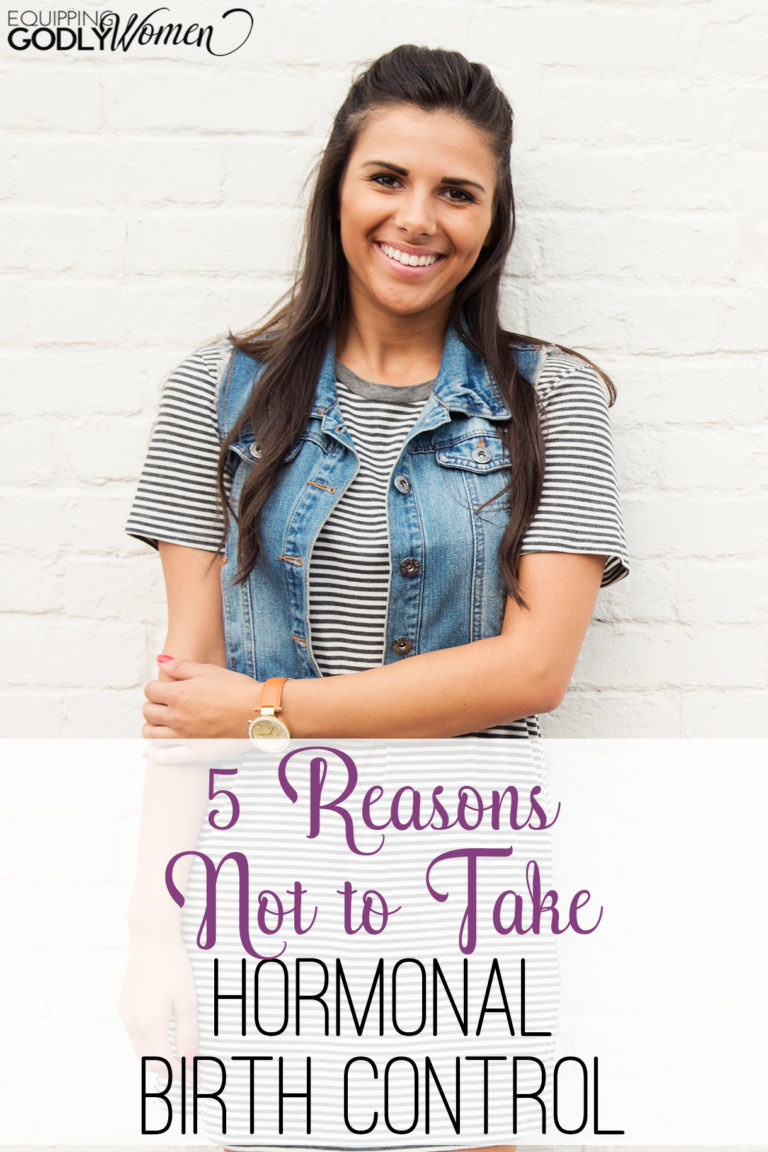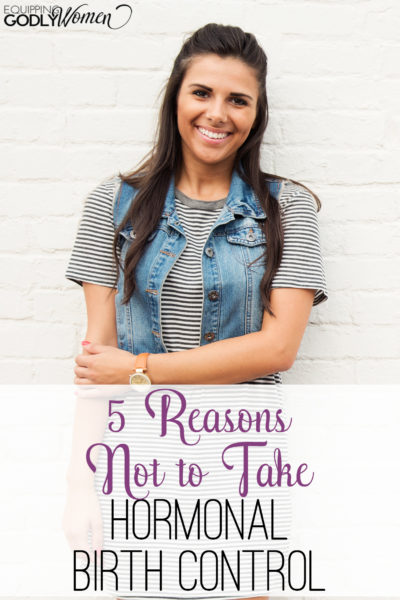 For most women, going on birth control isn't something they think about much.
They reach a certain age, they decide they aren't ready for children yet, and so they do what everyone does–they visit their doctor for an easy and convenient way to prevent pregnancy until they are ready.
According to Professor Janet E. Smith, 98% of all women ages 15-44 have used some type of birth control. Eighty-two percent have used the pill.  (source)
I know that's what I did. I didn't even think twice about it.
I didn't know there were so many reasons not to take birth control pills. I just figured it was "what you did."
So I got out the phone book, looked up a number, and made the appointment.
But the truth is, there are some very serious reasons not to take birth control — reasons that every woman should at least consider when making her decision.
Whatever you decide to do with this information – that's completely up to you and your husband. No need to explain it to me. I just want you to have the information you need to make the best choice possible. Information most doctors won't bother telling you about.
*Disclaimer: I am NOT a medical doctor and this is not medical advice. My intent is only to present a few facts and opinions to get you thinking and questioning. Please consult with both your doctor and your husband when determining which method is right for you, especially if you have any medical conditions which may affect your decision. Also, this post contains affiliate links. Please see my full disclosure statement for additional information.
1. Hormonal Birth Control Comes with Side Effects
One reason why you shouldn't take birth control is that hormonal birth control comes with several side effects. Common side effects of birth control include nausea, weight gain, mood changes, a decrease in sex drive, lighter periods, and spotting in between periods. Symptoms including stomach and chest pain, headaches, swelling and eye problems are less common, but have been known to happen.
I remember how frustrated my husband was after I had been on hormonal birth control for two months. He said, "I can't take this anymore. This isn't working. You have to stop taking it. We'll figure something else out." It affected me that much. And this was supposed to be "normal" until my body had time to adjust.
*As a side note, birth control can also be used to alleviate certain side effects or medical conditions. Please speak to your doctor if you feel this applies to you. 
2. Birth Control is Full of Hormones/Chemicals
I'm a relatively health-conscious person. I don't want hormones in my milk. I don't want my food genetically modified. I'd rather open the windows than spray air fresheners, and I don't take medicine unless I have to.
So why would I turn around then and fill my body with questionable chemicals and artificial hormones every month? It just doesn't seem healthy–especially when there are much better ways (and I'll get to that in a minute).
Even though doctors and scientists will tell you that these are the same chemicals your body makes anyways, I personally trust my own God-given hormones more than those that are created in a lab. As long as my body is functioning properly, I'd like for it to continue to do so without assistance.
3. Birth Control Works Against Your Body
I may be crazy, but I believe that when God designed our bodies, He knew what He was doing. He didn't give us fertile cycles to torture us. They are natural and healthy; it's the way we were designed. Would it be nice to not have a period every single month? Yes, I'm sure it would! But am I going to completely override my body's own delicate hormonal balance in order to achieve that or anything else? Not without a very good reason!
4. Birth Control *May* Cause Abortions
Of all the reasons not to take birth control, this one is by far the most important – at least to me.
You see, birth control typically works in one (or more) of three ways:
It prevents the ovaries from releasing an egg. No egg=no pregnancy.
It thickens the cervical mucous so the sperm can't reach the egg. No meeting=no pregnancy.
It may make cervical conditions unfavorable for implantation, so even if an egg is fertilized, it cannot implant and is flushed right out of the body. (source)
MOST of the time hormonal birth control works by preventing the egg from being released, but not always. An estimated two to ten percent of the time, the egg is still released, making pregnancy possible.
And if the mucous doesn't thicken up enough and the cervical conditions are unfavorable–then what happens? Abortion. An egg is released, life is created, and then it is simply flushed out of the woman, down the toilet, without the woman having any idea.
To be fair, there is actually a huge debate going on right now surrounding the issue of whether or not hormonal birth control pills actually can cause abortion. And there are great arguments on both sides. BUT the truth is–we don't know for sure. And as long as there is ANY risk that my taking a pill may result in an abortion–that's all the reasons not to take birth control I need.
5. A Whole Host of Other Reasons
I recently listened to the CD Contraception: Cracking the Myth by Professor Janet E. Smith and it is FULL of really interesting statistics and case studies demonstrating the harmful effects of birth control on both the woman, but also on her relationship and on society as a whole. These statistics provide plenty more reasons not to take birth control.
Facts and statistics such as:
In the same time period when birth control became popular, divorce rates skyrocketed as well.
Women taking contraception are less attractive to males. In one study, the men actually preferred the average but fertile woman over non-fertile supermodels.
When researchers gave a few female monkeys birth control, the male monkeys wouldn't sleep with them anymore. When they gave all of the female monkeys birth control, the male monkeys acted confused and became more interested in each other.
Although I didn't agree with every single conclusion Prof. Smith came to, I found her talk absolutely fascinating. If you're interested in learning more about her reasons not to take birth control pills, I highly recommend it. You can find it here.
Pros and Cons of Hormonal Birth Control
Yes, birth control does offer some impressive benefits. It is safe, effective (91-99% according to this source), and easy to use. It can ease PMS and help with heavy periods and cramping.
Unfortunately, it does come with several disadvantages too. Hormonal birth control comes with several side effects, including weight gain, inhibited sex drive, mood swings and migraines. It is expensive, you have to take it the same time every day, and you can't take some types while breastfeeding.
Sounds convincing, but then what would you do instead? You can't just go around getting pregnant all of the time!
A Better Option: Natural Family Planning
Did you know that a woman is fertile only one day a month? And that she can only get pregnant maybe 5-6 days out of the month? Did you also know that a woman's body provides all of the signals and signs she needs to know when those days are so she can either avoid or achieve pregnancy? And that it's just as easy as birth control once you figure out what you're doing? It's true, and it's called Natural Family Planning.
What is Natural Family Planning?
Natural Family Planning is a fully natural and completely legitimate birth control option that allows women to chart and determine their fertile and non-fertile times so they can respond appropriately in order to achieve or avoid pregnancy.
Hormone-free and device-free, Natural Family Planning relies on the body's natural signals, including temperature, mucus production and cervical position, depending on the exact method used. It is *not* the calendar method.
How Does Natural Family Planning Work?
There are three main signs of fertility: temperature, amount and consistency of the cervical mucous, and the shape and position of the cervix. A woman using Natural Family Planning will observe and chart one or more of these three signs every day, depending on the exact method used. (It sounds complicated, but it easily becomes second nature.)
By observing these signs every day, a woman can read her body's own, natural internal cues to determine which part of her cycle she is in and whether or not she is fertile. She can then use this information to either avoid or achieve pregnancy.
**For in-depth information on Natural Family Planning and reading your cycle, Taking Charge of Your Fertility is excellent. A must-read!
How Effective is Natural Family Planning?
Couples who purposefully and intentionally follow NFP's guidelines to the letter can expect an effectiveness rate of 97-99%. (p.s. that's more effective than the pill.) Following the NFP guidelines half-heartedly will result in a decreased success rate of only 80-90% (source), which is still pretty good for a family that would be okay with getting pregnant but that prefers not to.
Advantages of Natural Family Planning
There are ZERO side effects.
It works with your body.
It does not fill your body with hormones and chemicals.
It does not have the potential to abort babies.
It is FREE (though you will definitely want to pay for a book or a class).
It is immediately reversible.
It is environmentally friendly.
It supports optimal health.
It can be used indefinitely with no ill effects.
You don't have to carry anything with you if you go out of town.
You don't have to stop in the heat of the moment to put something on or put something in.
It promotes marital chastity.
It fosters a better, closer relationship with husband and wife.
(It is also the only method of family planning that the Catholic Church allows, if that applies to you.)
Dsadvantages of Natural Family Planning
To be fair, Natural Family Planning does have a few disadvantages:
It takes time to learn.
You'll probably want to take a class to make sure you're doing it right.
(Depending on the type of NFP you do) You may have to take your temperature at the same time every day (also a drawback of taking the pill).
(Depending on the type of NFP you do) You may to be asleep for the three hours before taking your temperature, which is difficult to do if you have babies that still wake up throughout the night.
Charting your mucus every time you use the restroom can be a real pain until it becomes habit.
Charting may be more difficult if you have irregular periods or if you haven't started your period yet after having a baby.
It can be a little icky if you're squeamish around cervical fluid.
It may not be appropriate if you have certain medical conditions.
It also doesn't prevent against STDs (but that's a whole different conversation!)
Interested? Give it a Shot!
While I completely understand that Natural Family Planning isn't right for everyone–why not try it and give it a shot before you make up your mind? It's completely free, has no side effects and is completely reversible, so you have nothing to lose.
If you're serious about learning and implementing Natural Family Planning, I would highly recommend taking a class in your area to make sure you fully understand just how it works before you give it a go. Ask your doctor or check at your local Catholic Church to find one near you. (You don't have to be Catholic — I'm not — but they'll be able to point you in the right direction)
Or, if you're interested but not sure or you just want to learn more about your body's natural cycles and what they mean for your health, Taking Charge of Your Fertility by Toni Weschler is one very in-depth book that gives a TON of information.
I own this book, and it is very comprehensive. Not even a little preachy, just very, very informative with plenty of diagrams and charts.
When you decided which form of birth control to use, did you give it much thought? Would you ever consider Natural Family Planning?
Resources:
http://americanpregnancy.org/preventing-pregnancy/natural-family-planning/
http://www.healthline.com/health/birth-control-effects-on-body
http://www.usccb.org/issues-and-action/marriage-and-family/natural-family-planning/what-is-nfp/index.cfm
http://www.parents.com/parenting/relationships/postpartum-birth-control/side-effects-of-birth-control/
http://www.plannedparenthood.org/learn/birth-control/birth-control-pill
http://www.webmd.com/sex/birth-control/birth-control-pills