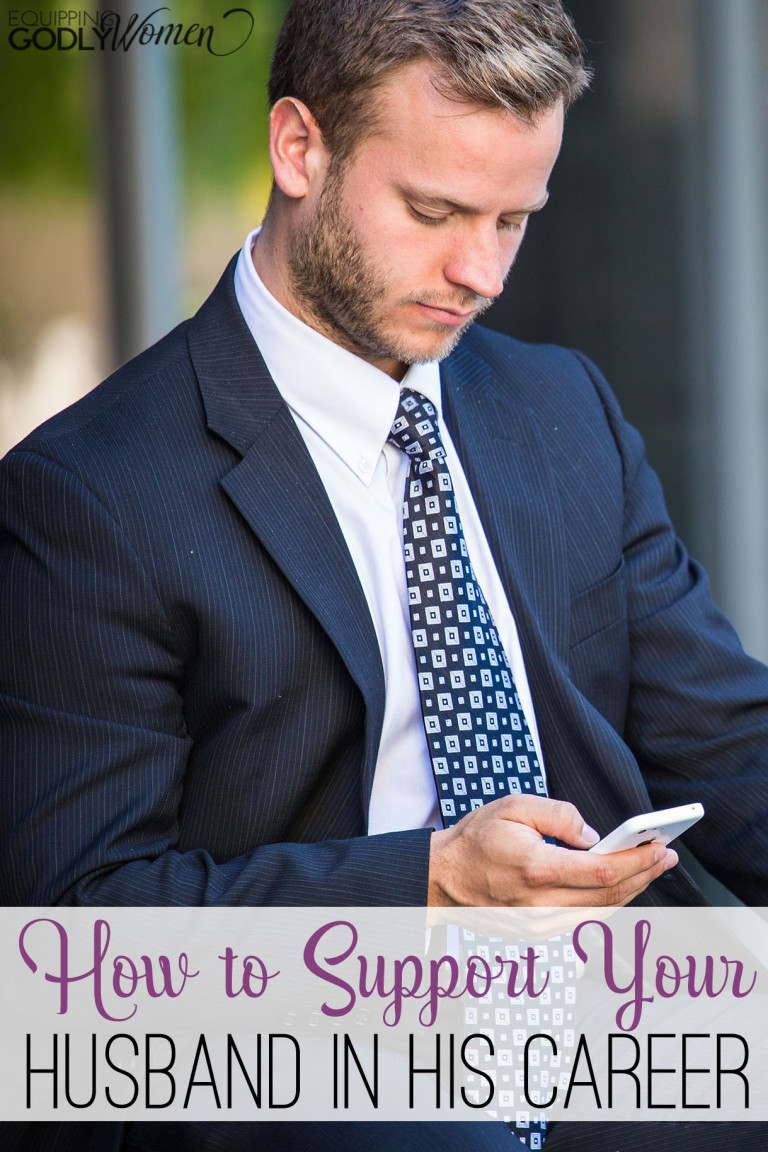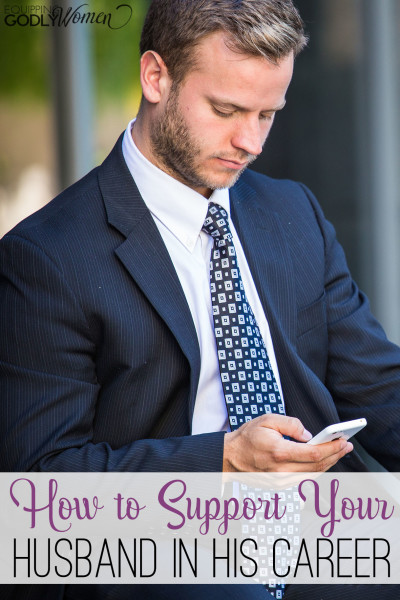 For many wives, stay-at-home moms especially, a career seems like the husband's "thing." You take care of your job (maintaining the house, taking care of the kids, etc…), and he takes care of his (going off to work). And yet, whether you work or not, being actively involved in your husband's career is a great way to show him love and support.
This guest post by Christina of Martha, Martha will show you how!
"I want to be a supportive wife, but I feel like my husband's career comes between us. I don't know how to be supportive of something I'm not involved in."
Your husband's career may seem like "his thing," but the time he spends on it and the money he earns directly affects you. It really is both your thing. Supporting him in his career then, means encouraging his goals and his efforts, but also communicating your needs effectively.
Here's how you can do just that.
1. Ask Your Husband What He Really Wants Out of His Career
To really support your husband in his career, you have understand what his goals are. You can't support a dream if you don't even understand what it is. And it may be wildly different from what you imagined.
Most husbands, when pressed, will reveal three underlying goals for their career: to provide for their family financially, to find fulfillment or a sense of purpose, and to make their wife happy.
What is your husband motivated by?
---
**By the way, these Closer Marriage Conversation Cards are a great way to start conversations just like that.
Whether you're looking for ways to understand your husband so you can better support him in his career, you're looking for ways to build the perfect life together or you just want to connect a little more, these cards will help!
Click here to learn more and find out how you can get a set of your own.


---
2. Tell Him How You Feel
Since making you happy is one of his priorities, it's important to express your desires and concerns. Don't think that being supportive just means going along with whatever he is doing!
What I mean is, your husband may be working sun up to sun down, or longer, to achieve more and bring home more money so that you will never want for anything. There's just one problem. You don't want a fancy, expensive life, you just want your husband home sometimes.
In this case, supporting his goal (making you happy) means expressing a different point of view (what actually makes you happy).
But it's important to tell him respectfully, kindly, and with love. I've heard from many women who say "I have told him how I feel but he never listens!" The thing is, there's a difference in expressing your anger and communicating your needs.
"You're always working! I just wish you'd be home once in a while," is not a respectful way to express that.
"You work so hard, and I appreciate that, but I really want you here more. I miss you," communicates the same goal with a much more loving tone.
And again, these Closer Marriage Conversation Cards are a great way to start that conversation.
3. Don't Give Him the Solution
When you do bring up your desires and concerns, present the problem, but don't offer the solution. If you give him the solution, your husband will feel like you are telling him what to do, and he will react by feeling defeated or rebellious. Neither of those is likely to accomplish unity in your marriage!
Remember, he is a grown man, not your child, and he wants to feel like your hero! He wants to be the guy with the answer! Let him have that opportunity, and he will work 10 times harder to accomplish it.
If you must suggest a solution, try it this way. "Do you think you should….?"
Phrasing it this way puts the ball in his court. You're not telling him what to do. He gets to decide if that's a good idea or not. (Incidentally, this works in other situations too, like how to build the shelves in the garage, how to get to the event you lost the map to…)
Have you ever had your husband come to you and say "I just had an idea…" and finish by saying something you suggested previously? They really like to think it was their idea. And that's ok!! Building your husband up and being unified in your marriage is a wonderful result, no matter who had the idea first.
Speaking of building him up…
4. Encourage Him
If your best friend or your child told you about a new accomplishment or a great new idea they had, how would you react? I believe you would speak in a delighted tone, offering words of encouragement and praise. We tend to avoid that with our husbands. Somehow, it feels patronizing.
How ironic that we will direct him like a child, but we won't encourage him the same as a child!
It is not patronizing to speak words of life into your husband's dreams. Tell him you're proud of him; tell him you admire certain qualities about him. That's one of the best things you can do to support him!
"The wise woman builds her house, but with her own hands the foolish one tears hers down." Proverbs 14:1
5. Ease His Fears, Practically
Your husband may have fears related to his career. He may fear moving ahead, applying for a promotion, or changing careers. He may fear cutting back in his efforts, thinking it might lead to less income and you would be unhappy. He might be afraid of taking on more responsibility at work, or a longer commute, because he thinks he needs to be home to help you.
There's nothing wrong with any of those fears. Try not to think they are foolish or unwarranted. Instead, show him in real ways that he needn't worry.
If he's afraid of failure: show him how much you love and admire him for who he is—not for what his job is.
If he is afraid you won't be happy with less: show him by cutting back on your spending! And do it with a smile. You don't even have to tell him why you're spending less, just prove that you are satisfied with less.
If he thinks you need his help around the house and you don't: then prove it–without a word–by having things taken care of before he needs to help.
These are perhaps some of the hardest ways to support your husband, but if you think there is something holding him back, and you can remove that obstacle, do it!
6. Pray
The absolute BEST thing you can do for your husband is to pray for him. There is nothing as effective as the power of God in one's life.
Sometimes when we pray, we gain a new perspective. I can't tell you the number of times I have cried out to God about my husband only to realize that I was the one who needed to change!
If you need some direction on prayers for your husband, download these free printable prayer cards and use them to help you pray. You'll get two weeks of scriptures and prayers over various areas of your husband's life.
7. Get Out of the Way
After you have turned your concerns over to God, respectfully communicated to your husband, and tried to alleviate his fears, get out of the way! Let God accomplish the work in his life.
Don't nag. Don't interfere. Don't say "I think you should" or "I told you…" Give him time. Oh, patience is a virtue, but what a difficult one!
Continue your prayers, and wait. Eventually, you'll notice that you aren't praying for the same things anymore!
As his wife, you can have a powerful impact on your husband's career, if you communicate effectively, build him up, and turn the situation over to God. You'll make his career "our thing," find unity in your marriage and help him move ahead in ways you both feel good about!
Are you very involved in your husband's career or do you mostly stay out of it? Do you think your husband would appreciate your support? What practical steps can you take to offer it today?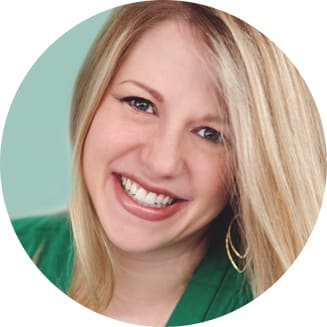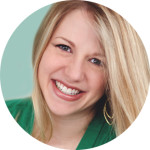 Christina is homeschooling mom of 4 and a professional photographer who is head over heels for her husband. She writes at Martha, Martha about living a life of with Less Stress, More Jesus. If you enjoyed this post, be sure to get her 14 Days of Prayer for Your Husband Printable Cards and her tips on living a life with Peace and Productivity as well.