Guest post by Rachel of RaeLoves.com
If I asked a group of single people what their view of the first year of marriage is, most would probably say it would be the best year of the couple's life. Most people think that newlyweds should be happy, living off of the high and excitement of the wedding.
However, the reality is that first year is hard! And it is surprising how hard it can be! At least it was to me. We just had a year or so of bliss…we got engaged, had a bridal shower, planned a beautiful wedding, a honeymoon, and everything was "perfect!" So why was the first year different?
The first year of marriage is different, because marriage is different. You are no longer dating. In dating, you may have seen each other when you could, spending a few days together then maybe being apart for a day or two, giving yourself time to recharge. You may have been so excited about realizing that you love this person that some of the little things were ignored. Marriage, on the other hand, is 24/7 time with your new spouse who expects the exact same relationship after saying I do. And you should expect the same thing too! That relationship is why you got married in the first place!
Although marriage is different than dating, it doesn't have to be a bad kind of different – it can and should be a good kind of different. Now, there is this intense commitment to take your relationship to a new level, working toward a greater goal for your family and becoming one with your spouse.
Being happy every day is not truly practical, but happiness is a choice that has to be made despite what or who might come against your marriage.
Here are four truths about the first year of marriage that are worth keeping in mind.
"Be completely humble and gentle; be patient, bearing with one another in love. Make every effort to keep the unity of the spirit through the bond of peace." Ephesians 4:2-3
1. The first year can be a time of exploring your new roles as husband and wife.
Hopefully you discussed this while dating, so put those roles to use and see how they work as the two of you adjust to living together as a married couple. It is not a good idea to put expectations onto someone if they don't know what you are expecting from them! They cannot succeed if they don't know what you are looking for and vice versa.
2. The first year can be a time to enjoy each other and get to understand how to maneuver around those small things that may become annoying.
I have found that the less I let little things bother me, like finding empty cracker boxes in the pantry, the less I realize it as an issue and thus I don't have any feelings about it. I just chuck it up to things I need to look for when checking the status of my pantry staples.
3. You can make memories every day.
Start your own checklist of things you want to do by your first anniversary and attack them! Plan it out, be adventurous, take hold of your lives and make it the life you want.
4. The first year may be tough, but you can be tougher!
Even if both or one of you has been married before, you've never been married to this person before, so there will be a learning curve. Take those lessons from first year triumphs and pitfalls and use them to better the relationship. Make it a habit to move forward keeping in mind everything learned along the way about your spouse and adding new tips and tricks as you get more skilled as a wife. It is a choice that has to be made, to move past any issues that come up within the first, tenth, or thirtieth year of marriage and choose happiness. It won't always be a guaranteed feeling, but remembering that there are seasons to marriage, good and bad, makes your marriage stronger.
I'm working on some of these things daily and I can say that the second year is still hard, but that's because my marriage is important to me, and I want to succeed in every way possible. Anything worth having takes hard work – an awesome body, a great career, well behaved and smart children, and most definitely, your marriage.
If you are married–did you find your first year hard or easy? Was it a big adjustment or did you fall into your new roles easily?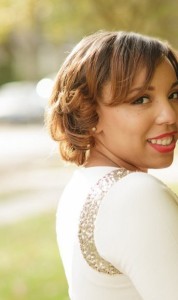 Rachel's main goal is to live a life that is pleasing to God while creating as much beauty as possible. Rae Loves is the space where she shares what she has learned about being a great wife and woman and writes for other women looking to enhance their lives. Some of Rachel's loves are discovering a made up recipe actually tastes good, sitting in the sun, gorgeous flowers and most importantly, her family. She has found an outlet to share her passions of cooking, mastering home DIY projects, decorating, relationships and self-improvement as she figures out how to do all of that! See more on her site at Raeloves.com. You can also find Rachel on Twitter and Instagram.