Guest post by Rachel Newcomb of Smart Mom Smart Ideas.
One of the great fears I have as a mom is that my kids will not grow up and continue living in Christian faith.
We hear the statistics about the high percentages of kids that are raised going to church and in Christian homes but walk away from the Christian faith when they are grown, and I wonder: What can I do that will plant the roots of faith that will grow in my children's hearts?
As a family, we go to church each week, we encourage Christian friends, and we have taught our kids Bible stories since they were little.
But for our kids to truly grow in their own Christian faith, they need to see Christian faith as a living example every day.
Teaching our kids Godly character and how to grow in their Christian faith isn't just something you do on Sunday morning or once a week, but it's something you do every day.
Related: Three Ways To Help Your Children Make Their Faith Their Own
In the book of Deuteronomy, Moses gave us a simple outline of how to teach our children Godly faith every day,
"And these words that I command you today shall be on your heart. You shall teach them diligently to your children, and shall talk of them when you sit in your house, and when you walk by the way, and when you lie down and when you rise up." Deuteronomy 6:6-7 (ESV)
Moses tells us that we are to teach our children God's word and God's law naturally each day as we go about our normal daily activities. It's as easy as talking about God's wonders and miracles we see all around us. We can make God the center of all of our conversations and activities.
*This post contains affiliate links, which means if you make a purchase, I may make a small commission at no additional cost to you. This helps cover the many costs of running this site and allows me to help provide for my growing family. Thank you!
5 Practical Ways to Teach Kids Faith Every Day
Using Moses' example, I would like to show you 5 practical ways to teach Christian faith to our children every day.
Remember, mom, your influence on your kids is deeper than you think, and lasts longer than you could imagine.
1. Memorize Bible Verses Together
If we want our children to grow in Christian faith, they must know God's Word.
One easy way to teach the Bible is to memorize Bible verses.
I remember one of the first Bible verses I memorized as a child, Psalm 119:11, "Your Word have I hidden in my heart, that I might not sin against you." (NKJV).
Memorizing scriptures when they are young can influence children all their life. Bible verses memorized as children can be recalled at times of decision and difficulty to influence choices of teens and adults. Don't underestimate the impact of memorizing Bible verses.
Bible verses give us a foundation to build our life on. They teach us God's promises and God's character. In times of difficulty and trouble in life, we will go back to this foundation and what we know.
Start with a weekly Bible verse to memorize. If you memorized just one Bible verse a week and you started when your child was 5, you would memorize 676 Bible verses by the time your child was 18 years old.
Memorizing Bible verses together gives you many ways to teach the Bible verses. You say them together every day, you can sing a song, you can teach the deeper meaning of each verse and what the verse means to you personally.
To get you started, here are 10 Simple Bible Verses for Kids to Memorize.
2. Read the Bible Together Every Day
In addition to memorizing a weekly Bible verse, reading the Bible together can have a deep impact on your kids. Sadly, for many children, they might get a bedtime story read to them, but never the Bible.
Let's make a difference. The most important book kids can be read is the Bible. Let's start reading the Bible with our kids every day.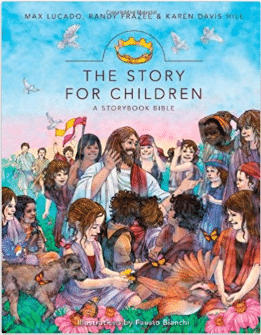 If you have little kids, you can use devotional books and books like The Story For Children to help younger children understand the larger themes of the Bible (God's love, God's forgiveness).
As your kids grow, it's better just to read the Bible to them and add your own personal experience and understanding or use a family devotional with readings as your guide.
Themed devotionals are perfect for teaching children Christian faith as well.
3. Read Books and Biographies of Christian Faith
Reading the Bible and memorizing the Bible should be our primary tools for teaching our children Christian faith and character. We can also teach our children Christian faith by Christian writers of fiction and non-fiction books.
Stories are persuasive. Have you ever heard, "everyone loves a great story."
Read great stories by Christian writers with your children help them see the parallels to the Christian life in each book and story.
Here are some examples of Christian books that build Christian faith for kids:
4. Use Daily "Teachable Moments"
It's so easy to get busy going through the motions of our day, we forget the teachable moments. Using the common, ordinary moments of life to teach our children Christian faith was the message of Moses, … talk of them when you sit in your house, and when you walk by the way, and when you lie down and when you rise up." Deuteronomy 6:6-7 (ESV)
Every time I hear this Bible verse, I remember that I need to slow down each day and use each teachable moment to show my children good character that honors God and character that is not honoring God.
As I walk through each day, I need to be specific when I teach Christian faith and character. It's more than just saying, "Don't hit your sister."
I want to teach how God wants us to treat our sister by sharing, "The Bible teaches us how we should treat each other in Ephesians 4:32, 'Be kind one to another.' How can we treat each other with kindness?"
Related: Five Things Your Kids Need to Be Spiritually Healthy
5. Model Christian Faith for our Kids to Imitate
Do you remember when your kids were little (2 or 3 years old), you would make a mistake, maybe say something you didn't mean for them to hear, then all of the sudden they start repeating you and that's the only thing they say?
Kids are great imitators (even the tweens and teens).
The older my kids get the more I realize how important it is model Christian faith and behavior I want them to imitate.
As Christian moms, we have to ask ourselves if our kids imitated everything we do, what would they be doing? Would they be living the life of Christian faith we pray they will live?
In I Corinthians 11:1, Paul wrote, "Be imitators of me, as I am of Christ."
Our job as moms is just to imitate Christ. By imitating Christ in our everyday life, we are giving our kids an example of how to live.
With prayer and guidance from their moms, children can grow in Christian faith daily.
How do you teach your Christian faith to your kids every day? Do you have anything to add to this list?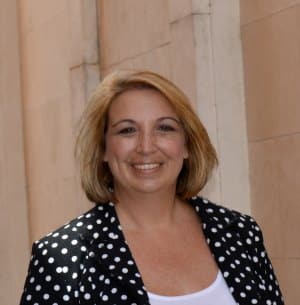 Rachel Newcomb is a Christian wife and mom to 3 kids. She blogs at Smart Mom Smart Ideas where she writes to help Christian moms organize their homes, balance family life and grow their faith. She enjoys reading, writing, and spending time with family.