A guest post by Rachel Newcomb of Smart Mom Smart Ideas.
"Mom, may I have $20 to go to the movies with friends?"
"Mom, I need $10 for a new game to play with my friends?"
"Mom, can you give me $5 for …?"
Does it feel like your children are always asking you for money?
Every time a new game is released or they hear about the newest toy, they must get it immediately. I understand now why when I was growing up my mom would say that kids thought money grew on trees. Today, it feels like kids think money comes from Paypal.  
In a world where money seems to just magically transfer (i.e. Paypal, credit cards), it's more important than ever to teach our children about money and how to be financially responsible.
Our attitudes and habits about money form early in life. Just as we teach our children to get dressed every day and brush their teeth, we need to teach them about money.
How You, as a Christian Mom, Can Teach Your Children About Money
1. Teach Them About Tithing
The first time our children are given money or earn money, it's the perfect time to start teaching them about tithing. 
Tithing is giving a portion of the money God gives us back to God (either through the church and mission work).  Christians give a tithe freely and in a spirit of worship. 
A simple way to teach small children about tithing is that for every dollar they receive or earn, they should give a dime back to God as a tithe.
In the beginning, some children might be resistant to this giving up their money. Helping them understand tithing is how we support God's work locally and around the world will help them see the big picture.
For example, if your church is building a new building, explain to your child that by tithing they are helping build the beautiful new building that will help other children learn about Jesus.
With older children, we explain to them that supporting the church by tithing is part of worship just like singing, praise, and prayer. When we think about tithing as worship, we feel less negative toward tithing and more positive as we are showing our gratitude for the work God has done for us. 
2. Teach Them the Importance of Earning Money Through Hard Work
Children spend hours every week playing games on electronics, watching TV, and engaging on social media. It's wonderful for children to have time for rest and activities they enjoy, but they should also understand that sometimes chores or work need to be done, too.
As our children grow older, we also want to teach them to take time to work and earn money. They can earn money for their own expenses like clothes, going out with friends, new games, and other personal items they would like.
Children are growing up in a world of instant gratification that makes waiting and saving money difficult.  If they want a new game or a new movie, they don't even need to go to a store. These things can be purchased right online and are instantly ready to play or watch.
When children start earning their own money, they start to realize they cannot have everything they want instantly, because they cannot afford everything. Some purchases require earning money and saving money for months or even years.
Before your child is old enough for a part-time job, when they ask for money to buy things you can give them chores — like vacuuming or mowing the yard — and small tasks to do around your home (age-appropriate) like loading the dishwasher or putting the laundry away. Then explain that if they would like to purchase a new toy or game, they need to earn the money to buy it.  
Note: Not all chores need to be paid. Some basic chores can be done to help with the household work and contribute to the family. But if the child wants to earn extra money, you can offer additional money earning chores.
Getting paid for work teaches children that they should not expect money to be given to them, but money is earned from time and hard work.
3. Teach Them the Value of Saving Money
I have 3 children. I have noticed that some children seem to be natural savers (they decide on a goal and start saving). While others struggle to see the benefits of saving money, if they have money it should be spent.  
For example, my son does well saving money for big goals.  He recently wanted a new pet, an expensive bird plus a cage and accessories. He was patient and saved his money to purchase his new bird.
But my daughter, she is the opposite. She always wants money for the latest new thing and needs to spend every penny as soon as she gets it. Then a week later, she asks for more money. 
Before she spends her money, I encourage her to think about her purchases. Is this what she really wants? Will she want or need something else in a week? Should she save some money for the future?
Learning the value of saving money means recognizing potential needs and wants in the future and saving money for these needs and wants, too.
4. Avoid Impulse Spending
At some time or another, we have all made an impulse buy. I remember when I purchased my first car. I purchased the first car I found that I liked. I didn't really know what I was doing. I paid too much. 
It was a bad impulse buy. 
I see my children make impulse buys, too. They make $5 or $10 and immediately they want to go to Wal-Mart and see what they can buy. Or if they have a little money and we go to a store, they see something cool and immediately want to buy it.
As children become adults, if they don't stop impulse buying, they will purchase bigger and bigger items and spend too much on impulse purchases they regret.
Sometimes it's good to let our kids make the impulse buy so they see the mistake, and, hopefully, learn from the mistake. But we don't want them to get into the habit of always making impulse purchases. 
A better option would be to suggest a waiting period of 1 or 2 weeks before making a purchase that seems like an impulse buy.  If they still really want the item, then they can purchase it. If it's an impulse buy, they will forget in a few days. But the habit of waiting before impulse purchases will be a good lifelong habit.
5. Encourage Them to Be Giving and Help Others
Giving to others is a way we can bless others.  By helping others in need with our time and money, we are doing the work of Jesus.  Whenever possible, we should encourage our kids to help others. 
It's even better if they can help their own friends and community. Here are a few ways you can help as a family:
If you hear about a friend in need, go shopping and purchase items for a meal, make a meal with your children and as a family take the meal to the family.

Give your time as a family.  You could volunteer at a soup kitchen or serve food to others in need for a few hours once a month.

At Christmas or Thanksgiving, encourage your child to donate a gift to a child in need. 
Teaching our children about money is an opportunity and responsibility for moms. The early attitudes our children have about money will impact their lifelong feelings about money.
Have you started teaching your children about money? What tips do you have?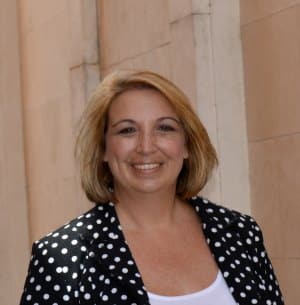 Rachel Newcomb is a Christian wife and mom to 3 kids. She blogs at Smart Mom Smart Ideas where she writes to help Christian moms organize their homes, balance family life and grow their faith. She enjoys reading, writing, and spending time with family.