Sending your kids to a private Christian school this year? Here are three dangers of private Christian school you should be aware of…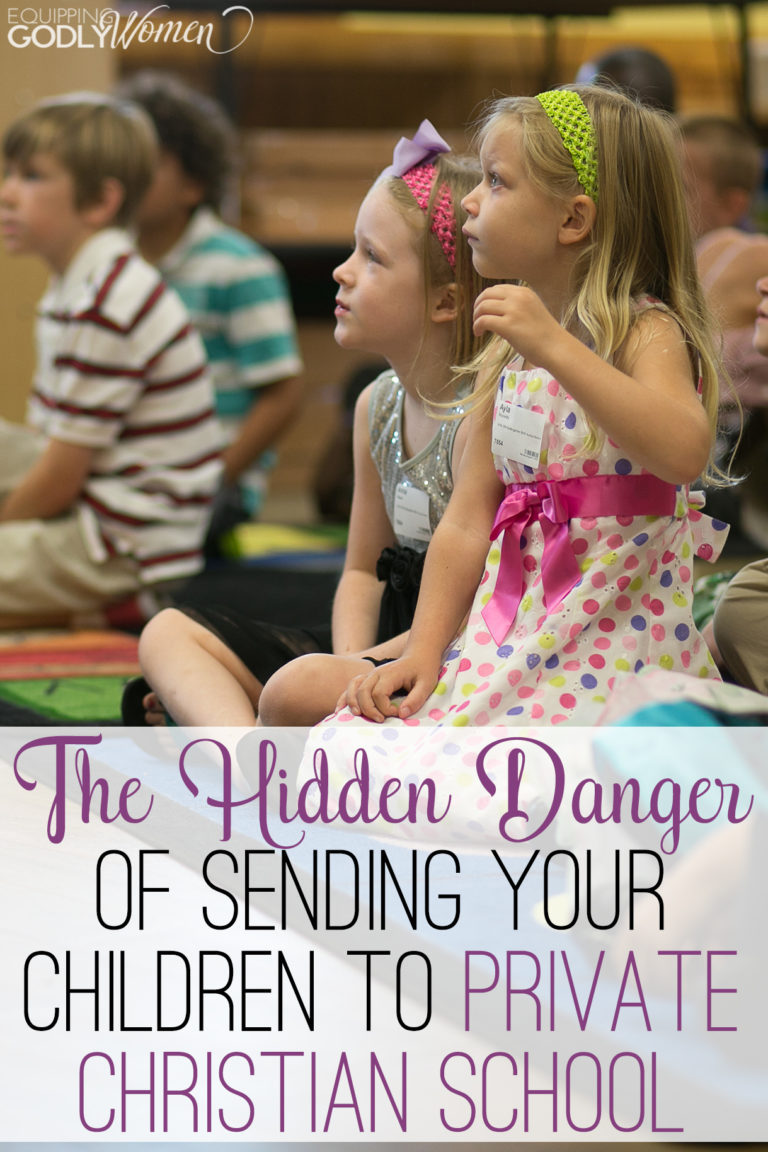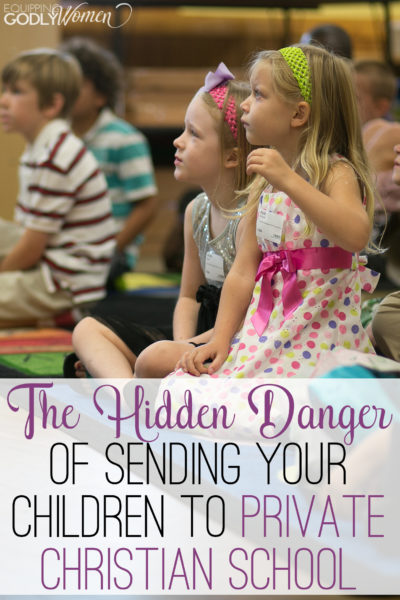 Before we begin, there is something you should know: I really don't care what type of school you send your children to.
Private school, public school, homeschool… there's nothing inherently wrong with any of them, and whatever works best for your family works for me. Every family is different.
(We actually do send our kids to a private Christian school, and I went to public school myself. Both the Christian private elementary school and the public school were positive experiences.)
That being said, there is one particular danger that's unique to private Christian school, and that is complacency.
Getting so safe and cozy in your nice, Christian environment that you completely let your guard down and drop the ball. Or thinking that the things that other parents have to worry about don't apply to you.
That's what I want to warn you about today.
If you send your children to a private Christian school like we do – here are three things you must keep in mind:
1. Private Christian School Isn't an Impenetrable Bubble
If you send your children to a private Christian school – why do you send them there?
For the religious education? 
For the caring teachers?
Because the school is connected to your church and you love the community? 
Or is it because you are hoping to protect your children from all of the evils of the world and of the public school system? You know, that horrible place where they teach evolution and sex ed and who knows what else?
The fact of the matter is, while private Christian school does provide a "bubble" like atmosphere, it certainly isn't an impenetrable bubble. All of that yucky stuff – it's still going to find its way in.
There are kids at your kids' private Christian school who smoke, drink, do drugs, have premarital sex and watch pornography.
Yes, at your kids' private high school … even their private elementary school.
And even beyond just the big, "scary" sins, there's all manner of littler, sneakier ones too. Things like jealousy, bullying, sneaking around, lying, gossiping and who knows what else. It's all there.
Because while the private elementary schools and private high schools may be Christian, not everyone who attends is. And not everyone who considers themselves a Christian cares to act like it either. Especially when they have uncles and older cousins and friends from their neighborhood who make a rebellious lifestyle look so cool.
And all of that junk eventually finds its way right into your children's classroom too.
Maybe now you have a  whole, new set of questions?
Are Christian schools good?
What REALLY is a Christian school like, then?  
Are Christian schools better than public schools?
This doesn't mean that private Christian schools are bad or that they are more dangerous than another type of school – they're not. Christian private elementary schools and private high schools are still very good schools. There is still a bit of a bubble protection. And there is still the option of faith-based learning that is not taught in secular schools.
Just don't fall into the trap of thinking "Oh, well, my kids go to a Christian school, so I don't have to talk to them about things like drugs and sex… they aren't going to be exposed to that for a while."
Because yes, yes they are. Way sooner than you probably think.
And trust me, you want them to learn about these things from you. Not on the playground.
*See Also: Six Ways to Help Young Children Resist Peer Pressure
Related Video: Want Brave, World-Changing Kids? Be a Brave Mom. (Here's How)
2. …But it is Still a Bubble
Okay, so private Christian school may not be an impenetrable bubble, but the fact is, it IS still a bubble.
I remember graduating from college, getting married and heading out into the "real world" after spending five years on a private Christian campus. It was a little disorienting, to be honest!
It was like the rule book I'd grown so comfortable and familiar with was completely thrown out the window. Suddenly, everyone was operating by a whole different set of rules – rules I wasn't used to.
Thankfully, I was surrounded by friends and family who always had my best interests in mind.
But what happens to your kids when they graduate from a private Christian school and head off to a secular college?
Are your children prepared for the real world?
Suddenly, the rule book is thrown out the window, everything is different, they're a little disoriented (and probably a little insecure because while they're technically adults, it sure doesn't feel like it at 18!), and not everyone around them is looking out for their best interests.
Your kids may be in a bubble now, but this won't always be the case.  Will they be prepared?
Do your children know how to handle themselves if they suddenly find themselves at a party surrounded by drugs and alcohol?
Do they know how to respond appropriately when they find out their professor is not only an atheist but has it out for Christians?
What about when the other guys in their dorm start asking some reallllly tough questions about Christianity and your kids don't know how to answer. Will it shake their faith?
Yes, it'd be nice if we never had to have conversations about drugs, alcohol, and sex. Yes, it'd be nice if we could just tell our kids a few Bible stories and trust that they'd treasure them and believe them forever. But it doesn't work that way.
Someday, your kids are going to leave their safe little bubble, and they need to be prepared.
Better for them to learn about the world and experience it in smaller doses now, when they are surrounded by friends and family who love them, than to be thrown in head first later when they head out on their own.
3. Your Kids Need Space to Make Their Faith Their Own
Want to hear something strange?
As much as Christian parents worry about how public schools will negatively affect their children's spiritual lives, for me, my faith was definitely at its weakest while attending private Christian college.
It wasn't the college's fault. It was a great school. But it was a bubble.
In college, EVERYONE was a Christian. It was a shared language we all had. And as a result, it didn't feel "real."
No one had any real problems (that they were talking about). No one had any real struggles. We talked about God, but we didn't experience Him the way we should have. After all, what did we need Him for? To get an A on a test? We were all doing just fine.
*See Also: Three Ways to Help Your Children  Make Their Faith Their Own
Compare that to public high school. People had real problems and they weren't afraid to display them. People made lifestyle choices different than mine. People believed things other than what I believed.
It kept me on my toes, that's for sure.
Because at public high school, my faith wasn't taken for granted. It was something that was tested every day. And every time it was, it grew stronger.
When people asked really hard questions, I had to actually go find the answers. I had to have a reason for the choices I made. I had to be sure what I believed in. And so I was.
No one likes tests and trials, but the fact is, those tests and trials are exactly what make our faith so strong. And without them, you might just find out that your faith is built on a very shaky foundation after all.
Have your children ever had to wrestle with their faith? Have they ever had to find out what and why they believe and defend it in front of others? Have they ever gone through a time when they really had to dig in deep and find out for sure if God is really real or just a story they've been told their whole lives?
Better to find out now, rather than later.
Now please understand, I am in no way knocking Christian schools. I think they're great. We send our kids to Christian schools.
But if you're going to send your children as well, please don't be under the mistaken impression that your children are going to be safe out of all harm's way or that the school is going to do all of your children's spiritual formation for you.
You still need to be alert. And you still need to help your children be prepared.
And that starts today.
Do your children go to a private Christian school? How do you think it has impacted their faith? How do you think it will affect their faith in the future?
The following two tabs change content below.
A devoted Christian, wife and mother, Brittany loves helping other women grow in these roles as well. When she isn't busy taking care of her growing family, you can find her at
Equipping Godly Women
, where she regularly shares tips, tricks and encouragement to help you be the amazing woman God created you to be.