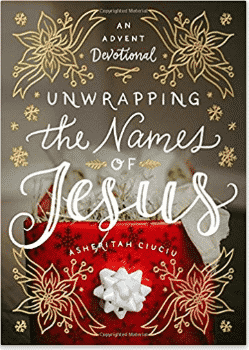 Christmas is weeks away! You're probably already busy getting your home ready, doing your holiday shopping and making plans to get together with friends and family. But are you doing anything to prepare your heart for Christmas?
Today on the podcast, we're talking to Asheritah Ciuciu, author of the book, "Unwrapping the Names of Jesus: An Advent Devotional."
She's sharing what Advent is, why we should be celebrating it, as well as tons of really practical, hands-on ways we can celebrate (even if we only have 2 minutes!).
You can watch it here:
THEN, be sure to enter the giveaway below for a chance to win a copy of "Unwrapping the Names of Jesus: An Advent Devotional" for yourself!
I personally own this devotional, and I can tell you — it is beautiful! And she isn't kidding when she says you can grow your faith in only 2 minutes a day. No matter how busy your life is right now, you have time for this. Devote just a few minutes a day to making your faith more of a priority this Christmas season, and you'll be so glad you did!
Show Notes and Recommended Resources
Asheritah's book: Unwrapping the Names of Jesus: An Advent Devotional
Free Advent Resources: Unwrappingthenames.com
Asheritah's Website: Onethingalone.com
Christmas Christmas Crafts Your Kids Will Love
Easy 5-Day Devotional for Children and Their Parents
*This post contains affiliate links, which means if you make a purchase, I may make a small commission at no additional cost to you. This helps cover the many costs of running this site and allows me to help provide for my growing family. Thank you!
The following two tabs change content below.
A devoted Christian, wife and mother, Brittany loves helping other women grow in these roles as well. When she isn't busy taking care of her growing family, you can find her at
Equipping Godly Women
, where she regularly shares tips, tricks and encouragement to help you be the amazing woman God created you to be.