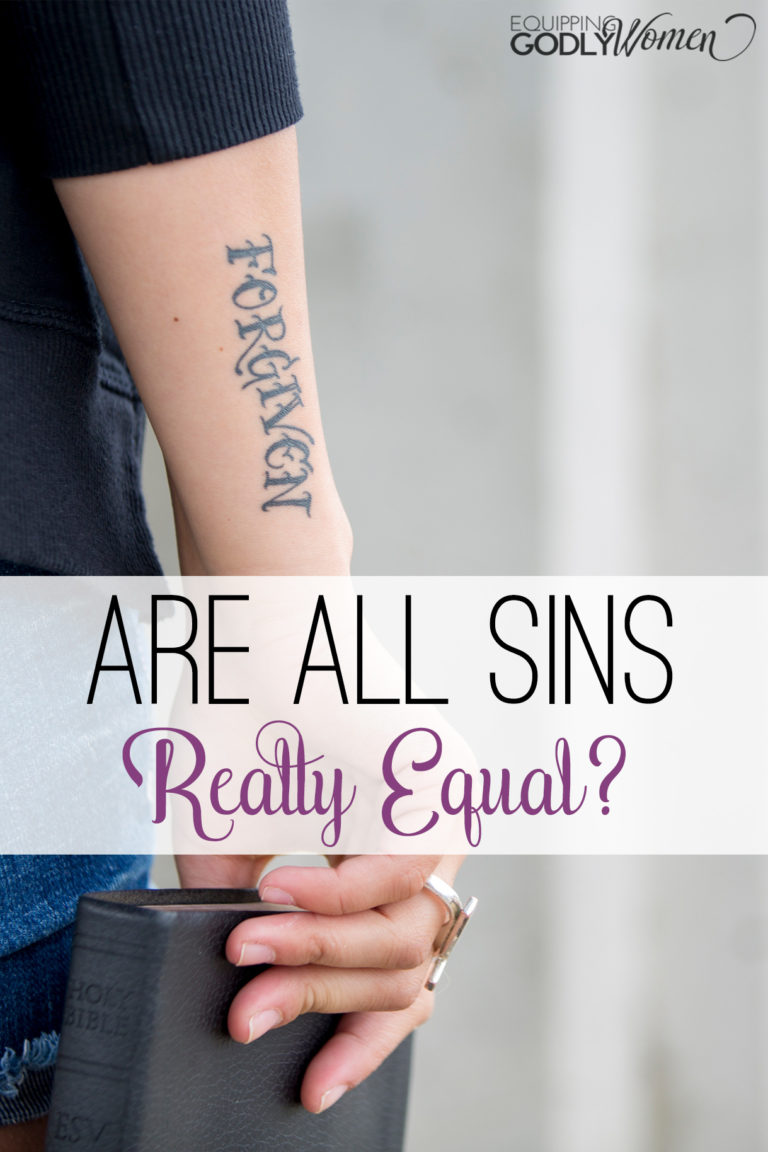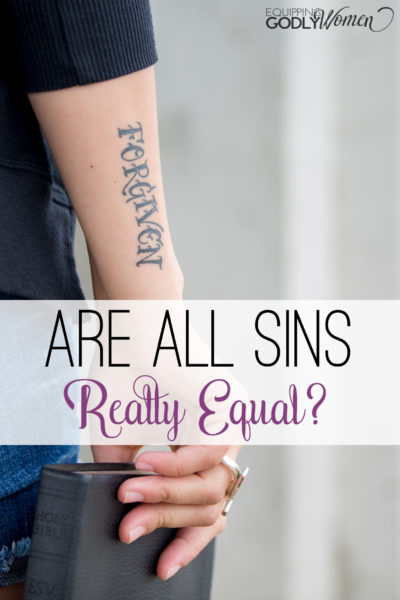 Pin
Are all sins really equal in the eyes of God?
Some Christians believe so.
And honestly, it's not hard to see why.
Yes, there are Bible verses that seem to suggest that all sins are equal in the eyes of God.
Then there's also the added benefit that: If all sins are equal, then no one is allowed to judge, right?
After all, if my sins are just as bad as your sins, who am I to judge you (or anyone)? So no one speaks up, and we all just go on living however we want.
After all, we're ALL just sinners, right?
Pretty convenient.
Unfortunately, as popular as this belief may be in some Christian circles, it simply is not Biblical.
This is because, while you certainly could find a verse or two that would suggest all sins are equal, you'll also find a LOT more Bible verses that prove they're not.
Let's look at what the Bible really has to say about "Are all sins equal…"
Where the Phrase "All Sins are Equal in the Eyes of God" Comes From
As far as I can tell, the most common argument for the belief that all sins are created equal comes from James 2:10.
It states:
"For whoever keeps the whole law and yet stumbles at just one point is guilty of breaking all of it."
In other words (according to the argument), it doesn't matter which sin you break. If you stumble on just one point – any point – you're guilty of all of it. Therefore, all sins are the same, since they lead to the same end result.
And yet, when you go back and read these verses in context, this isn't what these verses are saying at all.
In the passage leading up to this verse, James is discussing favoritism in the church…
You see, back in those times, the idea that all people were created equal was VERY foreign to their way of thinking. In fact, for rich, poor, men, women, Jew, Gentile – everyone – to meet together as one body was completely unheard of.
In those days, women were second-class citizens (basically property), and if you were poor or had a chronic medical condition, everyone assumed you were cursed by God for some sin you (or your parents) have previously committed.
People didn't help the poor, the hurting or the "down and out" like we might today. They looked down on them and discriminated against them, assuming they were terrible sinners who deserved their punishment.
So it was no surprise the first century Christians were having trouble with it.
This is why, in James' passage, he's not answering the question "Are all sins equal?" at all.
James isn't saying that all sins are equal, but that all people are created equal. We all fall short of the glory of God, and we are ALL sinners in need of a Savior (see also: Romans 3:23).
In other words — Stop discriminating against the poor and treating them unfairly, because you are sinners just like they are. 
Your sins may be different than theirs, but we ALL have sins we struggle with. You're no better than them.
We take this for granted today, but this was truly revolutionary at the time.
So Are All Sins Equal in the Eyes of God? What Does the Bible say?
James chapter 2 isn't actually about whether all sins are equal in the eyes of God. But thankfully, there are plenty of other Bible verses that are.
Take these for example:
And these are just a few examples. There are tons more.
Plus, it's just common sense.
Would you expect or even want the same punishment for someone who drove 5 mph over the speed limit and for someone who brutally murdered their own children?
Would you leave you husband for losing his temper once when he had had a very stressful day, the same way you would if you found out he had been cheating on you for years?
I highly doubt it.
Yes, every sin separates us from God, but that doesn't mean all sins are equal.
Have you ever wondered "Are All Sins Equal in the Eyes of God?" What were you taught on the matter?