Ready to learn how to study the Bible for yourself? This 6-step method makes independent Bible study for beginners easy AND interesting!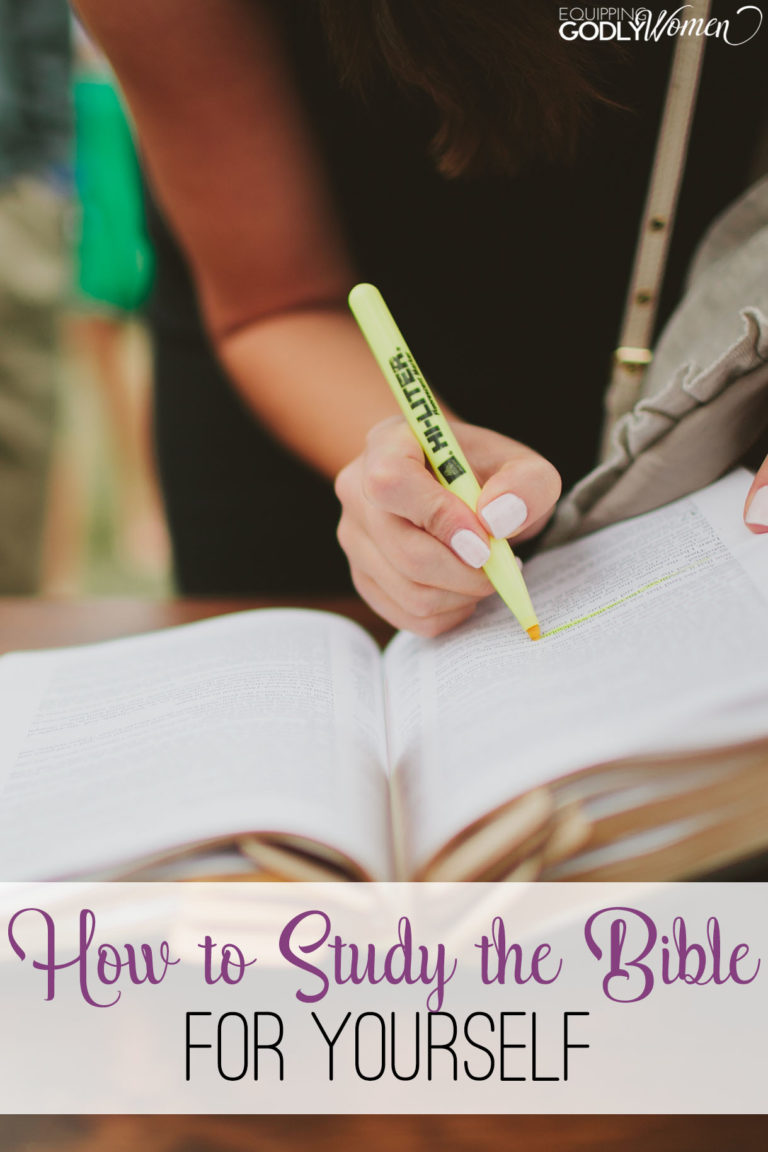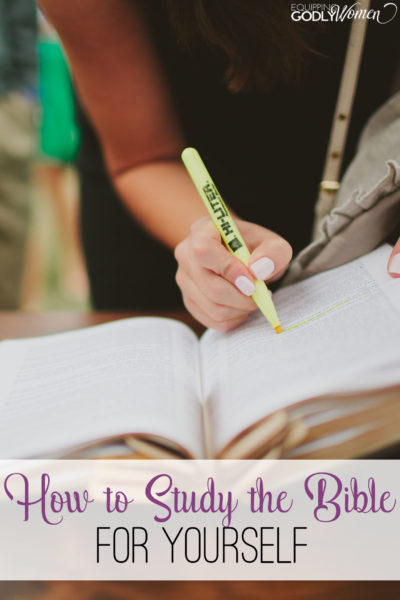 Is it possible to attend church for years and still not understand what the Bible teaches?
What if you attended Sunday School, youth group or Bible studies for years? What if you grew up in a Christian home, read Christian books or had a ton of Christian friends?
What if you read the Bible cover to cover?
Can you surround yourself with Christian friends and still be completely wrong when it comes to some of the core doctrines of what Christians believe?
I think so.
Because that's where I found myself just four years ago.
A lifelong Christian who attended church pretty much any time the doors were opened, I thought I had Christianity more or less figured out.
I was good at reading the Bible. I knew the key verses and concepts. I knew the core doctrines. I knew what I believed and why.
Or so I thought…
Because one day something happened that changed all that.
One day, I sat down and took some time to myself — not just for reading the Bible, but for actually studying and learning the Bible — and I was shocked to realize that SO MUCH of what I had been taught as a child wasn't actually Biblical at all. The Biblical support simply wasn't there.
It was eye-opening to say the least. And I had NO idea.
Simply knowing how to read the Bible wasn't enough. Don't get me wrong. It is GREAT to be reading the Bible. But it was important to understand that I had to learn how to STUDY the Bible for myself too.
To put aside any preconceived notions, all the myths I'd been taught, and begin reading the Bible to figure out what it actually says, not what I thought it would/should say.
So why do I tell you this? Because I worry the same could happen to you. In fact, it probably has.
Maybe you find yourself asking, "What's the best way to study the Bible?" Or maybe you feel you already know how to study the Bible and are ready to go for it.
Do you know how to study the Bible for yourself? If not… Are you 100% certain that your pastors, Sunday School teachers, and parents were 100% correct in everything they taught you about Jesus Christ?
Or is there a chance that they may have been mistaken somewhere along the way? (They are only human after all)
Do you really want to rest your salvation on a message someone could have confused, misinterpreted, shortened or added to along the way? Or would you rather know for sure that you're getting the truth, the whole truth, and nothing but the truth? (I know which one I'd pick!)
That's why it's SO vital that you know how to study the Bible for yourself. Even if you just started reading the Bible, learning the Bible is a bit easier when you follow a few steps to help you in your Bible study for beginners.
There are several perks in learning the Bible through study, too! It gives you a MUCH deeper knowledge and understanding of the Bible and God. And Bible study will also help answer SO many questions. Not only that – I know Jesus Christ more intimately than ever before!
Learning the Bible isn't exactly easy, but you can read on to find the exact method I use to study my Bible. No more searching or asking, "What's the best way to study the Bible?" Follow these Bible study tips below to learn how to study the Bible for yourself!
** Note: There are a LOT of great Bible Study Apps out that there can help you dive deep into the Bible, and I definitely recommend them, but you don't want to just stick to reading someone else's plan. This post will show you how to do Bible study by diving into any part of the Word of God you'd like to study on your own. AND shares great Bible study tips on Bible study for beginners, too!
How to Study the Bible for Yourself
Alright – let's dive in and tackle how to do Bible study!
1. Choose a Topic or Passage
First, you'll start learning the Bible by choosing a topic or passage. For example, you may choose to research a topic like forgiveness, divorce, or wealth. Or you may choose a certain passage, like Romans 8:28, 1 Corinthians 13 or James 2:14-26.
Typically it's best if you start with a topic you're really interested in or curious about, rather than just picking a segment of the Bible at random. As a Bible study for beginners, this tip makes learning the Bible easier and more interesting because you'll be more motivated to find some great information.
You want to enjoy reading the Bible and get a lot out of it. The last thing you want is to find yourself struggling to read the Bible for a topic you don't even care about!
For example, one of the very first topics I started researching was infant baptism vs believer's baptism right after our oldest son was born. My husband is Catholic. He wanted our son baptized right away. I grew up Baptist; that's not how we do things.
Rather than fight about it with each other, each of us insisting on our way was the "right" way, we took it to the Bible and settled the matter that way.
Not sure what topics to research? Here are some ideas:
Doctrinal disagreements with friends/loved ones
Various religious opinions/beliefs you encounter online
How Christians should respond to various life situations and events
Issues you struggle with, such as pride, selfishness, vanity or poor self-esteem
Things you aspire to, such as love, gentleness, compassion or patience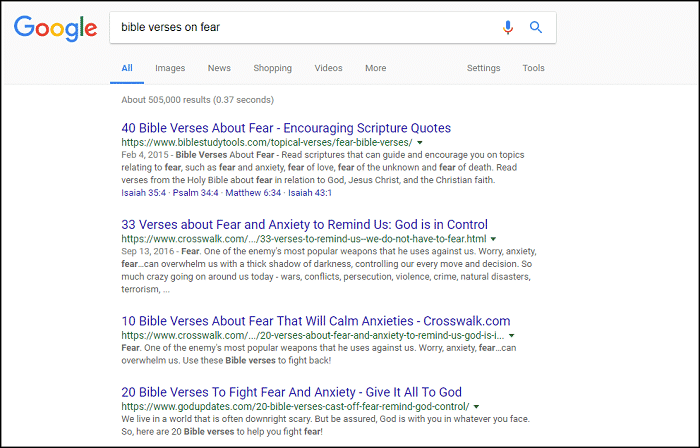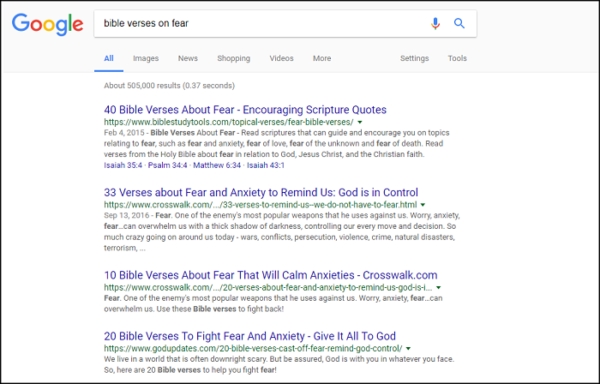 2. Find Relevant Verses on the Topic
Once you've chosen the topic/passage you'd like to begin learning the Bible about, it's time to read through it in context. In other words, don't just cherry-pick out one verse and go with that. Learn how to study the Bible as a whole. (There are some great, free Bible Study Apps that are really awesome! They are great for Bible study for beginners too!)
There are a few ways to study the Bible:
Use a Concordance: Concordances list common words found in the Bible along with several places that particular word is found. You probably won't find every word/topic listed here (depending on the size of your concordance), but if you choose a common one, you can find a TON of verses very quickly this way. Many study Bibles have these in the back.
Consult Your Bible's Index of Subjects: Additionally, Study Bibles have study notes in the margins that explain difficult concepts in greater detail. If your Bible has an "Index to Subjects" in the back, you can find lots of great notes this way.
Google It: Don't own a good study Bible? If you do a search for " [your topic] Bible verses," you'll get long lists of Bible verses on just about every topic imaginable. Some will be more helpful than others, but this is a good way to find a BUNCH of relevant verses quickly. (I use this method ALL the time since I'm at the computer anyways)
Even if you're researching a passage – not a specific topic – I'd still really encourage you to look up related verses. They can really add additional meaning and put things in greater context.
And, because the verses come in bite-sized chunks, you're a lot less likely to get distracted while reading your Bible when you add in this type of Bible study.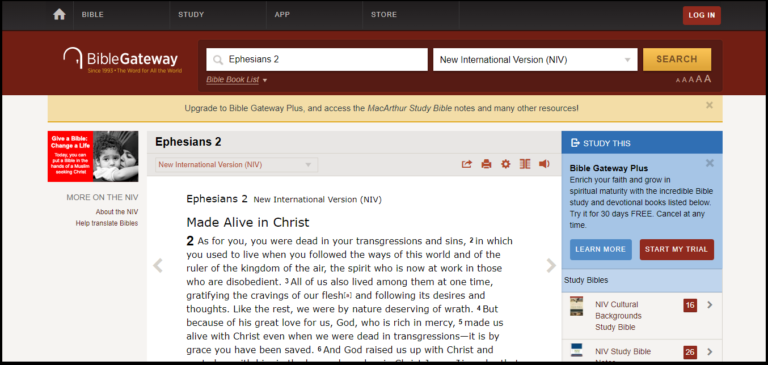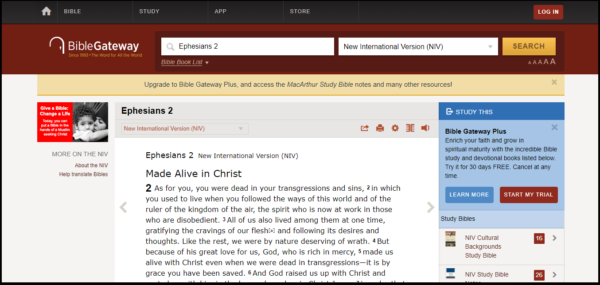 3. Read it in Context
As you learn how to study the Bible for yourself, it's important that you don't get in the bad habit of reading individual verses in isolation, as taking a small snippet of text out of the chapter can completely change the meaning of the text.
Instead, take your time to read through each of the relevant verses within the context of the book and chapter or section it's in. BibleGateway is a website that lets you do this easily if you don't have your physical Bible handy.
Ask yourself:
Who is writing this passage?
Who are they writing to?
Why are they writing it?
What is the main point the author is trying to make (in this section/chapter as a whole)?
What can I learn about Jesus Christ through this passage?
What changes should I make, if any, in my life today as a result of reading this passage?
One passage the really illustrates this point is Ephesians 2:8-9. If you read these verses by themselves with no context, it's pretty darn clear that we're saved by Faith alone. There's really no arguing it.
BUT when you start digging into the meaning of the text (like the fact that Paul wasn't referring to ALL works, but works of the old Mosaic law) and cross-referencing with other portions of Scripture (like James 2), a completely different picture emerges.
That's why it's SO crucial that we don't just cherry-pick a couple of verses we like, but we take the time to truly study Scripture as a whole.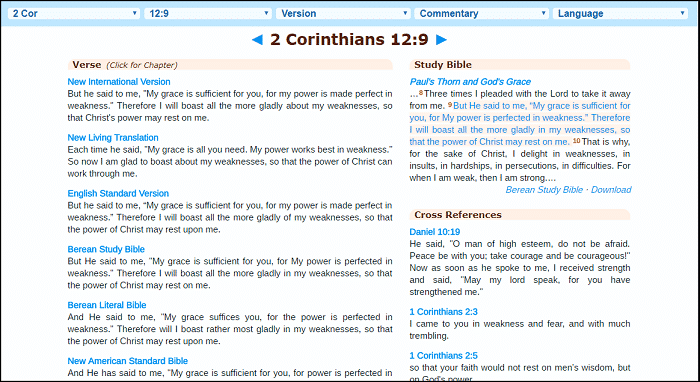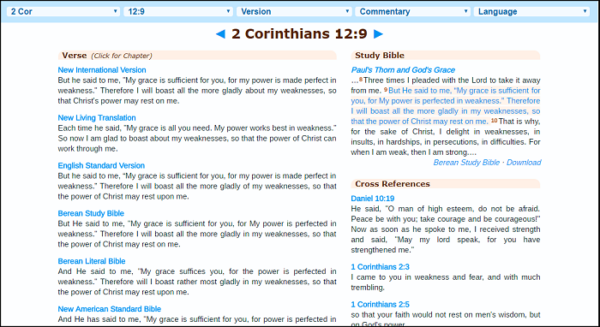 4. Read Each Verse in Multiple Translations
Another exercise that can be extremely helpful as you're learning how to study the bible (especially when learning to study the Bible for beginners) is reading each verse in multiple translations.
Remember: The original Bible texts weren't written in English. The English versions we read today are just translations, and not every translation always gets it right. Even something as simple as switching "a" and "the" can make a huge difference in meaning.
While most of these differences don't change the meaning enough to be noticeable during daily Bible reading, they can make a huge difference when you're trying to study a concept and form a doctrinal belief. Therefore, you'll want to look over at least a few different translations to make sure that the one you're reading fits in line with what Bible scholars as a whole think it means.
Thankfully, you don't need a whole stack of Bibles of various translations in order to compare. You can do this incredibly easily right on Biblehub. Simply search for the verse you're researching, and scroll down.
You are limited in that you can only compare one verse at a time, but I love how easy it makes to compare multiple translations all in one place with just a few clicks of the keyboard. (And it's free!)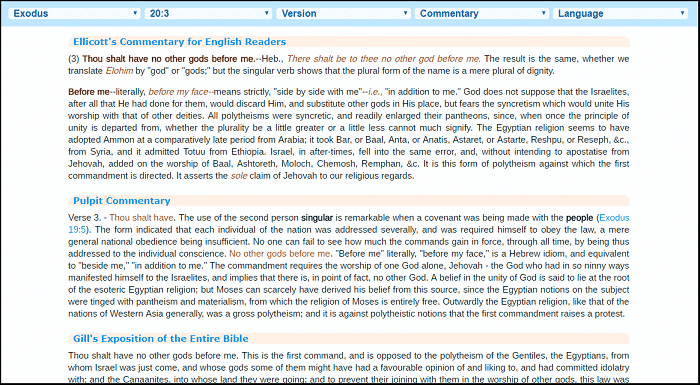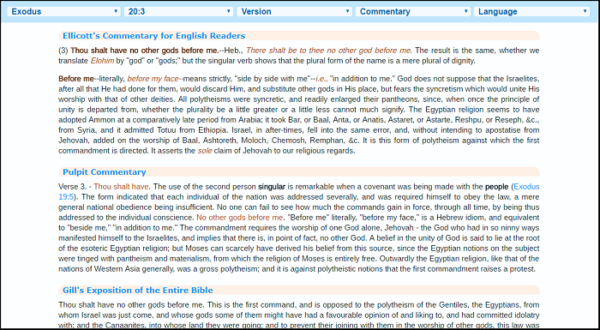 5. Look Through Bible Commentaries
Another exercise that can be incredibly helpful as you're learning how to study the Bible for yourself is reading through various Bible commentaries on the key verses you're reading.
Basically, Bible commentaries are big books where really smart theologians explain a lot of background on the text and what it means in the original language. This is where you can find some of the words in the original Greek or Hebrew, along with expanded word definitions that help you really capture what the full extent of what the author was trying to convey.
You can buy huge commentaries online, borrow them from your library, or just do your research online on Biblehub while you're looking up various verse translations. Just scroll down and you'll find a bunch you can read and compare.
For example, one of the most helpful commentaries I looked up was on Exodus 20:3, which says "You shall have no other gods before me."
At first reading, the text looks pretty straightforward. God is telling Moses that the Israelites should put God first on their list of priorities.
But this isn't actually what the text means at all.
I won't go into the whole explanation here, but if you go look at the commentaries for this one, particularly the second half of Ellicott's Commentary for English Readers, you'll see what I mean 🙂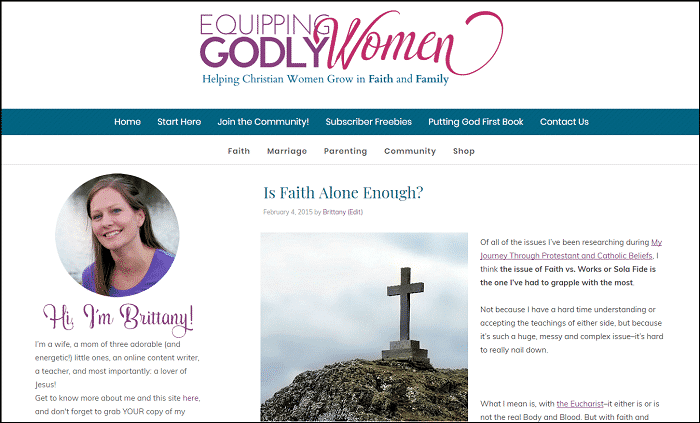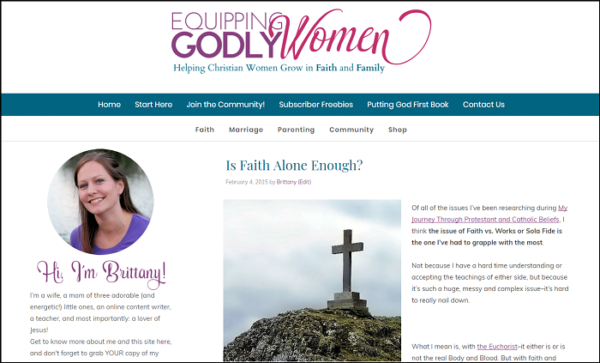 6. Search Blogs and Online Articles (carefully!)
Another thing that I find really helpful when researching a specific topic is to look up what other writers, pastors, and bloggers have to say on the topic. (You can check these Websites for Christian Women when you start researching!)
If I'm writing on an easy topic like random acts of kindness ideas, I'll typically do this first, just to see what's already been covered so I'm not just duplicating what's already out there, but taking a fresh angle.
But if I'm writing on a more difficult topic that involves doctrine, I always save this step for last, because I want my beliefs to be formed by Scripture first – not how other people interpret it.
By the time I start reading other articles on the topic, I already have a good idea what Scripture says. I'm just looking for additional information or insights to fill in any gaps I may have missed along the way. If someone has a great counter-argument, a unique perspective I hadn't considered, or some additional information that changes things, I want to know!
** One important word of caution though: While you can learn a ton reading online articles, keep in mind that not everything you read online is Biblically sound, even if it's written by a Christian author.
While some bloggers do have formal Bible training and actually care about getting the messages of Jesus Christ right, many others simply want to spout off opinions or write something encouraging without first checking to make sure their message is Scripturally sound. And again, we're all just humans. Even when we do our best, we're not infallible.
So read what others say, but always, always go back to the Bible to fact check.
Now, I know this may seem like a lot. And truthfully, it is. It can be very time-consuming. But don't be discouraged.
The process itself is fairly simple and straightforward, and while it can take some time (depending on the topic), it's not like there is any type of deadline or rush. Plus, this isn't a process you'll do every day. Only when you have something specific you're studying or a question you'd like to answer.
If you can figure out how to read the Bible daily and memorize Scripture when you can, then studying your Bible can be a great way to dive deeper into what you're already doing, and make sure that what you're learning is actually accurate to the Word of God — not just a misconception you picked up along the way.
Have you taken the time to learn how to study the Bible for yourself? If so, how do you study the Bible? Are there any topics you'd like to research more?
The following two tabs change content below.
A devoted Christian, wife and mother, Brittany loves helping other women grow in these roles as well. When she isn't busy taking care of her growing family, you can find her at
Equipping Godly Women
, where she regularly shares tips, tricks and encouragement to help you be the amazing woman God created you to be.