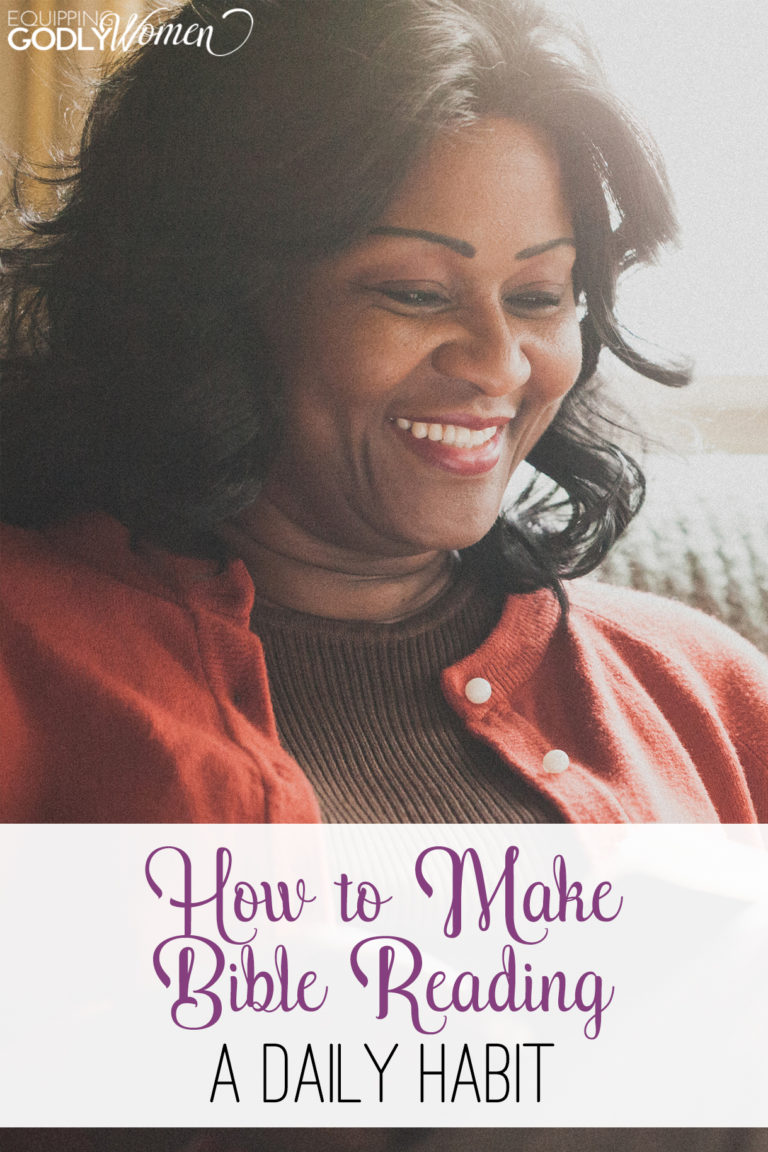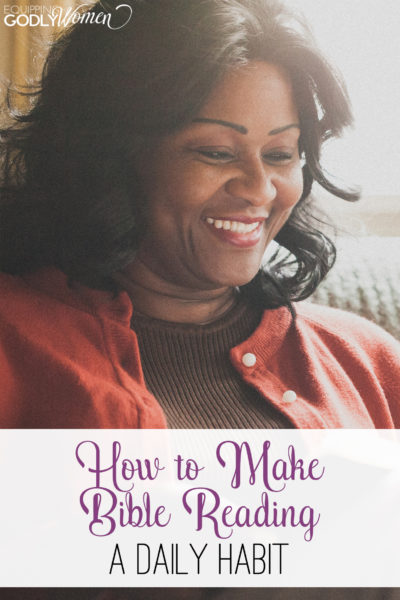 Learning how to read the Bible daily… And actually sticking with it… Doesn't sound like it'd be that difficult, right? 
After all, there's no book more important, more influential, or more life-changing than the Bible.
So why are so many Christians struggling to make daily Bible reading a habit??
I mean, we don't struggle to find time for Facebook… we don't struggle to find time for Netflix… we don't even struggle to find time to catch up on our favorite websites for Christian women or our favorite Christian blogs for women… What makes sticking with a daily Bible reading routine so difficult??
In my post "Struggling to Read the Bible Consistently?" I share 7 reasons why Christians have a difficult time learning how to read the Bible daily.
In today's post, I'm sharing what to do about it. 
Not because I'm an expert — trust me I'm not!
But because after months of intentionally deciding that I DO want to make reading the Bible more of a priority, I've found 6 tips to make learning how to read the Bible daily that much easier.
They've really helped me. Hopefully they'll help you too!
*This post contains affiliate links, which means if you make a purchase, I may make a small commission at no additional cost to you. This helps cover the many costs of running this site and allows me to help provide for my growing family. Thank you!
How to Read the Bible Daily (And Make it a Habit)
1. Choose a Time that Works for You
No one says Bible reading HAS to be first thing in the morning or last thing at night before you go to bed. If you want to learn how to read the Bible daily so you actually stick with it, you need to choose a time that works for you! Something you could stick with without too much trouble for the foreseeable future.
For example, you could choose to read your Bible:
First thing in the morning, before your children are awake
In the bathroom
Over breakfast (Have the kids read their Bibles too, or read together!)
In the car (Listen to an audio Bible or show up to work 5 minutes early)
At the gym (Again, audio Bible to the rescue)
On your lunch break
While cleaning the house
In the carpool lane
While the kids are napping/having quiet time/watching cartoons
While your kids are at sports practice
Over dinner (involve the whole family!)
Instead of watching TV in the evenings
While walking around the neighborhood
In the bath (talk about relaxing!)
Last thing before you go to bed at night
Tip: Bible Study Tools offers a free audio Bible on their website, if you choose to go that route. Plus, there are tons of great free Bible study apps you can use as well. 
2. Schedule It In
Honestly, it really doesn't matter when or where you read your Bible, only that you do it consistently.
So, do you have some type of planner or calendar that you use? Write in your daily Bible time. Block it off. Set it aside. Treat it like an unbreakable appointment.
If you think you'll "get around to it," chances are you never will. Set aside a very specific block of time for it, however, and you're much more likely to actually follow through.
So, decide right now: When and where will you read your Bible? Write it down somewhere you'll see it often or set a reminder on your phone.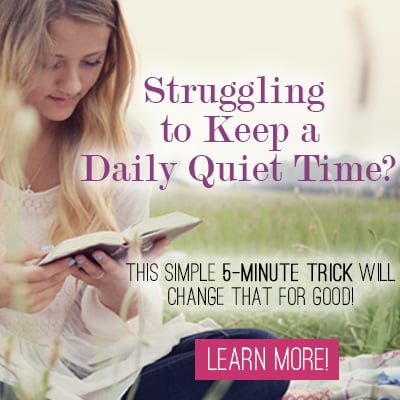 **Need help finding the perfect time? This free Quiet Time Planning Guide will help!**
3. Make Sure You Have the Right Tools on Hand
While all you really need to make daily Bible reading a habit is a Bible, having additional tools on hand can help make the process easier and more enjoyable so you're more likely to follow through!
Here are a few you might consider checking out:
Do you always read the same Bible translation all the time? You might consider mixing it up a bit with a different translation. Sometimes a verse you've read a thousand times will stick out a different way if you read a different translation.
You can find a ton of different Bible translations here.
Alternately, you may consider a different type of Bible — such as a study Bible or even a journaling Bible. (And if you do decide to get a journaling Bible, definitely check out this Bible journaling kit to go with it)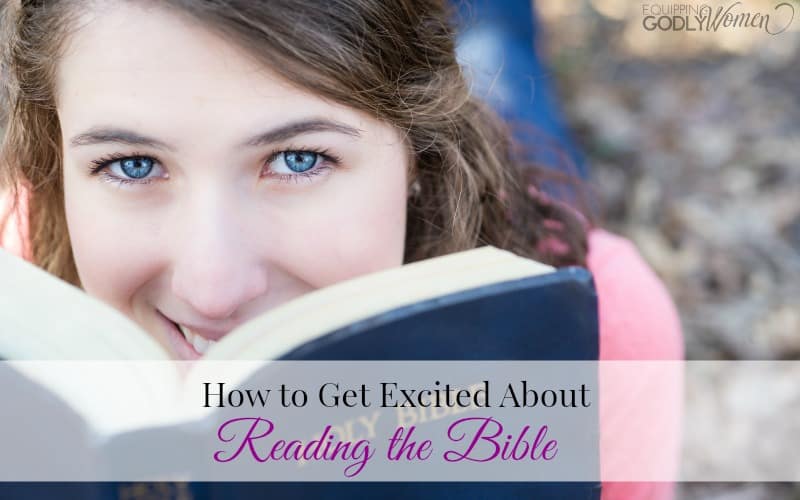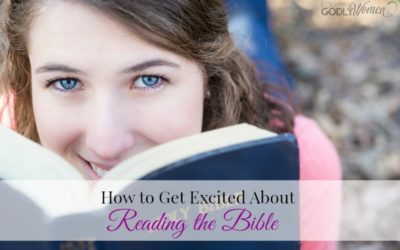 This Article: Do You Truly Enjoy Reading the Bible? You Can!
Never look forward to reading the Bible? Check out this article: "Do You Truly Enjoy Reading the Bible? You Can!" for some great tips to change that.
Bible Study Methods Course (+Bonuses)
Want to get more out of your Bible but don't know where to start? My friend Arabah Joy recently released a short Bible Study Methods course that is fantastic. I bought it earlier this year and thought it was great!
Basically, it's a series of five videos that teach you five different ways to study your Bible and get a lot out of it, rather than reading it at just the surface level.
Plus, her enthusiasm is contagious.
Sound like something you might enjoy? You can check it out here.
Need something a little more structured and/or convenient? Something that makes it REALLY hard to fail? Then you might enjoy the First 5 App from Proverbs 31 Ministries.
Basically, it's an app that reminds you to spend your very first five minutes of the day with God by offering a short verse and devotional for the day, every day.
I've only been using it for a short amount of time now, but it seems to really help so far! (I'm a big fan of checking things off lists and it has check boxes! lol)
Want to try it out for free? You can download the First 5 app here.
4. Hold Yourself Accountable to Learn How to Read the Bible Daily
If you're anything like most people, you'll do great the first few days… then slowly fall right back out of the habit as life gets in the way. That's why some form of accountability is SO important.
Of course, the point is not to be legalistic. You're not a "bad Christian" if you forget a day or sometimes get distracted during prayer and Bible study. It's okay. Don't beat yourself up over it. You're not a failure if you miss a few days (or months… or years….)
BUT if you do want to grow in faith, learning how to read and study the Bible for yourself is vital, and anything that helps you read more and get started back up again when you get out of the habit is a move in the right direction!
Here are a few ideas: 
Find a friend who also wants to read her Bible every day and commit to texting each other every morning with one thing you learned from the passage you read that day. (If you can't find a friend, I'll bet one of these Christian YouTubers would give you some helpful motivation!)
Print off a printable goal tracker and put an "x" in the box for every day you read your Bible. Surprisingly motivating! (Here's a super simple one I made if you want it. It's free)
Decide that you will not do a certain task until you've read the Bible for the day. Common choices: check social media/email, showering, getting dressed. It forces you to read even if you're not feeling it that day!
5. Associate Daily Bible Reading with a Reward
Okay, so yes, I know we should be reading our Bibles because we genuinely want to connect with God and grow in faith. But let's just be honest here. Sometimes we are lazy and unmotivated. We're human! It happens!
That's why — until you begin to truly enjoy reading the Bible — it may help to associate it with some type of external reward to get you in the habit.
For example, you could:
Think about your "Why." If you're just reading the Bible because you think you "should," your habit probably isn't going to last long. You need a stronger motivation. What is your REAL reason for reading? What are you going to get out of it? How is it going to change your life if you follow through?
Make reading as enjoyable as possible. Maybe you read in a bubble bath, out on the back deck in the sunshine, or alone in your room with no children around. Make it a relaxing, enjoyable time so you look forward to it!
Give yourself a reward. Maybe if you read your Bible for two weeks straight, you splurge on that awesome Christian Living book you've been dying to read.
Read with friends. It's more fun with friends!
Again, the point isn't to "bribe yourself" to read the Bible like it's this horrible punishment to be endured. It's simply to help set yourself up for success to make it easier to follow through!
6. Make a Plan to Overcome Obstacles
Unfortunately, no matter how much you want to start reading the Bible regularly, there will always be distractions that get in the way. That's why it's a good idea to try to figure out what they might be in advance so you can find ways to work around them.
For example:
Often too busy during the day? Read first thing in the morning or at night.
Too tired in the evenings? Read earlier in the day while you still have energy.
Schedule too unpredictable? Read the Bible on your phone — you always have it with you whenever you can catch a few minutes here and there.
Kids constantly interrupting? Read the Bible with them.
Always forget to read? Place a physical reminder somewhere where you will see it often or create a Bible study basket that can be placed where you spend most of your time.
I love the quote by motivational speaker Jim Rohn which says, "If you really want to do something, you'll find a way. If you don't, you'll find an excuse." It's so true!
Honestly, it all comes down to motivation: Is your faith a priority, or is it not?
If it is, or if you want it to be, these tips are a great place to start.
Do you struggle to read your Bible on a consistent basis? Which of these tips do you think would help you learn how to read the Bible daily? Are there any other tips that work really well for you?