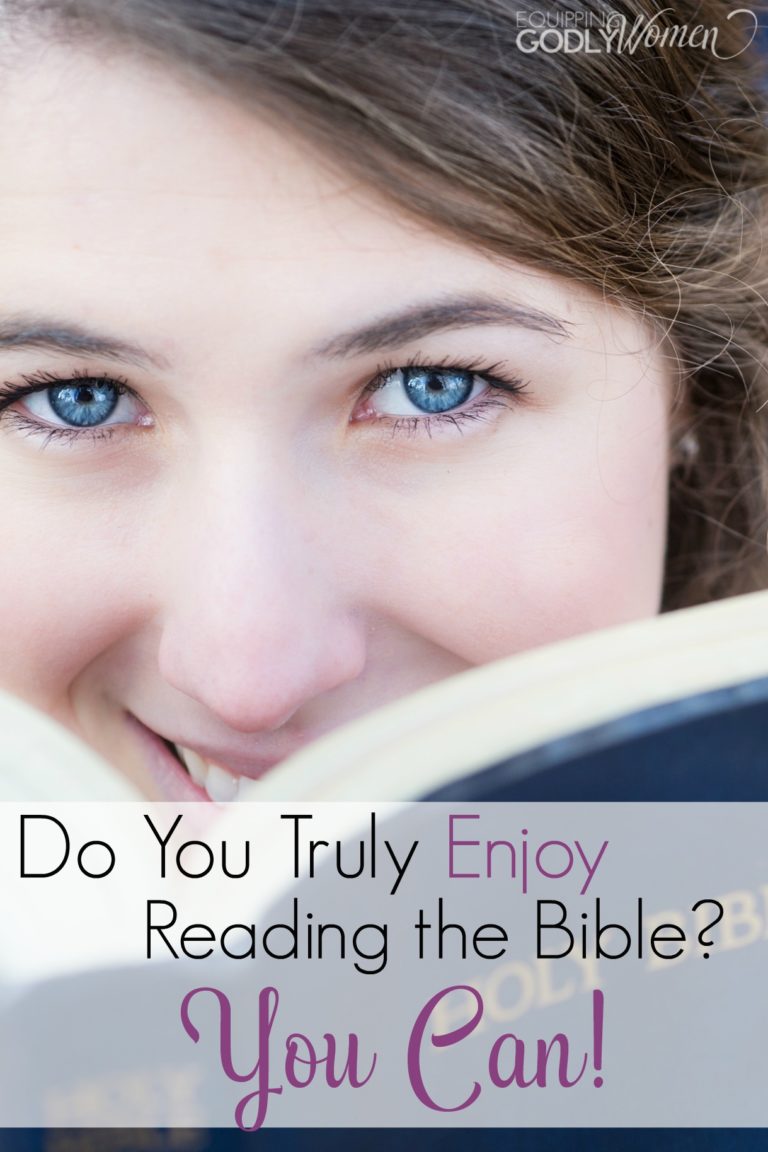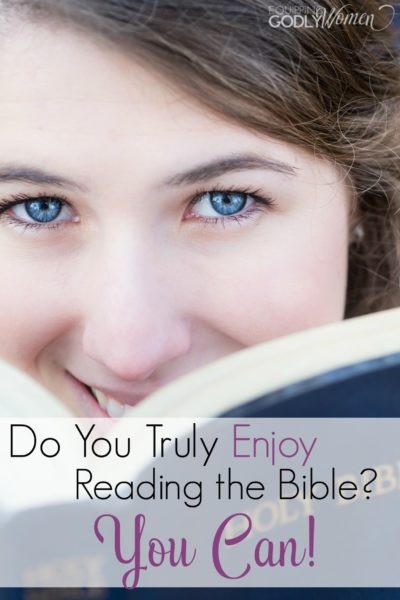 I only remember two things about a couple who used to babysit my brothers and I when we were younger:
1. The approximate location of their house
2. That the man's favorite book was the Bible
I thought it was so weird when he told us that!
Sure, I was a Christian who loved Jesus and went to church regularly. I knew the Bible was important, that it told the story of God's love for us and the rules He wants us to follow, and that we were supposed to read it…
But to actually enjoy reading the Bible? To love reading the Bible and look forward to reading it every day?
That seemed too weird… overly spiritual. Like people who wear WWJD bracelets, carry a Bible with them everywhere they go, and randomly start evangelizing homeless people in the streets.
I didn't know how he read the Bible daily, and I didn't necessarily WANT to know how to read the Bible daily either.
But he was completely serious.
Well, twenty some years later, I can honestly say that the Bible is my favorite now book too, and that I truly do enjoy reading the Bible regularly.
Sure, there are days when I get distracted during prayer and Bible study, or when I get busy with day-to-day activities and don't get around to sitting down to study the Bible for myself. There are definitely some books of the Bible I enjoy more than others. And I don't often sit down to "binge-read" the Bible the way I do with other good books I can't put down…
But I truly do enjoy reading the Bible and look forward to reading it again and again.
Can you say the same?
How to Enjoy Reading the Bible
So a few weeks ago, I received a really great question from a reader, and I'm sure it's one a LOT of people deal with. She writes:
Not sure if you get a lot of questions but I could sure use some advice. I want to read the Bible. There are certain books I love. A lot of the Bible I haven't read. Not because I don't want to, but because I can't get into it. I've always had a hard time getting into the Word.

I know I need the Word. I want to be able to pick up the Bible and read without hesitation. How do I do that?  A lot of times it feels like a chore or like I am always reading the same thing. I want to go deeper, but again, have always struggled to do so.
Great question! After all, it's one thing to plan the perfect quiet time for you or to figure out why you're struggling to read the Bible consistently. But if you want to read the Bible consistently, it will really help if you actually enjoy what you're reading! 
Reading the Bible doesn't have to be dull, dry or boring; You truly can look forward to and enjoy reading the Bible. And these tips will help!
1. Start with the Right Motivation
While, yes, we "should" read the Bible, if you're ONLY reading the Bible because you "should," chances are that's probably not going to work out for you so well.
If you want to actually enjoy reading the Bible, try one of these reasons instead:
To learn more about God and His people throughout the ages
To strengthen your faith and trust in God
To be encouraged in difficult seasons
To gain Godly wisdom and direction to help you make good decisions
To assess your current spiritual condition and learn how to live a life that's pleasing to God
To "fact-check" that everything you believe is actually Biblical
To find information about specific circumstances or issues you're facing currently
To better defend your faith against the worldly, unbiblical ideas that surround us every day
To better share your faith with others
To deepen your relationship with God
Sure, there may always be some element of "should" there. That's not necessarily a bad thing. You take out the kitchen trash, make your kids lunch and change your underpants daily because you "should." Just don't rely on "should" as your only motivation!
* Related: 10 Awesome Websites for Christian Women
2. Choose an Easier Bible Translation and Book
Warning: Not all Bible translations are created equal, and some books of the Bible are MUCH easier to read than others!
That's why, if you're just getting into regular Bible reading, it's really important that you set yourself up for success by choosing the right translation AND by starting in a place that's relatively easy to read. Choosing the right version and book can make Bible reading MUCH easier and, as a result, MUCH more enjoyable. 
My post How to Read the Bible (for Beginners) goes into this subject more in-depth, so I'd definitely encourage you to read it if you think this may be your issue.
Short version: Two easy translations you might consider are the New Living Translation (NLT) Bible, and the Message. And start with the Gospels (Matthew, Mark, Luke, John), then the bulk of the New Testament before diving into the difficult, prophetic books in the old.
Or you can also use additional resources like Bible studies, reading plans, and "Know Your Bible" by Paul Kent, which gives a great basic overview of all of the books of the Bible, what they're about, and what's noteworthy about them. Resources like these are great for better understanding what you're reading so you enjoy reading the Bible more.
Related: 7 Best Bible Study Apps for Christian Women — All Free!
3. Journal and Take Notes on What You're Learning
It's one thing to simply read the words on the page. But if you want to truly enjoy reading the Bible, you'll want to actually interact with the words, reflect on what you're reading and learning, and find ways to apply the lessons you're learning to real life.
And one great way to do this is through Bible journaling.
Don't worry — you don't have to be creative or have great artistic skills to start Bible journaling. While doodling in the margins of your Bible is one great way to interact with the Word, that's actually not what I'm talking about here.
Personally, I'd create a Bible Study basket to keep nearby. I also recommend making a Bible Journaling notebook (outside your Bible), where you can:
Make a note of verses you want to remember
Keep a prayer list
Jot down things you learn during sermons or while reading blog articles
Keep track of things you sense God is teaching you
Take notes on difficult passages
Write out your prayers to God
Record any spiritual progress or milestones (or even your struggles)
Wrestle through tough concepts on paper
Color or doodle to your heart's content, if you'd like
Yes, the end result can look kind and random and unorganized (so it's more of a creative project, than an organized set of reference notes), but keeping a Bible Journaling notebook is a fantastic way to really dive in to the Word, soak it in personally, and learn how to apply it to your own life. 
AND they are REALLY awesome to look back on after you've done it a while, because then you can see how far you have (or haven't) come in your faith.
*Related: Must-Read Christian Blogs for Women
4. Put Yourself in the Story
Knowing that the Bible is thousands of years old now, it's really easy to read it with a bit of distance. As in, "That was then; this is now. Good for them, but that's not really what my life looks like right now."
One way to combat this (and enjoy reading the Bible more) is to put yourself in the story. 
Now, of course, the Bible isn't about you, so you wouldn't want to do this every time you read. But this trick, when used on occasion, really is a great way to make the Bible come to life.
Ask yourself questions like: 
Who am I most like in this story? How so?
What is the main lesson Jesus wants us to learn from this story? What would that look like for me today?
How would I have reacted if I were in this exact same situation?
Which of these negative traits, attitudes or behaviors are present in my life?
Where do I fall short of these positive traits, attitudes or behaviors in my life?
Take 1 Corinthians 13 for example. (The famous Love chapter used at a lot of weddings.)
Written as is, it's pretty easy to just quickly skim over the words:"
Love is patient, love is kind. It does not envy, it does not boast, it is not proud…"
Now, try putting your first name in the verse instead of the word "Love." Go through them one by one. Are these all traits that accurately describe you?
"_____ is patient, _____ is kind. _____ does not envy, _____ does not boast, _____ is not proud…"
Okay, now reverse the traits — still with your name in it. Does anything jump out this time?
"_____ is always rushing, _____ is rude or short-tempered. _____ is jealous of what other people have, _____ often talks about herself and her accomplishments, _____ insists on having her way instead of submitting to others…"
That's a really rough reverse translation, but you get the idea…
*Related: 10 Best Christian Podcasts for Women
5. Read with a Friend Who Does Enjoy Reading the Bible
Want to really bring the Bible to life? Read with a friend — especially if you have a friend who LOVES the Bible herself. Not only will this help keep you accountable, but chances are you'll learn a TON and her enthusiasm will be contagious.
Now, there are a lot of ways you can do this. You could:
Actually physically sit down in person to read and discuss
Read the Bible individually, then call, email or text each other about what you read
Join a group Bible study at your church, work, school or in your neighborhood
Download the First 5 app and go through the Bible reading plans with the ladies on there.
*Related: Top 10 Christian YouTubers that Challenge, Encourage, and Inspire!
Do you genuinely enjoy reading your Bible? What helps you love reading your Bible more? Alternately, what gets in your way?