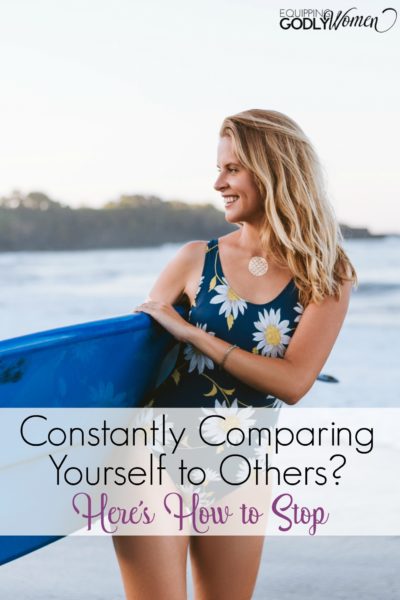 Do you ever look around, see other women being awesome, and feel like you're not good enough or that you don't measure up? 
Maybe it's the fit mom — the one constantly posting her work-out videos and hot gym selfies on Instagram. She has kids climbing all over her, but that doesn't stop her! She's a beast in the best way, while your body's basically a lumpy, dumpy mess.
Maybe it's the class mom at your kids' school. She volunteers for everything, her cupcakes are always Pinterest-perfect works of art, and she always looks like the cover of a magazine. Meanwhile, your shirt passed the sniff test this morning. Barely.
Or maybe it's the friend who constantly posts pictures of her nice house and fancy vacations all over Facebook. You know you shouldn't be jealous, but it's hard not to be when she's jetting off to somewhere fancy while you can't get five minutes to pee in peace.
Do you know what I'm talking about? I'm guessing you do.
From the highly filtered highlight reel we're exposed to on social media to the unrealistic, airbrushed images we see on every magazine, movie and billboard, it's easy to feel like our every day average lives or our "gave birth to three babies" bodies just don't measure up.
Do any of the following sound familiar…
"She's so skinny and pretty! I wish I looked like that…"
"That outfit looks amazing on her! I wish I could wear cute clothes like that…"
"She is so talented! There's no way I could ever do that…"
"How does she manage to do it all and make it look so effortless? I am such a hot mess…"
"She is such a good mom. My kids would probably be better off without me…"
"I wish I could get to know her better, but she'd probably never want to be friends with someone like me…"
If so, then you know exactly what I'm talking about. Even if the thoughts that plague you are a bit different than the ones listed above.
** Pause and reflect: Do you ever feel like you don't measure up? How so? In what way?
**This post contains affiliate links, which means if you make a purchase through my links, I may earn a small commission at no additional cost to you. This helps cover the many costs of running this site and allows me to help provide for my growing family. Thank you!
What Does the Bible Say About Comparing Yourself to Others?
You know comparison is bad — but do you know how bad? Do you know what the Bible has to say about comparing yourself to others?
Comparison is so rooted into our culture that few of us even notice it anymore. Instead, we fall for it hook, line and sinker. "If only I had XYZ that they have, then I would be happy!" or "If only I could be more like them, then life would be better!" the media tells us — and we believe them!
And yet, this isn't the picture Scripture paints for us at all.
Not that we dare to classify or compare ourselves with some of those who are commending themselves. But when they measure themselves by one another and compare themselves with one another, they are without understanding. – 2 Corinthians 10:12
A tranquil heart gives life to the flesh, but envy makes the bones rot. –Proverbs 14:30
In fact, did you know comparison is listed in the Ten Commandments?
Exodus 20:17 is a verse that's easy to skip over. After all — who of us today covets our neighbor's livestock? (Uh… no thanks.)
But what if we had a modern day equivalent for the issues we, as Christian women, deal with today? What if it said something like:
"Stop wishing you had a nice house like the ones you see on Pinterest. Stop wishing your husband was as thoughtful, caring and sensitive as your girlfriend's. Don't be jealous when you see that your friend's vacation pictures, even though there's no way you can afford one right now. Stop wishing you were as skinny, as pretty or as talented as those women you see on TV or Instagram. Stop wishing you had someone else's "perfect" life. Enjoy yours."
Feeling convicted yet?
Related Video: Battling Body Image Issues with Heather Creekmore
How to Stop Comparing Yourself to Others
Okay, so we know we aren't supposed to compare. But how do we stop??
Here's where to start…
1. Identify the Areas that Cause You to Compare
We all have areas where we're tempted to compare ourselves to others — either positively or negatively. So what are yours? What people or circumstances make you feel jealous or less than? What people or circumstances make you a little too prideful?
Make a list. Actually write it out on paper.
Here are a few ideas to get you thinking:
Your looks (Are you too fat, too too thin, too old, too wrinkly, too out of shape?)
Your house (Is it too small, too dirty, too cluttered, too outdated, or in the wrong part of town?)
Your talents and abilities (What have you always wished you could do? What are you super proud you can do?)
Related Reading: Three Truths to Remember When You Feel Like a Failure
2. Recognize Comparison as Sin
"Do nothing from rivalry or conceit, but in humility count others more significant than yourselves." – Philippians 2:3
Comparing ourselves to others isn't just a bad habit. According to the Bible it's actually sin.
Our value doesn't come from how we compare to other people. And when we judge others based on a single characteristic, we're basically objectifying them (by making them "just a pretty face," etc). 
The Bible doesn't tell us to "be better than" our neighbor; it tells us to LOVE our neighbor. And we can't love people well when we're too busy trying to measure our value by them or prove ourselves better than them.
** Pause and reflect: Who makes you feel jealous? When's the last time you went out of your way to do something kind and loving for them? 
3. Speak God's Truth Into Your Life
Want to end the thoughts of comparison for good?
The absolute BEST way to conquer negative thought patterns (whether that's comparison or something else), is to counter them with Scripture. After all, that's what Jesus did when He was tempted in the desert, and it still works for us today.
What lies is the devil speaking into your life when you compare yourself to others? What words of truth can you replace them with instead?
Definitely check out this post for a good, in-depth tutorial on exactly how to do this: Want to Take Every Thought Captive to Christ? (It's easier than you think)
4. Change Your Focus and Your Aim
For am I now seeking the approval of man, or of God? Or am I trying to please man? If I were still trying to please man, I would not be a servant of Christ. – Galatians 1:20
While I don't think there's anything wrong with wanting to be pretty, skinny, liked or talented, the problem happens when we want these things more than we want God. When they begin to consume our thoughts and minds. Or when we pursue these things at the expense of other people.
(For example, wanting to be more talented — not so you can use your talents for God — but so that you can feel "good enough" or "better than" someone else.)
A better idea? Instead of constantly focusing on how pretty, skinny or talented you want to be, focus on what kind of Christian you want to be. Read the Fruits of the Spirit and identify one or two you could stand to work on. Focus on that. Make growing in faith your mission.
Suddenly all of the things you're obsessing about now — might not seem quite so important anymore.
** Pause and Reflect: Read the Fruits of the Spirit through the link above. Do these characteristics define your life? If not, which 1-2 do you most need to work on right now?
5. Remove Temptation, When Possible
So let me ask you a question. A question Heather Creekmore, author of Compared to Who? asked her readers first:
If your husband was struggling with pornography, would you let him keep magazines and videos around the house and on his phone? Or would you do everything possible to remove the temptation for him to look at that stuff?

You'd get rid of it, right? Keep it out of your home. Put some safeguards in place.

Then why are you still filling your mind with fashion magazines, Facebook pages and Instagram accounts that cause you to compare and feel less than??
Way back up in #1, I asked you to make a list of the things that cause you to compare. Did you do it?
Now: How many of them can you rid from your life? 
What books or magazines do you need to stop reading?
What Facebook and Instagram accounts do you need to stop following?
What TV shows do you need to stop watching?
Are there any places you need to stop going?
Any stores you should stop shopping in?
Any people you need to spend less time around?
6. Live the Life God Has Given YOU
One of my favorite parts of Heather's book, Compared to Who?, is in chapter 8 when she describes waiting for her flight at the airport.
Heather writes:
"My purpose for that day included travelling to Miami, not Maui. To become distracted by that flight or to sit there and whine about the fact that all those people get to go to Hawaii while I only get to go to Miami would have been downright foolish.

My plea to you, dear friend, is to know your purpose. Understand that God has given you a unique objective on this earth and all of the talent and abilities you need to accomplish that purpose…

Though you may not always feel like you know where you are going, believe that God issued you the right ticket. He gave you exactly what you need to get there. Stay focused until you arrive, trusting that God will lead you along the varied path to a destination he's chosen for you. Don't let the distractions of where others are headed slow you down."
Sure, you may not have the tiny waist or the perfect singing ability or the ability to make adorable hedgehog cupcakes. That's not because God doesn't love you or because you're not worthwhile! It's because we ALL have different gifts and abilities.
God didn't give you the same gifts and abilities as everyone else, because He didn't give you the same mission and purpose He gave everyone else. You don't have the same obstacles to face because you don't have the same lessons to learn.
God didn't give you what THEY need, because He gave you what YOU need. To live out YOUR best life and YOUR mission and YOUR calling.
Rejoice in that today.