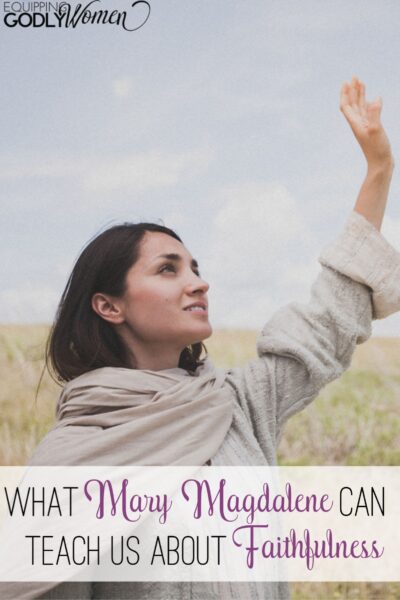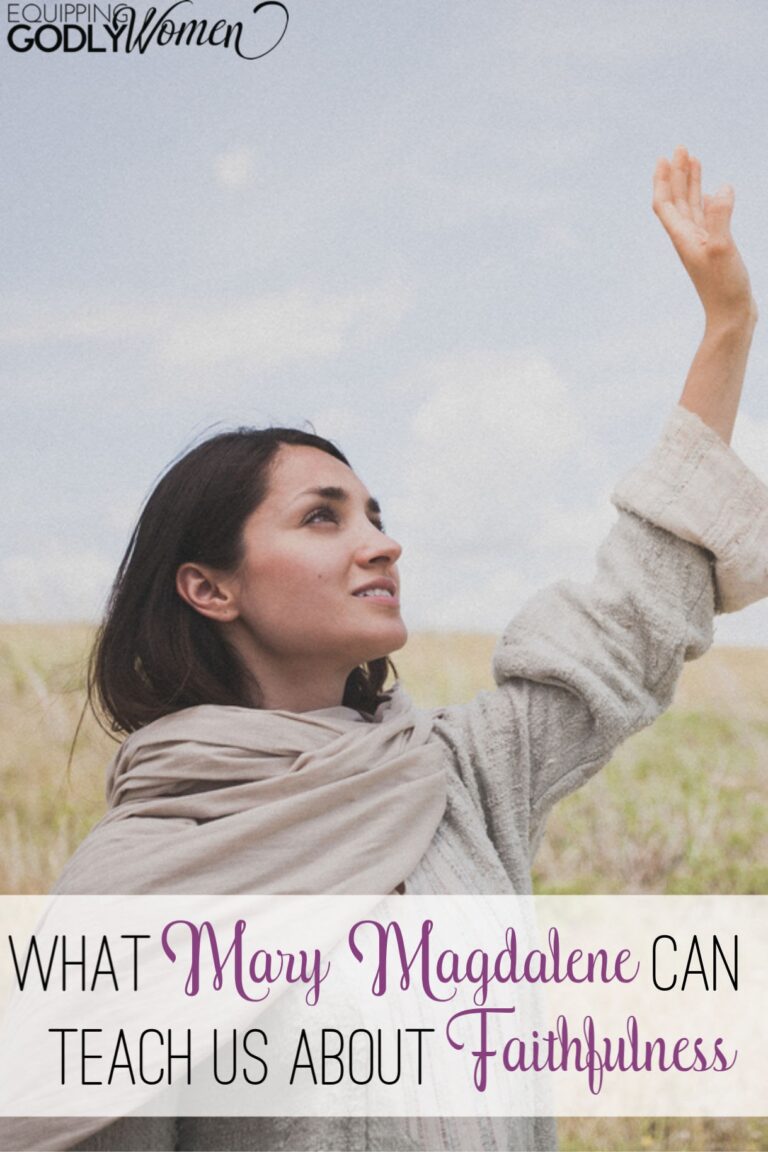 Guest Post by Sara Borgstede of www.theholymess.com.
There are few words as sweet to any person than the sound of their own name.
All of us want to be recognized and appreciated for who we are. Mary Magdalene, the woman in the Bible who didn't recognize Jesus until after he said her name, teaches us the importance of faithfully following God's voice in our lives.
Who Was Mary Magdalene in the Bible?
Have you ever wondered "Who was Mary Magdalene in the Bible?"
Mary Magdalene is a woman in the Bible who has created quite a stir of controversy.
Scholars and Bible readers have debated about the character of Mary Magdalene, some even going so far as to say she was the wife of Jesus (such as Dan Brown in the popular book The DaVinci Code) or paint her as an awful sinner.
*This post contains affiliate links, which means if you make a purchase, I may make a small commission at no additional cost to you. This helps cover the many costs of running this site and allows me to help provide for my growing family. Thank you!
But What is the Actual Story of Mary Magdalene in the Bible?
Mary Magdalene appears in just 12 verses in the Bible (all of which are included in the canonical Gospels), so there's much that is left unspoken about her role in Jesus' life.
Mary's name is most likely because of her place of birth, Magdala, a town on the western shore of the Sea of Galilee.
Here is what we know for sure about the story of Mary Magdalene based on what the Bible clearly states.
Jesus cast out 7 demons from Mary Magdalene (Mark 16:9).
Mary Magdalene was at the crucifixion (Matthew 27:56).
Mary Magdalene was at the empty tomb of Jesus (Matthew 28:1).
Jesus first appeared to Mary Magdalene after his resurrection — before the apostles! (John 20:16-17).
Mary Magdalene told the disciples of Jesus' resurrection (John 20:18).
Because there are different women named "Mary" in Jesus' earthly life, it's easy to become confused about the role of each woman. Mary Magdalene is often confused with the woman who washed Jesus feet with her tears and dried them with her hair, but this was a different woman (who Scripture does not name).
Despite the misconceptions that surround her and what other books may have said, Mary Magdalene in the Bible was not a prostitute and she was not romantically involved with Jesus or married to him.
Jesus' Appearance to Mary Magdalene in the Bible After His Resurrection
Out of all the stories about Mary Magdalene in the Bible, one that gives us the most insight into her character is from John 20:11-18, when Jesus first appeared to Mary after the resurrection.
"Now Mary stood outside the tomb crying. As she wept, she bent over to look into the tomb and saw two angels in white, seated where Jesus' body had been, one at the head and the other at the foot.

They asked her, "Woman, why are you crying?"

"They have taken my Lord away," she said, "and I don't know where they have put him." At this, she turned around and saw Jesus standing there, but she did not realize that it was Jesus.

He asked her, "Woman, why are you crying? Who is it you are looking for?"

Thinking he was the gardener, she said, "Sir, if you have carried him away, tell me where you have put him, and I will get him."

Jesus said to her, "Mary."

She turned toward him and cried out in Aramaic, "Rabboni!" (which means "Teacher").

Jesus said, "Do not hold on to me, for I have not yet ascended to the Father. Go instead to my brothers and tell them, 'I am ascending to my Father and your Father, to my God and your God.'"

Mary Magdalene went to the disciples with the news: "I have seen the Lord!" And she told them that he had said these things to her."
Can you imagine what Mary experienced during this encounter?
Jesus, whom she believed to be dead, was alive! She was so shocked that she didn't recognize him at first…until he said her name. Then, she immediately called out to him and honored him as her teacher and Lord.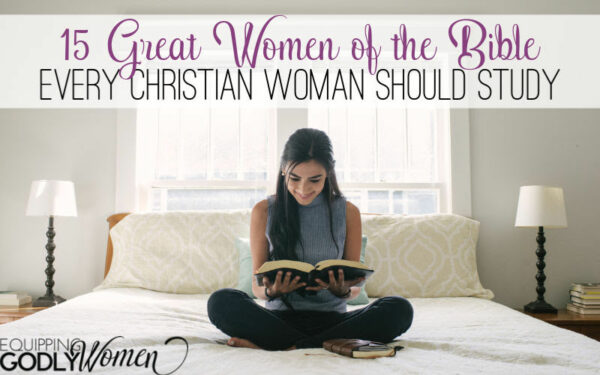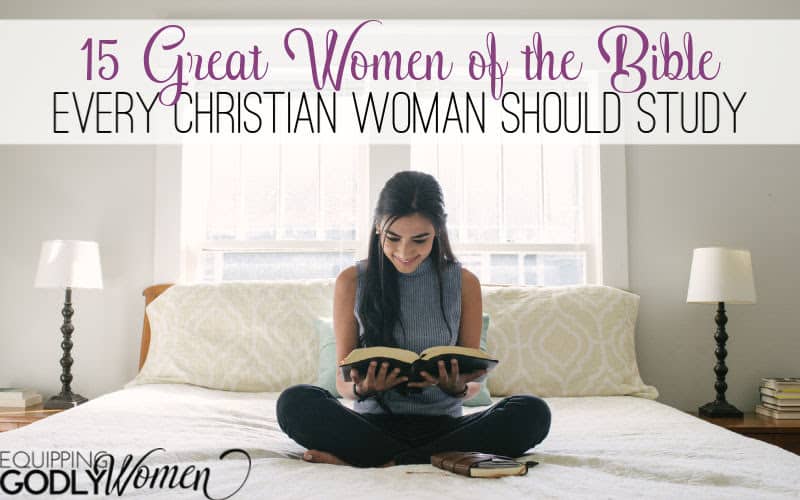 Guess what! This post is part of a series on Great Women of the Bible.
Be sure to check out all of the other posts in this series here: 15 Great Women of the Bible Every Christian Woman Should Study.
We are studying great women of the Bible including the Proverbs 31 Woman and Esther, so you'll definitely want to check them out!
3 Lessons We Can Learn From Mary Magdalene's Faithfulness
We may not know much about the story of Mary Magdalene in the Bible, but we learn an important truth: she was faithful to Jesus.
Let's consider how to apply these lessons from Mary Magdalene to our own lives.
1. After Jesus Healed Mary Magdalene, She Continued to Follow Him
Because we don't have the actual story in the Bible of Jesus healing Mary, we don't know how long she had this affliction or the symptoms it caused. Because Scripture mentions that it was 7 demons, we can assume she was in a great deal of pain.
But Jesus healed Mary, and after Jesus healed Mary Magdalene, she continued to follow Him.
Jesus continues to work healing in our lives today, too. Healing may be recovering from an illness or injury. Healing may come through doctors or medication. It may be improved mental health.
Return to God when He heals you, thank Him, and continue to serve Him.
Related: God is Faithful Bible Verses
2. Mary Magdalene was Faithful to Jesus
Mary Magdalene was a faithful servant to Jesus throughout his life.
She kept watch at the foot of the cross during his most agonizing hours. She brought spices to the tomb to prepare his body. Finally, after she saw Him resurrected, she ran to tell the disciples the good news.
Think about the ways Jesus has worked in your life. Do you stay faithful even when times are hard and the end results seem bleak? Do you trust in Jesus' resurrection? Do you tell other people the good news?
3. Mary Magdalene Knew Jesus' Voice
Even though Mary didn't recognize Jesus at first after his resurrection, as soon as he said her name, she knew immediately.
What a loving moment in Scripture where Jesus called Mary Magdalene by name.
Jesus calls each of us by name, too. Do you recognize the ways Jesus is calling you today?
While we still can't answer the question "Who was Mary Magdalene in the Bible" with 100% certainty, the Bible clearly shows us she is a woman who was faithful to Jesus. In this way, we can follow in her footsteps.
Which of these three attributes of Mary Magdalene in the Bible do you find the most inspiring? Are there any that you need to put into practice in your life today?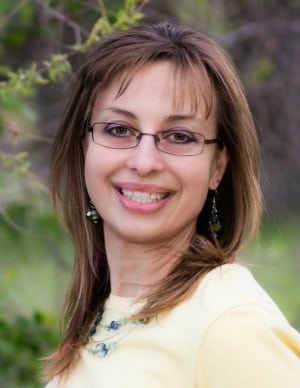 Sara Borgstede is a speaker, writer, and 100 pound weight loss success story. She and her husband have 5 children through birth and special needs adoption. When she's not power napping, you can find her at www.theholymess.com.