Looking for the BEST Bible apps for Christian women? Here are 7 free Bible apps you're sure to love!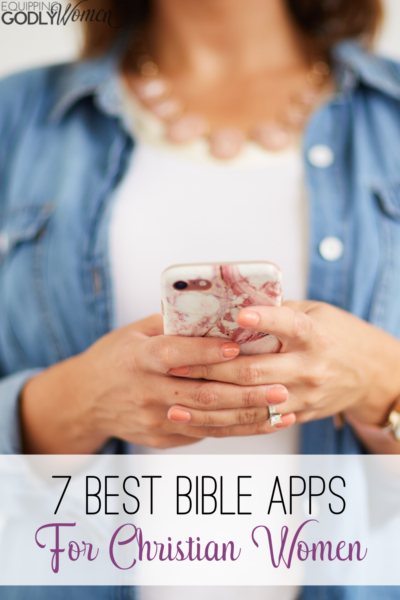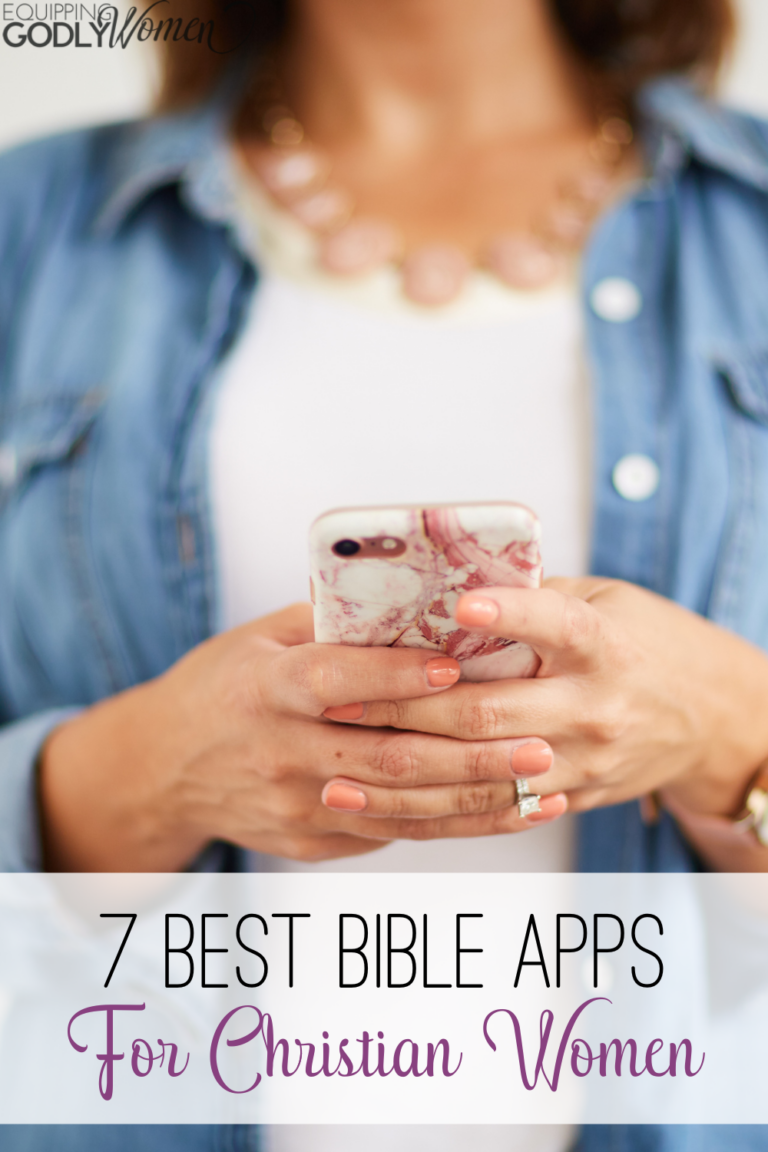 Do you ever wish you could read the Bible more regularly or study the Bible more in-depth?
If so, and you have a smartphone, you're in luck!
Not only can you use your iPhone or Android to read thought-provoking articles from your favorite websites for Christian Women or listen to the best Christian podcasts for women…
You can also use your smartphone to learn how to read the Bible regularly or to learn how to study the bible for yourself!
(Both important skills for every Christian woman to have!) 
Now, I know… our mobile devices can be a major source of distraction that prevents Christian women from regularly reading the Bible. That's very true.
BUT it all depends on how you use them!
If your phone is full of email and social media apps (Facebook and Twitter, we see you!), chances are those are the platforms you're going to check most often.
However, if you replace the social media apps on your phone with one or two of the best Bible apps (either by deleting your social media apps or making them harder to access), it's very easy to make it that much more likely you'll read your Bible on a regular basis!
You just have to take the habits you are already doing anyway (getting on your phone), and tweak them a little bit (checking Bible apps instead of social media apps), and you may just find that learning how to read and study the Bible isn't so difficult after all!
Related Reading: 3 Warning Signs Social Media is Hurting Your Faith
Of course, that brings up the question: "What ARE the Best Bible Apps for Christian Women?"
(After all, it doesn't do you any good to download an app that won't actually help you learn how to read and study the Word…)
Well, you're in luck. Because today I'm sharing 7 of the BEST Bible Study Apps for Christian Women — and they're all free! All you need is an internet connection to download them on the Apple iOS App Store, Google Play Store, or Microsoft Store to get started!
7 Best Bible Apps for Christian Women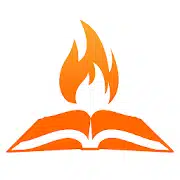 1. Through the Word: My Personal Favorite Audio Bible App
I found this Bible app earlier this year, and I absolutely LOVE it and recommend it all the time.
The Through the Word app walks you step-by-step through the Bible, one chapter at a time.
You start each chapter by listening to a 10-minute audio introduction, led by a Pastor or well-known Bible teacher, that teaches and explains the main idea of the chapter, any important information you won't want to miss, as well as all the background information you may not know on that topic.
Then, you have the option to listen to one of the best audio versions of the Bible or read along with the text right in the app.
The teaching is interesting, engaging, and easy to understand — whether you're brand new to the Bible or you've been listening for a long time. It would absolutely be appropriate for children as young as 7-8, BUT I'm still learning a ton as someone who has read and studied the Bible for decades.
The audio Bible aspect makes it easy for me to listen each morning in the car after I drop the kids off at school, so it's definitely helped me stay consistent in the Word. I've learned a lot, and I am always SO inspired by how much the Bible teachers truly love God's Word and light up over everything they're teaching.
If you want an audio Bible that walks you through the Word and explains everything to you — I highly, highly recommend this one.
You can find the Through the Word app on Google Play or in the Apple app store.
ALSO – Some of their plans are available on YouVersion, if you have that already, which is how I initially found them!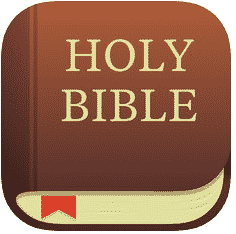 2. YouVersion: Most Popular Bible App Overall
Chances are, if you've spent ANY time researching the best Bible apps for women, you've heard of YouVersion. With over 2.5 MILLION ratings, with a ranking of 4.9/5 stars, the YouVersion Bible app is THE most popular, best-rated Bible app out there, and it's not hard to see why.
YouVersion allows you to read all of the popular Bible translations and listen to audio Bibles. Plus this devotional app allows you to check out literally thousands of Bible reading plans. 
Keep track of what you're studying with notes, bookmarking, and highlighting, or share your favorite verses with friends through social media, email, or text messages. You can even watch video clips from The Bible, the JESUS film, Lumo Project, & more.
If you're serious about getting started with a daily reading plan, and you want to find the translation and Bible reading plan that's perfect for you, you'll absolutely find what you're looking for on YouVersion.
The YouVersion Bible App is available on both Google Play and the Itunes app store.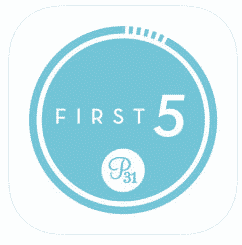 3. First 5: Bible App Specifically for Christian Women
If you're looking for a free Bible app specifically for Christian women (only), the First 5 app by Proverbs 31 Ministries is a personal favorite on my list of best Bible apps and the one I've personally used the most.
Designed to help Christian women begin their day in the Word, this handy daily Bible app allows you to set a custom reminder on your phone to remind you to log in each day so you don't forget or get distracted.
Inside the app, you can choose from a variety of Bible reading plans — all designed to be completed in only 5 minutes a day. Each reading comes with a short Bible passage, a quick and easy devotional, and a question for further reflection. Save your answers right in the Bible learning app so you can go back and reflect on how far you've come or connect with the community within the app for great insights and discussion.
This free daily Bible study not only makes it super easy to jump in and get started at any time, but First 5's super short lessons are perfect for busy moms who want to be inspired without taking a lot of time.
The First 5 App is available on both Google Play and the Itunes app store.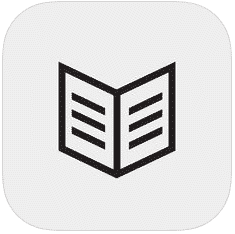 4. She Reads Truth: Great Bible Study Community for Women
If you want to read the Bible in a community of other Christian women, the She Reads Truth app is one of the best Bible apps to use.
The app itself offers a beautiful, full-text Bible, free and paid devotionals, as well as adding bookmarks, journaling, and using search features, but the fun doesn't stop there.
An app that's made to be used in the community, She Reads Truth also offers a variety of beautiful, sharable images and even an in-app camera with photo overlays perfect for sharing your daily reading with others via social media. Just use the #SheReadsTruth hashtag on social media to join in with the hundreds of thousands of women who gather in the Word every day.
If you love that feeling of belonging to a community of other Christian women, you'll love the She Reads Truth app, which is one of my top recommended women's Bible apps.
The She Reads Truth App is available on both Google Play and the Itunes app store.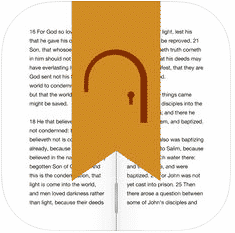 5. Bible Gateway: Best Bible App for Looking Up Specific Verses
I use Bible Gateway ALL the time on my desktop for looking up verses in different translations. (Any time you see a verse quoted on this site, there's a 99% chance that's where it came from) So you can only imagine how happy I was to see that Bible Gateway offers a free Bible app as well — and it's a good one!
A great resource for anyone who wants to quickly and easily look up specific Bible verses in any translation, the Bible Gateway app offers more than 90 different Bible translations (whether it's NIV, KJV, NKJV, NLT, or something else, they're all there!), over 20 audio Bibles, and an entire library of popular Bible commentaries and other references.
Use the search feature to look up any verse in any translation, or check out the Verse of the Day for a little bit of encouragement and inspiration. You can even follow along with one of many Bible reading plans or make use of the highlighting and note-taking features as well.
Bible Gateway is on my list of best Bible apps because it's a simple but robust app. Plus it's a fantastic resource for looking up specific Bible passages quickly and easily to provide encouragement or practice memorization.
The Bible Gateway App is available on both Google Play and the Itunes app store.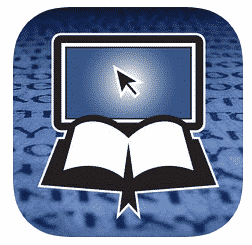 6. Blue Letter Bible: Best Bible App for Beginners
Ready to go beyond simply reading your Bible to learn how to study the Bible more in-depth? If so, then the Blue Letter Bible App is a great place to start.
This handy and free Bible app allows you to read and study over 30 Bible versions (including audio Bibles), 8,000 Bible commentaries, multiple Bible dictionaries, and more. You can compare different translations side-by-side, cross-check Bible references, and of course, search by a specific word or theme.
You can even highlight and save your favorite verses, take notes, and organize your favorite verses in custom folders!
Full of thousands of free Bible resources, this is one of the best apps for Christian women who want to break free from pre-written Bible reading plans to learn how to study the Bible for themselves–without getting overwhelmed in the process.
The Blue Letter Bible App is available on both Google Play and the Itunes app store.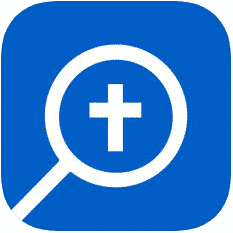 7. Logos Bible Study Tools: Best Bible App for Advanced Users
If you're serious about diving in and studying the Bible, Logos is a name you need to know. The Logos Bible app has SO many resources designed to help you study the Bible far more in-depth than you ever could on your own.
In this incredibly useful and comprehensive app, you'll find quite a few popular Bible translations, audio Bibles, commentaries, and reading plans — all for free. (Plus, you have the option to purchase additional resources if you want to take your study even deeper.)
What's really neat about this app is that it's made for studying. Not only can you do the typical highlighting and note-taking, but it even supports tabbed browsing AND split screen, so you can open as many resources as you want side by side for comparison.
Do a comprehensive word study with available dictionaries, lexicons, and cross-references, or check out one of their passage guides for a quick road map to additional resources for each verse. You can even search and share.
So much more than just a simple reading guide, this app will help you better uncover and explain all the nuances of Scripture for a more complete, accurate understanding of both the text and the times.
The Logos Bible App is available on both Google Play and the Itunes app store.
Do you have any Bible apps for Christian women on your phone? Which free Bible apps are your favorite? Let us know in the comments below!