Wondering what to give up for Lent? Why not try one of these 50 new and intriguing ideas?
Lent is coming up soon! Have you started thinking about what to give up for Lent yet? 
While the practice of giving something up during Lent is not required* by any form of Christianity, voluntarily choosing to give something up during the Lenten season can be a great spiritual practice to help you grow in faith.
I've only recently started giving up something for Lent in the last few years, but I'm definitely loving the practice and would highly recommend!
*Note for Catholics only: Catholics are required to give up eating meat on certain days throughout Lent. You can find out more about what Catholics can eat during Lent here.
Not all branches of Christianity observe Lent, though many do and anyone can.
Lent is most commonly observed by Roman Catholics, Lutherans, Methodists, Presbyterians, Anglicans and the Eastern Orthodox church.
And while the exact methods in which Lent is observed have varied over the years and across denominations, the practice of Lent has been around since as early as the second century AD when the early church fathers themselves took part in it, and millions of Christians still observe it today!
After all – you make Christian New Year's Resolutions in January… Why not use Lent as a great way to grow in faith as well? It's a great way to prepare your heart and prepare your children's hearts for Easter!
How to Choose What to Give Up For Lent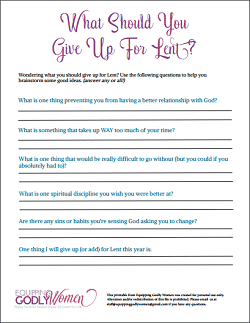 Whether you choose to give something up for Lent or add a new spiritual discipline in — the choice is entirely up to you.
You'll want to choose something challenging but doable, and definitely something that will help you grow in faith. But other than that — the sky's the limit!
Not sure what to pick? Download this "What Should I Give Up for Lent" Brainstorming Guide to help you find the perfect thing!
It will help you identify any weak spots in your faith as well as any things that could be getting in your way.
And best of all — it's free!
What Should I Give Up for Lent? (50 Ideas!)
Finished going through the printable worksheet above and still need some ideas? Here are 50 common things to give up for Lent — maybe one will resonate with you?
I'd caution you though — don't just pick any old thing to give up for Lent.
Ask yourself: What's holding you back spiritually? What is one thing you could give up that would make the biggest difference? Start there!
Facebook (it's a huge time-suck!)
Television (spend the time reading your Bible instead)
Starbucks (donate the money instead)
Make-up
Complaining
Going Out to Eat
Clothes You Don't Wear Often (donate them)
Weighing Yourself (Examine your spiritual state instead)
Listening to questionable music
Pinterest
Comparing Yourself to Others
Inappropriate Jokes
Instagram
Reading the News
Shopping
Wine/Alcohol
Coffee
Being Late
Fast Food and/or Frozen Meals
Mirrors
Sleeping in/Staying up Late
Hot Showers
Video Games/Games on Your Phone
Snacking
Biting Your Nails
Chocolate
Your Saturday Afternoons (spend them volunteering)
Sweat Pants/Yoga Pants
Driving Over the Speed Limit
Checking Your Bank Account
A Time-Consuming Activity
Reading Books Other than the Bible
Falling Asleep at Church
Forty Dollars (donate it to the charity of your choice)
Your Smart Phone
Criticizing Yourself and/or Others
Laziness
Having Your Own Way
Talking About Yourself (unless someone asks you a direct question)
Driving (except when absolutely necessary)
Dressing Provocatively
Sarcasm
Still need ideas? Here are 10 Out of the Box Things to Give up for Lent from Your Modern Family and 10 Things You Can Do (or Give Up) for Lent As a Family from A Mother Far From Home. Maybe one of these will spark some more ideas for what to give up for Lent!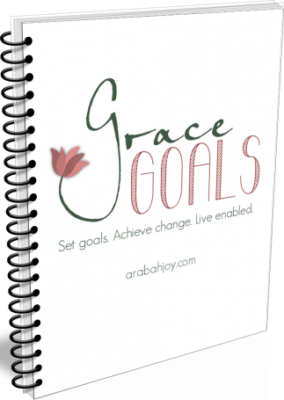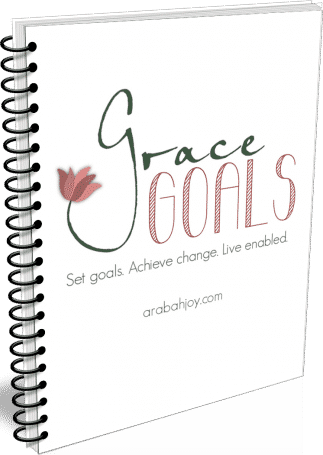 By the way – if you know what you need to do but you're not sure how you possibly can, you might want to check out Grace Goals.
Grace Goals is a 100% Biblically based goal-setting course that combines proven goal setting techniques with the power of the Holy Spirit to help you develop a very practical step-by-step plan for kicking your bad habits once and for all.
Whether you have bad habits to kick or good habits you want to start, this workbook is surprisingly effective.
Interested to learn more? Find out more about Grace Goals here.
*This is my affiliate link, which means if you make a purchase, I may make a small commission at no additional cost to you. This helps cover the costs of running the site and allows me to help provide for my growing family. Thank you!
Have you decided what to give up for Lent this year? What are you giving up and why?
The following two tabs change content below.
A devoted Christian, wife and mother, Brittany loves helping other women grow in these roles as well. When she isn't busy taking care of her growing family, you can find her at
Equipping Godly Women
, where she regularly shares tips, tricks and encouragement to help you be the amazing woman God created you to be.