Looking for easy church Trunk or Treat ideas that are fun and family-friendly? Here are 10 ideas you'll really love!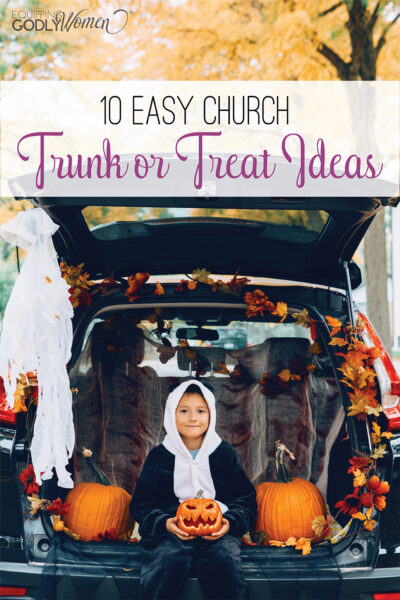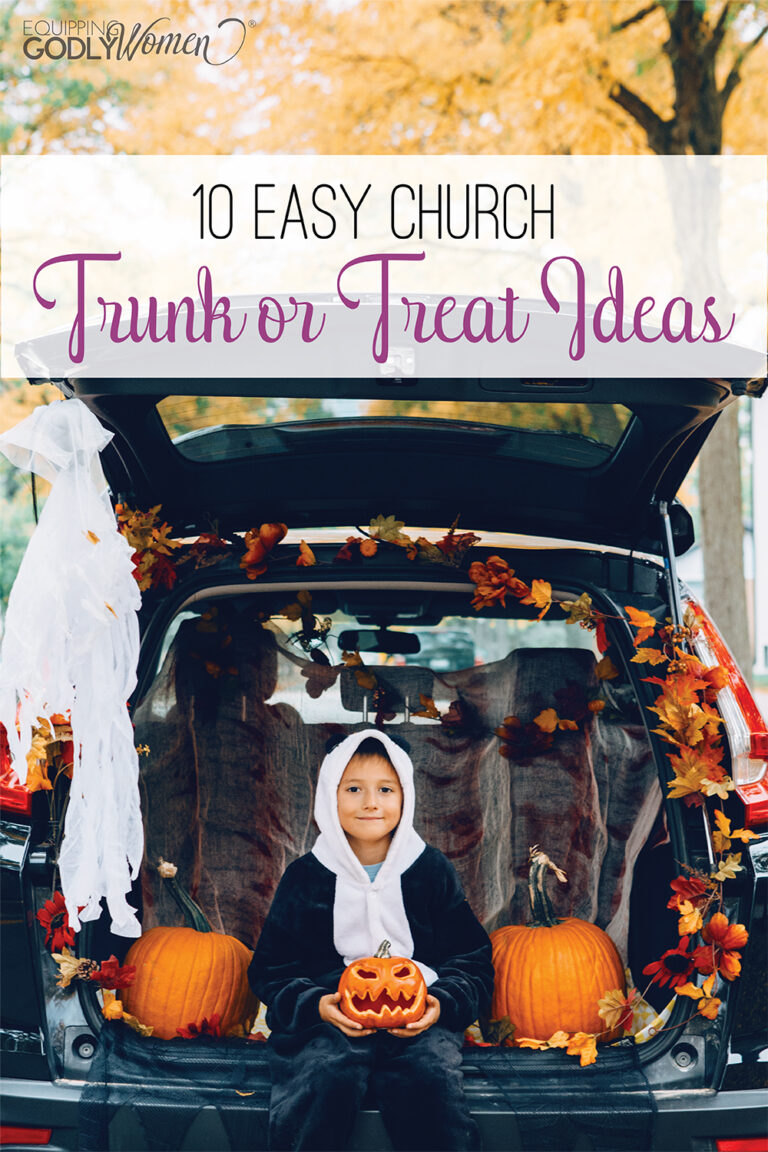 Have you ever participated in a Trunk or Treat?
Typically held in a church parking lot, these outreach events are a great way to get to know people in your local community, while still providing a fun and safe trick or treat experience for your own kids.
Many families who wouldn't usually attend church on a Sunday morning or read their Bibles regularly would happily bring their kids to a laid-back and fun church Trunk or Treat at church.
And while the focus really shouldn't be on sharing Scripture, you can definitely choose biblical Trunk or Treat ideas, hand out Christian coloring books, display Scripture, and/or invite people to come back to church on Sunday…
…as long as you do it in a friendly, welcoming way (and you don't skimp out on the candy!)
(Note: I'm not saying sharing the gospel isn't important. It is. I'm saying – Don't try to "trick" people or "bribe" them with candy to get them in your church parking lot. Just love on people first, and share the Bible where you can. Don't be weird about it.)
Related: Halloween as a Ministry Opportunity – 5 Creative Ideas
BUT first you have to choose which of the hundreds of easy Trunk or Treat decorating ideas you want to try this year!
That's why, in this post, we're sharing 10 fun (and easy) Church Trunk or Treat ideas for you to choose from.
Some have Christian, church or Bible themes (like the Noah's ark Trunk or Treat idea)… Others reference popular Christian culture. And others are just plain fun!
But all would be completely appropriate for a church parking lot.
Scroll down and see what you think – then let us know in the comments: What fun church Trunk or Treat ideas are YOU thinking about decorating your car with this year?
Related: Should Christians Celebrate Halloween
*This post contains affiliate links, which means if you make a purchase, we may make a small commission at no additional cost to you. A portion of all EGW profits go straight to supporting Christian charities we love. 
1. The Lion, the Witch, and the Wardrobe Trunk or Treat Idea
How fun is this The Lion, the Witch, and the Wardrobe theme?
Nearly all of these car decorations can be made with items you probably have lying around the house already – Christmas tree, lantern, folding table, hangers and clothes…
The lion might be a bit tricky,  but I am absolutely imagining dressing our Golden doodle puppy up with a lion's mane (so cute!)
For a detailed step-by-step process on this (and other) amazing church Trunk or Treat ideas, check out the Tikkido blog. She has several other fun and easy Trunk or Treat decorating ideas to choose from as well.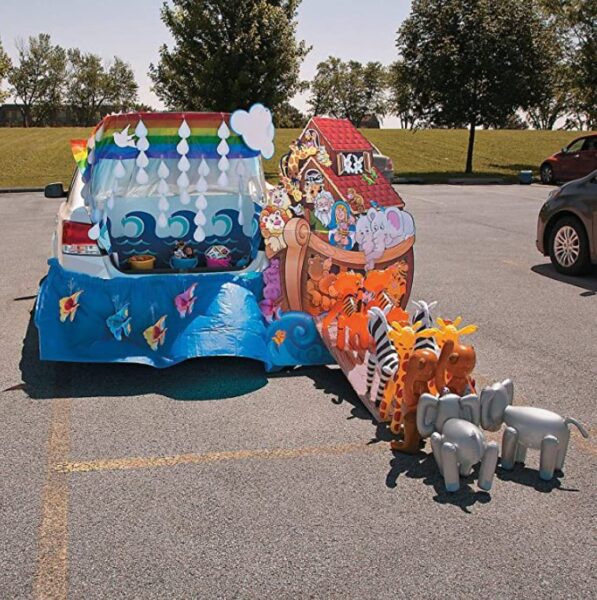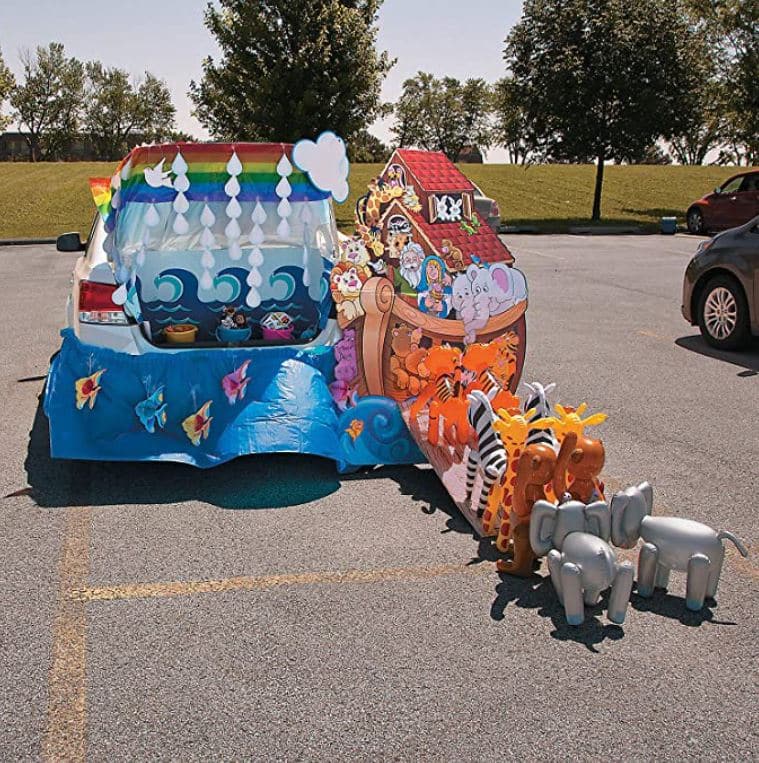 2. Noah's Ark Trunk or Treat Idea
Looking for church Trunk or Treat ideas that are a little faster and easier?
Did you know you can BUY entire Trunk or Treat car Decorating kits online on sites like Amazon and Oriental Trading company??
This Noah's Ark Trunk or Treat Theme comes straight from Amazon.
And while it's a *bit* pricy, I'm voting it's completely worth it for Trunk or Treat decorating ideas and materials you can use again and again, rather than having to brainstorm, source, and assemble new church Trunk or Treat ideas every single year.
Plus, you can't beat the Trunk or Treat Bible themes, right?
Want to make it truly special? Here are a few extras you might want to pick up as well: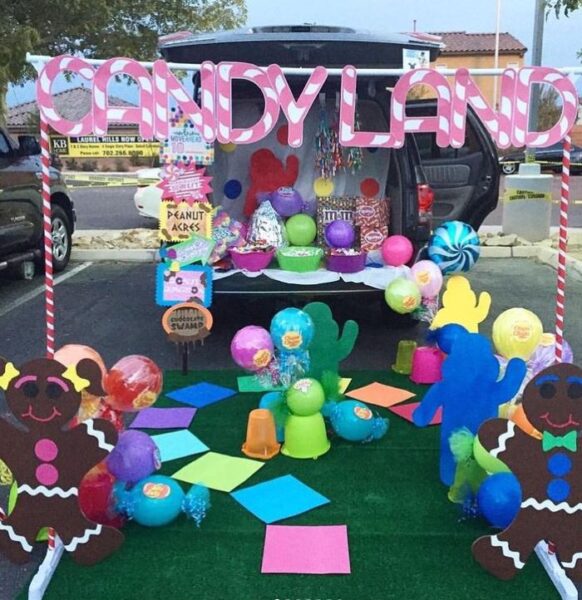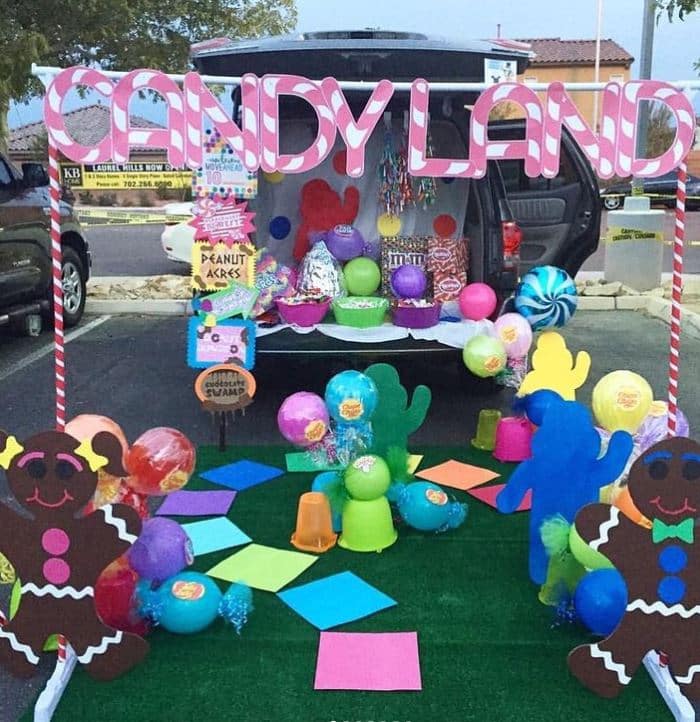 3. Candyland Trunk or Treat Theme
Want a classic Trunk or Treat theme everyone will love? Why not decorate your car with a Candyland theme?
This wholesome and fun idea would make anyone smile (and it matches the "candy" Halloween theme nicely!)
While this particular set up doesn't exactly scream "easy Trunk or Treat ideas for church," it's actually not as hard as it looks. You could easily make a version that's just as cute (and much easier), by buying several of the items straight off of Amazon.
For example:
Thanks @modagebarbies for sharing this fun and classic Trunk or Treat decorating idea!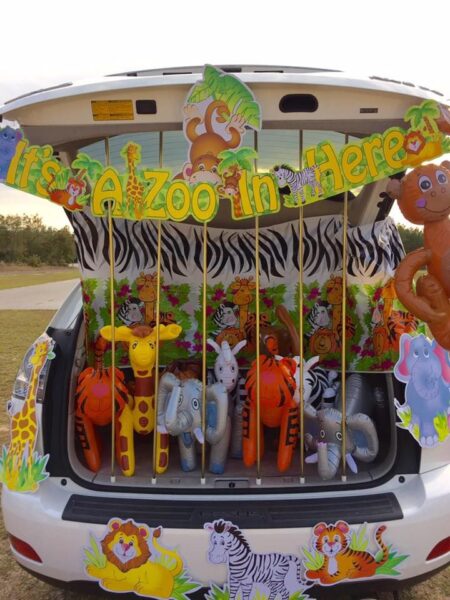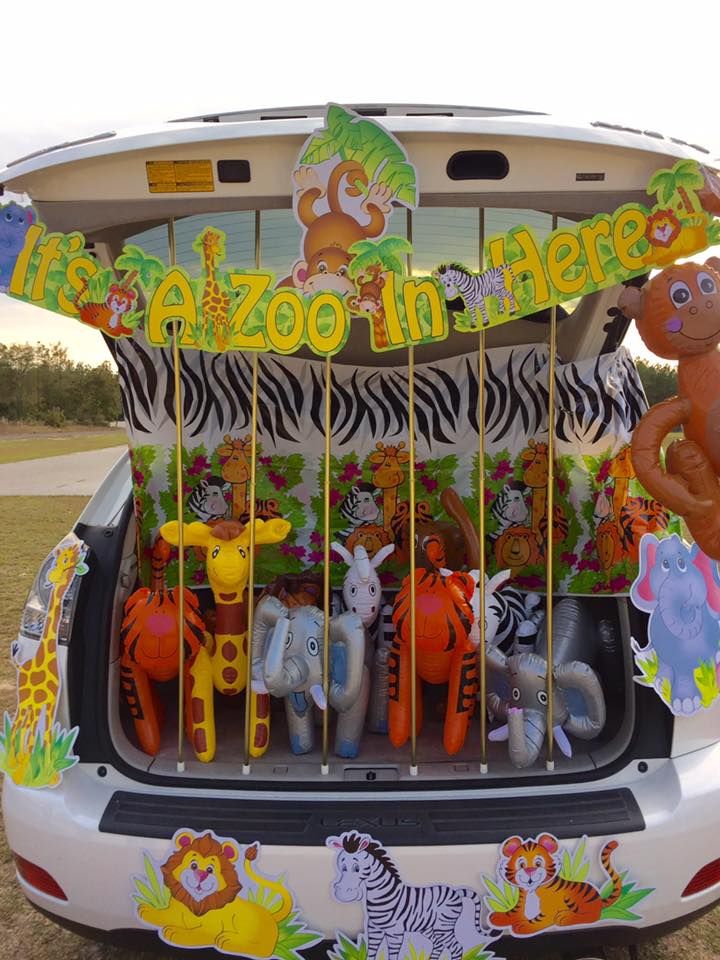 4. Zoo Trunk or Treat Theme
Similar to the Noah's ark Trunk or Treat idea above, this Zoo-themed Trunk or Treat idea is perfect for any animal lover.
It's easy to assemble, and you don't have to worry about anything blowing away or falling over if it happens to be a bit cold and windy that night, because everything is tightly secured within the trunk (instead of set out in front of the car).
PLUS, if you don't want to redo this church Trunk or Treat idea again next year, you'll absolutely make several kids' day by passing out the inflatable animals to the last few stragglers at the end of the night.
Decorate with:
Be sure to check out Alli's website, An Alli Event, for even more fun Trunk or Treat decoration ideas!

5. Campfire Trunk or Treat Idea
Fall is the perfect weather for camping! And what's the best thing about camping? S'mores!
I saw this idea while searching for easy Trunk or Treat ideas for church and instantly wanted to build a campfire and roast some marshmallows of my own.
While you probably aren't going to be able to include real fire in your church Trunk or Treat idea, this cute set up is the next best thing. You can even hand out individually wrapped smores ingredients or smores mix instead of traditional candy!
And these decorating ideas will help you keep it simple:
Thanks @sohn.made for sharing this fun Trunk or Treat decorating idea.

6. "Up" by Disney Trunk or Treat Idea
How adorable is this "Up" themed Trunk or Treat idea? Does it take you back to the movie where Carl tied thousands of balloons to his house in order to take off and fulfill a promise he had made to his wife Ellie?
It's not surprising to see why this design has won a few awards!
This popular movie is sure to be a favorite with kids and adults alike. And you could even hand out balloons to kids who come by to trick or treat (with extras to spare in case a few float away).
Want to make this "Up" design for your next church Trunk or Treat? These supplies will help your car look amazing:
Thanks @ellie.m.berry for sharing one of the cutest Trunk or Treat decorating ideas!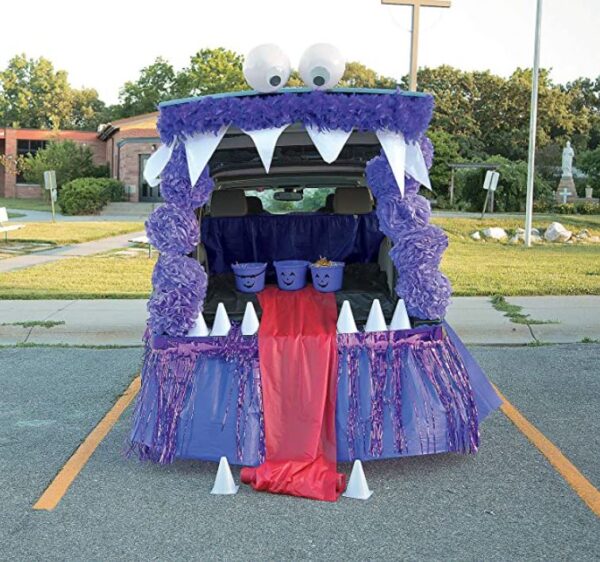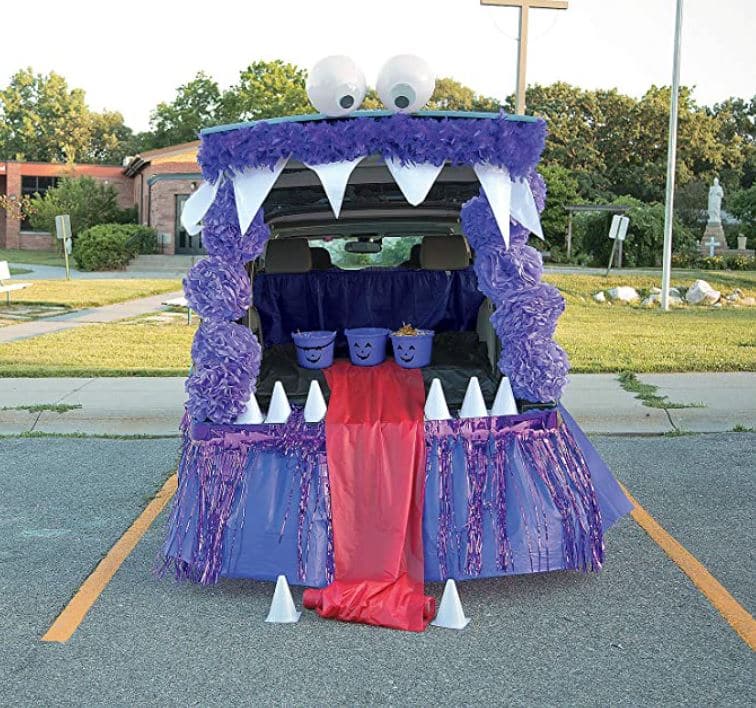 7. Friendly Monster Church Trunk or Treat Ideas
While you probably want to avoid anything too grusome, gorey, or scary when looking for easy Trunk or Treat decorating ideas for church, this adorable monster (who reminds me of Cookie Monster!), brings just a hint of "spook" while still remaining completely family friendly and church appropriate.
This is one of those trunk or treat decorating ideas that's super simple to make if you're a bit crafty. OR you could simply order this friendly monster kit straight from Amazon, and save yourself the hassle.
Here are a few extra accessories you might want as well: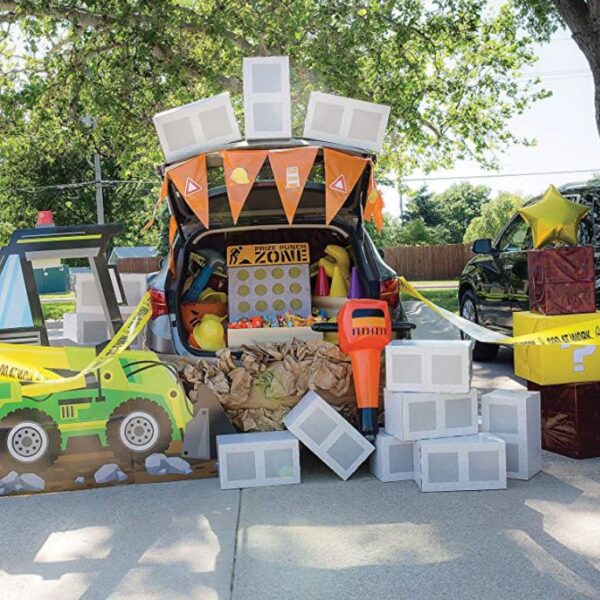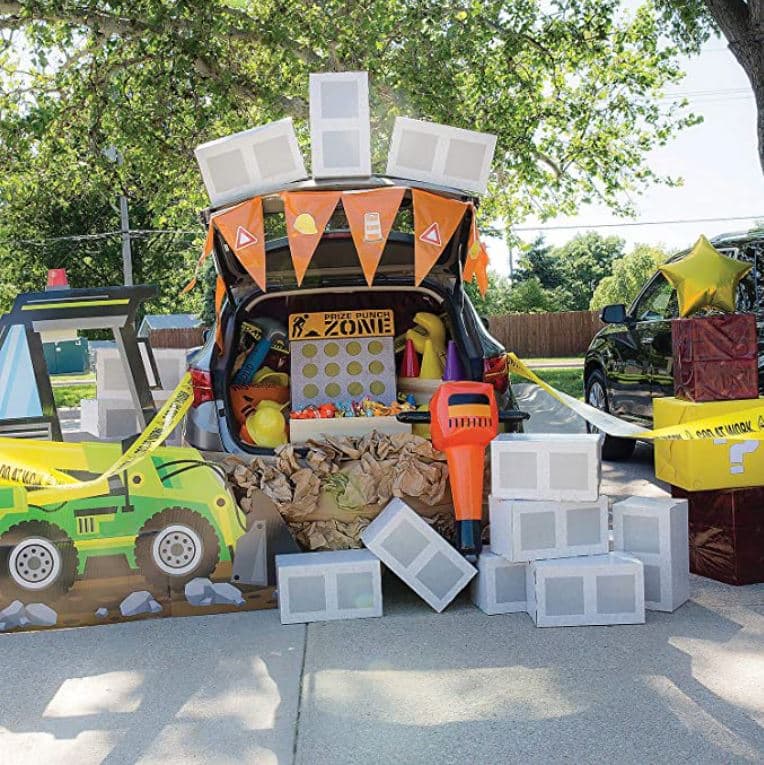 8. Under Construction Trunk or Treat Theme
While this church Trunk or Treat theme isn't explicitly "Christian," you could easily turn it into a biblical Trunk or Treat idea by emphasizing the way we're ALL under construction as Christians. We're all a work in progress! (Philippians 3:12-14)
Alternately, just have fun with this rough-and-tumble theme little ones are sure to love.
And the best part? You don't have to source all of the materials to "construct" it yourself. You can buy the entire Construction set on Amazon here. (Which means more time to perfect your own costume!)
Don't forget to check out these super cute construction theme add-ons:
9. It's The Great Pumpkin, Charlie Brown! Theme
Kids and adults alike love this Halloween classic, making it a natural choice for a great Church Trunk or Treat idea.
Plus, if you have kids of your own (who will stay near the car at least long enough for photos!), how fun would it be to dress them up as characters from Charlie Brown? That would be adorable.
This is another fun Trunk or Treat decorating idea you can simply buy straight from Oriental Trading company if you don't feel like making it. Or use the links below if you'd rather get creative and make your own.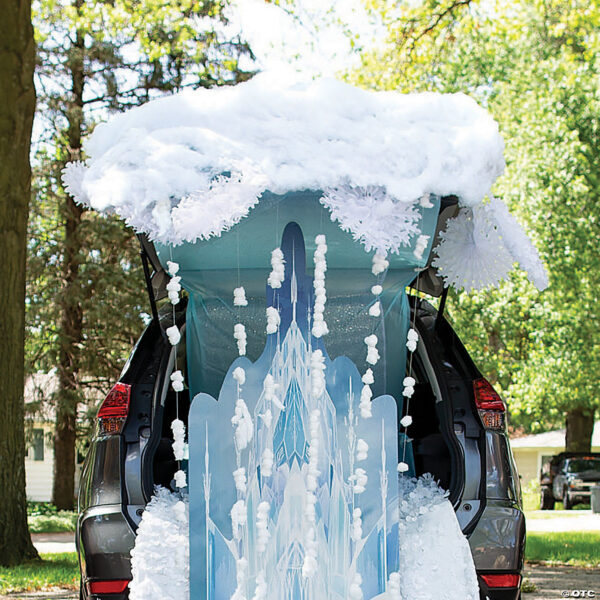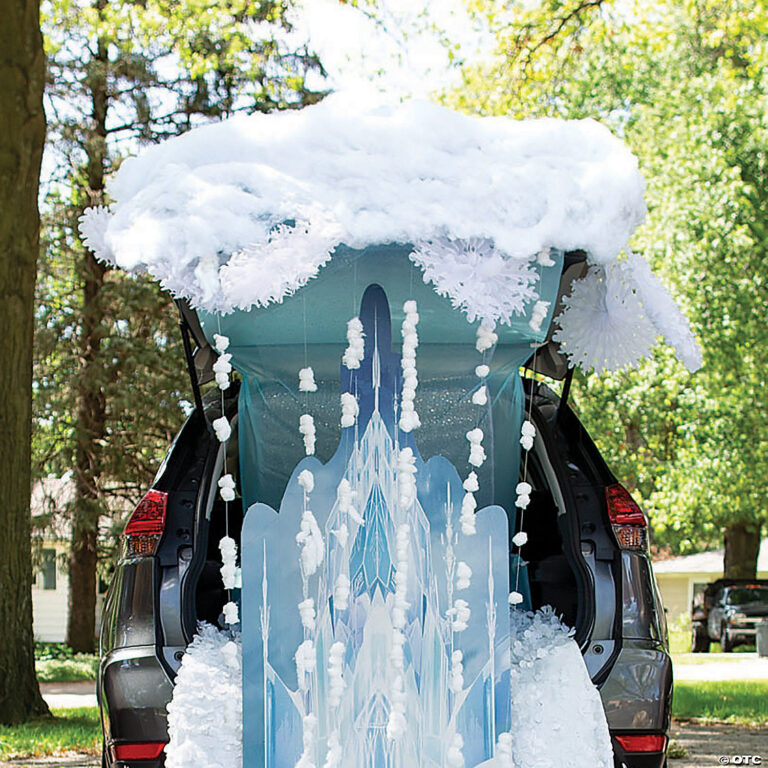 10. Disney's Frozen Trunk or Treat Theme
"Frozen" is still an amazing success with a lot of little ones who love Elsa, Anna, and Olaf.
Chances are, you'll have a little Elsa or Anna walk by at some point during the night. And, even if you don't, it's still a very popular Trunk or Treat idea that everyone is sure to recognize.
You can buy this entire Trunk or Treat set up from Oriental Trading Company here.
Or just the links below to gather materials to create your own.
Which church Trunk or Treat ideas have you done (or seen) in the past? What Trunk or Treat themes are you considering doing this year? Share in the comments below!