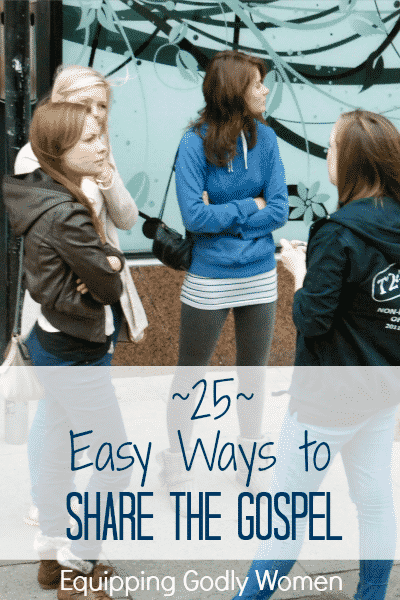 Before you even start reading this post, I want you to take a minute and try to think back to the last time you shared the gospel with someone. How long ago was that? Have you ever shared the gospel with someone? What was it like?
Really. Take a minute. I'll wait.
…
…
…
If you haven't shared the gospel with anyone in a while, what is holding you back? Are you worried what people will think of you? Scared that you won't know what to say or that you won't be able to answer their questions? Do you think that sharing the gospel is only for pastors and missionaries? Maybe you just haven't thought about it or you don't think it's important. Or maybe you don't even have non-Christian friends to share it with? (It's okay to be honest.)
Regardless of your reason, the fact is that in Matthew 28:18-20, Jesus COMMANDS us to go and make disciples (and yes, that includes you!)
"Then Jesus came to them and said, 'All authority in heaven and on earth has been given to me. Therefore go and make disciples of all nations, baptizing them in the name of the Father and of the Son and of the Holy Spirit, and teaching them to obey everything I have commanded you. And surely I am with you always, to the very end of the age." -Matthew 28:18-20
Furthermore, not only should we do this because Jesus COMMANDS us to, but also–shouldn't we want to? When you have fantastic news, don't you WANT to share it with your friends? And I'd venture to say the Good News is the most important news of all!
Why Christians Don't Share the Gospel
So, if sharing the Gospel is so important, why don't we do it?
I think it's because a lot of people have the wrong impression about sharing the gospel. Sharing the Gospel doesn't mean that you have to grab the nearest unbeliever, open your Bible, and lecture them about Heaven and Hell. It doesn't mean that you have to know all of the answers (though it helps if you do actually know why you believe what you believe). And it doesn't have to be awkward or scary or weird.
Instead, sharing the gospel is just having a normal conversation with another person who doesn't believe the same things you do. Except instead of talking about football or the weather, you're telling your story about your God and the things He has done in your life, and letting them know that He can do the same for them too.
Sharing the Gospel isn't trying to convince the other person that you are right and they are wrong. It isn't about telling them a great argument so that they will believe. It isn't trying to get them to stop being such an awful sinner. It's just sharing who God is, what He's done for you and explaining why that matters.
Furthermore–the point of sharing the Gospel isn't to save people. Yes, you read that right. "Saving people" isn't our job–it's God's job. Our job is simply to sow the seed, nourish the seed, and hopefully eventually harvest the seed. We are obedient to share God's love with others, and we depend on Him for the rest.
So without further ado, here are: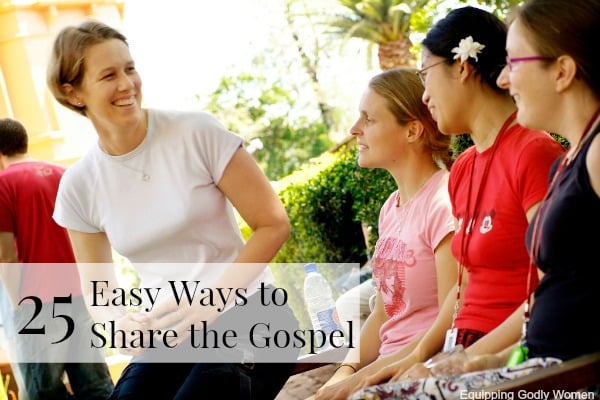 25 Easy Ways to Share the Gospel
Tell people that you went (or are going) to church when they ask about your weekend. Add in a quick sentence about what the sermon was about.
Refuse to participate in ungodly activities. When they ask why, politely(!!) let them know.
Play Christian radio in your car when you carpool (It's okay to have it on quietly. You don't have to blast it and sing at the top of your lungs–unless you want to.)
Pray for people when you hear they are going through a rough time. Pray right there with them, and let them know you have will be praying for them on your own too.
Read the Bible or other Christian books on your lunch break. People will notice. They may ask you what your book is about, or you may bring it up yourself.
Having a garage sale? Put a few Bibles on a table with a "Free–take one!" sign.
Teach Sunday School.
When someone is sick, bring them a hot meal and a card with a nice note and an encouraging Scripture verse written on it.
Ask their opinion about current events. Share your (Godly, but humble) opinion as well.
Be honest about a tough time you are having and how you are really having to rely on God to get you through it.
Do a random act of kindness and leave a note simply saying "because Jesus loves you."
Invite them to a church event. Many people who don't attend regularly would go if you ask, especially around major Christian holidays like Christmas and Easter.
Do you own a business? Leave a couple Bibles in the waiting room for people to read while they wait.
Share encouraging Scripture verses, memes, youtube videos, and posts by your favorite Christian bloggers on your social media accounts. 🙂
Support a child in a third world country.
Don't be afraid to share the big things God is doing in your life.
Did you know there are numbers people can call or websites people can visit at anytime–day or night–if they want to learn more about Jesus? You could sign up to be one of the people that answers their questions or talks with them.
Feeling super brave? Go door to door. Even if most people aren't interested, if you find a few that are, it's completely worth it.
Volunteer in a setting like a hospital, children's home, women's shelter or crisis pregnancy center. Listen to their stories, offer hope, pray with people.
Go to a bar and talk to people. (No, I'm not joking.) Find out their life story. Share yours.
Start a Bible study with a few Christian friends. Ask nonbelievers if they would like to join you.
Wear t-shirts/jewelry with Christian themes on them.
Help people stranded on the side of the road. Give God the credit.
Be a big brother or big sister.
Start a blog where you can tell the world about Jesus!
Do you regularly share the Gospel? If not, what is holding you back? Which of these 25 ways do you think you could do–or what other suggestions could you add as well?
Waiting for the perfect opportunity to share the good news with people who need to hear it? This is it! Just use the share buttons below! Easy, right? 🙂