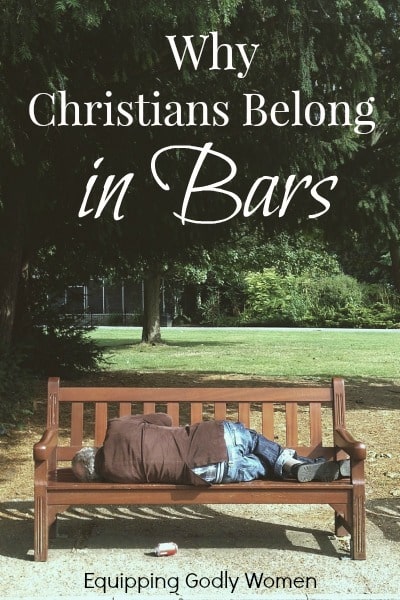 I have something to say. And some of you aren't going to like it. And that's okay. The truth hurts sometimes.
Most of you live in a bubble. (I do too.)
You live in your nice, safe neighborhoods. You take your children to nice, safe schools (or even better, you homeschool them so they don't have to go to school at all). You go to your nice, safe grocery store on the nice side of town and your nice, safe church where they sing the music you like and everyone looks like you. You drive your nice, safe car, and if it ever breaks down, you have a friend give you a ride instead of taking public transportation.
Sometimes, when you're feeling very generous (or guilty) you think about those less fortunate than you and you decide "Maybe I should do something." So you write a nice, safe check or you pack meals in a nice, safe facility or you donate supplies that someone else will take away for you. So you don't really even have to think about it. It's easy. convenient. comfortable. 
I get it. Trust me, I do. I have children that I worry about and want the best for. And you better believe we go to the nice, safe grocery and the nice, safe church and the nice, safe private school. And when we volunteer–well, my kids serve too, so nice, safe opportunities it is.
Now, don't get me wrong. There is NOTHING wrong with private school, homeschool, going to the nice, safe anything or writing a check to charity. Those are all great things, and I'm grateful that we have those opportunities.
But is that what God is really calling us to? A life that amounts to little more than "nice," "safe," "convenient" and "comfortable?" Or is He calling us to something us to something so much more?
You see, while you are in your nice, safe little bubble and all of your friends and family are in their nice, safe little bubbles–there's a whole world out there that is not. A world struggling with drug addictions, domestic abuse, mental illness, homelessness, pain, hopelessness and fear. And while you enjoy your latest Target trip to see what cute things you can find to spruce up your home (I went this morning–found a cute kitchen rug), there are people out there literally trying to scrape up any money they can just so they can eat.
(Don't gloss over that. Let it sink in for a minute.)
Do you know the needs of the people around you? Do you really? If your neighbors were struggling to make ends meet or dealing with problems behind closed doors–would you know? And if you did know, would you help? Or would you say "good luck with that" and retreat back to your own nice, safe little bubble?
In my post, 25 Easy Ways to Share the Gospel, I wrote: "Go to a bar and talk to people. (No, I'm not joking.) Find out their life story. Share yours." and some people were offended. Christians don't belong in bars! Do you know what people DO there? And if Christians were there, they might do it too!
Now there is some truth to this–If you have a drinking or sleeping-around problem, yes, please stay out of the bars. Go evangelize somewhere else. The world is your oyster! Go talk to homeless people on the streets or hang out in half-way houses or whatever you like instead.
Read also: Should Christians Drink?
But, for the rest of us…
When you look back at Jesus's life–where did he spend his time? It wasn't with the "religious" people–the pharisees. In fact, he didn't take too kindly to them at all. Instead, he surrounded himself with "sinners" and met the people where they were.
"After this, Jesus went out and saw a tax collector by the name of Levi sitting at his tax booth. "Follow me," Jesus said to him, and Levi got up, left everything and followed him.

Then Levi held a great banquet for Jesus at his house, and a large crowd of tax collectors and others were eating with them. But the Pharisees and the teachers of the law who belonged to their sect complained to his disciples, "Why do you eat and drink with tax collectors and sinners?"

Jesus answered them, "It is not the healthy who need a doctor, but the sick. I have not come to call the righteous, but sinners to repentance." –Luke 5:27-32
(side note: the tax collectors were the social outcasts in Jesus's day)
There's an entire world out there that needs to hear what God wants to say through you. But how will they hear, if you don't go? How will they know if you don't tell them?
Sure, they could come to your church… but put yourself in their shoes for a second. If you were addicted to drugs, homeless, or had completely lost your way–would you feel comfortable in a church? Would you have a way to get there or even a way to figure out when church is? And then what… you walk in in your street clothes and instead of being welcome, everyone just stares at the "outsider," because after all… the church is full of screw-ups and we all judge from time to time. No thanks. 
Read also: Yes, Christians Should Judge
No, if you want to reach the hurting and the lost–you need to reach them where they are. And that means going TO them in the midst of their messy situation and walking with them every messy step of the way. It's not an easy task–but then again, Jesus never told us it would be.
And honestly, do you want easy? Or do you want to dive in deep, meet people where they are, and be a part of real life transformation (for them AND you)?
10 Ways to Meet People Where They Are
Go to a bar and talk to people. Find out their life story. Share yours.
Volunteer at a crisis pregnancy center.
Donate teddy bears to children at the battered women's shelter. Drop them off personally, and get to know the kids.
Become a CASA advocate.
Start a prison ministry.
Get permission to visit people in the hospital. Ask them if you can pray for them.
Become a foster parent.
Volunteer at a soup kitchen. Don't just pass out food. Talk to people. Get to know them.
Spend some time visiting at the local nursing home. Really listen to their stories.
Introduce yourself to new people at church. Be truly warm and welcoming, no matter what they look or smell like.
Warning: Do any of these ten things, and you'll likely encounter people who are very different from you–only to realize that maybe… they aren't really that different after all. And Jesus loves them too.
Have you ever intentionally gone out of your way to leave your bubble to seek out and help those who are truly in need? If not, or if it's been a while, what is one way you could change that, starting today?