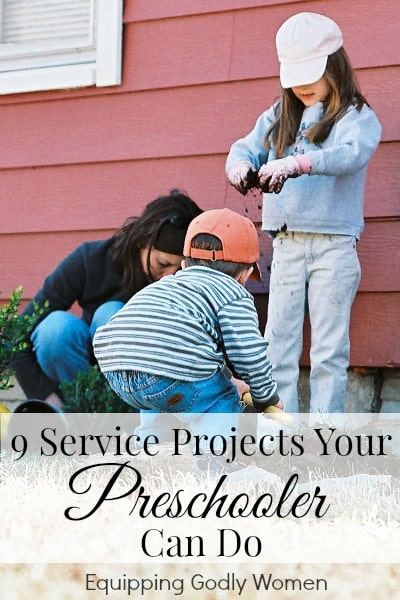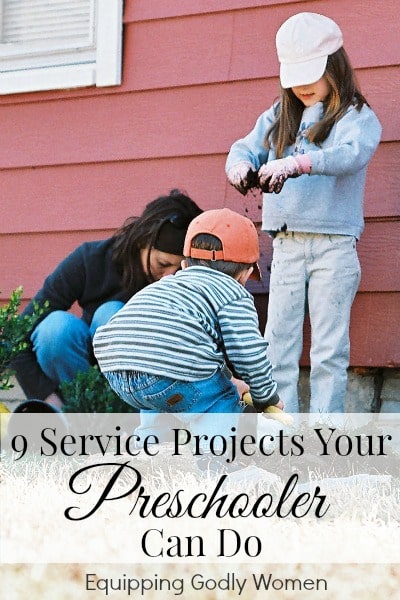 If you have small children (or if you have spent much time around them), you know how much they love to help. They love getting to do things normally reserved for grown-ups, and they genuinely love doing things to make other people smile. So why is it, then, that when churches plan service projects, they leave out this very important part of their congregation?
I've been to a LOT of churches and participated in a lot of service projects and community outreaches, and yet I'm having trouble coming up with a single example of a time when I've seen a service project designed specifically for children. Adults, absolutely. Teenagers, sure. Upper elementary or middle school, sometimes. But our littlest ones? It seems like we spend so much time serving them that we completely forget to give them opportunities to serve others, other than teaching them how to share.
Want children who are passionate about helping other people? Who reach out to others as a natural way of life? Who notice and tend to the needs of the hurting around them? Start them out young. I promise they will love it, and it's so, so good for them too. Here are nine service projects your preschooler can do, seven of which my son did before he ever started school.
1. Visiting at a Local Nursing Home or Hospital
Have a preschooler who is naturally outgoing and talkative? Take them to a nursing home or hospital to visit. So many people at these places are lonely, with no one to visit them or ask how they are doing. A visit from your sweet and friendly preschooler would absolutely make their day.
2. Putting Together Care Packages for Missionaries, Soldiers or College Kids
Putting together care packages is a simple task that a preschooler could really do a fantastic job with, especially if you are set up assembly-line style. It's a great chance to model service, to help your preschooler connect with others in your congregation and to start up important conversations about what missionaries and soldiers do and why helping them is important.
3. Helping with a Car Wash
Okay, your preschooler might not be able to do a great job washing an entire car by himself, but he'll sure have fun trying! From the water to the bubbles to making a soapy mess, this is one service activity that is perfect for little ones.
4. Drawing Pictures for Sick Children
Does your child love to color? Put that love to good use. Have your child draw pictures (or begin to write cards if they know how) for children who are sick. The pictures will brighten their day, and seeing your child hard at work cheering someone else up will warm your heart.
5. Neighborhood Help Days
Occasionally, churches will have neighborhood help days, where they go out into the community and help people with whatever they need. Tasks can vary widely, but there is always something that preschoolers can do. For example, they might help pick up trash off of a playground, spread mulch in someone's flower bed or help pick up at someone's house.
6. Helping Distribute School Supplies to Schools
We did this last year, and my son had a BLAST! He got to ride on the cart through the hallways, and then go into each classroom and give each teacher a bag of school supplies. He loved seeing what all the big kids were up to in their classrooms as well as bringing everyone their gifts.
7. Help in the Church Office
You might think that small children and offices wouldn't mix, but your child might just surprise you. My son and I helped out in the church office from the time he was 3.5 until he started school at age 5. He was a fantastic helper anytime we needed something from the printer or supplies from another office down the hall.
8. Ring the Salvation Army Bell Around Christmas Time
Want a worthwhile project your kids will seriously love? Sign your family up to help ring the Salvation Army bell around Christmas time. Your kids will have a ball ringing that bell, and shoppers won't be able to resist your children's adorable smiles.
9. Buying Angel Tree Gifts
When it comes to shopping for toys, little kids are experts. Put their "I want" gene to good use by asking them what another child (their same gender and age) would want for Christmas. This is a great way to teach generosity and to start important conversations about helping others in need.
Don't wait until your kids are older to teach them about helping others. The time to start is now. What service projects have your littlest ones done?
Like what you read? I bet your friends would too! Don't keep this great resource all to yourself! Use the links below to share on your favorite social media channels. Your friends will be glad you did 🙂