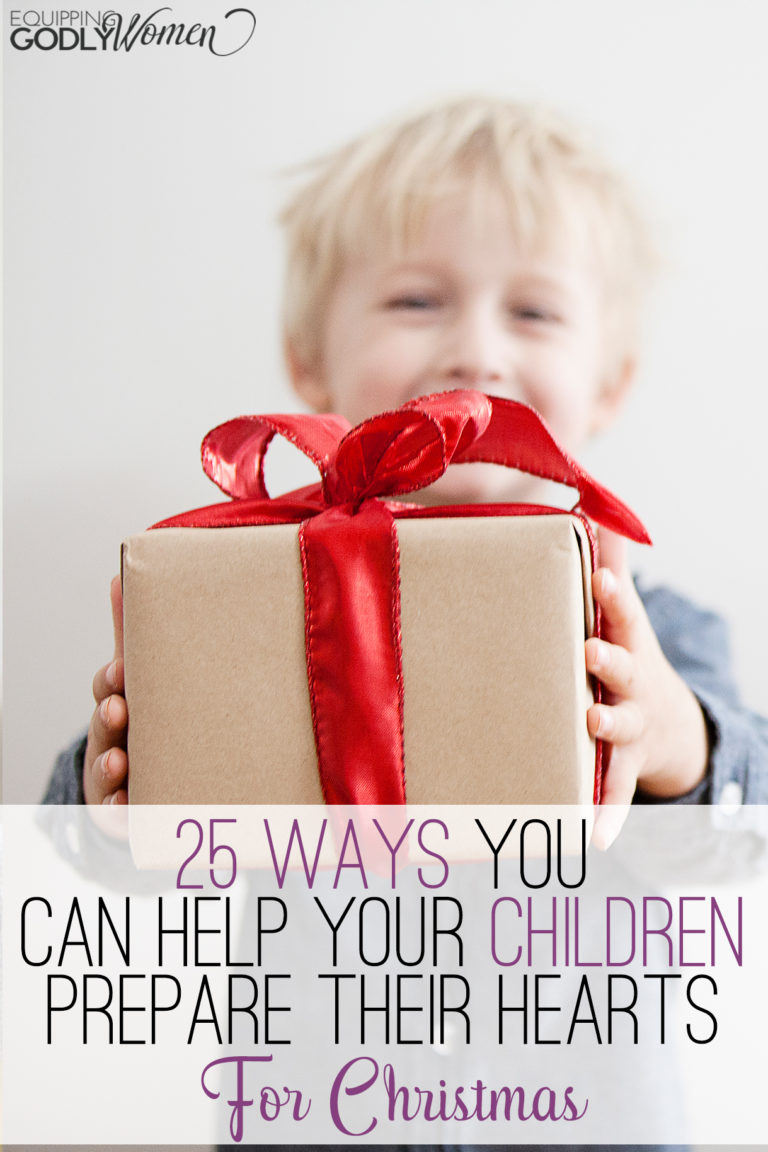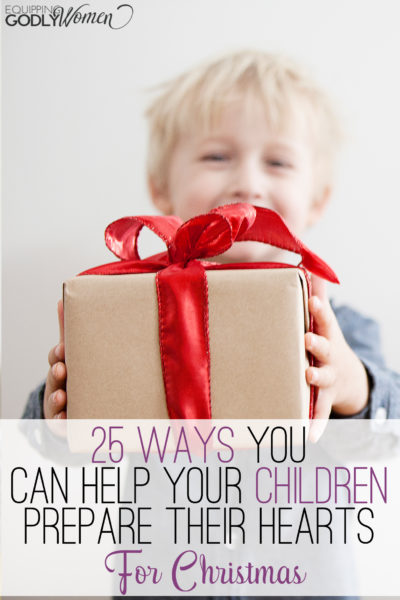 Every year it's the same story: 
You start the Christmas / Advent season with the best of intentions.
This year is the year you're going to teach your kids it's not all about the presents — it's all about Jesus.
This year is the year you're going to do lots of fun Christmas crafts for kids to remind your kids of the true Christmas story.
This year is the year you're going to finally slow down and savor the moments that matter most.
But every year it's the same. December 25th rolls around and you realize yet again: Your kids have way too many presents, and not nearly enough Jesus in their lives right now.
Well, the good news is: It doesn't have to be this way.
You don't have to rush around like a crazy person every year, trying to do ALL THE THINGS, while simultaneously forgetting all the things that matter most.
All you need is a little bit of pre-planning and just a few minutes a day.
And since I've already done the pre-planning for you… (you're welcome!)… you're already well on your way to making this Christmas your best one yet!
Introducing: The Countdown to Christmas Kids' Activities Calendar
Trust me — I'm a mom too. I know exactly what it's like to want to do more Christian Christmas activities with your children, only to never seem to get around to it.
And that's why I created this Countdown to Christmas Kids' Activities Calendar — To take some of the stress and planning out of the holiday season, and to give you more time for the things that matter most.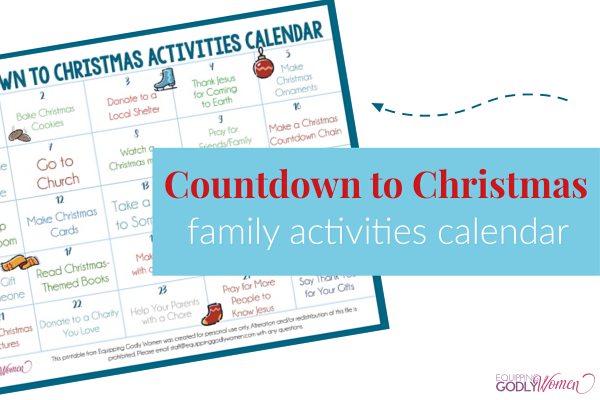 Here's how to use it — you have two options: 
1. You can draw out a blank calendar by hand, think of tons of activities your family would enjoy, and try to figure out how to schedule them all in (which sounds super time-consuming and overwhelming and not fun at all)
OR
2. Simply enter your name and email in the box below and I'll send you the really cute one I already had made up. Easy, right?
Of course, you're not bound to use this calendar exactly as it's laid out. It's just a suggestion.
Personally, I like to print it out, tape it up somewhere I'll see it often (like on my children's door so they help remind me!), and then simply cross off the various activities as we feel like getting around to them. No one says you have to go in order!
If you want to skip a day (or two) — totally fine! If you want to make a day of it and knock out 5 at once — more power to you!
You do whatever works best for YOUR family! Whatever helps you model Christ's love and teach it to your children in a real, tangible, and fun way.
This printable calendar will help you do just that.
In fact, here are just a few of the activities you'll find on it: 
Read the Christmas Story (either straight from the Bible or I really like this one)
List 5 Things You're Thankful For
Pray for Friends/Family in Need
Choose one Behavior to Improve
Watch a Christmas movie
Pick Up Your Room
Sing Christmas Carols
Help Your Parents with a Chore
Want me to send you a copy of your very own? Just let me know where to send it!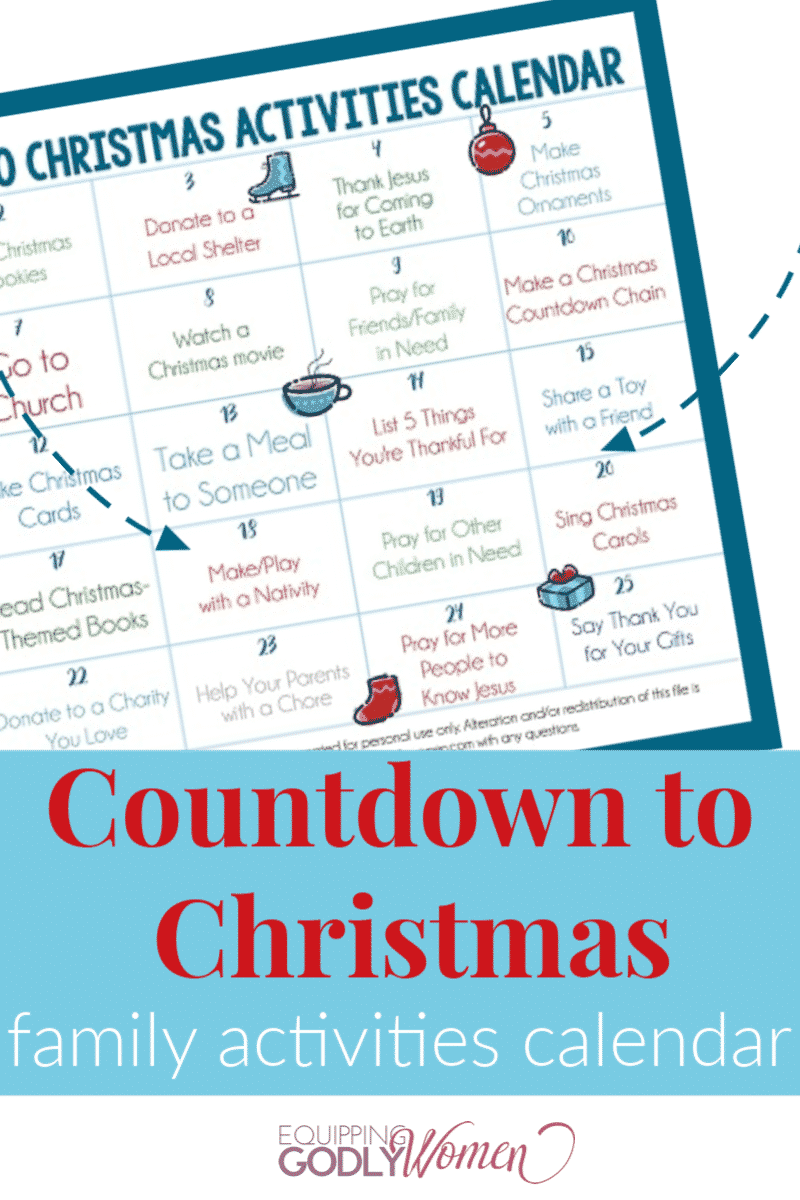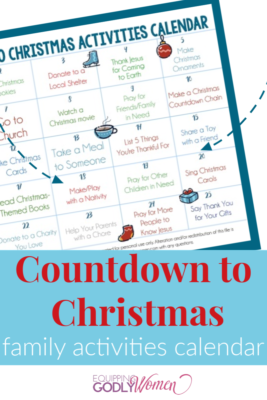 When you do, I'll also send you tons of great resources to help YOU grow in faith too. I just know you're going to love it.
What does your family do to prepare your hearts for Christmas every year? I'd love to hear it!
Looking for more Christian Christian fun for kids? Then you'll definitely want to check out these fun crafts and activities as well: