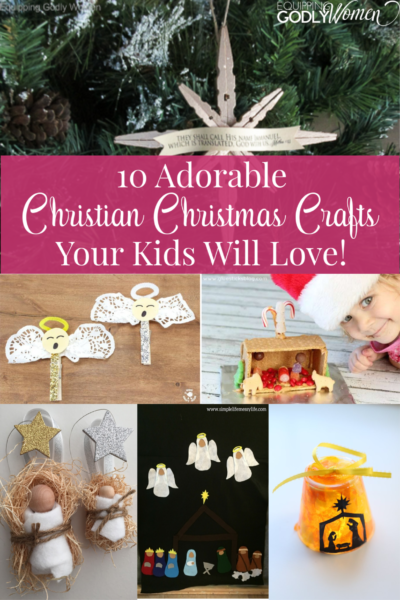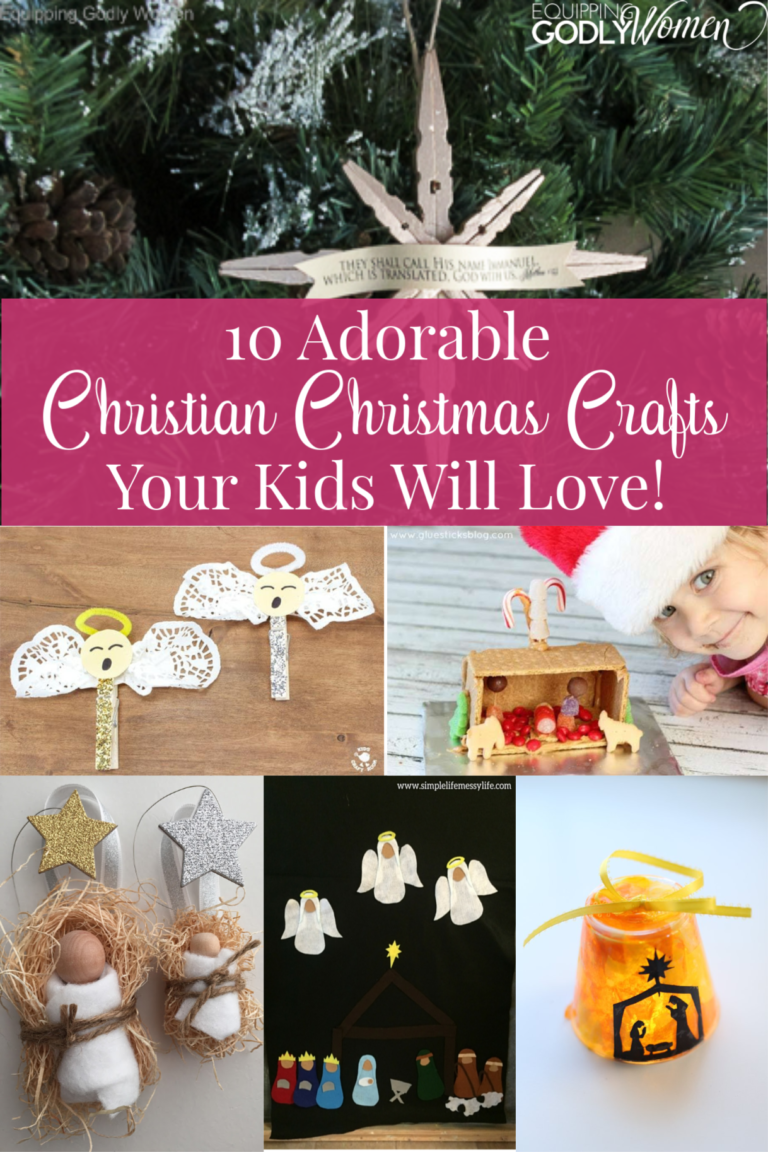 Do your children love making fun Christmas crafts as much as mine do? 
There's just something so fun about them getting to make their own special creations — while learning more about the true Christmas story in the process!
But of course you don't want to do the same exact crafts again and again. Sometimes you want to switch it up. Do something new. And today's post is full of ideas for how you can do just that.
I tried to pick crafts that were relatively easy — no special skills required — as well as crafts that would be relatively inexpensive, with materials that would be pretty easy to find.
And of course, each of these Christian Christmas crafts had to help tell part of the Christmas story!
(Plus they're all seriously cute)
So whether you're in the mood to make Star of Bethlehem ornaments to hang on the tree or a Felt Nativity the kids can play with again and again, here are 10 adorable Christian Christmas crafts your kids are sure to love!
1. Star of Bethlehem Ornament — Equipping Godly Women
What a fun way to introduce a classic symbol of Christian Christmas celebrations. This Star of Bethlehem, or Christmas star, ornament is a beautiful craft your kids will love to make, and all you need is clothespins, glue, and paper. These adorable ornaments only cost about $0.30 each. But, if you want to make fancy them up a bit, try adding paint or glitter. This craft is perfect to make with kids.
Get the Instructions Here: Christian Christmas Crafts for Kids: The Star of Bethlehem Ornament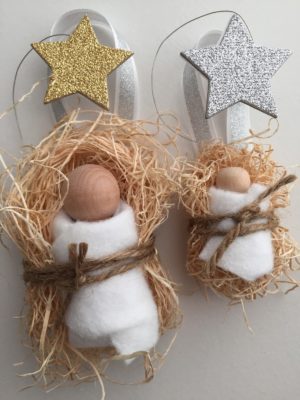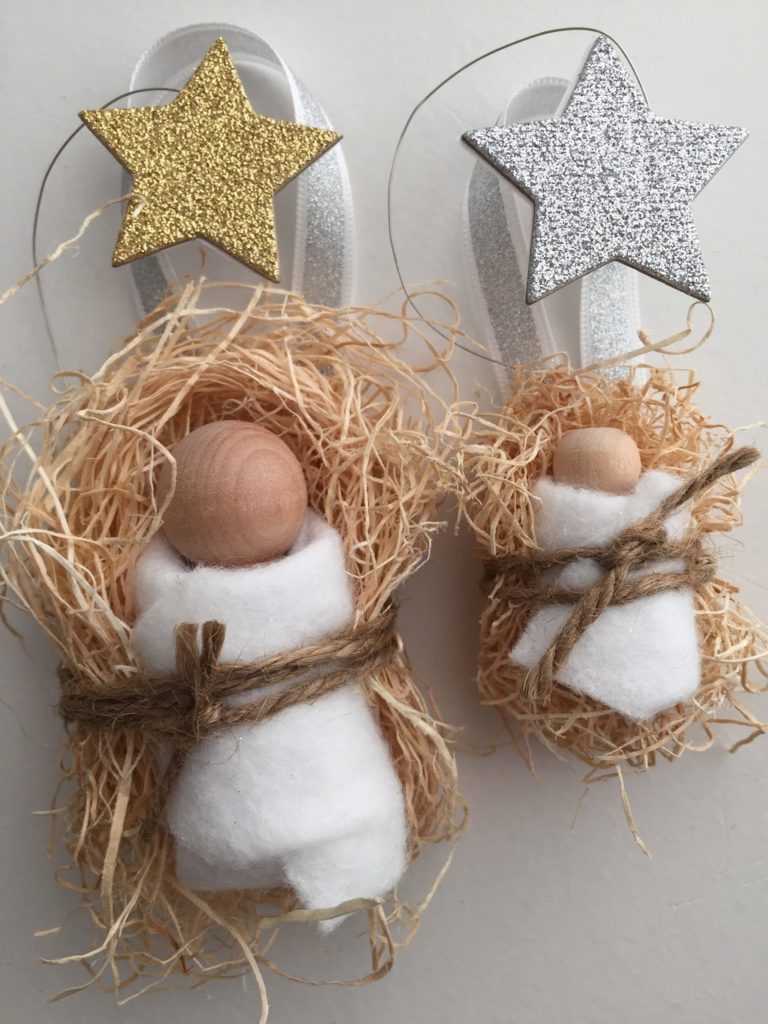 2. Baby Jesus Ornament — Little Bit Funky
Looking for something a little bit more detailed? These adorable Baby Jesus ornaments are a quick, 20-minute craft. What could possibly be a better symbol for the meaning of Christmas? You can find all of the supplies you would need at Michael's or Joann. And, just for fun, use different sized peg dolls and different colored stars to make each ornament unique. The kids are sure to love making these.
Get the Instructions Here: Adorable Baby Jesus Ornament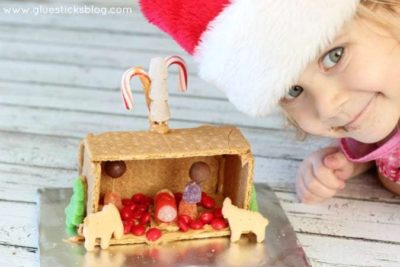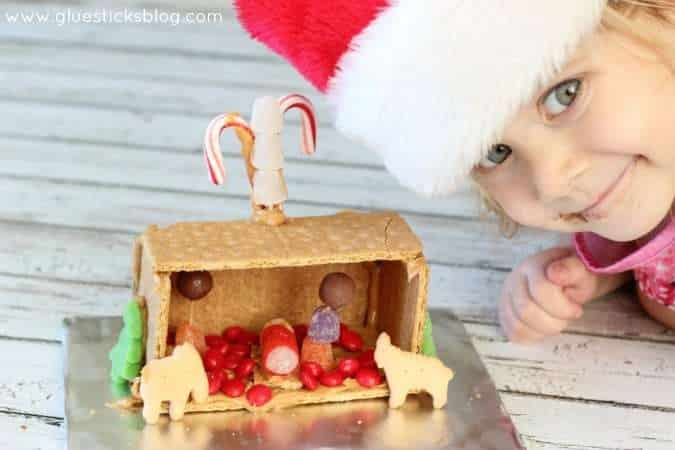 3. Nativity Graham Cracker House — Gluesticks Blog
What's even better than a Gingerbread House? A Graham Cracker Nativity Scene. What a fun, Christian twist on a classic Christmas activity. Not only is it a fantastic way to teach children about the true meaning of Christmas, but it'll be yummy to eat afterwards too. All of these ingredients can be easily found at the grocery store, so go get yourself the makings of a delicious Graham Cracker Nativity.
Get the Instructions Here: Nativity Graham Cracker House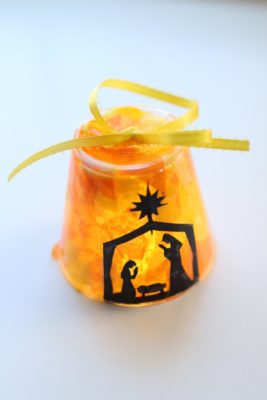 4. Lighted Nativity Ornament – I Can Teach My Child
This would be a beautiful addition to any tree as we celebrate the birth of our Savior. Teach your kids about the birth of Jesus while you make this surprisingly easy craft. This is made with easy to find materials, and can be altered by using different colored tissue paper to make your children's ornaments really pop. This will be a meaningful reminder hanging right on your tree. Can be easily printed on Vellum paper to make this craft even more simple.
Get the Instructions Here: Lighted Nativity Ornament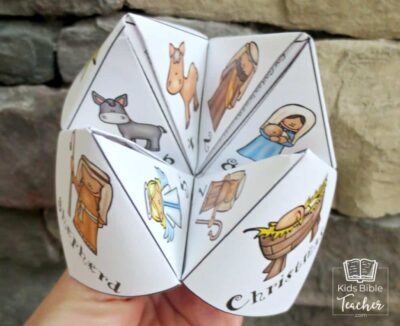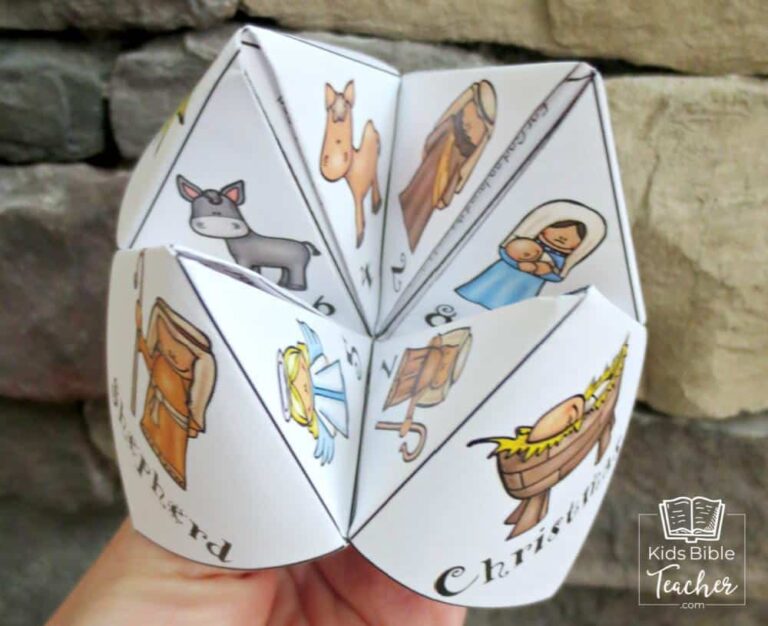 5. Christmas Finger Puzzle — Path Through the Narrow Gate
Your kids (or Sunday school class!) will enjoy cutting and folding these Christmas Finger puzzles. Open and close your fingers in the different directions as you spell the words on the outside. On the inside, you will find a verse or a question. This is a fun, interactive game that the kids will love to play. If your kids love to color, print the black and white version so they can color their own!
Get the Instructions Here: Christmas Finger Puzzle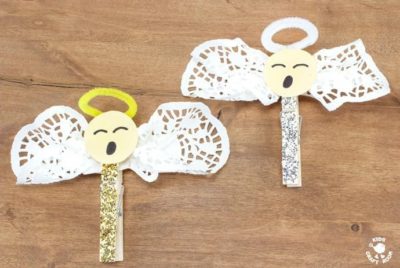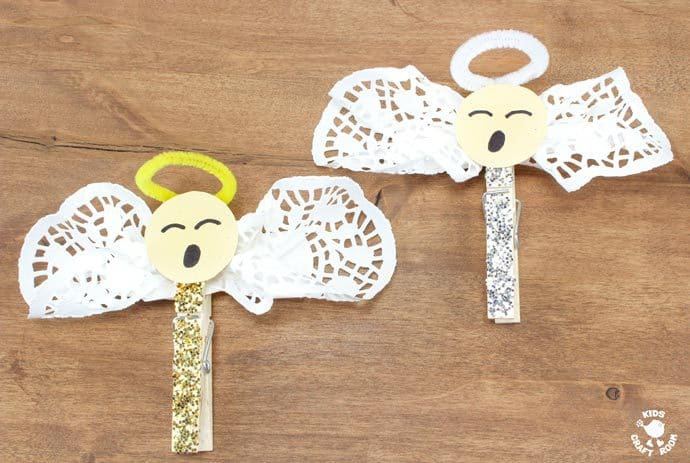 6. Clothespin Angel Craft — Kids Craft Room
If you're looking for an easy, 5-minute craft to do with the kids, this adorable Clothespin Angel craft is simple but very cute. There are so many uses for these little angels. You can clip them onto your Chrismas tree, gift ties, or anywhere around the house. Add a little colored glitter, and these Clothespin Angels are absolutely stunning. With easy to find materials, they are sure to delight anyone who sees them.
Get the Instructions Here: Adorable Clothespin Angel Craft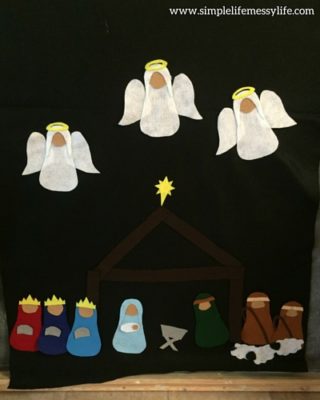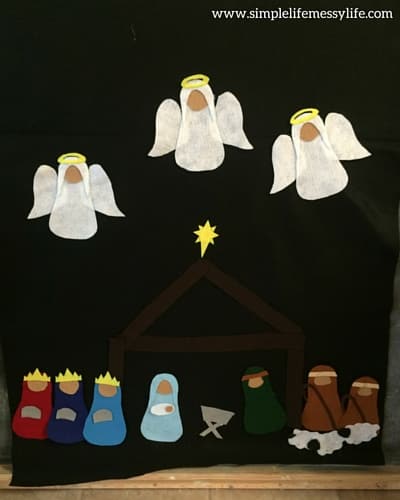 7. Felt Nativity
Create a simple nativity that you just print, trace, cut out, and glue together. No sewing required! This is a great, hands-on nativity for little hands to play with while you are teaching your children about Christ. This is one of our favorite new Christ-centered traditions. They're made completely from durable felt, so these felt nativity pieces are sure to last. This couldn't be any easier to make, so go ahead and set up your felt board for play.
Get the Instructions Here: Christian Christmas Crafts for Kids: Felt Nativity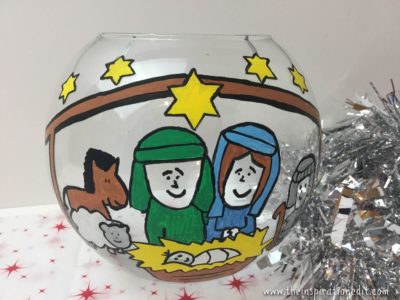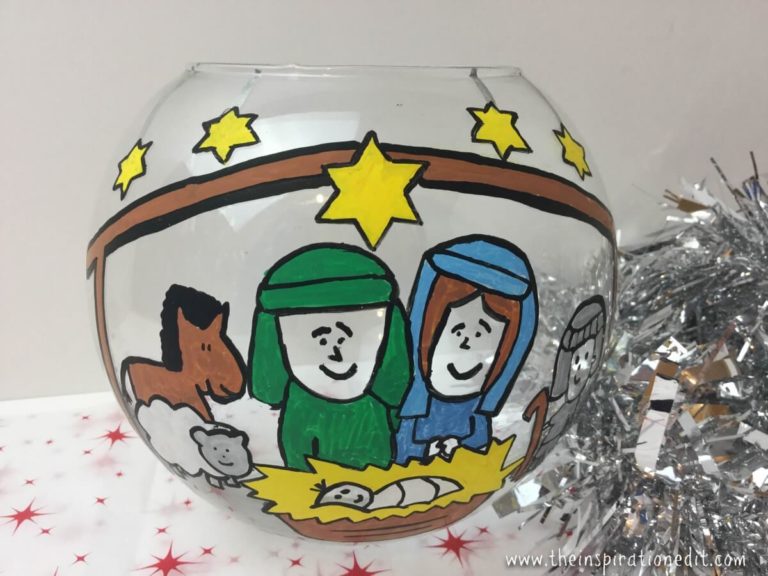 8. Christmas Nativity Craft Fish Bowl
This adorable Nativity Fish Bowl is made using paint marker pens — which super easy to find. While painting on glass requires a little more skill, it is well worth the effort. Your family will love drawing this classic Christmas scene while you talk about Christ's birth. This fish bowl looks great sitting next to other Christmas decorations, or sitting by itself where it stands out. And, bonus! It makes a great treat bowl.
Get the Instructions Here: Christmas Nativity Craft Fish Bowl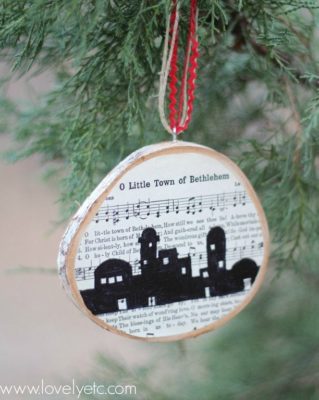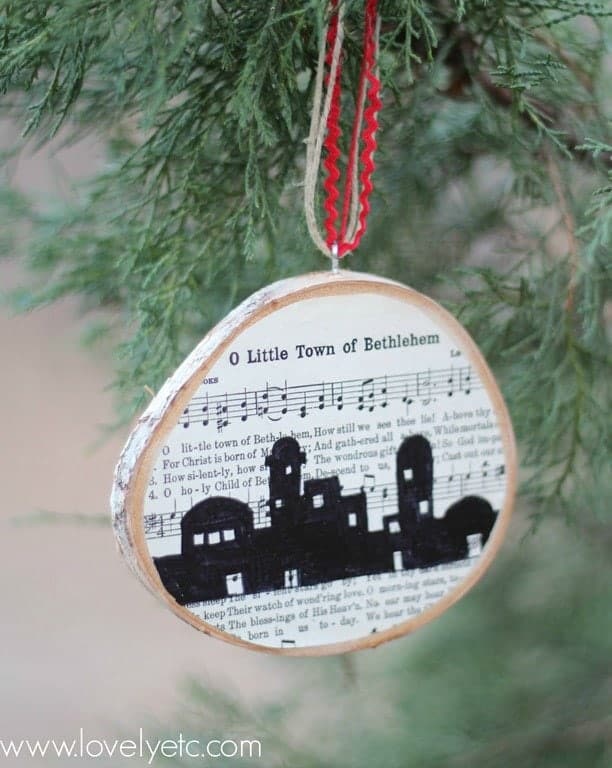 9. O Little Town of Bethlehem Ornament
This super simple craft is absolutely charming. Don't have an old hymnal lying around? No problem! You can print the song here! With the rest of the supplies being easily found, this ornament is set to be a hit. You will love how adorable it looks hanging from your Christmas tree.
Get the Instructions Here: O Little Town of Bethlehem Ornament
10. Cupcake Liner Angels
If you're looking for a craft that is precious but would only take a few minutes, look no farther. These sweet, easy cupcake liner angels are made using only 3 items. You can easily find all of them at any craft store or supermarket. You can personalize individual angels by making the cupcake liners different colors. What you do with this craft once finished is up to you. The possibilities are endless!
Get the Instructions Here: Angel Craft – Cupcake Liner Angel Craft
Which craft are you most excited to make with your family? Are there other crafts your family loves to make?