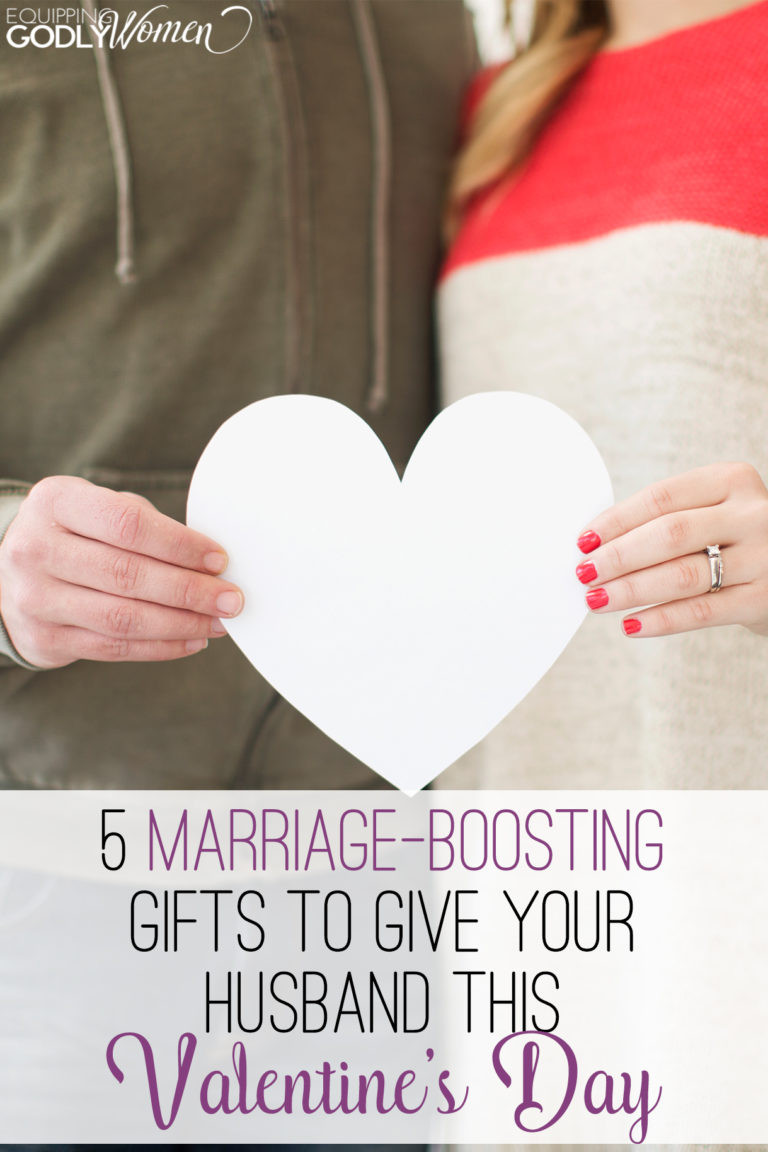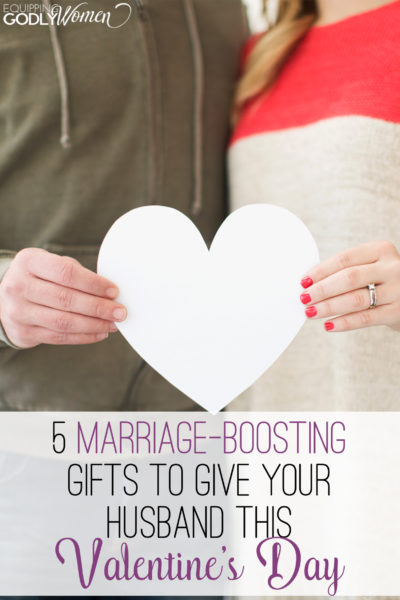 PinEvery year, it's the same struggle: What to get my husband for Valentine's Day. 
Christmas and his birthday, I can figure out. I know what he likes.
But Valentine's Day? I always feel like I have to come up with the perfect Valentine's Day gift.
Something that celebrates our love and lets him know how much he means to me… but that isn't too sappy. Something that isn't too generic. Something that will strengthen our marriage, but something he'll actually use and enjoy.
Well this year, I decided, things would be different. I would come up with the PERFECT marriage-boosting Valentine's Day gift ideas. And I believe I did.
And now, I'm happy to share them with you!
(After all, I can't be the only one who faces this dilemma year after year… right?)
*This post contains affiliate links, which means if you make a purchase, I may make a small commission at no additional cost to you. This helps cover the costs of running this site and allows me to help support my family. Thank you!
When's the last time you and your husband had a date night that wasn't the same ol' same ol' boring dinner and a movie? I know… I can't remember either!
Well, if it's been a while since you had a date that left you saying "That was SO much FUN! We should do that again!"  (or if it's been a while since you've gone out and done anything at all), you might want to check out the Year of Dates Binder from the Dating Divas.
Basically, it's an adorable binder with all the planning sheets, printables and ideas you need for 10 super fun, creative, out-of-the box date nights you're sure to remember for a long time.
And it's super affordable too. Only 2.97 for the basic printables if you want to plan out your own dates to include, or $9.97 if you want the whole kit-n-caboodle with all the dates planned out for you (You do provide the binder still).
That's waaay cheaper than dinner and a movie out. Lots more fun too.
Interested in learning more? Check it out here: (It's really cute!)
Pin
Has your marriage been feeling a little boring, routine or "blah" lately? If so, the Strengthen Your Marriage Bundle may be just what you need to put a little of the spark back in it!
Whether you need to find some time away to rekindle your romance or you simply need to do a better job of loving each other in the day-to-day, this bundle has four great resources that will help you do just that. And the best part is – they're all 50% off.
Sound like what your marriage needs? You can learn more here:
Okay, I won't ask for a show of hands, but if we were all truly being honest, I'm sure the vast majority of us would admit that sometimes (just sometimes) our sex lives really aren't all they should be or all they could be. Sound about right?
Maybe you're too tired after a long day. Maybe you're struggling with hurts and hang-ups from your past that you're still carrying around today. Maybe you have self-esteem, body-image or trust issues. Maybe you and your spouse just aren't connecting like you once did.
If any of that sounds like you, you should absolutely check out The Good Girl's Guide to Great Sex by Sheila Wray Gregoire.
I'm a big fan of Sheila's and I have been for quite some time now, and I'll tell you why – I love how she takes such a serious, sensitive topic and writes about it in a way that's totally down-to-earth, relateable, funny, and not embarrassing at all.
She's a Christian author too, so you don't have to worry about reading anything questionable or risque. Just good, God-honoring sex between husband and wife. I've read it myself, and it's really good.
Think this might be just the thing your marriage needs? You can grab your copy here: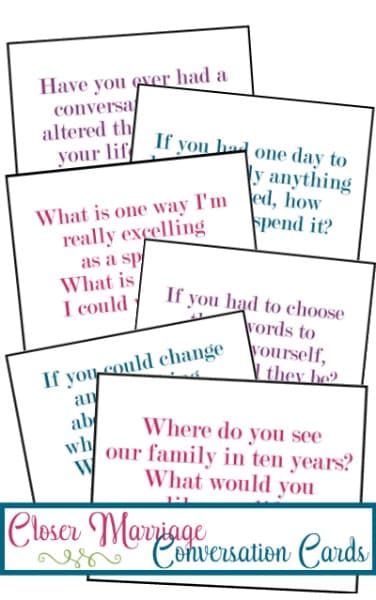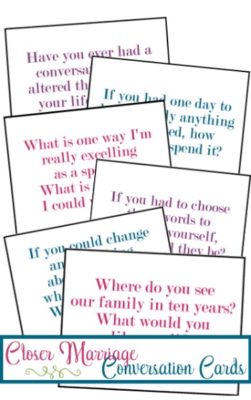 Pin
I'm not sure if it's the kids always interrupting, the fact that we've known each other for a while now, or just bad habits, but somewhere along the way, my husband I stopped talking to each other like we once did.
That's why I decided to do something about it, and to help you do something about it, with my Closer Marriage Conversation Cards.
Print them out, attach them with a short piece of ribbon, and leave them wherever you and your husband regularly hang out. Then the next time you have a few minutes alone together, you can actually have a real conversation, get to know each other, and fall in love all over again – instead of just staring idly at the TV wondering when you started drifting apart.
Oh, and these cards are also super cheap – 1.99 for the set! (Can't beat that!)
Learn more and grab your set here:
Have you ever read the book "Love and Respect" by Emerson Eggrichs? It's one of my all-time favorite marriage books, hands down.
Well, I JUST learned recently that not only does he have a few different books, but he also puts on conferences as well. If you're looking for a Valentine's Day gift that will seriously boost your marriage, I would absolutely recommend looking into purchasing the DVD recording of one of his conferences.
I was reading the reviews on Amazon, and they are all really positive. Plus, the ability to attend a conference together from the comfort of your home would be so convenient. You could watch them together in your own living room, from the comfort of your couch, in your cozy pants. (You don't know this, but I'm ALLLL about my cozy pants lately lol)
Want to experience greater intimacy and understanding in your marriage? Learn more here:
Alright, so there you have it! Five awesome marriage-boosting Valentine's gift ideas your husband is sure to love.
What are you getting your husband this Valentine's Day? Do you know yet? Share in the comment section below!