Looking for Biblical Christian sex advice you can trust? You're in luck. Today Gina from GinaMPoirier.com is sharing 5 of her best Christian sex tips to help you build a stronger, healthier Christian marriage!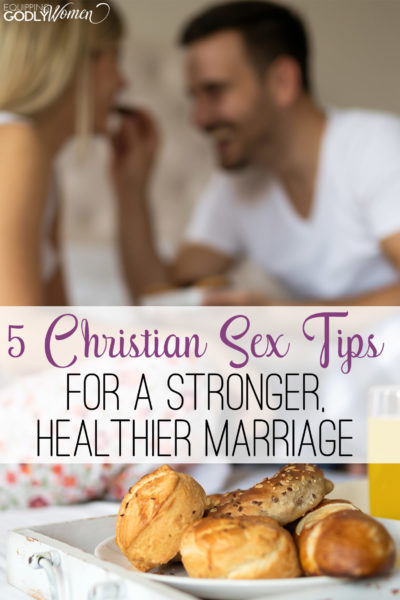 My husband and I often find ourselves talking with other couples about our sex lives.
I blame him, because he's a dude who is unabashed about his enjoyment of it. He likes to talk about it and has no hesitation bringing it up. 😄
However, as shy as I can be about talking about sex, it's a huge deal!
Few topics create more heartache when not addressed. We need to talk about Christian sex, to be able to ask real questions and to be able to get Christian sex advice, both within the marriage as well as with other Christian couples so that we can help one another where needed.
As my husband puts it, sex can be a barometer for your relationship's health.
If that part of the relationship isn't running smoothly, there are typically some other problems as well. I have yet to find anyone who has a strong, healthy Christian marriage who isn't, uh, "doing it" in a healthy way.
Over the 11 years since we exchanged our vows, we've received and later given quite a bit of Christian sex advice.
If we could condense it all and share it with newlyweds or a couple struggling with their sexual relationship, here are five Christian sex tips we'd share:
But first…
Do You Ever Wish You and Your Husband Were Closer / More Intimate?
If so, you may want to check out the Boost Your Libido course from Sheila Gregoire at To Love, Honor and Vaccuum.
In it, she shares tons of funny, fantastic Christian sex advice to help you overcome constant tiredness, overpacked schedules, hurts and hang-ups, and even hormonal imbalances so you and your husband can finally experience the closeness and intimacy you crave.
I've been following Sheila's blog for some time now and I can tell you – she gives really fantastic Christian sex advice in a way that's down-to-earth, relatable and really funny. If your marriage isn't as close as you'd like it to be — this course will absolutely help!

*This post contains affiliate links, which means if you make a purchase, we may earn a commission at no additional cost to you. This helps cover the many costs of running this site. Thank you!
5 Christian Sex Tips For a Stronger, Healthier Marriage
1. Consistency Cultivates Intimacy
I used to wonder how often couples are supposed to have sex in order to have a close marriage. Weekly? Twice weekly? Daily? Who knows?
It's not a bad question because it is really difficult to have true intimacy in a marriage without the physical component. Feeling distant may be a sign that you need to do it more.
There's no magic number, however. Rather than worry about an exact frequency, try to be generally consistent, whatever that looks like in your relationship. A newlywed couple in their twenties with no kids is going to have a much different dynamic than a more seasoned couple. But both have the same need for consistency.
There can be a lot of reasons why you aren't in the mood to have sex: pregnancy, babies, health and schedules, to name a few. All I have to say is that you prioritize what's important. And this is important.
Related Reading: Four Reasons You're Never In the Mood (and how to fix it!) 
2. Quickies Are Okay
Do you feel like every time you get physically intimate it has to be fireworks? If so, you're going to set yourself up for disappointment.
At one point we picked up this Christian sex tip: quickies are okay. Because sometimes, something is better than nothing.
This can be a game-changer, particularly if you have one person in the relationship who has a stronger desire for sex than the other (hmm…I think that's pretty much the case for every couple).
It's okay from time to time to meet one partner's physical needs without having a deep emotional connection.
Most of the time it's the man who has the stronger physical need. So if you're the wife of a man with a stronger sex drive and sometimes you just aren't there, permit yourselves to do something quick. While you don't want to make this the only way you have sex, it is a way to help him feel loved even on those days when you're completely exhausted and there's no other way it's going to work.
Related post: 7 Lies Christian Women Believe About Sex
3. Get Adventurous from Time to Time
Having said that, doing quickies all the time would be really lame and boring. That's why another great piece of Christian sex advice is: it's also important to get adventurous. What that means is entirely up to you, but some ideas to mix it up include atmosphere, attire, location and yes, position.
I won't be any more explicit than that, but consider some of your favorite memories as a couple. Do they include your sex life? They should.
There's an episode of This is Us (yes, I love it) in which one of the main characters and his wife get a night in a fancy hotel room. Immediately upon arrival he inspects the room and starts scheming about all the ways they're going to enjoy a sexy evening together. (Incidentally, she's distracted because she thinks she might be pregnant, but that's beside the point). I laughed and told my husband that is exactly what he would have done!
Keep it exciting by scheming, experimenting and exploring together, no longer how long you've been married. Plan dates, trips and romantic evenings at home together with this in mind.
**Note: Getting adventurous should absolutely NOT involve porn. This article shares why (and what to do about it if your husband does): Help! My Husband Watches Porn! (Here's How to Respond)
4. Don't Forget to Laugh
If there's one thing that I didn't expect as a newlywed, it's that sex is often messy and hilarious!
One of the reasons it creates intimacy is because you have literally nothing to hide from the other person. It's all out there. But that doesn't mean you have to take yourselves too seriously. When something awkward happens, laugh about it together.
One caveat, however: make sure neither of you feels like you're being laughed at rather than with. Sex can bring out a lot of insecurities. You know your dynamic best, so laugh, but be sensitive.
*Related Post: 10 Ways to Make Your Marriage Fun Again
5. Talk about It, But NOT When You're Not in the Middle of It
So how do you make all of these Christian sex tips work in your relationship? You have to talk about sex—but not while you're in the middle of it. It's a total mood-killer. Plus, you're literally in the most vulnerable position you can be, so the wrong words can hurt exponentially more, especially if you have a sexual past that still haunts you. Keep talk during sex positive, and save the heavy stuff for later.
Having a productive conversation about your sex life needs to happen in an atmosphere that is emotionally safe. Be honest about your needs, don't judge and seek to be a great listener.
I think this about sums it up:
Therefore, as God's chosen people, holy and dearly loved, clothe yourselves with compassion, kindness, humility, gentleness and patience. Bear with each other and forgive one another if any of you has a grievance against someone. Forgive as the Lord forgave you. And over all these virtues put on love, which binds them all together in perfect unity. Colossians 3:12–14, NIV
My husband and I haven't figured it all out, and that is why sex is an always an open conversation between us.
Related post: Four Marriage Communication Skills That Prevent Fights
Are you comfortable talking about sex in your marriage? Which one of these Christian sex tips do you think would help you most?
The following two tabs change content below.
Gina is a happily married mom of three, stress management coach and writer who helps overwhelmed, exhausted moms find peace and purpose in the everyday. Check out free resources for Christian moms at ginampoirier.com.