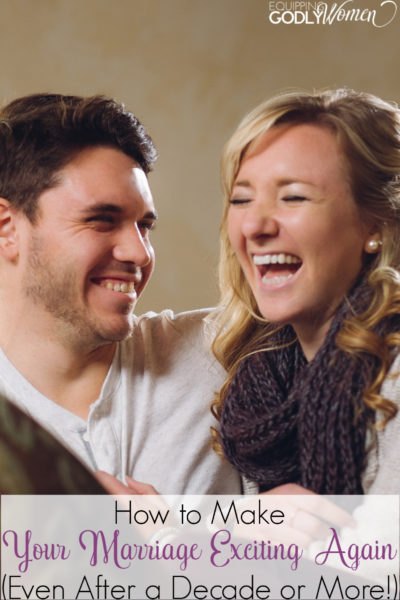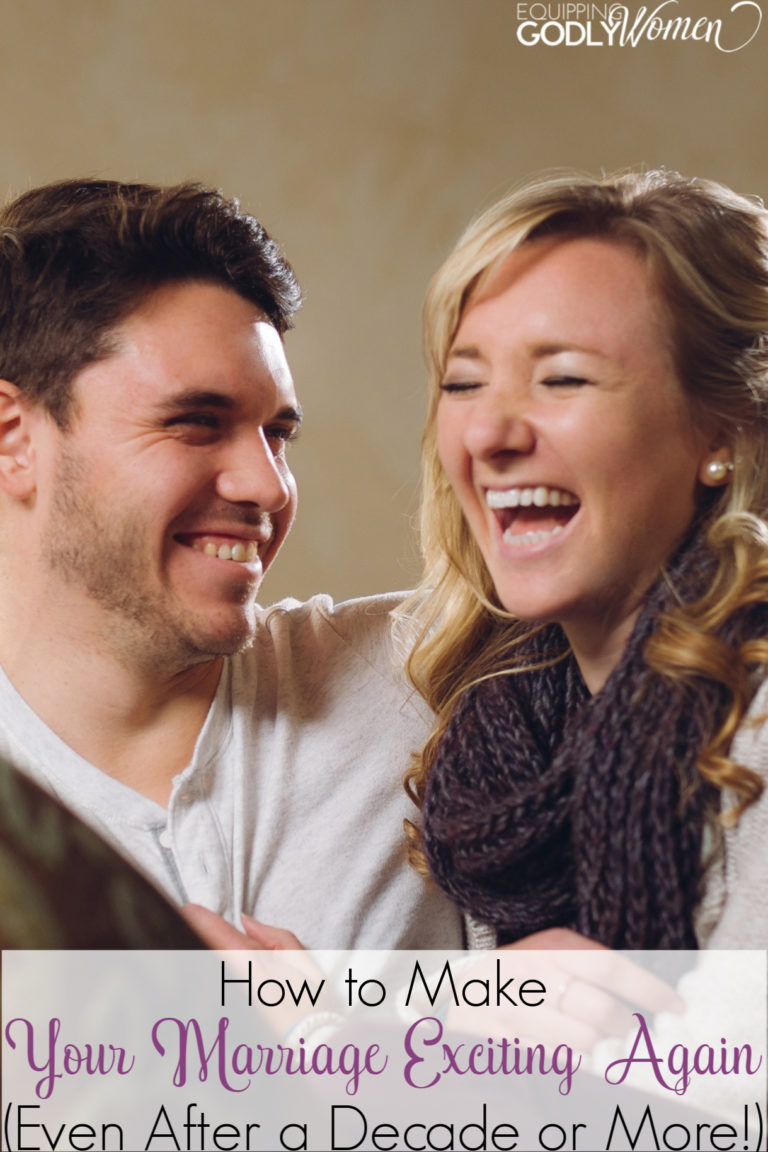 Guest post by Mary at Healthy Christian Home 
Do you remember the fun of getting dressed up and putting on makeup before a date?
Talking on the phone to your significant other for hours? Being excited about mundane activities like getting groceries or standing in line in the cafeteria, simply because you were together?
When you're dating and newly married, everything feels exciting. But inevitably, over the years this excitement begins to dwindle and is replaced with a feeling of familiarity.
This isn't necessarily a bad thing since it gives us a sense of security and steadiness in our relationship. But, it can tempt us to feel discontent as we look longingly at younger couples.
It feels like a bad joke that after a few years of marriage, just when we start to really get to know our spouse and develop a deeper friendship, the romance can start to feel a bit lackluster.
So how do we recapture that feeling of excitement we had 'once upon a time?' Especially when it's hard to find time for romance when your children are little?
How to Make Your Marriage Exciting Again (6 Easy Steps)
Here are 6 practical ways to revive the excitement in your marriage, step-by-step. This process will ensure that your relationship is at its best – no matter how long you've been married.
1. Realize This Feeling is Normal, Yet Fixable
First, know that even the most romantic couples face lackluster times. These are the times when Satan tries to whisper in our ear, "Maybe there's something better out there…"
Even though we often know this is a bald-faced lie, it's tempting to listen when bad days happen. We see picture-perfect Instagram photos of other couples and think, "I wish my relationship had that type of romance."
It's so important to realize that every relationship experiences periods of dullness – and it IS possible to make things exciting again!
How do I know? Think about this:
Have you ever spent an extended period of time apart from your spouse? Think: a work trip, summer camp, or something similar. You started missing your spouse and thinking of them more fondly, didn't you?
Next time, pay attention to how you feel after time away from your husband. You might be surprised to notice those warm & fuzzy, lovey-dovey feelings returning.
I guess it's true – absence really does make the heart grow fonder.
Does this mean we should take a hiatus from our husbands? Of course not!
But sometimes, just realizing that constant togetherness creates less space for excitement is reassuring. The constant togetherness of marriage simply requires that we get creative in reviving that excitement!
*Related: How to Make Your Marriage Exciting Again (even after a decade or more!)
2. Evaluate the Level of Effort You're Putting into Your Marriage
After realizing that a lack of excitement is normal, don't resign yourself to that reality. Take this opportunity to think about what you're putting into the marriage.
Maybe, just maybe, you aren't putting the amount of effort into your spouse as you once did.
Are you spending time trying to connect, ask questions, send sweet messages, etc. the way you used to?
Here's another type of effort to consider:
I'm gonna go out on a limb here and say that when you and your husband were dating, you put a lot (or at least some) effort into your appearance.
Of course, our hearts are what matters to God – not our looks. And some seasons (especially with young children) don't leave much time for taking care of yourself.
I'm as big a fan of sweatpants, no-makeup day as the next girl. But if you are able, choose to put a bit more effort into your appearance (the way you used to). Your spouse will definitely notice, and you'll start to feel better about yourself, too.
Related post: How to Be Pretty – 19 Timeless Beauty Tips
Remember: what you invest in, you value! Start showing yourself and your husband that you value your relationship, and excitement is likely to follow.
3. Be Honest With Your Spouse About How You're Feeling
Next, if you want to add excitement to your marriage, discuss it with your husband. 
A word of caution here: Be careful not to sound discontent when you bring up the lack of excitement. No one wants to feel like they don't measure up.
Instead, try saying: "I'd really like to spend more time focusing on our relationship. Remember how much fun we had when we were dating? Let's try to recreate that!"
When you lovingly tell him that you'd like to make a more concentrated effort in your relationship, he'll probably be encouraged (and who knows, he might be feeling the same way)!
Opening up lines of communication sparks intimacy between you both, too. Your husband might surprise you with extra affection or planning future activities together. 
4. Pray Over Your Marriage Together
Now that you've been honest about your desires for your marriage, it's time to pray. List the specific areas where you want to receive blessings in your marriage, and pray together.
Take turns praying aloud and pouring out your hearts to God for your marriage. Here are 12 marriage prayers to help invigorate your relationship and make you closer than ever!
*Related: 5 Powerful Prayers Every Wife Should Pray Over Her Husband
5. Recreate a "First Date" Night
Now that you've been honest about your relationship and taken it to God in prayer, it's time to spice things up!
Is there anything more exciting than a first date? Did you know you can actually recreate your first date with your spouse and get all those lovey-dovey feelings back?
Here's what to do: One of you asks the other person out (text, call, whatever). Don't talk about the date. Arrange to have him pick you up at a certain time (and you both get dressed up, of course).
Go somewhere NEW that you've never been. No talking about kids or stressful situations. Just get to know each other better! Here is a great list of date night ideas!
*Related: Time for a Much-Needed Date Night? (Do These 6 Things.)
This idea is sure to conjure up those new, exciting feelings – butterflies included! Be sure to watch this adorable video about how this woman and her husband recreate their first dates.
Doing this on a yearly basis will help keep your marriage feeling fresh and new!
6. Create Consistent Space in Your Calendar for Alone Time
After an amazing first date, you would never just go back to regular life without making plans for another meet-up. So, get intentional about your future plans for alone time.
Sit down with your husband and look at your calendars together. See if there's a block of time each week that you can commit to consistent dates.
Since my kids both started school and my husband has days off on Fridays, we are blessed to spend every Friday morning just the two of us. But if your calendar isn't this flexible, enlist help from family and friends (swap favors if you need to) so you can prioritize your dates.
This one factor alone has made such a difference in our marriage!
With a little honesty and intentionality, you can recapture those exciting feelings of romance with your spouse. Alone time and romance are so important for your marriage! If you're never in the mood for romance, check out these amazing Christian sex tips for a stronger, healthier marriage!
I'm sure you have some other creative ideas for sparking excitement in marriage.
*Related: How to Celebrate National Husband Appreciation Day
Has your marriage lost some of its excitement? What have you done to spice things up?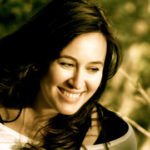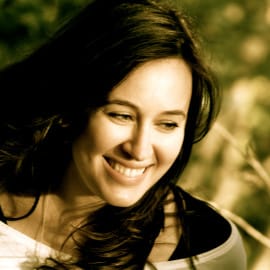 Mary Harp is mom to the two sweetest boys you've ever met and wife to her best friend, Richard, a minister near Birmingham, AL. She runs a blog about wellness and faith called Healthy Christian Home. When she's not chasing her boys or blogging, you can find her with a stack of books and a cup of hot tea. Subscribe to get her free healthy resources or follow on Facebook, Instagram, or Pinterest.