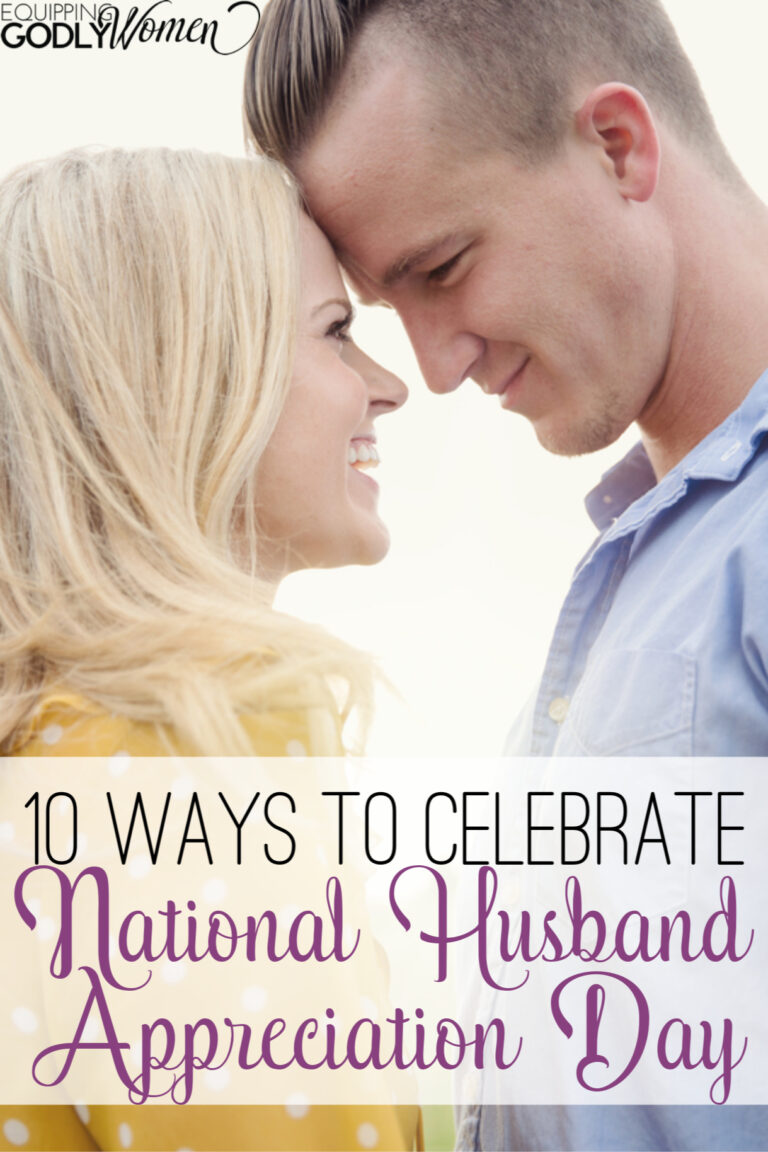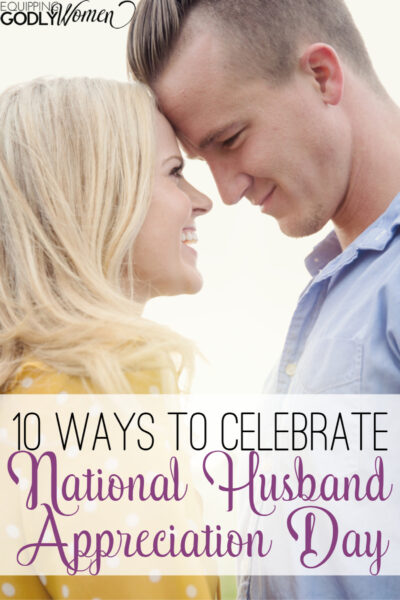 National Husband Appreciation Day. Yep, that's a thing and it is happening April 16th, 2022, this year, to be exact.
When I first heard about it, I'll be honest, I thought it sounded kind of silly. I mean, do we need an excuse to appreciate our husbands? Aren't there enough random "holidays" on the calendar?
But the more I think about it, I have to ask—why not?
There is so much "man-bashing" going on these days in the news and in popular culture. Can't we share some good news too?
I don't think I'm alone in saying that my husband is a good man who is 100% devoted to God and his family. It's important to me that we establish a family culture that honors him and builds him up instead of tearing him down.
Ephesians 5 admonishes us to "make the most of every opportunity" because the days are evil. So, with this in mind, I'm excited to surprise my husband and make his day a little brighter on April 16th this year.
How about you?
10 Ways to Celebrate National Husband Appreciation Day
Here are a few ideas that I know a lot of guys would really like. You obviously don't have to do all of them in one day. But perhaps just by being more intentional on National Husband Appreciation Day, you'll be more inspired to continue building him up all year long.
1. Make His Favorite Food
There's an old saying that the way to a man's heart is through his stomach. Yes, yes, it's cliche, but I can verify that it is definitely true for my man!
Making good food was part of our dating relationship. I baked him blueberry muffins and banana bread because as a college student that was about all I could afford! But hey, it worked!
When I make him the food he likes, I'm speaking his love language, and that communicates to him that I am thinking about him and putting in extra time and effort just for him. I really don't like making eggplant parmesan, but because he likes it, I'll go for it!
*Related: 16 At Home Date Night Ideas You'll Love
2. Get a Babysitter and Plan a Date
Crazy idea, right? Is it time for a much-needed date night for you? Why is this so hard for us sometimes? Sometimes it's just extra hard to find time for romance when the children are little.
I'll be honest—I don't like planning dates. I guess I'm a bit old-fashioned, but I like him to take me out. So to plan a date would definitely require some extra effort on my part.
Planning a date can be especially meaningful if it has been a long time since your last date. It may take some money. It will take forethought. It will take effort. But by taking that effort, you're communicating to him that he is worth it.
Remember, a date doesn't have to be a traditional candlelit dinner. Do something he likes—go for a hike. Go to a concert. Have a picnic on the beach (okay, maybe that's kinda girly). The point is, make it special, for him.
Related: 25 Fun and Frugal Date Night Ideas
3. Give Him National Husband Appreciation Day Off
If you're in a stage of life with kids in the home, life is demanding. I'm pretty focused on how hard it is for me, but I can easily forget that it's no cakewalk for him either.
So encourage him to take an evening or a day to do something he's been putting off in the season you're in. Maybe he has been dying to go golfing or to a car show. Maybe he's a bit geekier like my husband and would love an excuse to go to a gaming convention. Whatever his thing is, encourage him to go do it. I'll bet he'll come home smiling.
4. Praise and Thank Him
While building him up with words is something we should probably do all the time, it's easy to drop the habit. So take this day as an opportunity to strengthen your gratitude muscles.
What do you love about your husband? Why did you marry him? Why do you stay married to him? What do you admire about him? How does he support your family?
You can get as creative as you want in expressing your feelings. Write a card or a song or a poem. Or maybe just say it. However you do it, it will do the job.
Related: 5 Powerful Prayers Every Wife Should Pray Over Her Husband
5. Show Him Off
My husband is really good at embarrassing me by telling anyone who will listen about how awesome I am. I have to admit, I really like it.
I want to be just as enthusiastic about how awesome he is!
Again, there are a lot of ways you can approach praising him, whether it's on social media or just casually amongst friends and family. By praising him in front of others, you're making a public proclamation that he is yours and you're pretty proud of it.
6. Engage in One of His Interests
My husband loves games—card games and board games in particular. While they're not necessarily my hobbies of choice, we figured out a long time ago that whenever I play games with him, he feels close to me.
While it's fine and even healthy for husbands and wives to have separate interests, you can say a lot by occasionally going out of your way to do something just because your husband likes to do it. So get outside your comfort zone a little bit.
If he's an outdoorsman and you're afraid of bugs, put on a giant mosquito net and get out there for an hour or two. If he loves rock concerts but you're not a fan of loud noise, get some quality earplugs and go see his favorite band.
*See Also: How to Make Your Marriage Exciting Again (even after a decade or more!)
7. Give Him Extra Affection
I don't know if all men are like this but a lot of them are. If I go out of my way to give my husband an extra long kiss or be physically affectionate, I have his full attention, no matter where we are or what time of day it is.
In fact, I'm pretty sure that if this is the only thing I do on National Husband Appreciation Day, he'll be pretty fired up about it. He's not difficult to please!
Of course, the extra affection probably wouldn't just end there. (See #10.)
8. Get Him a "Just Because" Gift
You probably know if your husband is a "gift" guy. If he gives a lot of gifts, then chances are he likes to receive them!
National Husband Appreciation Day is a perfect opportunity for a "just because" kind of gift. So if he's been eyeballing something for whatever he collects or needs a new watch, this is a great opportunity to surprise him.
Related: 25 Ways to Speak Your Spouse's Love Language
9. Go on an Overnight Getaway
This is on pretty much everyone's marriage wishlist, right? To get out of town for a night, without the kids?
So quit putting it off. It doesn't have to be expensive—perhaps you can have family members or friends watch the kids and have a "night away" in your own home. (We do this!)
Removing the distraction of kids and having the space to give each other your full attention for a whole night can really bring back some spark. Your husband will love it, and I bet you will to.
10. Dress Up for Sex
You know all that lingerie you got at your bridal shower that's sitting and gathering dust? Why not put it to use?
It doesn't even have to fit very well. (Trust me, he won't care.) It will communicate to him that you're getting dressed for one reason and one reason only. 
If you do this in combination with #7 above, your husband will probably feel very, very appreciated.
Related: 5 Christian Sex Tips for a Stronger, Healthier Marriage
Are you going to take advantage of National Husband Appreciation Day? What are some of your ideas?