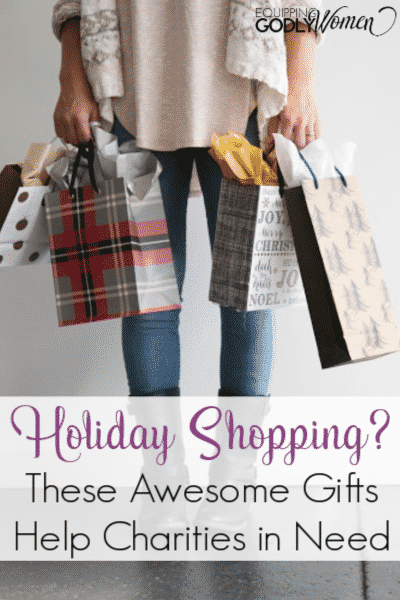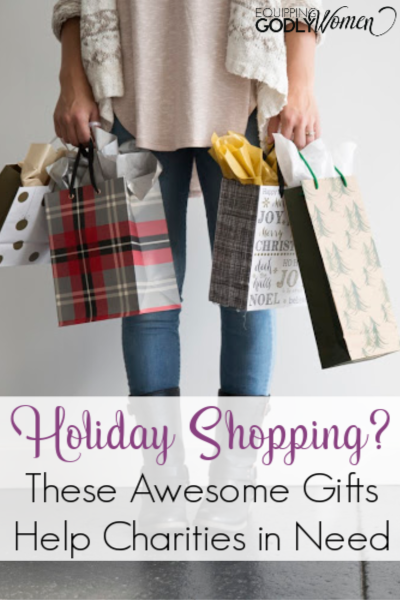 PinDo you ever wish you could do more to help people in need?
I know I do.
For most of us, the problem isn't that we don't care or that we don't WANT to do something.
The problem is… Where do I start?
After all, it's not like we're made of money. Would the little bit we could give really make a difference? And researching the best charitable organizations can take a lot of time that we simply don't have.
Frankly, the whole idea can be a little overwhelming.
Well, the good news is: If you'd like to give back this holiday season, but you're not sure how you can, this post will help!
Below, I'm highlighting four SUPER easy ways you can make a real difference this holiday season — whether or not you have any extra to give. 
Even if you don't have a single extra penny to spend on holiday gifts this year, you can still help out people in need! (How awesome is that??)
Here's how…
*This post contains affiliate links, which means if you make a purchase, I may make a small commission at no additional cost to you. This helps cover the many costs of running this site and allows me to help provide for my growing family. Thank you!
1. Purchase Gifts from Companies Making a Difference
You already have a whole list of people to buy gifts for this year, right? (You're planning on buying gifts anyway.) 
Why not get some of their gifts from non-profit organizations who help people in need? 
For example, one of my FAVORITE non-profits to support is Mercy House Global.
Mercy House Global is a Christian non-profit that rescues pregnant teen moms and babies off the streets in third world countries, like Kenya. The girls are given a safe place to live, jobs, medical care, and an education.
Their shop is pretty big, with a wide selection of gifts perfect for everyone on your list. You can find: beautiful Christmas ornaments, holiday-themed home decor, meaningful jewelry, comfy t-shirts, colorful bags, fun toys and more — all made from rescued women around the world!
Their prices are very reasonable — especially for being hand-crafted, fair-trade, and they even have a $10 and under section if you want to help, but you're on a budget.
I've purchased quite a few gifts from them (for myself and for others), and I can tell you, they're a great organization with a great mission.
Every purchase you make really does help rescue women and babies in grave need. Would highly recommend.
Shop Beautiful Fair-Trade Gifts Now
Alternately, two other similar organizations I've heard great things about are Noonday Collection and Karama Collection.
2. Shop Smile.Amazon.com
Okay, you shopped non-profit organizations first. (Go you!) But what about the Christmas gifts on your list that you can't get fair-trade? Like these awesome Christian Christmas Gift Ideas for Kids or these Christian Christmas Gifts the whole family will love?
Well, did you know that Amazon will actually donate a portion of every purchase you make to a charity of your choice — at no additional cost to you??
Now there are two ways to do this…
Visit EquippingGodlyWomen.com first, and click through any of the Amazon links on my site. Like this one:
When you do, I actually receive a small percentage of the sale — at no additional cost to you — no matter what you buy. It doesn't matter if you're buying crayons, a flatscreen TV, or a kitchen sink. As long as you click through my link before you find the product and add it to your cart, a small percentage will go to Equipping Godly Women.
This is a great way to help support our ministry here, without having to pay a single extra penny! We use these funds to keep the site up and running, and we really appreciate your help!
Alternately, if you have a specific charity in mind you'd like to support, you can do that too! Simply visit smile.Amazon.com and select your favorite charitable organization from their list. Then, every time you make a purchase on an eligible item (most things are eligible), a small percentage of your purchase automatically goes to your favorite charity!
You do have to remember to visit smile.Amazon.com instead of going straight to regular Amazon.com every time, but it's worth it to be able to support your favorite charities for free!
Pretty neat right?
3. Earn Cashback with Giving Assistant
Not planning on shopping on Amazon this year? What about in stores like Macy's, Target, JCPenny, or Walmart? Will you use expedia to book any flights, or Home Depot to finish any last minute home renovations before company comes?
If so — you definitely want to check out Giving Assistant…
Giving Assistant is a Cashback site with a twist…
Every time you go through Giving Assistant before you shop online, not only do YOU earn cash back, but you earn cashback for a charity of your choice as well! 
They have a browser extension button you can add — to make sure you're always get the cashback you deserve when you're shopping online. AND you get $5 FREE just for signing up!
(So not only are you helping out great organizations, but you're getting a great deal and actually earning money yourself in the process!)
4. Donate to Companies That are Making a Difference
Alright, you've shopped fair-trade gifts and donated a little extra from your big box store purchases. Ready to do even more?
If so, you might want to look into donating to a great organization like Compassion International.
Compassion International is probably best known for their child sponsorship program (we have two children we sponsor every month!), but that's not all they do. You can also make a one-time donation in any amount of your choosing to help meet real needs all across the world.
For example:
For $10, you can purchase a Bible for a child who may never own one otherwise
For $40, you can purchase chickens to ensure that children have protein and a source of sustainable income for their families
For $198, you can purchase a birth attendant and medical care for an at-risk newborn baby, increasing the chances they will see their first birthday.
If you have children at home, I would absolutely recommend asking your children to help pick out a gift for a family in need with you.
This is a great way to start a conversation about the realities that people in third-world countries face (not to mention instill a little more gratitude in your own children).
*Alternately, Food for the Hungry is another great organization where you can sponsor children and donate one-time gifts to families in need.
Unlike the first three ideas in this list, donating to charities like these would cost additional money on top of what you're spending anyway, but as someone who has given to them in the past, I can tell you, it is absolutely worth it, no matter how broke you feel this year.
Here in America, we really are truly blessed, and what seems like the littlest amount of money to you really can make a big difference to those in need. 
Give today!
Okay time to choose — which of these 4 ways could you use to give back this year? Shopping fair-trade gifts, shopping through Amazon Smile, shopping through Giving Assistant, or donating to families in need?
DON'T just close this article and forget all about it. You're shopping anyways — use the shopping you're doing anyway to make a difference! You can do it! 🙂