Looking for fun, creative, EASY Christian Elf on the Shelf ideas that keep the focus on Jesus? Start here!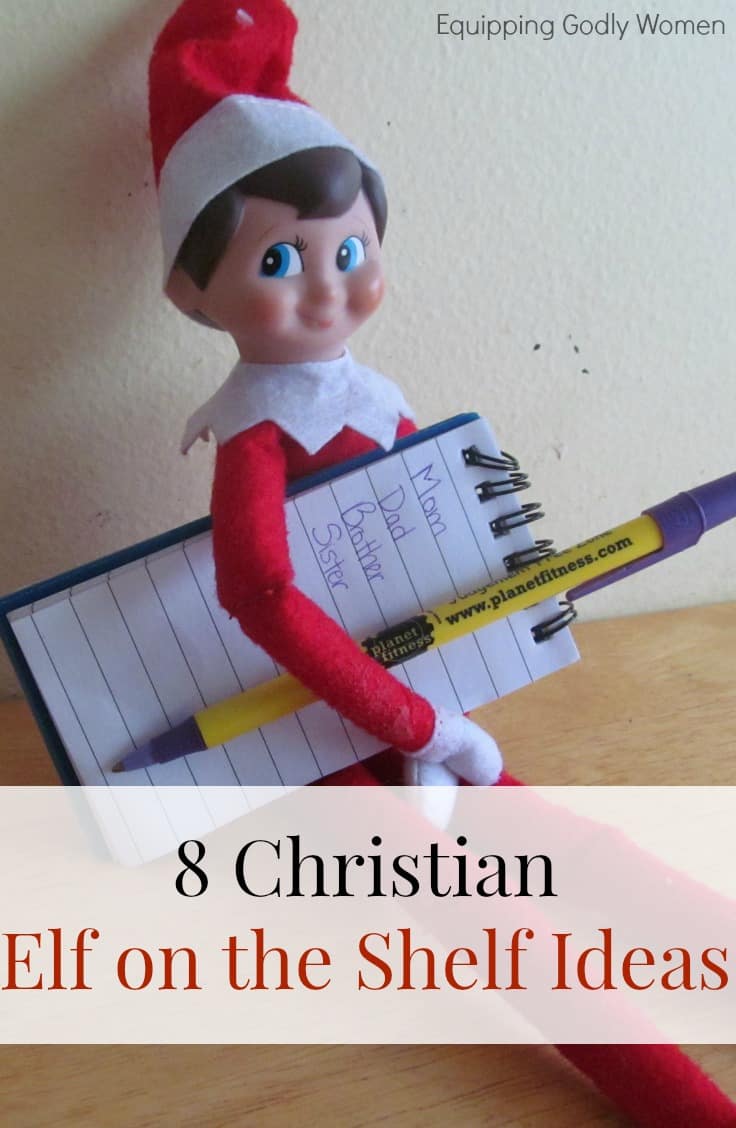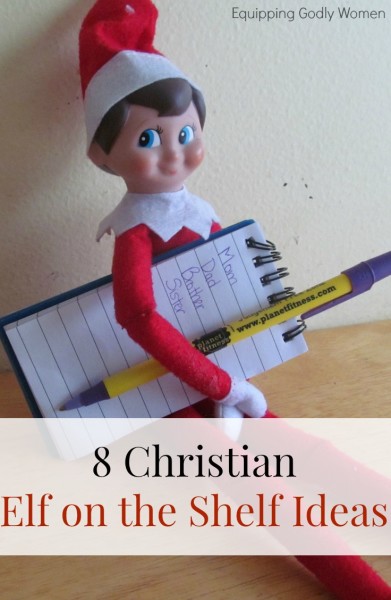 Does your family participate in Elf on the Shelf?
(For those of you who aren't familiar with the concept, Elf on the Shelf is a small doll that keeps an eye on your children's behavior during the day and then reports back to Santa every night. 
They're pretty much everywhere this time of year, with tons of elf on the shelf ideas pinned allll over Pinterest. Plus, if you check out the various elves on Amazon, you can even choose the gender and skin color you prefer.)
*This post contains affiliate links, which means if you make a purchase, I may make a small commission at no additional cost to you.
We've had an Elf on the Shelf for a few years now, and the kids love it! 
I never have to pry my kids out of bed in December — they always get such a kick of jumping out of bed in the morning, running through the house to find the elf, and seeing what kinds of silly things he's up to each day.
And while some people worry that traditions like Santa or the elf take the spotlight off of Jesus and add to a consumerist culture, the good news is that it doesn't have to.
You can actually create a "Christian Elf on the Shelf" that reinforces the true Christmas story and to points your kids TO Jesus. This is what we do, and we love it!
And with these 8 Christian Elf on the Shelf Ideas, you can do the same!
** Alternately, you may also want to check out these Christian Elf on the Shelf Alternatives
8 Easy Christian Elf on the Shelf Ideas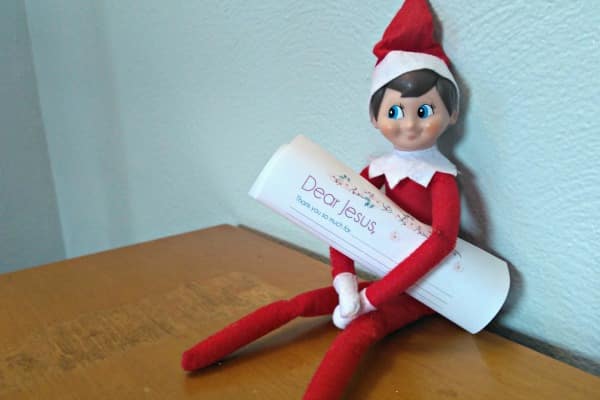 1. Elf on the Shelf Writing a Letter to Baby Jesus
Instead of (or in addition to!) having your kids write a letter to Santa asking for more "stuff" this year — have them write a letter to Jesus thanking them for all the things he has provided for them already. Your elf can deliver the blank letter for your children to fill out during the day, and then drop it off to Jesus on his way back to the North Pole after the kids are asleep.
Depending on your children's writing abilities (and the amount of time you want to spend on it), you could have them write out a full letter on a blank piece of paper. Or make it extra cute and special by having them fill out the cute Letter to Jesus printable pictured below!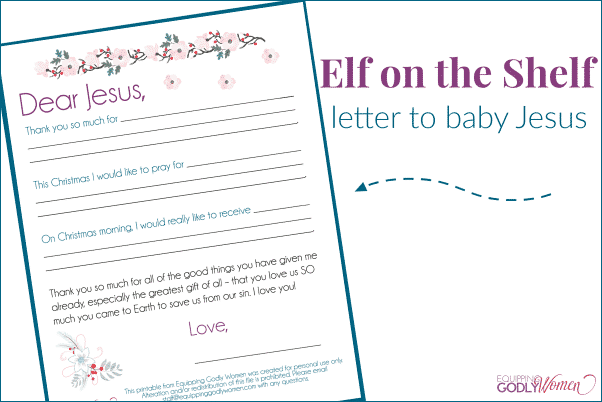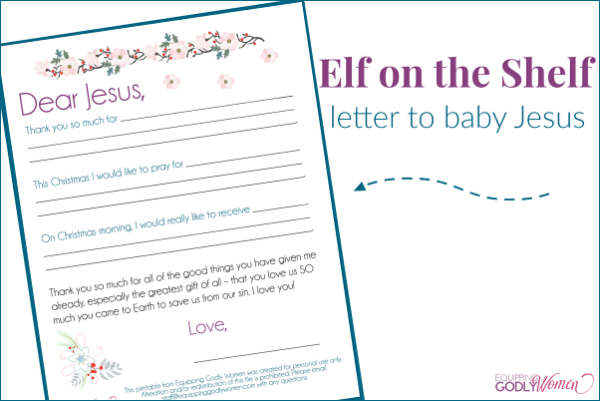 Simply fill out your name+email below so I know where to send it! I'll get it sent your way right away.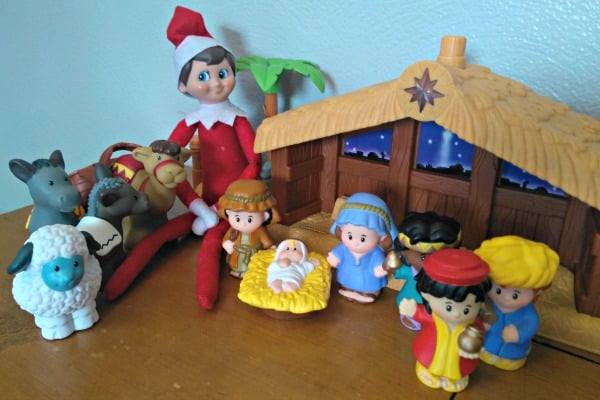 2. Christian Elf on the Shelf Worshiping Baby Jesus
The Wise men worship baby Jesus. The shepherds worship Baby Jesus. According to Luke 19:40, even rocks worship God. Why not your elf too?
One of the absolute easiest Christian Elf on the Shelf ideas — this one is perfect for those mornings when you need something clever and FAST! (I'm not the only one who forgets on occasion, right???)
Bonus points: You can even tell your kids that their elf probably doesn't know the Christmas story and ask them to tell it to him. They'll have a great time teaching their elf all about Jesus!
*By the way – How adorable is this Little People Nativity?? if you don't have a kid-friendly nativity and you're looking for one, this nativity is my absolute favorite.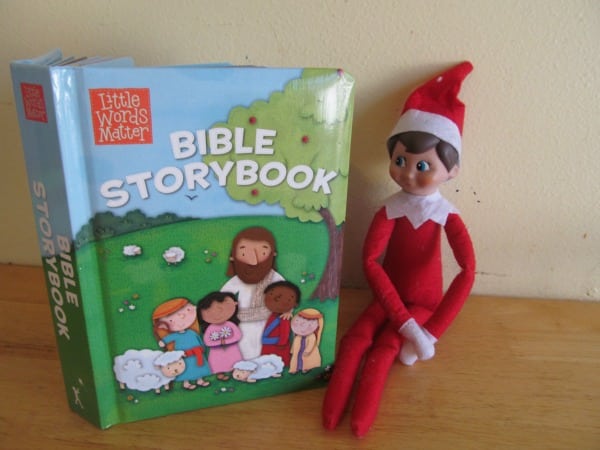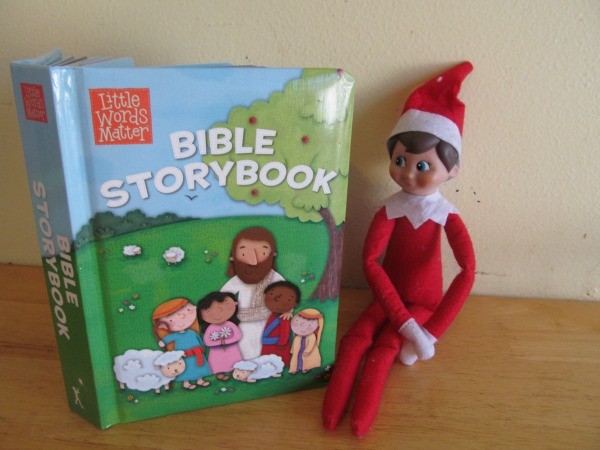 3. Elf on the Shelf Reading the Bible
Want your elf to set a good Christian example? Have him read the Bible! Once the kids find him, have everyone join him in reading the Christmas story aloud. OR if your children don't already have a good kids Bible, you could have the elf bring them one as an early Christmas present.
We have and love the Little Words Matter Bible Storybook (pictured) for little ones ages 1-4, The Beginner's Bible for kids ages 4-8, and the NIV Adventure Bible for kids ages 8-12, but of course any Bible will do!
* Related: 10 Non-Cheesy Christian Christmas Gifts for Kids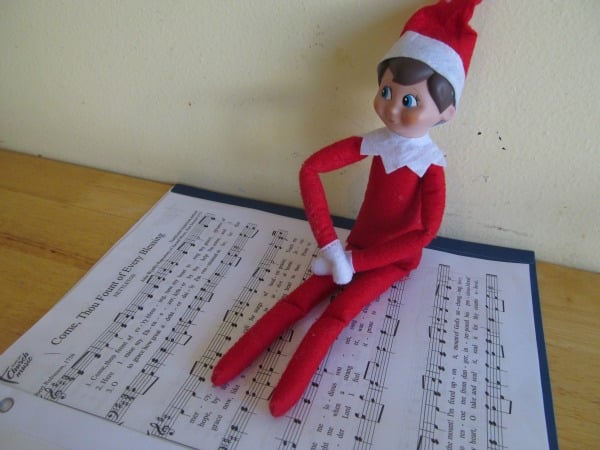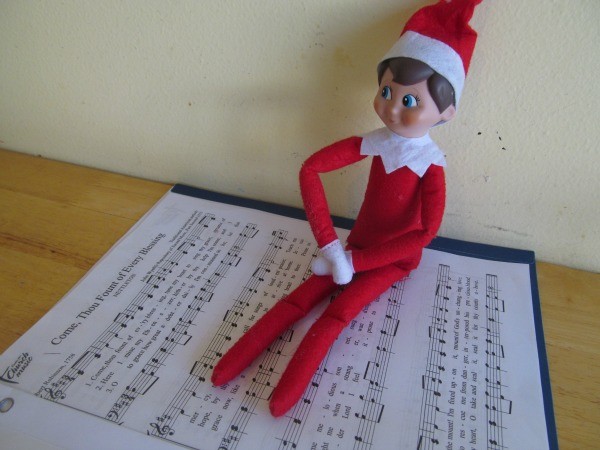 4. Elf on the Shelf Singing Hymns
Who loves singing hymns? Christian Elf on the Shelf does! And while this is one of the Christian Elf on the Shelf ideas that does take a little pre-planning (since you have to print off the sheet music), it's still pretty easy and totally worth it.
I made this little hymnal per my oldest's request by just printing out some online sheet music and putting it in a 3-prong folder. If your children wouldn't recognize hymn sheet music, you can easily substitute a good kids' worship CD or kids' Christmas CD.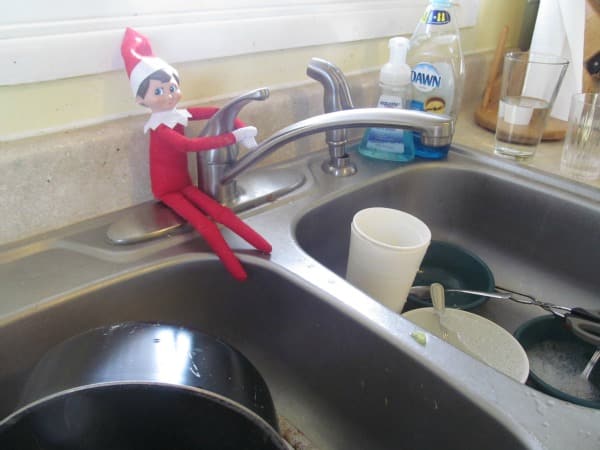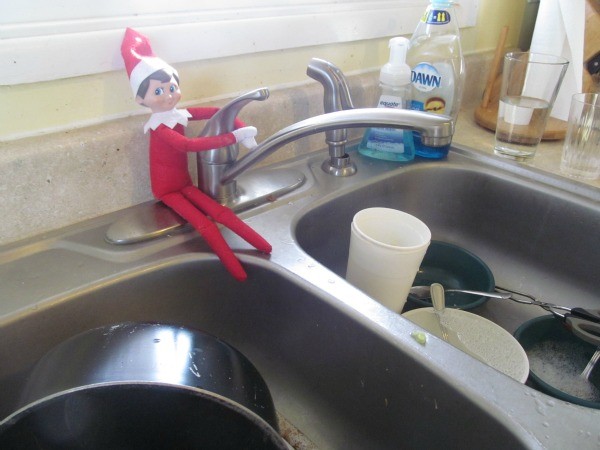 5. Elf on the Shelf Helping Out with the Housework
One common complaint people have about most Elf on the Shelf ideas is that creating all the messes and mischief that make Elf on the Shelf so fun causes a lot of extra work for mom. But the good news is — your Christian Elf on the Shelf can do the exact opposite!
Instead of your elf making messes, have your Christian Elf on the Shelf help clean up and get the kids to help clean up too. It's a great way to teach your kids giving and selflessness. (Ha ha! Mom for the win!)
Trust me — this is one of those easy Christian Elf on the Shelf ideas you'll use again and again and again. 🙂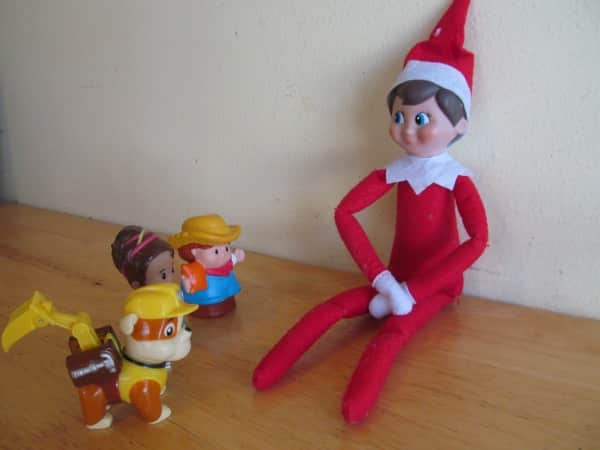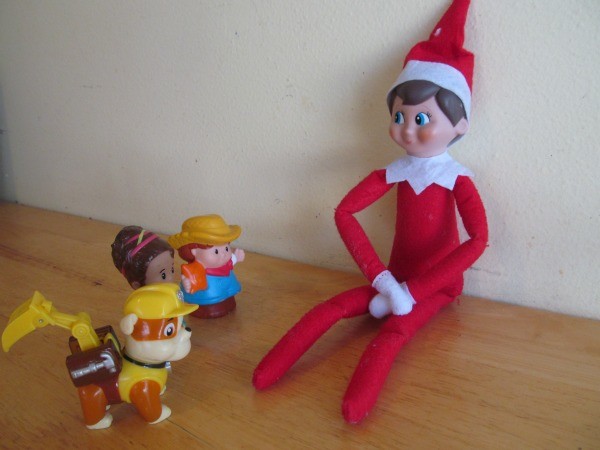 6. Elf on the Shelf Telling Others About Jesus
Christian Elf on the Shelf witnessing to his toy friends? Why not! It sets a good example and is SUPER easy to set up – even if you almost forgot and need a great idea for the last minute.
Seriously, if you're looking for easy Christian Elf on the Shelf ideas, it really doesn't get much better than this!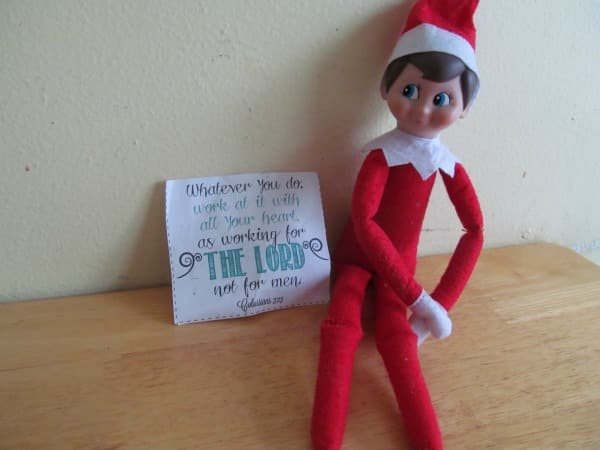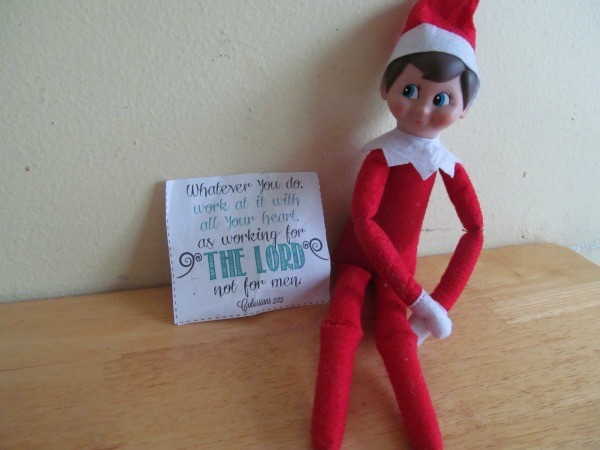 7. Elf on the Shelf Memorizing Scripture Verses
Do your kids memorize Scripture verses? If not, your Christian Elf on the Shelf is a great way to introduce the idea! He can bring Christmas verses to help them remember the reason for the season, or just any verses you think would be meaningful or helpful for your family.
Want free printable Bible verses so you don't have to write them out by hand? You can get a couple free sets of Printable Scripture Cards on my Subscriber Freebie page.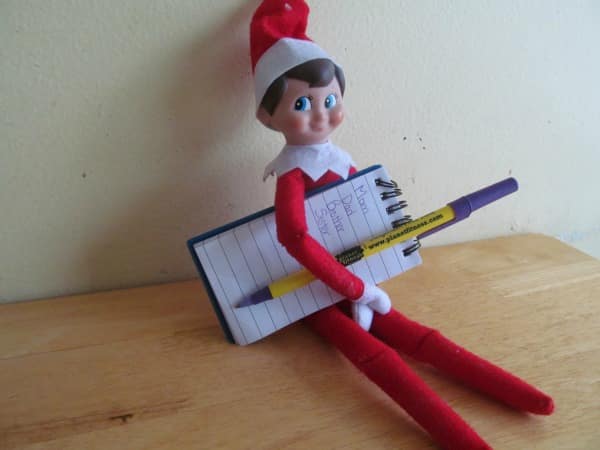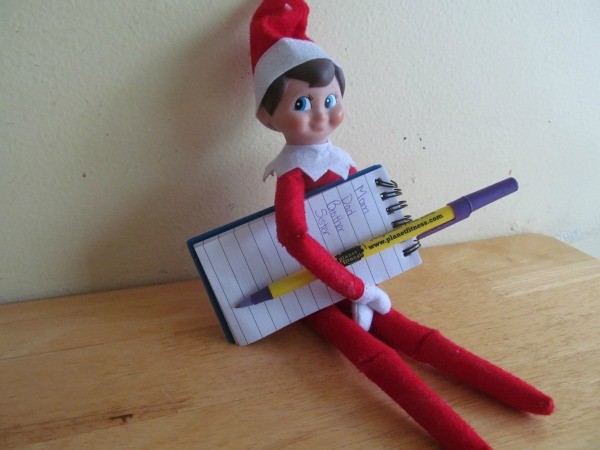 8. Elf on the Shelf Praying with a Prayer List
What do you and your children regularly pray for? Why not let Elf on the Shelf get in on the action! Make a list of things your children regularly pray for (or simply write each of your children's names) and take a minute to pray for each one!
(Don't have an elf? Get yours here!)
As you can see, these Christian Elf on the Shelf ideas are a great way to use a fun little tradition in a way that actually honors Jesus and puts the attention right back on him, where it belongs.
Does your family do Elf on the Shelf? What about a Christian Elf on the shelf? Share your best ideas in the comments section below! (We can always use more!)
Then be sure to check out these great Christian Christmas activities for kids as well: