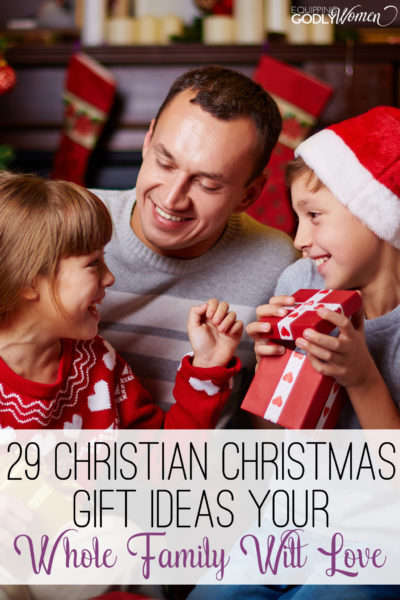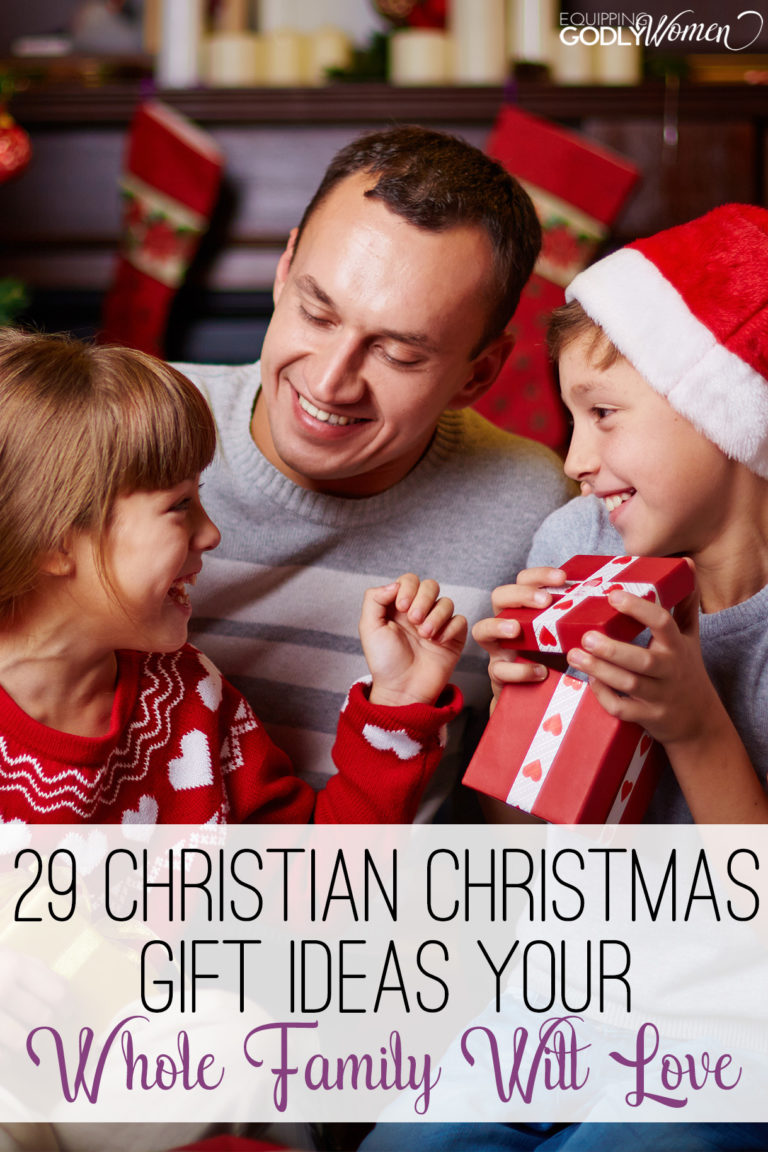 Looking for some fun, unique Christian Christmas gift ideas? If so, you're in the right place!
You see, year after year I'd always get SO frustrated trying to find just the perfect Christmas gifts for everyone on my list.
I wanted something special, but not cheesy. Something fun, but useful. Something that'd help them grow in faith (if possible), but something that they'd actually really like and appreciate.
That's quite a tall order!
The good news is — if you want to buy Christian Christmas gifts for your family too, I've already done the hard work for you!
Scroll down to find some of my very favorite Christmas gifts for Christians or use the links below to skip to whatever section you'd like — whether you're looking for Christian Christmas gifts for women, for men, for kids or for the whole family!
*This post contains affiliate links, which means if you make a purchase, I may make a small commission at no additional cost to you. This helps cover the many costs of running this site and allows me to help provide for my growing family. Thank you!
~ ~ ~
Skip to:  Gifts for Women  |  Gifts for Men  |  Gifts for Kids  |  Gifts for Teens  |  Gifts for the Family
~ ~ ~
Christian Christmas Gift Ideas for Women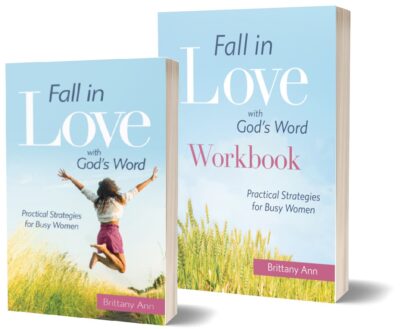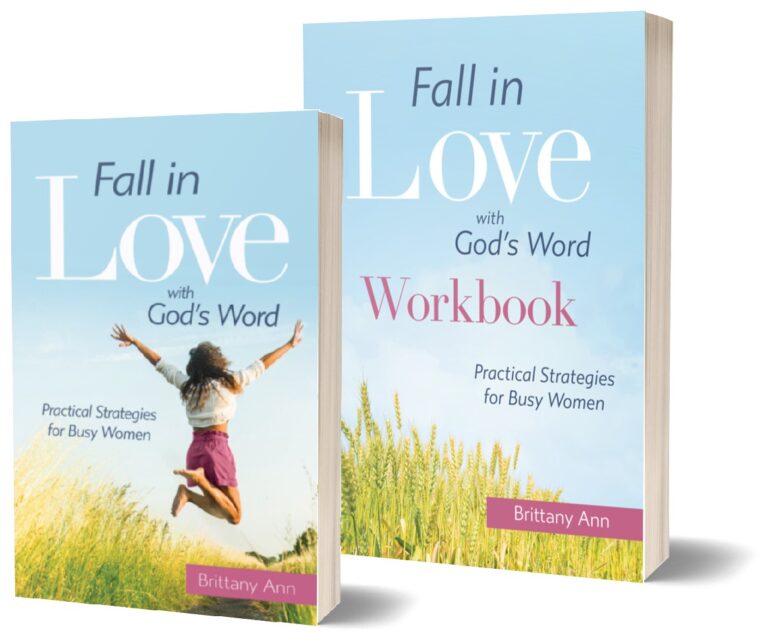 Fall in Love with God's Word: Practical Strategies for Busy Women: This books is perfect for any Christian woman who wants to read the Bible more consistently but who struggles to get into the habit OR anyone who does read their Bible but often finds it a bit boring or routine. Fall in Love with God's Word will not only help you read the Bible consistently, but truly enjoy it! Grab your copy here.
(**click on any image to see more details)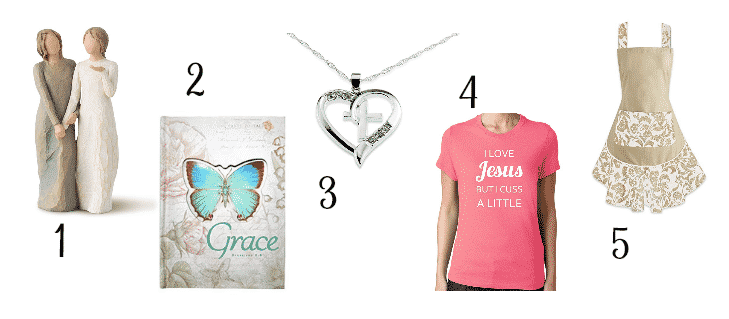 1. A Willow Tree Figurine: I'm not generally a "knick knack" person, but I absolutely adore Willow Tree Figurines. Not only are they incredibly beautiful and surprisingly sturdy, but the feeling they convey is unparalleled. Find the figurine that matches whichever stage of life or circumstance your friend or loved one is in currently and you have a gift they are sure to love for years to come! These are my favorite Christian Christmas gift ideas for grandmothers.
2. "Grace" Butterfly Hardcover Journal: As busy moms, sometimes it can be difficult to remember our own names sometime, much less to spend time with God and remember what we learned. This gorgeous grace butterfly journal will make quiet times a treat, and allow your loved ones to remember what they learned. It's not just a journal; it's an invitation to get away for some much needed time with the Lord.
3. Silver Christian Cross Heart Pendant: What woman doesn't love jewelry? This Christian cross heart pendant would make an absolutely lovely gift for any woman on your list–young or not so young. Plus, the shipping is free when you buy two. 🙂
4. I Love Jesus But I Cuss A Little T-Shirt: Do you have a friend like this? This shirt may not be right for everyone, but for the right person–it's perfect. Your friend is sure to get a huge kick out of this unique and lighthearted shirt.
5. Acanthus Ruffle Floral Kitchen Apron: Do you have a friend or family member who loves to cook, bake or craft? If so, she's sure to love this beautiful Acanthus Ruffle Floral Kitchen Apron. Not only will this apron keep her clothes clean and her craft supplies close at hand, but she's sure to look and feel beautiful while wearing it too.
Christian Christmas Gift Ideas for Men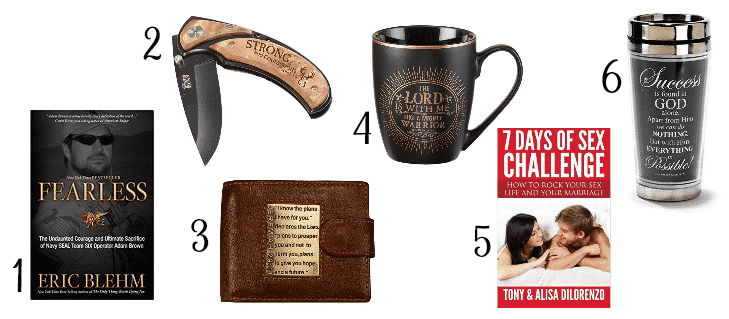 1. Fearless: The Undaunted Courage and Ultimate Sacrifice of Navy SEAL Team SIX Operator Adam Brown: What man doesn't love a great hero story? An inspiring and captivating story of a man who can only be described as "fearless," this is one book he won't be able to put down.
2. Inspirational Sharp-Edge Pocket Knife: Let him know how strong and courageous he is with a gift that's not only highly practical but also inspiring. This versatile and durable tool makes a great gift for any manly man.
3. Jeremiah 29:11 Wallet: Could the man on your list use a new wallet? This masculine wallet is made of genuine leather and includes a brass inlay with the words of Jeremiah 29:11 – a wonderful reminder that God is in control of every aspect of his life and has a plan for him.
4. "The Lord is With Me" Coffee Mug: Know a coffee drinker? Featuring a quote from Jeremiah 20:11, this stoneware coffee mug is perfect for any man on your list. (Added bonus – it comes in a matching decorative gift box – no wrapping needed!)
5. 7 Days of Sex Challenge: Or, if you're shopping for husband, you could skip all that other stuff and just get him the one thing he truly wants instead: more sex. Whether health issues, the kids or sheer laziness have gotten in the way of you spending time as a couple lately, this is one gift that will help you bring the spark right back (without being overly inappropriate).
6. "Success is Found in God Alone" Stainless Steel Travel Mug: A nice, sturdy travel mug is a must for any man who travels for work or who needs a hot cup of coffee to take on the way to work on cold mornings. Help him keep his focus on God all day long while keeping his spirit and body warm with this classy stainless steel travel mug.
Christian Christmas Gift Ideas for Kids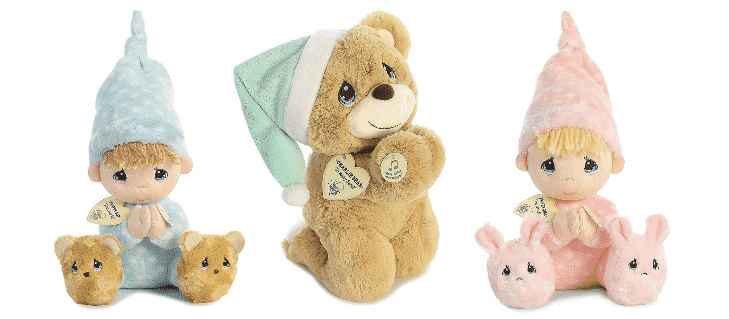 1. The Beginner's Bible: Timeless Children's Stories: Do your children have a Bible on their level that they can actually understand? We own and LOVE this one with its bright pictures and easy-to-understand, engaging stories. It's nice and sturdy too, perfect for young children.
2. God Is with Me: 365 Daily Devotionals: Help your children start their day off right with daily devotionals courtesy of the ever-popular VeggieTales. This is a great way to help your children start making quiet time a habit–and help them actually look forward to it! Available in a boy version and a girl version.
3. Fisher Price Nativity Set: My boys LOVE to play pretend with their Fisher Price people. If your kids do too, they will love this Fisher Price Nativity set. It's a great way to bring the Christmas story to life in a way that even little kids can understand. (While keeping your nice nativity set safe from little fingers.)
4. Ultimate Kids Worship CD/MP3: Do your kids love to sing? Why not give them uplifting and encouraging Christian music songs for kids to sing along to? Most of the popular music these days is full of words and themes that little kids really don't need to learn. This CD is full of great, uplifting songs you and your kids are sure to love.
5. The Gigantic Coloring Book of Bible Stories: Do your kids love coloring? Why not help them learn the essentials of the faith while they're at it? This huge Christian coloring book, with its 360 pages and 45 Bible stories, is sure to delight your kids and keep them quietly entertained for hours.
** Looking for more? Be sure to check out these 10 (Non-Cheesy) Christian Christmas Gifts for Kids as well!
Christian Christmas Gift Ideas for Teens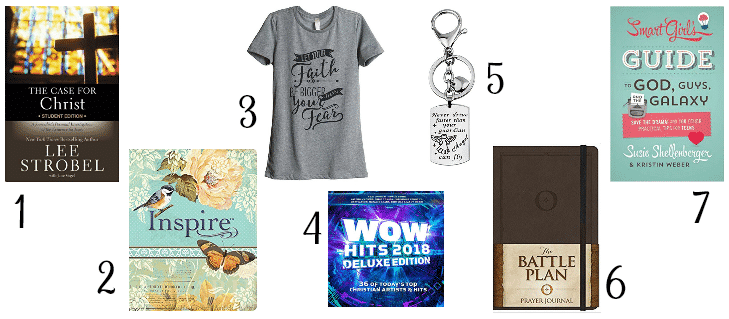 1. The Case for Christ: Student Edition: One of my absolute favorite Christian books of all time, this book should be required reading for any Christian teen. This book tackles important issues such as "Did Jesus really exist?" and "How Can We Trust the Bible is True?" in a way that is smart, easy-to-understand and relatable. Don't let your teens head off to college or out into the real world without the solid Bible-based facts this book provides.
2. Inspire Bible NLT: The Bible for Creative Journaling: Bible journaling is VERY popular right now. Help your teen make her grown-up faith her own by buying her a Bible that allows her to work out her everyday issues in a real way. Don't forget the Bible journaling pens to go with it!
3. Let Your Faith Be Bigger Than Your Fear T-shirt: Help your daughter remember her faith when she is tempted to fear with this confident t-shirt. Perfect to wear to school, work, or to church.
4. WOW Hits: What teen doesn't love listening to music? Make sure the music your teen fills his or her mind with is uplifting, encouraging and good for the soul. This CD is full of fantastic praise and worship songs that will encourage deep spiritual growth in a way that is inviting, not preachy.
5. Guardian Angel Key Chain: Are your teens ready to get behind the wheel? If so, give them their keys on this guardian angel key chain. Every time your teen sees it, they'll be reminded to make wise choices, even when you aren't around. Fun and lighthearted, but surprisingly effective.
6. The Battle Plan Prayer Journal: Christianity might emphasize love and unity, but that doesn't mean it's for the faint of heart. Help equip your teenage son for whatever spiritual battle life will throw his way with this Battle Plan Prayer Journal. It's a great way to encourage him to develop a personal relationship with the Lord without all the pressure.
7. The Smart Girl's Guide to God, Guys, and the Galaxy: Navigating the teen years can be rough. Filled with plenty of practical advice mixed in with lighthearted humor, this fun book will help girls make it through.
Christian Christmas Gift Ideas for the Whole Family

1. The Christmas Story: One of my favorite Christmas memories growing up is reading the Christmas story every year before we opened gifts. It's such an easy and enjoyable way to keep the focus on Jesus before all of the gift-opening begins. If you'd like to start the same tradition in your family, this classic Little Golden Book will help you do just that.
2. "Together We Make a Family" Sign: How cute is this wood "Together We Make a Family" Sign? Not only would it look great in just about any room (the neutral colors go with everything), but it's sure to make your family feel loved and appreciated every time they see it.
3. The Shepherd on the Search: Has your family given in to the Elf on the Shelf Craze yet? We have one, and our family has a ball hiding it all around the house for our kids to find every morning (especially when we use these Christian Elf on the Shelf ideas!).
If your family doesn't have an elf yet, I'd absolutely recommend getting one – BUT instead of the generic elf, get a Christian Elf on the Shelf alternative, like the Shepherd on the Search. Same concept, lots of fun, but it keeps the message on Jesus. I didn't know these existed when I bought our elf, otherwise I absolutely would have gone with the Shepherd on the Search instead. You can get yours here.
4. Thou Shalt Laugh Christian Comedian Set: Ready for some serious family bonding? Then you'll love the "Though Shalt Laugh" Christian Comedian Set – a two-disc DVD set features comedians including funny yet family-friendly Patricia Heaton, Tim Conway, Josh Tesh and more, your family will laugh til your sides hurt as you enjoy listening to these comedians together. Great for long trips in the car!
5. Bible Trivia Game: Looking for something fun your whole family can do together while waiting for Christmas dinner to finish cooking? Bible Trivia is a great way to keep the focus on the real meaning of Christmas, while still engaging your family in some friendly competition. How much Bible trivia do YOU know? Here's a great way to find out!
What Christian Christmas gifts are you buying this year? Which ones do you have your eye on for yourself?
Be sure to also check out: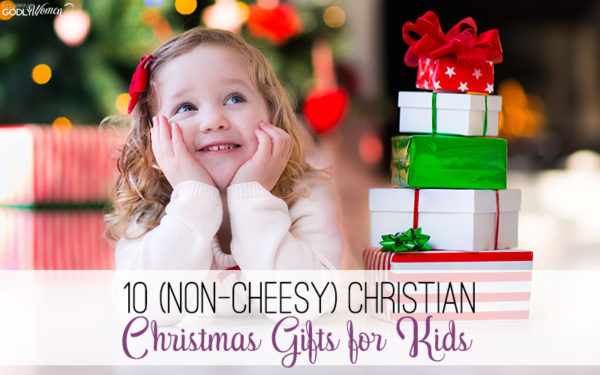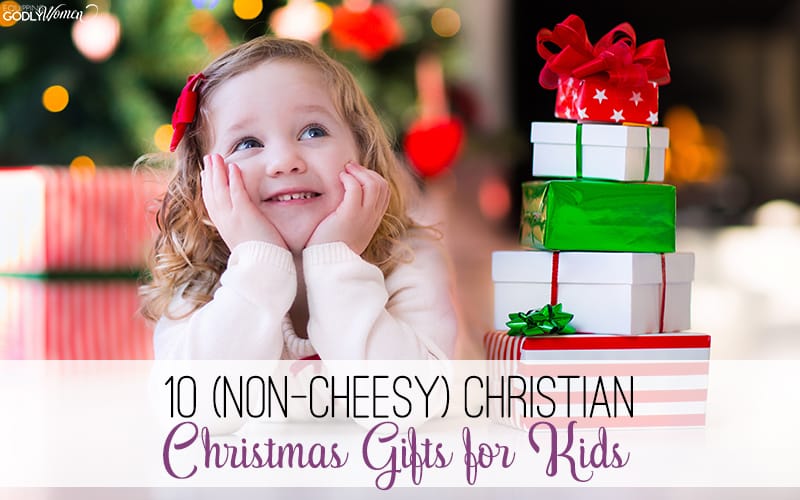 10 (Non-Cheesy) Christian Christmas Gifts for Kids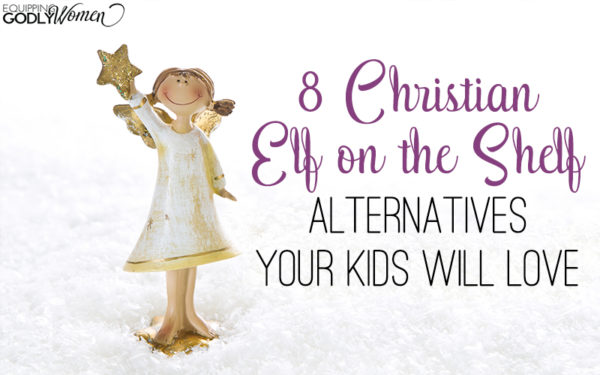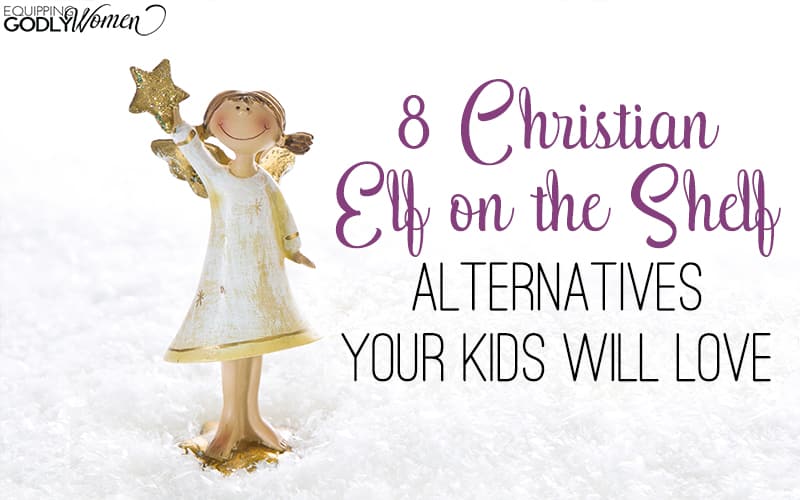 Christian Elf on the Shelf Alternatives
Christmas Star of Bethlehem Ornament:  DIY Clothespin Craft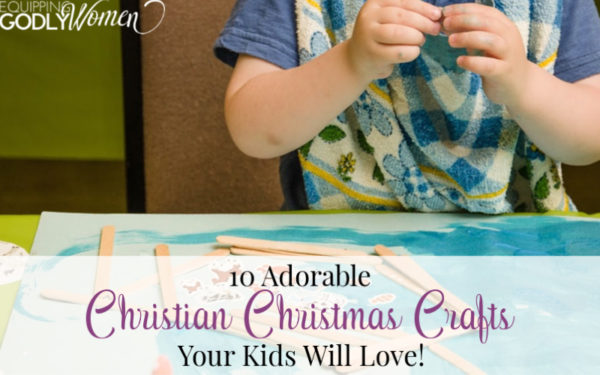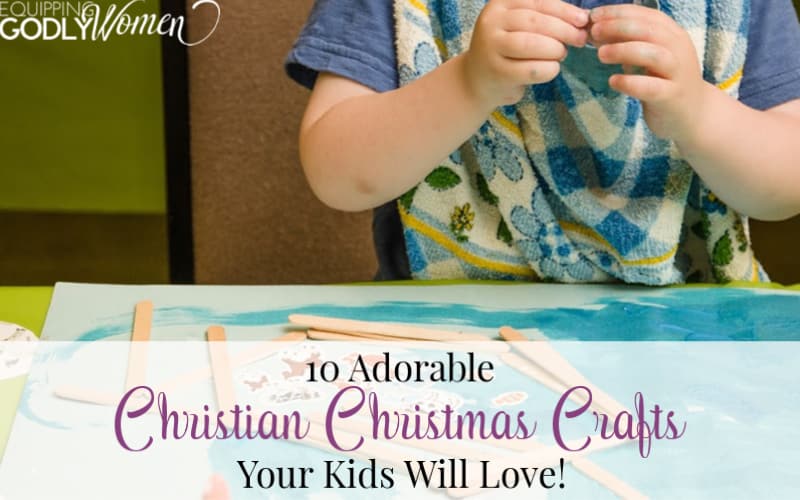 10 Adorable Christian Christmas Crafts Your Kids Will Love