These 10 quick, easy and delicious Sunday dinner ideas will help you get a great meal on the table fast. Try one this week after church!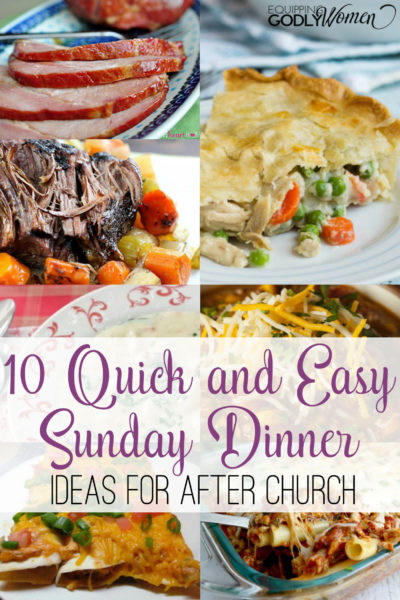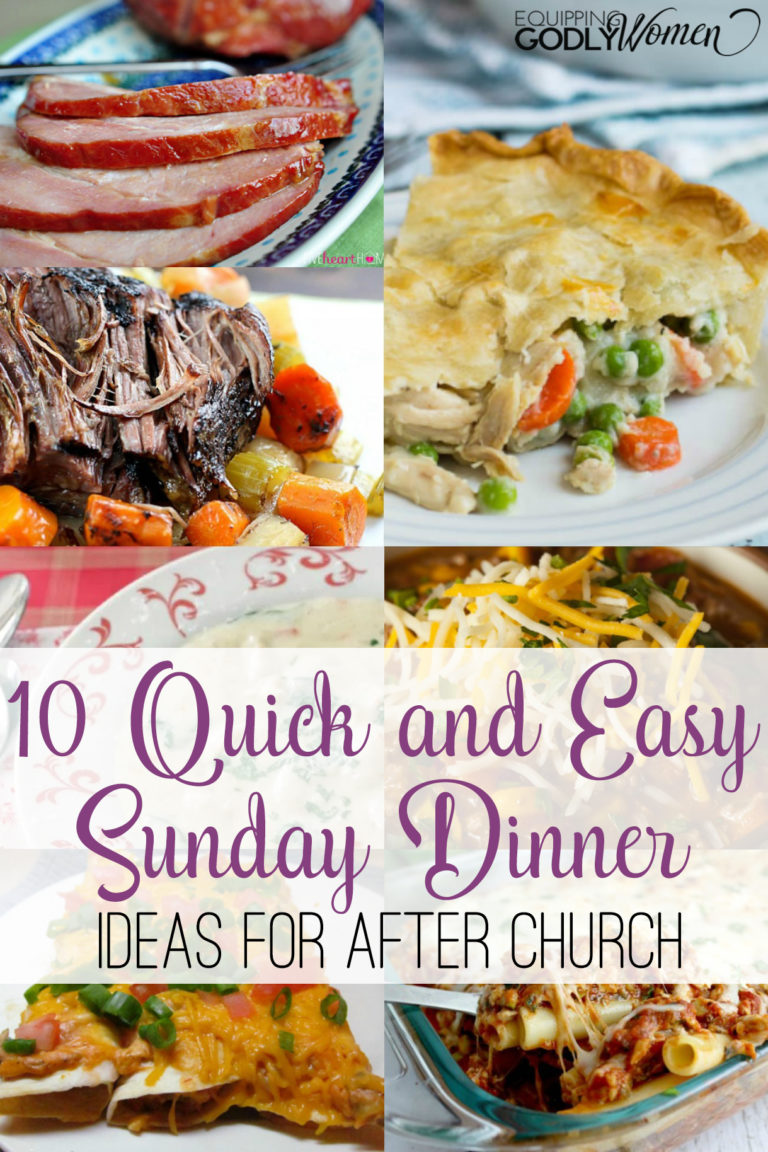 I love cooking, and of all the meals I make on a weekly basis, Sunday dinners after church have always been my very favorite.
There's nothing like coming home from church to a hearty, wholesome home-cooked meal with family and friends before spending the afternoon relaxing and recharging for the week.
I don't know about you, but growing up, we rarely had time for much breakfast on Sunday mornings and, after we were at church all morning long, we'd come home hungry and ready to eat lunch!
We didn't want a measly sandwich and we weren't going to wait for something that takes three hours to make either.
Enter: the perfect Sunday dinner.
Each of these Sunday dinner ideas is hearty, wholesome, home-cooked and downright delicious! Plus, you can prep them all in advance so by the time you get home from church, the most you have to do is toss them in the oven while you get settled in and out of your church clothes. (The crock pot recipes won't even require that.)
I have made every single one of these Sunday dinner recipes (some of them time and time again!) and can whole-heartedly say they are all fantastic.
If you're looking for some quick, easy and delicious Sunday dinner ideas for after church – you're in the right place.
Let's get cookin'!
10 Quick and Easy Sunday Dinner Ideas for After Church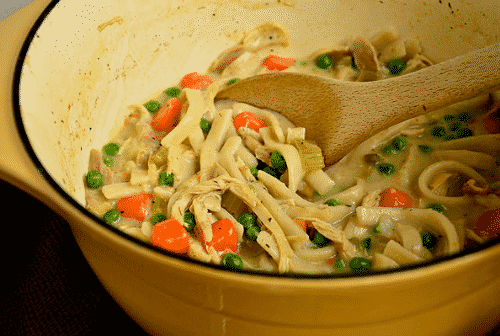 For a perfect Sunday dinner recipe, it does not get any better than these Homestyle Chicken and Noodles. They are SO good! Adapt it for the crock pot by using boneless chicken and waiting to add cooked noodles and peas until you're home from church. Make plenty, because you WILL be going back for more!
Chicken and Noodles is one of my absolute favorite Sunday dinner ideas. (That and chicken fried chicken, but chicken fried chicken is NOT quick — at least the not the way I make it!)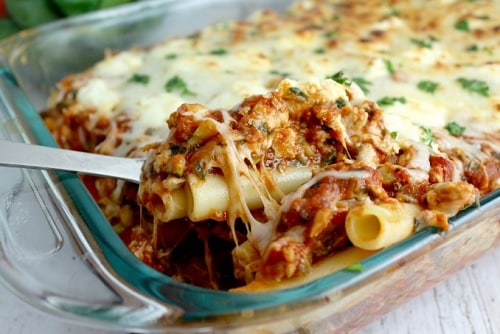 This Sunday dinner recipe is a favorite of my husband's and we make it all the time. I love how easy it is to add in extra veggies, whether that's onion, extra zucchini, corn, tomatoes, mushrooms… whatever you have on hand. My kids aren't picky, but I'm willing to bet even picky eaters would love this dish.
Get the casserole ready in advance, and then just toss it in the oven as soon as you get home from church. It only takes 20 minutes to cook and 5 minutes to stand, so it'll be all ready to go by the time you get changed, washed up, and seated at the table. Yum!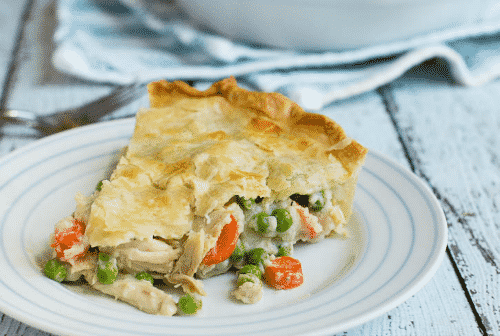 If there's one dish my family can't get enough of, it's chicken pot pie. If my husband isn't home yet by the time it comes out of the oven, I seriously have to make sure to set some aside for him because otherwise the boys will eat the whole thing and he won't get any at all! And I don't have teenagers either–they're 5 and 1. It's just that good.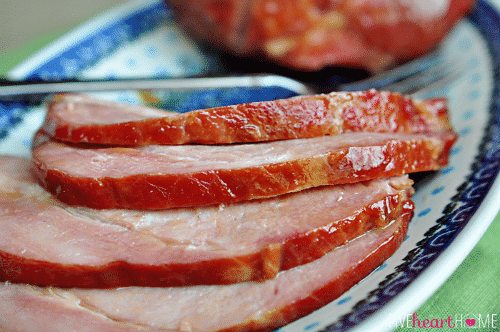 I made this Brown Sugar Ham recipe when I hosted Christmas dinner last year (you know, the meal that HAS to be just right?) and it did NOT disappoint! Totally doable to put together even though we spent the morning at church.
Everyone loved it, and we all enjoyed leftovers for lunch for days. It would be absolutely perfect for Easter dinner too.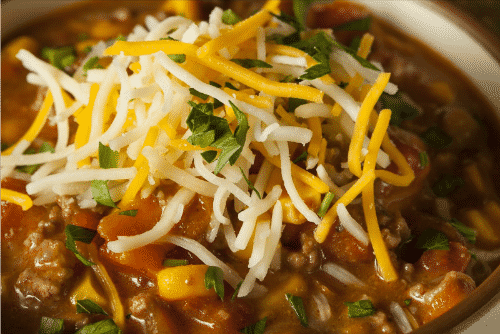 If you're looking for easy Sunday dinner ideas–this is it. It's mostly canned stuff you throw together, but it tastes homemade and amazing. Very hearty and filling. And definitely go the tortilla chip route like she suggests–yum!
And again — leftovers. It's alllll about the leftovers.
So enchiladas may not fit in with all the typical Sunday dinner ideas, but this recipe is absolutely creamy, easy and delicious enough to qualify – especially if you're looking for something a little different than the usual fare. I make this recipe all the time and have for years. They're great reheated too, so you can have them for lunch all week long.
Tip: Cooking the chicken in the crock pot for 2-3 hours on high makes it super easy to shred, and if you prep everything in the morning before church and you just have to toss it in the oven when you get home.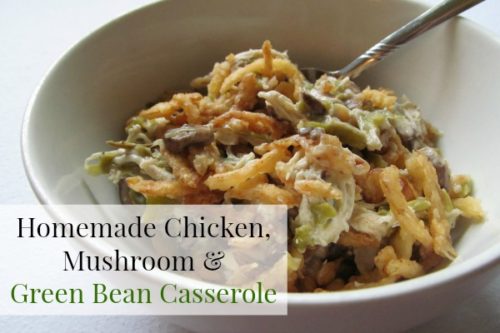 This is a favorite recipe we eat in our family ALL the time. I love how easy it is to just toss the ingredients in and stir. Start the chicken in the morning while you're getting ready for church, then drain and add the remaining ingredients as soon as you get home. By the time you get all settled in and ready to eat, your lunch will be all ready!
And it makes fantastic leftovers too, so not only does it save you a lot of time on Sunday afternoons, but all week long.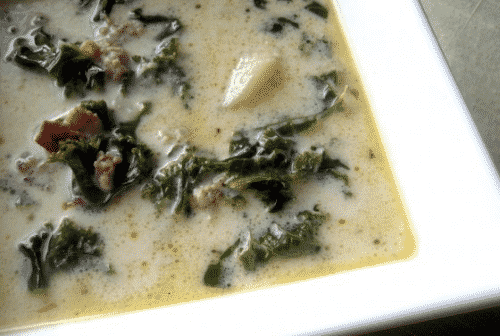 A few years ago, when I worked at Olive Garden, I used to bring my husband leftover Zuppa soup all the time. When I stopped working there, I had to figure out how to make it at home. This Sunday dinner recipe is creamy and satisfying, and I love that it has kale instead of the same ol' same ol' veggies we usually eat. Plus, we always have plenty of leftovers for lunch the rest of the week.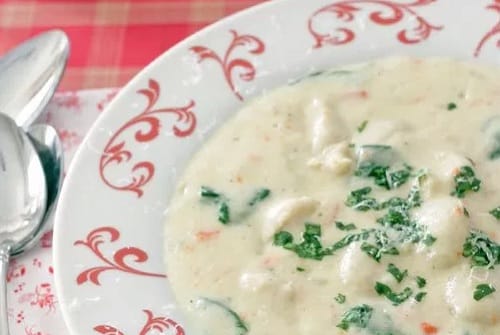 Another Olive Garden soup I absolutely love and simply had to learn how to make at home. This Sunday dinner recipe is every bit as delicious as the original, and probably much more healthy too.
Of course, despite the generous veggie content, this soup doesn't feel too "healthy" at all. It's comfort food at it's finest and it is SOO good! Make sure you have plenty of breadsticks on hand with this one — they're perfect for dipping. Yum!!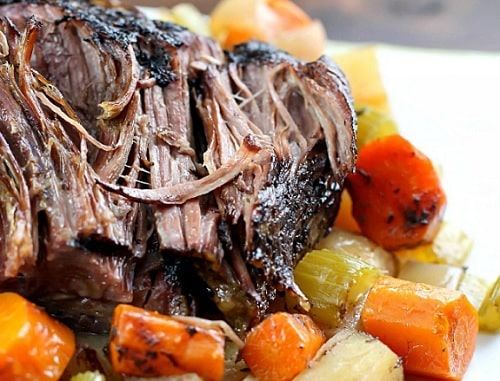 As far as I'm concerned, roast is the classic Sunday dinner! I remember my mom making roast, potatoes, and veggies pretty regularly, but it seemed to take a lot of tending to. Thankfully, this dinner recipe makes cooking roast easy and delicious. And the leftovers are great to enjoy throughout the week too.
Does your family do big Sunday dinners? What Sunday dinner ideas do you find yourself making again and again?
The following two tabs change content below.
A devoted Christian, wife and mother, Brittany loves helping other women grow in these roles as well. When she isn't busy taking care of her growing family, you can find her at
Equipping Godly Women
, where she regularly shares tips, tricks and encouragement to help you be the amazing woman God created you to be. Brittany also has a thriving online community on
Facebook
as well.