If you've ever wondered, "What does the Bible say about anxiety?" you're not alone! In today's post, Gina M Poirier shares some valuable insights about how to look at verses on anxiety within their larger context.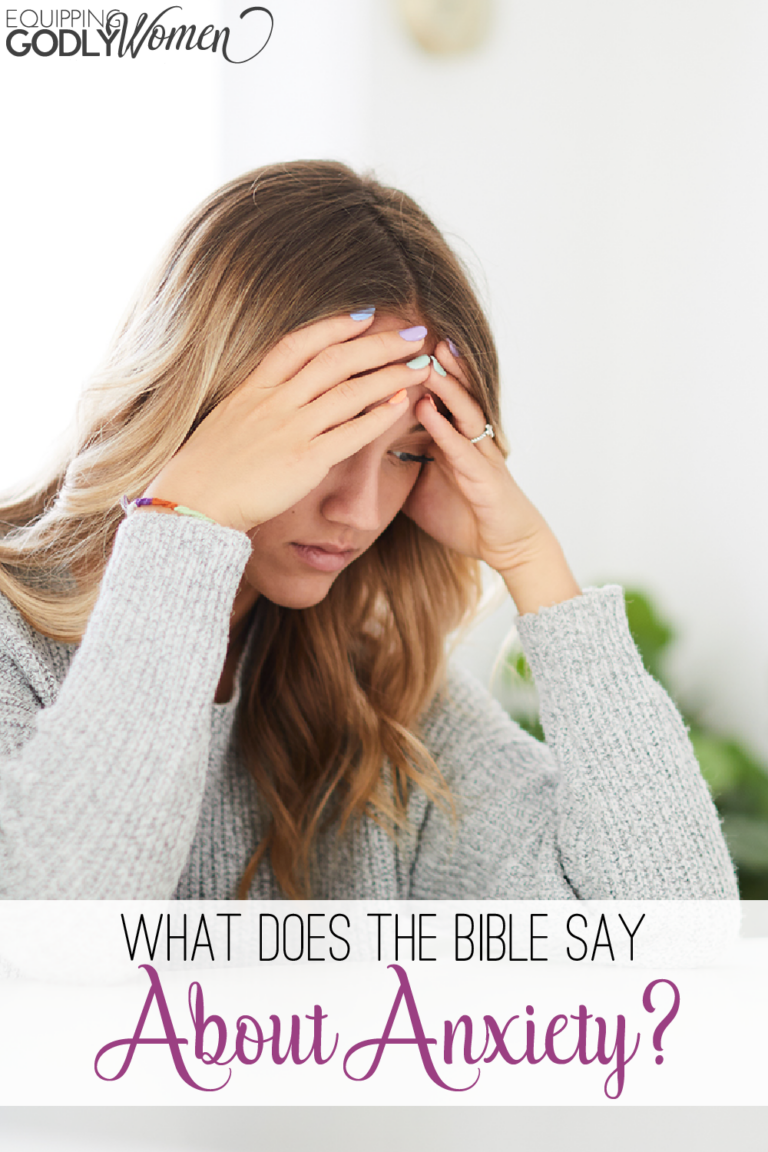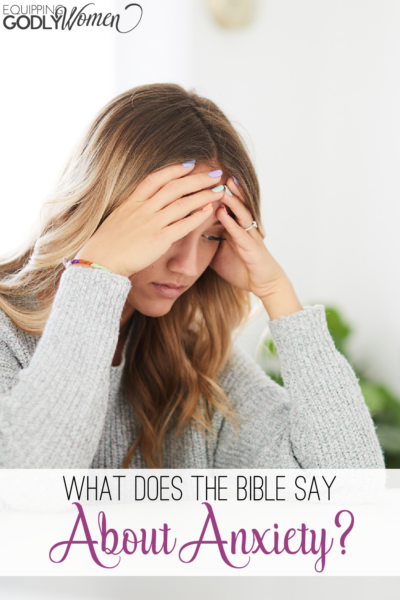 What does the Bible say about anxiety?
As someone who struggles with this emotion on a regular basis, I've turned to God's Word for help with this question more than once.
And while I certainly have found some comfort when studying what the Bible says about anxiety, worry, and fear, it can be easy to get stuck.
When you just read some verses out of context, it can do more harm than good.
For example, when you look up "What does God say about anxiety?" in a Bible study tool, you might come across a verse like Philippians 4:6.
"Do not be anxious about anything, but in every situation, by prayer and petition, with thanksgiving, present your requests to God."
When taken out of context, you might think that the Bible says anxiety is a sin, or that you're a sinner if you don't trust God perfectly for everything.
If you're like me, you might beg God to take away your worries, but then you start obsessing and worrying more, cueing even more intense anxiety.
It can be a vicious cycle! But it doesn't have to be.
What Does the Bible Say About Anxiety?
Contrary to what you may have been taught, anxiety is not a sin. Anxiety is a very normal human emotion that presents an opportunity for us to lean on God. The Bible has many passages that illustrate how people wrestle through their anxiety with God, and it encourages Jesus' followers to do the same.
Rather than pulling out a few verses about worry and anxiety and then trying to force them on yourself, it's important to look at all of the Bible verses about anxiety in their larger context. This includes the passages themselves, but also the Bible's larger narrative as a whole.
Please note: While I offer some useful tools for everyday life, I am not a mental health professional. If you suffer from severe anxiety or other mental health issues, please seek help from a licensed clinician.
What Does the Bible Say About Anxiety?
When it comes to answering the question, What does the Bible say about anxiety? you'll most likely come across the following popular Scripture verses:
1. Psalm 94:19
When anxiety was great within me,
your consolation brought me joy.

This Bible verse doesn't speak of anxiety as something rare or shameful, but rather a normal fact of life. It also demonstrates that God can help us with our anxiety, trading our fear with peace and joy.
2. Psalm 139:23
Search me, God, and know my heart; test me and know my anxious thoughts.
Even the famous King David (who was called a man after God's own heart) had anxious thoughts. And rather than hiding them from God, he brought them TO God for help.
3. Philippians 4:6
Do not be anxious about anything, but in every situation, by prayer and petition, with thanksgiving, present your requests to God.
This Bible verse about anxiety (and the one to follow) instruct us to bring our fears and worries to God for help. God isn't surprised our upset by our anxiety, worry, or fear. He wants us to come to Him!
4. 1 Peter 5:8
Cast all your anxiety on him because he cares for you.
5. Matthew 6:25–34
"Therefore I tell you, do not worry about your life, what you will eat or drink; or about your body, what you will wear. Is not life more than food, and the body more than clothes? Look at the birds of the air; they do not sow or reap or store away in barns, and yet your heavenly Father feeds them. Are you not much more valuable than they? Can any one of you by worrying add a single hour to your life?

"And why do you worry about clothes? See how the flowers of the field grow. They do not labor or spin. Yet I tell you that not even Solomon in all his splendor was dressed like one of these. If that is how God clothes the grass of the field, which is here today and tomorrow is thrown into the fire, will he not much more clothe you—you of little faith? So do not worry, saying, 'What shall we eat?' or 'What shall we drink?' or 'What shall we wear?' For the pagans run after all these things, and your heavenly Father knows that you need them. But seek first his kingdom and his righteousness, and all these things will be given to you as well. Therefore do not worry about tomorrow, for tomorrow will worry about itself. Each day has enough trouble of its own."
While this Scripture passage doesn't mention anxiety specifically, if you're wondering "What does Jesus say about worrying?" this famous passage (from the Sermon on the Mount) definitely applies as well.
With these verses in mind, let's dig a little deeper into What does the Bible say about anxiety? If you have some time, I also encourage you to flip open a Bible and read them within the chapters and books they're in for a bit of context.
Related reading: How to Trust God's Plan – When You Don't Know What It Is
What the Bible Says About Anxiety: It's Not a Sin
First of all, let's throw out a common misconception. When you look at the Bible verses above, you might read that they urge you not to be anxious. But that doesn't mean that you're in sin just because you are anxious. 
Look again, and you'll see no references to anxiety being sinful.
Anxiety is a natural human emotion. It's our response to perceived threats, and it can help us stay safe from danger.
Emotions themselves are not sinful. (Let that sink in!) However, the way we choose to respond to our emotions can be sinful.
Anxiety can lead to sinful, self-protective behavior when we rely on our own strength for safety and security more than God.
This is why we have to look carefully and consider verses in context when trying to answer the question "What does the Bible say about anxiety?"
Anxiety Is an Opportunity to Lean on God
So what does the Bible say about anxiety? One of the clearest messages is that it is an opportunity to lean on God!
I've heard it said that emotions are invitations. They invite us to talk to God and work out what's going on in our hearts.
Take a closer look at Psalm 139:23. That whole Psalm praises the Lord for his intimate knowledge of the writer's whole being, from the time he was knit together in his mother's womb to wherever he goes on the whole planet.
In fact, this is a theme consistent in all five of the passages above when you dig into their context. They're about an incredible God who loves you, who wants to take care of you, who wants to comfort you, and who wants you to rest in him.
This is a God who understands our emotions and wants us to come to him with our anxiety honestly and unashamed. He can handle it. Some of the times I took my anxiety to God were the times I was able to work through it in a healthy, meaningful way. And only through that process was I able to leave my anxiety behind.
Related reading: How to Pray About Anxiety and Actually Find Peace
Famous Bible Characters Who Dealt with Fear, Worry, or Anxiety
A final theme you'll find when you explore the question, What does the Bible say about anxiety? is how working through anxiety, fear, and other emotions by leaning on God will help you grow in faith.
We see this not only in the Scriptures that address anxiety directly but also in stories that illustrate how this process works:
Abraham had some serious concerns about how God was going to bless all nations through his family and made some mistakes, but he kept wrestling and in the end became the father of the faithful.
Moses was afraid to speak the truth to the powerful Pharaoh, but he talked through his fears with God and ultimately led his people out of slavery.
Esther was afraid of going to the king, but she fasted, prayed, and helped her people escape destruction.
Jesus broke down in sweat and tears the night before he was executed, but he took his emotions to his Father in prayer so that he would ultimately overcome the power of death for the whole world.
There are many more examples like this throughout the Scriptures!
When we research the question "What does the Bible say about Anxiety," we see countless examples of very real people who dealt with very real worries and fears, but who ultimately learned to bring those fears and worries to God for help.
And God wants us to do the same!
Rather than hiding our anxiety, the Bible invites us to bring our anxiety to God because He cares enough to help us through it (1 Peter 5:8).
Related reading: 10 Bible Verses About Trusting God in Difficult Times
Have you ever wondered "What does the Bible say about anxiety?" What Scripture verses have helped you overcome your emotions and lean on God instead?